Westjet and Lan shares continue fall from grace; AirTran, US Airways and United bounce back
After precipitous falls over recent days, several US airlines clawed back some ground in Friday in more hospitable market trading.
Meanwhile, former market darlings, Canada's Westjet and Lan Airlines, appear to be falling from grace. On Friday their share prices fell 4.7% and 4.6% respectively.
North & South America airlines daily share price movements (% change): 06-Mar-09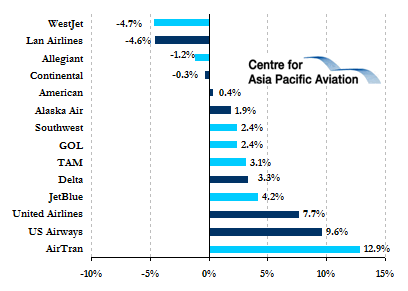 AirTran was the biggest gainer, bouncing back a little from hefty losses last week, as speculators considered the stock oversold. The share price is however still trading a little over half of its levels at the beginning of this year.
Airtran Share price: 02-Jan-09 to 06-Mar-09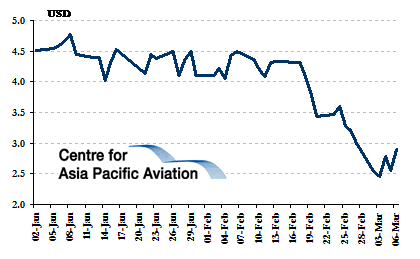 After holding up well all through 2008, Westjet is starting to lose some of its sheen with investors. The Western Canada-focused airline is suffering more than competitor, Air Canada, as the mining boom subsides and traffic generally slows. Westjet's share price has fallen by a third since late Jan-09.

Westjet Share price (CAD): 02-Jan-09 to 06-Mar-09