WestJet and Air Canada work to secure aircraft financing for Boeing wide and narrowbodies
Analysis
Canadian airlines WestJet and Air Canada are busy preparing for upcoming aircraft deliveries as part of significant planned fleet changes at each company as they work to create the proper fleet profile for their respective business models.

WestJet recently marked a milestone with the delivery of its first Boeing 767 widebody, marking a time of rapid change at the airline during the last three years that also included the introduction of 70-seat Bombardier Q400 turboprops.
Air Canada in the short term is focussed on expanding its Boeing 787 widebody fleet, but is also preparing to add 737 Max narrowbodies beginning in 2017, the same year WestJet is adding the new next generation narrowbody to its fleet.

Each airline has also been working to line up financing for its upcoming deliveries, with WestJet tapping Export Development Canada and Air Canada capitalising on the EETC market that opened up to Canadian airlines in late 2012.
WestJet marks a milestone with its 767 delivery, while maintaining a steady delivery stream
WestJet recently marked a landmark moment when it took delivery of its first widebody aircraft, a Boeing 767-300ER. The aircraft will initially be operated between Toronto and Calgary. The airline is taking delivery of three more of the aircraft type during the next year, which are pegged for routes from Alberta to Hawaii and from Toronto to Montego Bay.
During 2016 when the fourth aircraft is scheduled for delivery, WestJet is launching its first trans-Atlantic flights with widebody aircraft on new service to London Gatwick from Toronto, Calgary and Vancouver.
WestJet Fleet Summary as of 16-Sep-2015

The airline has decided to exercise a purchase option it has with Boeing for the used 767 widebodies, which is not surprising given that lower fuel costs seem to be the norm for the short to medium term. Tapping the used market for a small sub-fleet of widebodies should help WestJet's capital expenditures from escalating too rapidly. The airline already has a solid pipeline of Boeing narrowbody and Bombardier turboprop deliveries.

Between 2015 and 2017 WestJet is scheduled to take delivery of 13 737-800 narrowbodies in addition to four new 737 Max 8 jets. The airline is adding 14 Q400 turboprops between 2015 and 2017.

As of 30-Jun-2015, WestJet's purchase obligations for new delivery Boeing narrowbodies (that include 65 Boeing 737 7 Max and 737 8 Max jets), Bombardier turboprops and spare engines totalled CAD4.9 billion (USD3,7 billion), with funding requirements spread across a five year period.
WestJet leasing and purchasing commitments over a five year period as of 30-Jun-2015

WestJet uses EDC financing for Q400s. Investment grade allows for good narrowbody rates
WestJet is one of the few North American airlines that enjoys investment grade status, which is a bonus as it seeks financing for its aircraft narrowbody deliveries. During 2Q2015 the airline opted to finance three Q400 deliveries by secured loans with the EDC for 80% of the purchase price of the aircraft. It funded deliveries of two 737-800s in the quarter with cash. To combat foreign exchange pressure it has faced during the last year, WestJet recently explained that its outstanding aircraft debt for Q400s and 737 next generation narrowbodies is financed in CAD to combat exchange rate exposure on USD denominated debt.

The airline has a CAD820 million (USD619 million) guaranteed loan agreement with the EDC for financing support of the Q400 aircraft, and under the terms of the agreement any undrawn amount is set to expire at the end of 2018. As of 30-Jun-2015, WestJet has USD457 million (USD345 million) undrawn under the agreement.

At the end of 1H2015 WestJet stated it had not made any commitments for future aircraft financing outside of the EDC loan agreement.
WestJet enjoys fleet flexibility from its mix of leased and owned aircraft
As of 16-Sep-2015, roughly 59% of WestJet's mainline fleet was owned, and the 23 Q400 turboprops operated by its subsidiary Encore were 100% owned by the airline.
WestJet mainline owned vs leased for aircraft as of 16-Sep-2015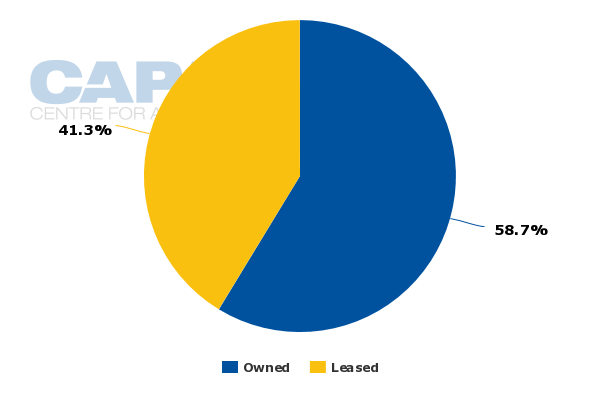 At the end of 1Q2015, WestJet stated that 30 of the 59 737-700s in its fleet were leased, and 14 of the 35 -800 variant were leased. The mix gives WestJet some fleet flexibility if it needs to dial its growth up or down. During a 2Q2015 earnings discussion, WestJet executives stated that during 2016 three Boeing narrowbodies were due for lease renewals, with one extension finalised and two "in play".

Owning a solid portion of its fleet also allows for flexibility. WestJet recently completed the sale of 10 -700s to Southwest; but recorded a CAD45.5 million non-cash loss associated with the sale in 3Q2014 due to a foreign exchange rate of CAD1.12 to the USD.
Despite those headwinds, WestJet stated that the selling of the -700s and the addition of 10 -800s in 2014/2015 would allow the airline to maintain a young fleet while the company could finance the new narrowbodies in a low interest environment. As of 16-Sep-2015, WestJet's average fleet age was 7.9 years.
WestJet average fleet age as of 16-Sep-2015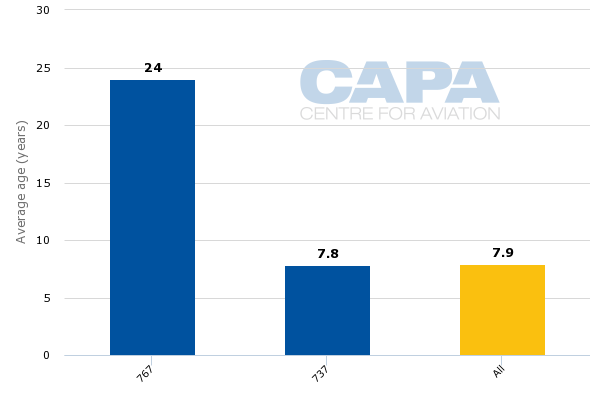 Air Canada takes advantage of EETC financing for Boeing narrowbodies
WestJet's rival Air Canada is also working to achieve an optimal fleet mix for its long-haul, domestic and operations of its low-cost subsidiary rouge. By YE2017 Air Canada is scheduled to operate 22 Boeing 787-9s and eight 787-8s. Two Boeing 777-300ERs are scheduled for delivery in 2016. Two Boeing 737 Max jets are also scheduled to arrive at Air Canada in 2017. Between YE2014 and YE2017 the combined fleet of Air Canada and Air Canada rouge will grow from 200 to 225 aircraft.
Air Canada mainline fleet as of 16-Sep-2015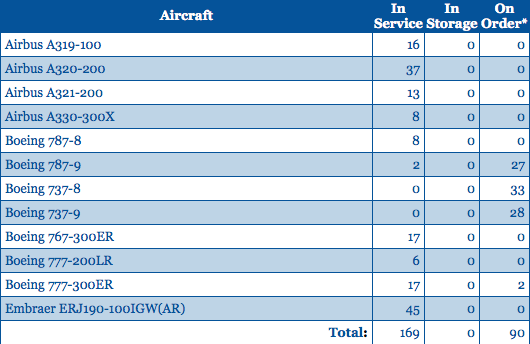 Air Canada rouge fleet as of 16-Sep-2015

Air Canada in 2013 took advantage of a change of policy in the Canadian government that allowed the country's airlines to access financing through enhanced equipment trust certificates (EETC). That year the airline secured EETC financing for five 777-300ERs that were worth CAD606 million (USD457 million using the current exchange rate).

The airline has also accessed the EETC market in 2015, with three tranches to finance eight Boeing 787-9 widebodies valued at approximately USD1 billion at a weighted average interest rate of 3.810%.

At the end of 1H2015, Air Canada had commitments for 29 Boeing 787s, and stated that it had various financing options for 24 of the widebodies. In addition to EETC financing covering eight 787-9s, Air Canada explained it had financing terms for 14 of the 787s covering 80% of the delivery price. It has also forged a sale-leaseback transaction for two 787s.

Air Canada in 2014 exercised purchase rights for two 777s that are scheduled for delivery in 2Q2016, and at the end of 1H2015 remarked that it would consider financing for those aircraft prior to delivery dates.

The airline also has firm commitments for 33 737 8 Max narrowbodies, 28 737 9 Max jets. It has financing commitments for those 61 jets for 80% of the delivery price with 10 year mortgage style payments.
Air Canada projected delivery dates for aircraft on order purchased from OEMs and leased from lessors as of 16-Sep-2015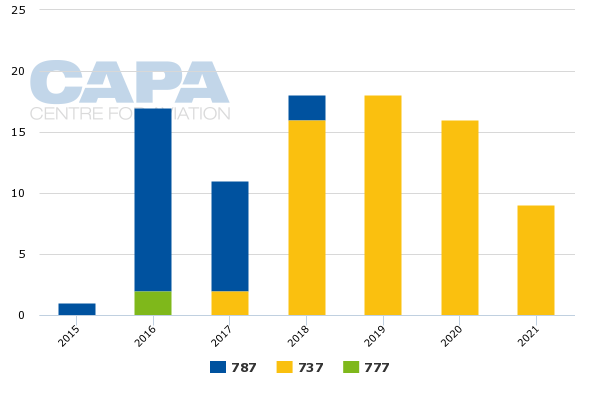 Air Canada's delivery stream of widebodies during the next couple of years is resulting in total projected capital expenditures reaching a peak of CAD2.8 billion (USD2.1 billion) in 2016. Recently the airline was queried about leverage levels in 2016.
Air Canada has a stated goal of a ratio of 2.2 by 2018. During 1Q2015 the company's leverage ratios were 2.6. The airline stated that its ratios could move up or down slightly over the next couple of years, but assured that its key focus was meeting its 2018 targets.
Air Canada capital commitments: 2H2015 to YE2019

WestJet and Air Canada fortify their respective fleets as competition intensifies
WestJet is poised to use its investment grade status to secure favourable aircraft financing while Air Canada has opted to secure positive rates through EETC financing. Both airlines will put the operating profile of the 737 Max to the test in 2017. Air Canada will continue to bolster its 787 fleet, and WestJet seems to be holding steady with its four 767 narrowbodies for the immediate future.
WestJet is taking a hybrid approach by deciding to operate used widebodies; but is sticking to new delivery Boeing and Bombardier aircraft. Air Canada is also taking a hybrid approach as mainline Airbus jets and 767s move over to rouge. The two rivals are fortifying their fleets as the competition in Canada's duopoly shows no signs of weakening.