Virgin Blue jumps, AirAsia up, Cathay Pacific, Singapore Airlines, Qantas, Jet Airways down
Analysis
Asian airline shares were mixed yesterday (17-Jun-09), with the Indian carriers' shares suffering the largest declines as they moved to raise their fares/surcharges in response to sharply higher jet fuel prices. Jet Airways, Kingfisher and SpiceJet reported share price reductions of 9.1%, 4.8% and 3.2%, respectively.
Asia Pacific selected airlines daily share price movements (% change): 17-Jun-09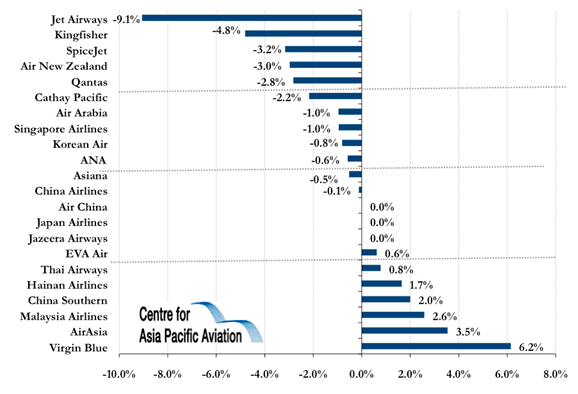 May traffic weakness

Air New Zealand and Singapore Airlines reported share price reductions yesterday, of 3.0% and 1.0%, respectively. Both carriers reported weak May-2009 traffic figures this week, with Air New Zealand's yield deteriorating further in the month and Singapore Airlines reporting significant reductions in passenger numbers, cargo volumes and load factors.
Shares in Qantas and Cathay Pacific eased 2.8% and 2.2%, respectively, while Japan Airlines, which yesterday averted planned strikes by its unions, remained flat.
Air China's shares were also flat yesterday, despite the carrier reporting double-digit year-on-year growth in passenger traffic in May-2009. However, despite the improvement in overall and domestic passenger numbers, international traffic and cargo volumes remain weak, with the carrier admitting that it has "yet to see signs of recovery in the cargo business and volume declines do not yet appear to have bottomed out".
For daily updates on American aviation stock prices and a complete wrap of the day's breaking news, sign up now for a complimentary subscription to America Airline Daily.