Virgin Australia CEO John Borghetti interview: dual-brand strategies, Asia & being a modern airline
Analysis
Virgin Australia CEO John Borghetti has transformed the landscape of Australian aviation, but his practices of virtual long-haul flying and strategic partnerships across multiple alliances offer examples for airlines globally to reflect on. Mr Borghetti, in a video interview for CAPA TV, discusses the pivotal changes Virgin has so far made as well as what is next.
Mr Borghetti affirms the distance he wants between Virgin and its LCC unit Tigerair Australia, unlike the closer Qantas-Jetstar relationship. Airlines should be like toothpaste, Mr Borghetti uses as an example: consumers should have a choice of distinct and separate brands without realising they are owned by the same few companies.
While Qantas expands its role in Asia, including a proposed JV with China Eastern, Mr Borghetti expresses no interest in an Asian strategy, preferring instead to remain focused on Virgin Australia's core domestic network and to work with Singapore Airlines and not another airline. "We can feed the China traffic over Singapore with Singapore Airlines and that's as good as it gets," Mr Borghetti says. "There is no better partner than Singapore Airlines."
Virgin Australia CEO John Borghetti Q&A
To see more CEO interviews and extracts from CAPA Aviation Summits on CAPA TV, please see: http://www.centreforaviation.tv/
Virgin Australia will operate a limited dual-brand strategy with Tigerair
One of the biggest challenges for Virgin Australia strategy is its LCC unit Tigerair Australia. Virgin had a 60% stake and will take full ownership and control, buying the remaining 40% for a token AUD1. Virgin perhaps did this to appease its shareholder Singapore Airlines, which is the major shareholder in Tigerair Holdings (which had owned part of Tigerair Australia) and has been struggling to deal with the company. Whatever the cause, it makes the relationship more straightforward in appearance, even as it creates a new paradigm.
As CAPA previously noted: Virgin's share of Tigerair's losses was one-fourth Virgin's own loss, despite Tigerair having one-tenth the ASKs of Virgin Australia in 1Q2015 (the three months to 30-Sep-2014).
See related report: Virgin Australia narrows Q1 loss as capacity eases. Tigerair Australia to become 100% subsidiary
At the time Virgin Australia said it was "committed to maintaining the airline's low cost business model and the separate Tigerair brand" and that it had secured "brand licensing and certain services which will continue to be provided by Tiger Holdings direct to Tiger Australia." But as it now becomes very clear that Singapore Airlines' wholly-owned LCC unit Scoot will one day take over the Tigerair Singapore operation and seemingly end the Tigerair brand, Virgin may need to establish its own branding resources and possibly also use the opportunity to shed the Tigerair name, which has struggled to recover from its initially weak consumer sentiment.
There should be no expectation of a "Virgin Express", "Virgin Lite" or even, as some jokingly suggest, a "Virgin Blue" for the LCC's name as that would involve Virgin and Mr Borghetti wants to maintain a clear separation between Virgin and its LCC.
"You walk into a supermarket and look at the toothpaste…there's probably 20-30 brands. They're probably owned by one or two manufacturers but you'd never know it. I think that's the way you run a multi brand strategy and that's the way we intend to run it," Mr Borghetti told CAPA TV. This philosophy extends outside the branding. "You'll never see Virgin codesharing on Tiger or vice-versa," Mr Borghetti affirmed.
Qantas removed codeshares from Jetstar flights, but only in domestic Australia; outside Qantas has expanded, such as by codesharing with Jetstar Japan. Mr Borghetti's objective is to have distinct brands as "the moment you blur that, you're diminishing your credibility as a brand". British Airways codeshares on Vueling while Scoot codeshares on SilkAir and Singapore Airlines, but Singapore Airlines and SilkAir do not codeshare on Scoot.
Nor will Virgin elite members travelling on Tigerair experience any Virgin perks, as Qantas passengers on Jetstar sometimes do. Virgin passengers buying a Tigerair ticket, Mr Borghetti said, will "experience the Tiger[air] experience. I'm sorry, they don't have a lounge and you can't use ours."
No need for an Asian strategy: Singapore Airlines partnership 'as good as it gets'
Mr Borghetti is also holding a firm view that Virgin Australia's strength and core market is domestic Australia, and deviations from that may not add value but could add risk. Qantas has sought to bolster its position in Asia, forming a codeshare with China Southern and applying for a joint-venture with China Eastern.
See related report: China Eastern-Qantas & Air China-Air New Zealand JVs show renewed interest from Chinese airlines
For the prospect of Virgin pursuing an "Asian strategy" to partake in growth in Northern Asia, and China in particular, Mr Borghetti says: "My reply is always 'Why? Why would we do that? What is it that would do for our core business?'... That to me would be a distraction. I don't see the value in it. You're not going to see us doing that in the foreseeable future."
Mr Borghetti argues Virgin "can feed the China traffic over Singapore with Singapore Airlines and that's as good as it gets...there is no better partner than Singapore Airlines." While Singapore Airlines and short-haul unit SilkAir may not have the depth of Chinese destinations that China Eastern and China Southern do, Singapore Airlines does offer a number of advantages, including high frequency. It has a demonstrated role in Australia-Northeast Asia connections, as seen by the traffic it carriers between Australia and Japan. But it is unclear how much more Singapore Airlines can grow – or if it can grow – given the growth of Chinese airlines.
See related report: Qantas joins Air New Zealand in Japanese growth, hoping to regain traffic from Cathay and SIA
There are also questions how much Virgin could receive from having a Chinese partner. Despite Qantas' developments in China, it still has more capacity to Japan than China and will be at a disadvantage in China owing to its higher cost base (in Japan, Qantas has a lower cost base than partner Japan Airlines). It is difficult to see Qantas generating large growth in China.
Still, the number of Chinese visitors to Australia is growing and is expected to continue at a very high rate. Qantas' exact gains are unclear, but it is at least positioning itself to capture traffic.
Australia annual tourist arrivals from China: 2009-2013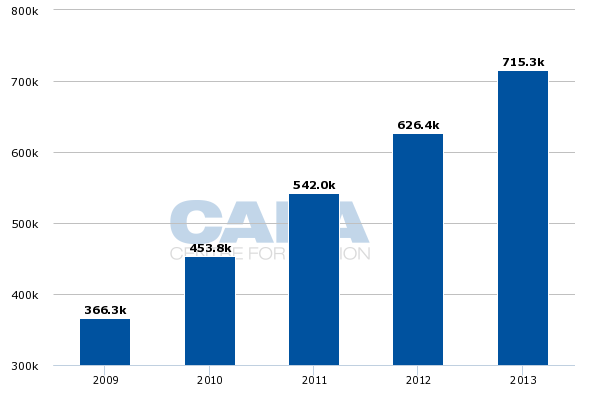 China growing in importance for Australia, but US and New Zealand still top markets
Mr Borghetti cautions that in the China discussion Australia should not forget about its "bread and butter" international markets, the US and New Zealand. These are markets where Virgin is a larger player, but also markets where travel from outbound Australia is larger, unlike China where the flows are mainly from China into Australia.
Australia to United States of America (seats per week, one way): 19-Sep-2011 to 17-May-2015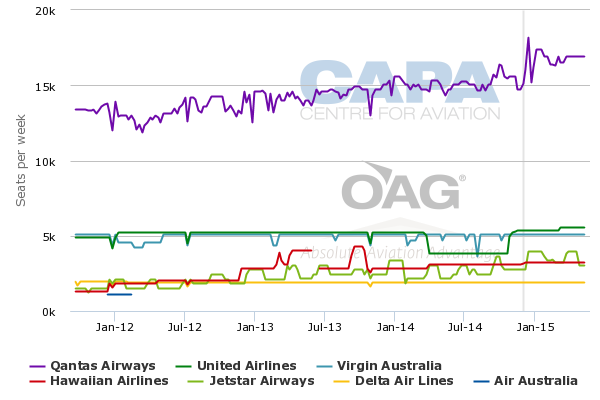 Yet despite having a presence in these core international markets, Virgin has not grown in either the US or New Zealand. To New Zealand, Virgin's partner Air New Zealand has slightly grown over the period of their marriage.
Virgin's North America partner Delta has not grown either, despite industry rumours the two were looking to grow. Competitors Qantas and United have however grown.
Australia to New Zealand (seats per week, one way): 19-Sep-2011 to 17-May-2015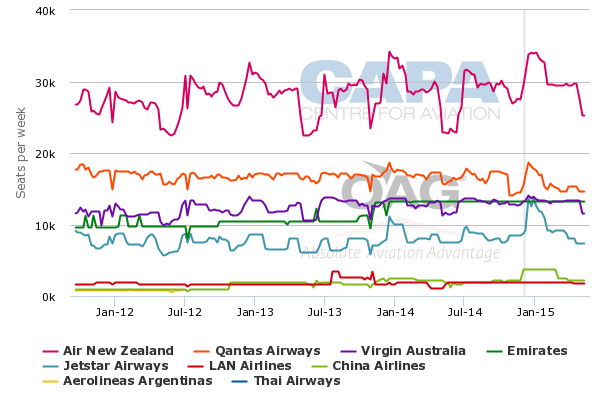 Virtual long-haul network does not mean no long-haul flying
While Mr Borghetti espouses the benefits of a virtual long-haul network, he cautions that this does not mean no long-haul flying on your own metal as "you must have a brand presence in your key markets" Mr Borghetti says. Virgin serves Abu Dhabi as part of the Etihad partnership and Los Angeles with Delta (Virgin flew to Los Angeles before the Delta partnership).
The long-haul market where Virgin does not have a presence is Singapore. Virgin would likely want to fly to Singapore but from key Australian cities like Melbourne and Sydney, whereas Singapore Airlines prefers to fly from those cities and have Virgin take secondary routes, like Darwin-Singapore, in which Virgin is not interested.
Having three airline part owners – Air New Zealand, Etihad and Singapore Airlines – also likely creates its own potential for board conflicts. For example, expansion to the US with the Delta alliance would impact Air New Zealand, which has a tidy market in Australia-US traffic via New Zealand. Expansion to Abu Dhabi, with onward connections on Etihad's European network, would be a concern to Singapore Airlines.
Virgin's ultra-long-haul fleet has been flat at five 777-300ERs despite earlier ambitions to grow beyond that. A330s have joined and there are now six of them, which Virgin retains for use exclusively in the domestic market. Virgin has flagged they could fly internationally.
The Borghetti Formula: a modern airline should be anchored around four areas
A virtual network is one of four pillars Mr Borghetti believes a modern airline around Australia should have.
First is a solid domestic network characterised not necessarily by high capacity but high frequency, which Mr Borghetti has built up using 737s.
Second is a global network, but one that can alternatively be fulfilled by partners, as Virgin has largely done. Mr Borghetti believes bilateral relationships are the way forward for airlines, with global alliances not necessarily giving all members an equal ground.
See, on this topic, CAPA's Airline Leader, Issue #23 at p45: Virtual Airlines: the best airline is one that doesn't fly
Third is Mr Borghetti's belief that "no airline can really exist without a strong loyalty programme", especially when wanting to target the higher-yielding corporate and government segments, which Virgin under Mr Borghetti has done.
Finally Mr Borghetti sees an airline needing an efficient model not attached to the old ways of doing things. Mr Borghetti faults an "aero club mentality" of full-service airlines focusing on the operation and forgetting about the needs of the passenger. Efficiency also means not "slashing and burning", as Mr Borghetti calls it, but efficiency. Indeed, this is one of the most critical areas going forward for Virgin as it seeks to ensure RASK grows ahead of CASK.
Virgin Australia has had an exciting journey in the five years Mr Borghetti has been at the helm, achieving arguably the largest airline transformation in the industry, in moving from a low cost hybrid to a full fledged full service airline, complete with its own LCC subsidiary. Add to that the most remarkable board profile in aviation, with three major international airlines as substantial shareholders and it is obvious that the period has not been a gentle one for a self-professed woarkaholic.
Over this time he has created a model which many will look to replicate in future. And, with the foundation built and a bit of a tailwind now from lower fuel prices, his airline can start to anticipate a profitable period.