Vanilla Air's potential dual brand operation with parent ANA, as widebodies and new base considered
Analysis
It is no longer content to be just plain vanilla: while Japan's Vanilla Air has played it safe during its 2013-2015 relaunch from AirAsia Japan, from 2016-2018 Vanilla will be in growth mode, doubling its fleet from its existing eight A320s to over 16 A320s. Vanilla has only two international markets – Hong Kong and Taiwan – but will need to diversify as it already prepares for high frequency, including four daily flights to Taipei and two to Hong Kong.
International is Vanilla's preferred growth market over domestic, where traffic is seasonal and the Japanese market is still to be fully convinced of the LCC revolution. Most of Vanilla's international flights carry foreigners, not Japanese. Vanilla may re-enter Seoul while mainland China is a large but challenging market. Southeast Asia, with large growth in inbound Japanese visitors, is appealing but out of A320 range from Tokyo. Vanilla is considering a more southern Japanese base to access parts of Southeast Asia, or to acquire widebody aircraft. International growth could also occur from Tokyo Haneda by using midnight slots, as competitor Peach has done.
Vanilla Air will double its fleet from eight to at least 16 by Mar-2019
Vanilla Air launched in Feb-2015 with an initial two A320s and grew to eight A320s. Its fleet has been unchanged since. The carrier originally envisioned a fleet of 10 A320s by 31-Mar-2016 but two aircraft have been deferred, mostly due to pilot shortage issues. (Some management comments also attribute the delay to needing to build yield and a stronger commercial base.)
Other Japanese airlines have been impacted by the pilot shortage. The pilot situation in Japan is more extreme than elsewhere due to onerous regulations for training pilots and bringing foreign ones into the country.
LCCs want Japan to follow industry best practice and not, as they see it, continue over-regulation that does not improve safety.
Vanilla Air now plans to grow to at least 16 aircraft by the end of FY2018, the year to 31-Mar-2019. Vanilla will have more than 16 aircraft but is not providing a figure on that. Vanilla plans a steady delivery stream, which works out to about two aircraft a year. Vanilla intends for all of them to be A320s. New configurations allow carriers to increase density to 186 (which some LCC competitors are taking up) but Vanilla prefers its additional aircraft to have 180 seats, matching the existing configuration of its fleet and not requiring it to manage multiple configurations.
Vanilla launched with some temporary A320s in a low density configuration but replaced those with 180 seat versions. Vanilla intends for aircraft deliveries to be all for growth and not any lease returns or other replacements. Vanilla is not interested at this time in taking other A320 variants. Its average fleet age is 1.4 years and all aircraft are leased, according to CAPA's Fleet Database. Its average utilisation rate is about 11 hours, and it has limited opportunities to further improve this.
See related reports:
One third of Vanilla's seats but two thirds of ASKs are in international markets, reflecting the short haul nature of the Japanese domestic market. Vanilla expects much of its growth to be in international markets.
Vanilla wants to be the number one LCC at Tokyo Narita, but the large existing presence of Jetstar Japan will require Vanilla to undertake more rapid growth if it wants to be the largest in size. In terms of profitability, Vanilla appears to be stronger than Jetstar Japan. 90% of its sales come from direct online distribution, with ancillary revenue comprising 13-15% of total revenue. The objective is to get this to 20%.
Vanilla carried over one million passengers in 2014. 8M2015 traffic is up 64% and has surpassed all of 2014's traffic. It should carry 1.5-2 million passengers in 2015. Most passengers are point to point but there are some domestic and international connecting passengers to/from Sapporo. (The Tokyo Narita LCCT enables connections.) Sapporo is Vanilla's only destination north of its Tokyo hub, which limits the number of connection possibilities, so it is understandable that connecting traffic is not significant.
Vanilla Air monthly passenger numbers: 2013-2015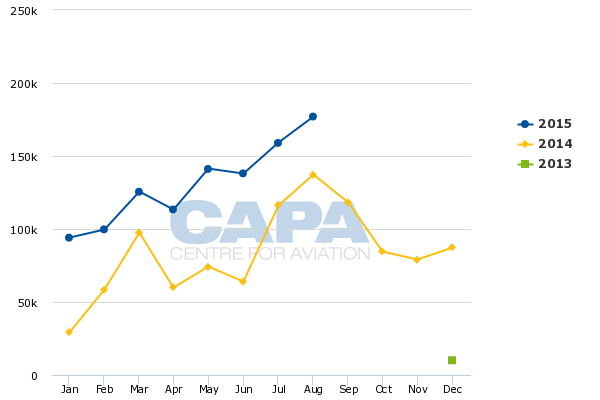 Vanilla Air wants more space and incentives at Tokyo Narita low cost terminal
All of Vanilla's flights go to and from Tokyo Narita. Its previous, joint venture, iteration, AirAsia Japan, had a Nagoya operation. Other new Japanese LCC operators have other bases. Vanilla is contemplating if its growth will continue to be at Tokyo Narita or if it needs to find a second base. Its first concern is that Narita's low cost facility (terminal 3), which opened earlier in 2015, is running out of parking stands for Vanilla.
The LCCT (yellow/orange shading in the map below) is on the border of the airport property. On the other side is land held by individuals and which is exceptionally difficult to acquire (this has impacted taxiways and runways).
Terminal precincts at Tokyo Narita: Apr-2015
Vanilla also wants Narita to be more generous with incentives since Vanilla and LCCs in general are providing Narita's growth. CAPA earlier in 2015 examined the changes at Narita between 2008 and 2015. This period saw a shift of long haul flights to Tokyo Haneda as well as an expansion of Narita slots that made the once congested airport relatively open. It is mostly LCCs that have since added capacity to Tokyo Narita.
Tokyo Narita seat system capacity changes by airline/carrier type/region: 2015 v 2008
Narita's seat capacity in 2015 will be 2.5% less than 2005, but the composition has shifted. Domestic seats accounted for only 5% of capacity in 2005 (and these flights often ran at low load factors) but in 2015 domestic flights will account for 18% of capacity, most of this from LCCs. Domestic LCCs account for 11% of total capacity in 2015, with domestic full service airlines holding the remaining 6%.
Tokyo Narita seat capacity by type of carrier: 2005-2015
See related reports:
Vanilla Air considers widebody aircraft or a secondary base to access Southeast Asia
Vanilla's future presence at Tokyo Narita will also be shaped by how it plans to access further growth. From Tokyo Narita its narrowbody range of destinations is seen as limited. Despite the huge population of Northeast Asia, Vanilla is already penetrating Taiwan, has a presence in Hong Kong (and faces slot restrictions) and is uncertain about Korea and mainland China.
To Korea the exchange rate has tipped in favour of Korean carriers and Vanilla Air has exited its only Korean route, Seoul, but could re-enter the market.
Approximate narrowbody range from Tokyo Narita airport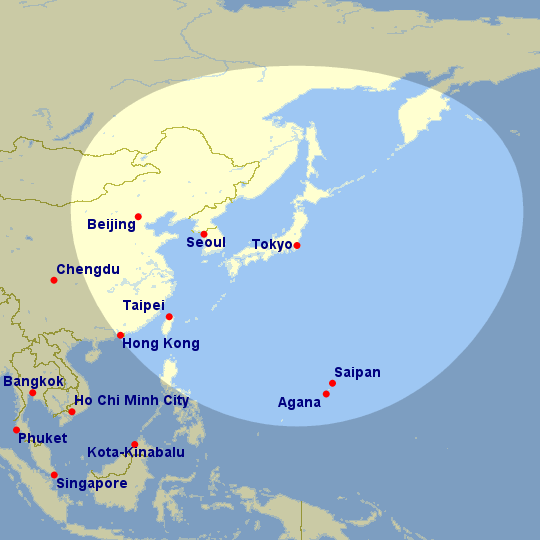 Vanilla is cautious of the mainland Chinese market, given the cost advantages of Chinese carriers, the lack of slots at primary airports and perhaps challenging yields out of secondary cities. China is becoming an outbound market and Vanilla would need to establish a local network, and forge partners, to make mainland China work.
Southeast Asia is commercially easier given interest in the Japanese market to travel there and relative ease of selling tickets from Southeast Asia into Japan. But it is operationally challenging, being well beyond the range of Tokyo Narita.
Vanilla Air is weighing two options. Neither is straightforward. The first is to open a second base further south in Japan to bring more of Asia into range. Peach Aviation has spoken of establishing a base at Okinawa, where parts of Southeast Asia can be accessed (see map below), but this build up has been slow. Vanilla is hesitant to establish a second base, especially one where Peach is located. Okinawa is the only major potential site in southern Japan that could support a base.
Approximate narrowbody range from Okinawa Naha airport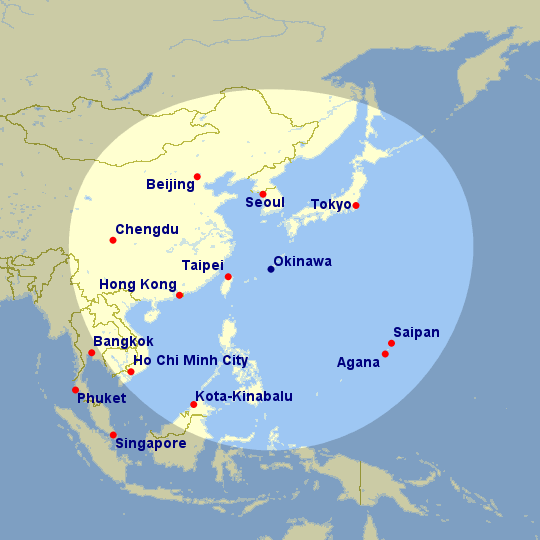 The second option is to acquire widebody, longhaul aircraft, which has been mooted for some time at Vanilla. This would bring more of Southeast Asia (and beyond) into reach and be well beyond the markets that could be accessed from a southern base such as Okinawa. Widebodies would also enable non-stop flights to and from Tokyo whereas an Okinawa base would require transfers to other Japanese points. Much is said of the low cost, long haul model. It is growing in Southeast Asia but in Northeast Asia has only one follower, Jin Air.
A potential long haul operation at Vanilla Air could differentiate it from other LCCs. The Japanese outbound market would prefer a Japanese operator, likely giving Vanilla Air volumes even if it would not be the most cost disciplined. Guam (Agana on the above maps) and Saipan have been mooted leisure destinations for Vanilla, but it could also consider Hawaii, which is not in narrowbody range, unlike Guam and Saipan. This strategy however risks ignoring the growing inbound market to Japan, a segment long haul LCCs like the AirAsia X and Scoot franchises are picking up. Competition there would be tough for Vanilla Air.
The attraction of service to Southeast Asia is that foreign passengers are likely to be more receptive to Vanilla's low cost positioning, especially on longer flights. Many segments of the Japanese population are reluctant to travel on LCCs for even short domestic flights due to (usually misplaced) concerns over service and safety. Their demands for on-time performance are strong; ANA and JAL have some of the world's strongest on-time performances, although these are made possible only by low aircraft utilisation. Vanilla Air referred to one quarter's 84% OTP – solid in any other market – as "not good".
The majority of Vanilla's international passengers are foreigners, not Japanese. On its Taipei routes, 80% of passengers are Taiwanese.
Vanilla Air focussing on international growth. This meshes with Narita curfew
First as AirAsia Japan and now as a reborn Vanilla Air, the carrier has stated its intent to focus on Japan's international market. One reason is that owner ANA is the largest carrier in the domestic market with about a 42% share of seat capacity. (This excludes the numerous smaller carriers it owns stakes in and is able to partially leverage for group strategy.) This contrasts to Jetstar Japan, which wanted to carve a large presence in the domestic market before considering international opportunities. One reason is that minority shareholder JAL has shrunk its domestic position: it accounts for about 31% of the domestic market; Jetstar Japan helps it claw back market share and potentially serve some markets with a more fitting service offering (LCC).
International flights help Vanilla Air overcome the curfew at its Tokyo Narita hub. Of Vanilla's eight A320s, three are used on overnight flying. A wider network of international destinations could grow this, but options from Tokyo Narita may be limited.
Instead of parking aircraft overnight when they cannot fly, Vanilla has a service departing Narita at 20:40 for a back of the clock rotation to Hong Kong. It arrives in Narita at 07:05 the following morning. Hong Kong is Vanilla's longest sector. Vanilla also has two overnight rotations to Taipei Taoyuan that depart Narita around 17:40 and 21:40, and then return to Narita around 07:35 and 11:35. These services do eat into daytime flying but still boost utilisation.
Vanilla's third Taipei service operates during the day. In northern winter 2015/2016, Vanilla Air will introduce a fourth daily service to Taipei. This will give Vanilla Air approximately 10% share of the market between Tokyo and Taipei (all airports) and see it about equal ANA as the fourth largest carrier in the market. Vanilla's only other international destination, Kaohsiung, has a daily daylight service.
Tokyo to Taipei (seats per week, one way): 19-Sep-2011 to 3-Apr-2016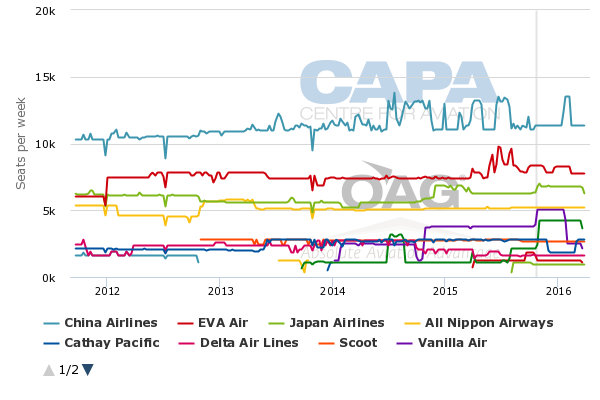 Hong Kong and to a lesser extent Taiwan are examples where overnight flying boosts utilisation and is friendly to passengers who want to maximise destination time but minimise hotel costs. The longer distance to Hong Kong provides some opportunity to rest as well as depart around midnight and then arrive the next morning.
For Taipei and other closer destinations to Tokyo, there is less flying time so arrival and departure times in the middle of night (02:00, 03:00) start becoming necessary unless long ground time is used.
Domestic traffic is highly seasonal with large fluctuations
Another reason Vanilla is not bullish on the domestic market is its seasonality. Vanilla has been working to achieve consistency in its operation compared to its AirAsia Japan days when punctuality and load factors varied but were generally poor. Vanilla's load factor throughout 2015 has improved but still shows variance. Yields (second graph) also reflect high seasonality, especially at LCCs. Limited holiday time in Japan and often inflexible corporate working schedules limit free time.
Vanilla Air monthly domestic passenger load factor: 2013-2015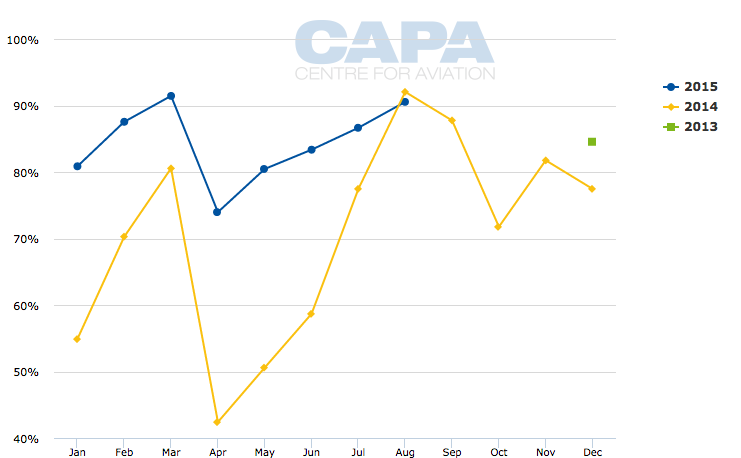 Yields (JPY) of select Japanese airlines: 1Q2012-2Q2014
Vanilla Air could resume service to Seoul
Seoul was a service inherited from the AirAsia Japan days. AirAsia Japan launched domestic services in Aug-2012 and quickly commenced international operations, debuting a daily Tokyo Narita-Seoul Incheon service in Oct-2012 and increasing it to double daily in Jul-2013. The carrier continued Seoul services after its transition from AirAsia Japan to Vanilla Air (although there was a gap in service due to re-launching the airline). Services were maintained at double daily except during a brief peak period when they increased to four times daily. But the service was then suspended in Mar-2015.
Vanilla Air reported it was impacted by changing foreign exchange and LCC competition. The service was launched at AirAsia Japan when the Japanese yen was more favourable against the Korean won. When Vanilla Air re-launched the route in early 2014, the won had significantly strengthened but would not reach its peak – this would occur in 2015, when the route was cancelled.
KRW to JPY exchange rate: 2010-2015

Although Vanilla Air had bi-directional traffic, its strength was the Japanese outbound market, and this segment quickly dropped off with the weakening yen. Japanese visitors to Korea peaked in 2012 but declined as the exchange rate became unfavourable.
South Korea annual tourist arrivals from Japan: 2008-2014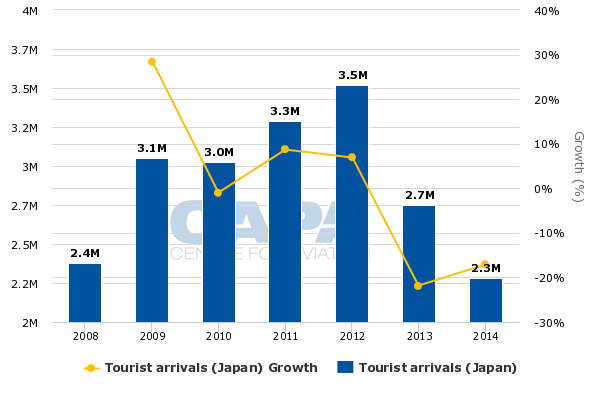 In 2015, Japanese visitors to Korea are at record low levels, receding past 2008 figures.
This was even before the MERS crisis in Jun-2015, when visitor numbers plunged further.
South Korea monthly tourist arrivals from Japan: 2008-2015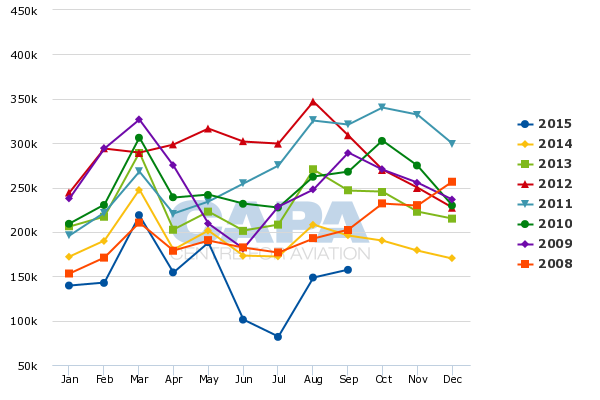 As the market shifted towards Korean inbound visitors to Japan, Korean LCCs grew on the Tokyo-Seoul route. Besides having the advantage of a local customer base, they also benefitted from lower costs.
In the Tokyo-Seoul market, Asiana and Korean Air jointly account for approximately 60% of seats in Oct-2015. They are followed in size by ANA and JAL, each with about a 12% share. LCC Jeju Air is the next largest with a 6% share and EastarJet with 5%. Jeju and Eastar together equate to the capacity of one of Japan's full service heavyweights. Overall seat capacity in the Tokyo-Seoul market has been declining since its 2013 peak.
LCCs accounted for 13% of seat capacity in 2014 – up from a mere 1% in 2011 – but the rate has fallen in 2015 due to the exit of Vanilla Air.
Tokyo-Seoul seat capacity by carrier type (left axis) and LCC share of total capacity (right axis): 2011-2015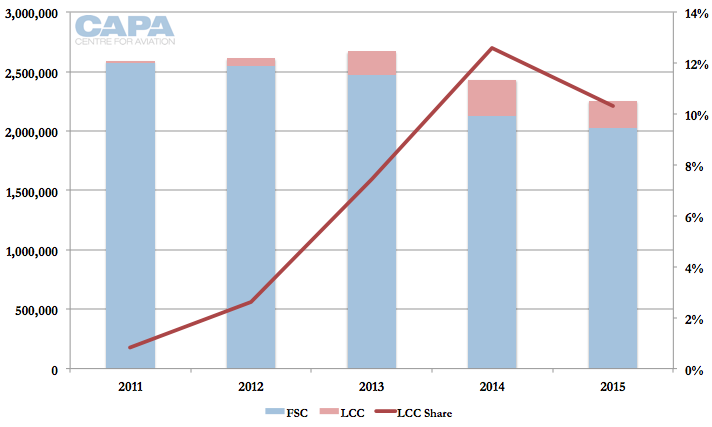 The factors at play are unlikely to change. Japan is intentionally having its currency depreciate, which will keep the Korean won as the stronger currency and the Korean inbound sector as the stronger market. Korean LCC capacity will also likely grow. Vanilla Air says another factor in pulling the Seoul service was its limited fleet.
Given only a handful of aircraft, it opted to deploy them on the strongest opportunities (such as Hong Kong and Taipei, which had more competition, including from fifth freedom operators such as Scoot). With a larger fleet, it will have capacity to re-enter Seoul, which the carrier believes it should, as a strategic matter. Taiwan (with 2.8 million visitors) was slightly ahead of Korea in 2014 as being Japan's largest visitor market.
Tourist arrivals to Japan by market: 2014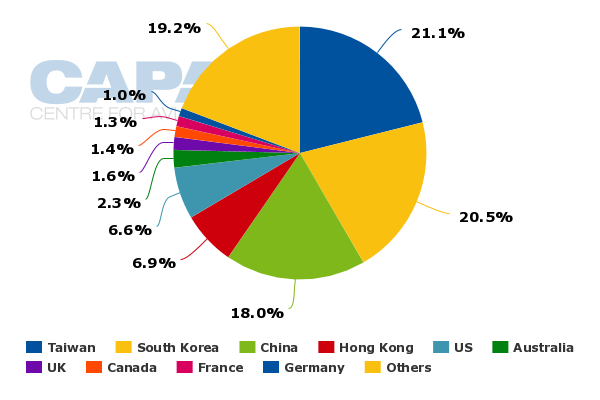 In Japan's often incestuous market, the relationship between Peach and Vanilla is difficult. The largely independent Peach was the first LCC to launch and has only minority ownership from ANA (the other investors are non-airlines). AirAsia Japan had a majority stake from ANA. ANA's investment strategy in AirAsia Japan was complex; the common view is that if ANA had not invested with AirAsia, then Skymark would have, so it was better for ANA to have two LCCs than allow a competitor to work with AirAsia.
At the time there was some geographic segmentation, with AirAsia Japan operating out of Tokyo Narita and Peach out of Osaka Kansai. They did not overlap, but it was always inevitable that one day they would move into each other's territory – especially Peach, which is more independent, had an early start in the market and was fast to find financial success.
Not only did Peach launch a Tokyo Narita base right in Vanilla's backyard, it also one-upped the other LCCs by commencing international services from Tokyo Haneda. Haneda only has slots available for midnight hour international services. Peach is boldly advertising its downtown Haneda flights as letting passengers fly "from the heart of Tokyo".
Peach Tokyo Haneda ad: Oct-2015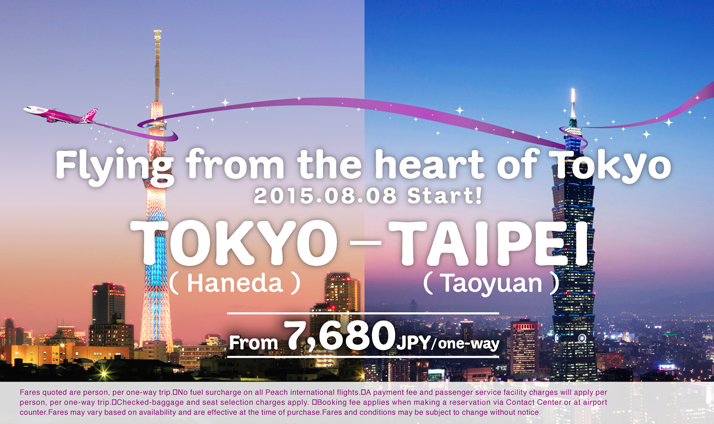 See related report: Peach Aviation solidifies Japanese network with Tokyo base while Spring Japan re-capitalises
Peach operates five weekly flights between Haneda and Taipei, its only international service (so far) from Haneda. As Peach has no base at Haneda, the aircraft arrives from Taipei into Haneda at 04:40 and then departs Haneda for Taipei at 05:50. The aircraft then returns to another Japanese point.
Peach is only flying internationally from Haneda. Its Narita base serves domestic points, including the overlap with Vanilla. Peach's growth has been moderate, putting financials ahead of strategic growth, but a more aggressive presence in Tokyo would be a challenge for Vanilla.
There is no plan to make other Haneda slots available to LCCs, so Vanilla will only have international night/early morning slots available, and is considering using them. The long term objective would be daytime Haneda access for LCCs to have domestic and international slots, but this would require another revolution in Japan's transport policy – which will, probably, one day happen. Japan embarked on an open skies liberalisation wave, and has also welcomed five LCCs between 2012 and 2015 (Peach, Jetstar Japan, AirAsia Japan Mk I/Vanilla Air, Spring Airlines and most recently AirAsia Japan Mk 2).
Outlook: Vanilla Air has an opportunity for a closer dual brand strategy with ANA
Vanilla Air has had a short but eventful life. Its transition from AirAsia Japan to wholly ANA-owned Vanilla Air retained many routes and employees, but the back end of the airline had to be overhauled very quickly. The carrier had to source its own aircraft, reservation platform and policies, to name but a few. Time has dictated it is not the largest Japanese LCC. Its eight A320s compare to Peach's 16 and Jetstar Japan's 20 (although this may have been too aggressive a fleet build up). Its shareholder – ANA – is historically more conservative.
Japan's LCCs are largely running independently of their airline shareholders. Jetstar Japan has entered markets JAL previously exited or was never present in. But the opportunity exists for closer collaboration, especially since many components of Japan's full service airlines are very much in need of an efficiency boost.
Vanilla could take over leisure routes from ANA, short or long haul (Hawaii). Vanilla one day will enter the mainland Chinese market, and there could be an opportunity to partner with ANA. ANA is rapidly growing its North American long haul network on the back of transfer demand. Mainland China is a large source market, but the mainline ANA has too high a cost base to compete on many routes with Chinese carriers. Vanilla Air could compete better, and also serve destinations entirely new to the ANA group. But this strategic thinking has not hatched (yet).
Japan's recent inbound tourism arrival growth is unprecedented and will require tourism targets – which have proven too conservative – to be adjusted upwards. Most of the growth is regionally. There are slot issues to tap some growth segments, but with only two or so additional aircraft a year, Vanilla's growth is moderate. It will need to diversify and take some bigger risks, but it enjoys the potential of significant growth as demand increases for its home at Tokyo.