US smaller airport using incentives to attract new LCC services
Analysis
Small to mid-size airports in the US have used a range of tactics to attract and sustain service during the past decade as market forces have changed, due to consolidation.

Waiving certain fees or using minimum revenue guarantees seem to be the most dominant forms of attracting new air service, and those methods offer mixed results, depending on an airport's geographical location and a city's economic climate.

As the three large US global network airlines (United, Delta and American) work to maximise high yielding connections at their hubs, small to medium sized airports may need to continue courting low cost airlines to secure direct service to destinations at the top of their respective wish lists.
Summary
There are no one size fits all formula for what incentives work best for airports in gaining new air service.
Markets like Pittsburgh and Austin have certain inherent advantages, given their solid economic performance.
Some smaller markets face challenges in attracting service, since large US airlines are working to bolster connectivity at their hubs.
Some statistics call into question the effectiveness of air service incentives
Next City has cited studies by Megan Ryerson of the University of Pennsylvania showing that between 2012 and 1Q2015 30 US airports spent USD171.5 million on incentive programmes; however, 40% of the routes launched during that time ended when the incentives expired.

There is likely a myriad of reasons for the routes ending, including the expiration of the incentives, and as the US marketplace continues to evolve, airports find themselves attempting to determine what financial inducements drive the best return for investment.
Pittsburgh and Austin have certain advantages in attracting air service
One airport that has logged success in recovering service after losing its hub status is Pittsburgh. US Airways dehubbed the airport more than a decade ago, but during 2017 nearly 9 million passengers travelled through the airport, which translated into 8.2% growth – the highest in the past nine years.
Pittsburgh International airport annual passenger growth from 2009 to 2017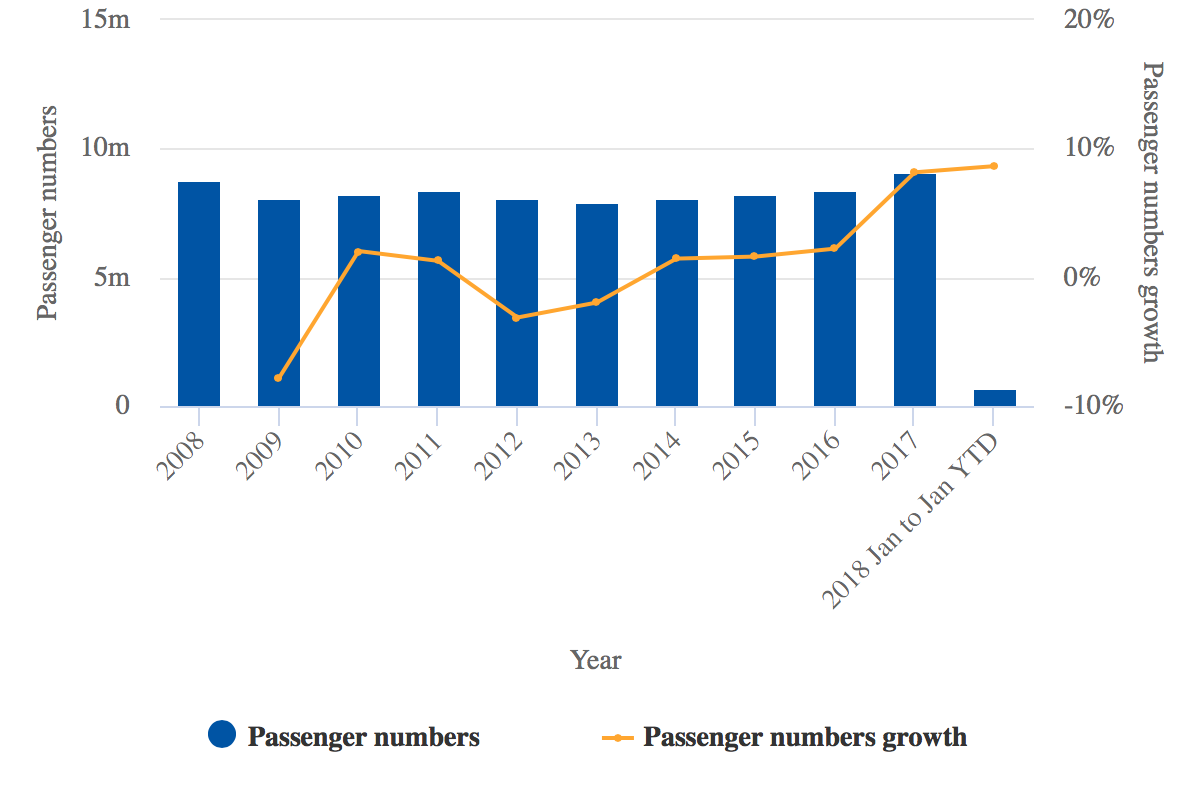 Recently, Delta Air Lines announced new flights from Pittsburgh to its Salt Lake City hub starting in Jul-2018.
According to the Pittsburgh Post Gazette, the city offered Delta USD100,000 in incentives for the new service, and the Pittsburgh Tribune has reported more than USD4.6 million in incentives have been awarded since early 2015. However, during that period Pittsburgh has doubled its nonstop routes from 37 to 74.

Among some of Pittsburgh's positive market dynamics are a targeted cost per enplaned passenger of USD11.30 in 2018 and a growing technology industry. The Pittsburgh Tribune has stated that the tech industry contributed USD11.3 billion to the city's economy in 2017.

Austin is another tech hub where passenger growth has jumped nearly 70% from 2009 to 2017, when 13.9 million passengers travelled through the airport. Notable route additions during the past few years include the debut of long haul service to London Heathrow by British Airways, Air Canada's new service to Toronto, and Norwegian's flights to London Gatwick. The ULCC Frontier has also added several markets from Austin during the past couple of years.
Austin's stature as a technology centre and its continued steady economic growth provide a certain level of attractiveness for airlines, and the business case for launching new flights is different from at other airports.
Austin-Bergstrom International airport annual passenger growth from 2009 to 2017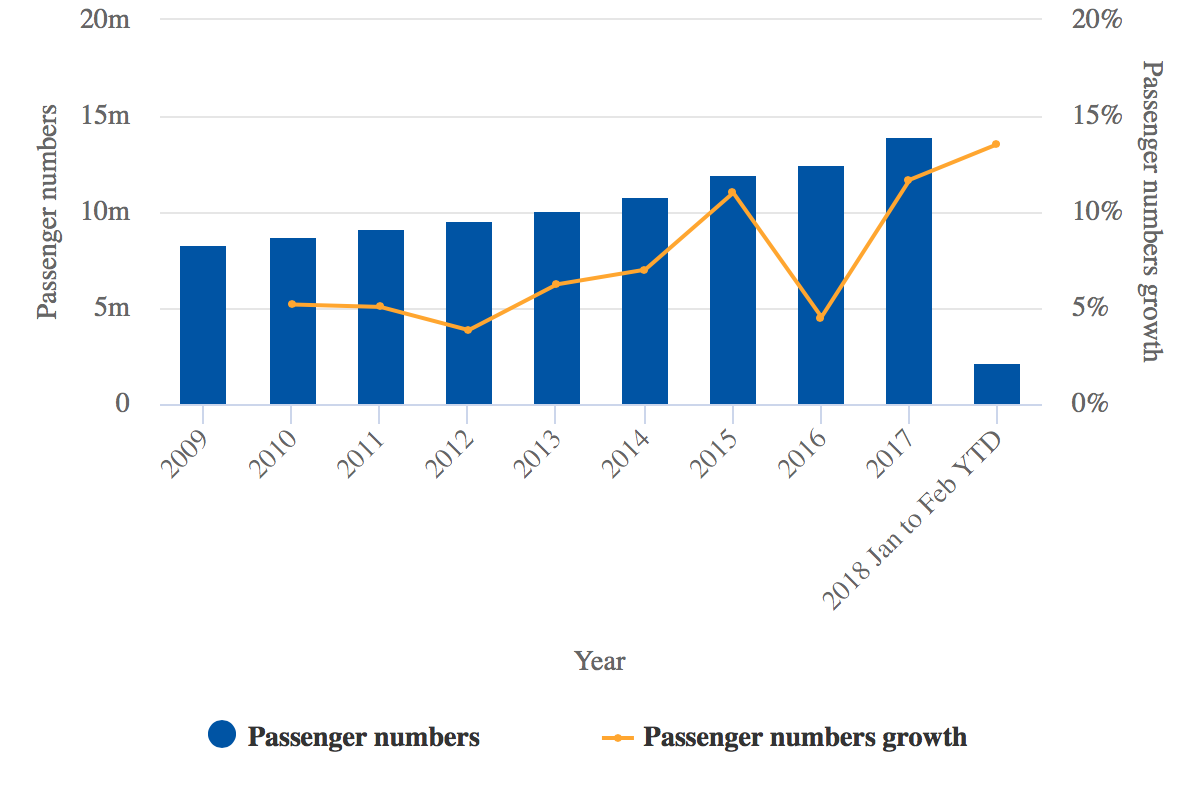 Louisville turns to minimum revenue guarantees to attract new service
Louisville International airport's passenger numbers have remained steady, in the 3 million to 3.5 million range, during the past few years.
During 2017 the Louisville Regional Airlift Development (LRAD) programme was launched with the goal of attracting new air service to the airport, according to Insider Louisville. The non-profit organisation has established a minimum revenue guarantee fund for air service, according to the publication, and its members have cited similar guarantees used by Columbus and Indianapolis. LRAD has raised USD1.33 million from the state of Kentucky, and USD200,000 from the city of Louisville.
Louisville International airport annual passenger growth from 2009 to 2017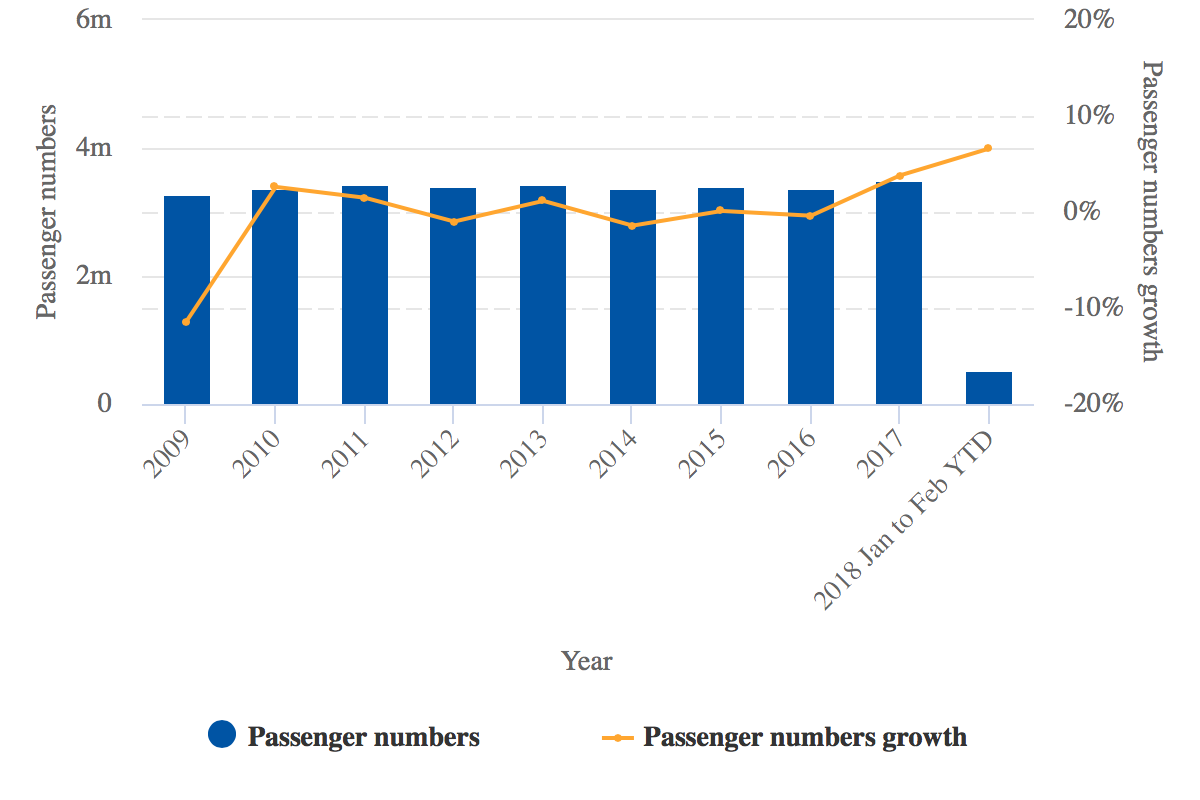 So far in 2018 Allegiant has announced new flights between Louisville and Jacksonville and Myrtle Beach, and Southwest has unveiled plans to add service to Houston Hobby.

During 2017 Frontier Airlines detailed plans to launch service from Louisville to Denver in 2018, and Allegiant Air introduced flights to Las Vegas and Phoenix Mesa.

According to the Louisville Courier Journal, nonstop destinations topping LRAD's wish list are Boston and Los Angeles. The publication quoted LRAD officials noting that close to 500,000 travellers are deciding to drive to Cincinnati or Nashville for better service options.
Smaller airports could face hurdles in gaining nonstop service to large markets
At the moment, markets like Louisville could face challenges in gaining nonstop access to markets, especially on the West Coast. The large US airlines American, Delta and United prefer to funnel passengers through their hubs to produce higher yields. United, in particular, is making a push to add more spokes to its hubs to close domestic revenue gaps it faces with its peers.

See related report: US domestic air travel: hubs exceed limits, ex-hubs rebuild

From Louisville, United operates flights to its hubs to Chicago O'Hare, Denver and Houston Intercontinental, and the likelihood of direct flights from any of the US majors to the US West Coast is low.
Delta Air Lines is building Boston into a focus city, but it already serves Boston from Cincinnati, so launching service from Louisville is not a distinct possibility.

Still, a minimum revenue guarantee could help Louisville make inroads as it works to build up air services. The city's economic development chief told Insider Louisville that the additional incentive can move a city up in line to get a new route or airline.
Smaller airports may need support to gain new service
US airports have always adopted a certain level of forward thinking in the approaches to secure new air service, and that mindset will remain in place as the market continues to mature.

In the near to medium term, smaller airports may need to find creative ways to compete for destinations at the top of their respective wish lists. Perhaps if those airports receive substantive support from their local communities and some assistance from the state level, their chances of securing new service will improve.