US Government initiatives hurt airline profitability
Analysis
The airline industry over the past few years has spoken with one voice, a low, plaintiff cry, to do no harm in passing Federal laws, rules and budgets. An off-hand remark earlier this year by AMR Chair Gerard Arpey illustrates just how hard that is, given the fees and taxes facing the airlines and their passengers.
In an almost ignored remark, Arpey reported that AMR would only need an additional USD17 per passenger to break even. During the third quarter of this year, American's average fee per passenger was USD12, but this was small change next to Delta which extracted USD24 per passenger through fees on average. See related report: US airline ancillary fees top USD2 billion in third quarter - up 36%
While that may be heartening, a set of statistics released by the Air Transport Association earlier this year shows the giant footprint government leaves on airline balance sheets.
Wall Street is famous for its naïve questions about airline operations. At last year's FAA Forecast Conference, one analyst asked about changing the pilot seniority programs and during the AMR call, Morgan Stanley's William Greene asked if any progress could be made on reducing taxes and fees.
The answer to both questions is simple: "not in this lifetime."
The government has been too dependent on raising revenues through user and other fees instead of taxes. A neat slight of hand, the airlines themselves have begun to copy with ancillary fees.
The government views these as a giant ATM machine and it certainly knows how to extract such fees from aviation. To put that in the proper perspective, airline taxes and fees dwarf their market value and earnings.
Taxes/Fees Vs Market Value
"When you step back and then recognize how much taxes and fees are placed on our tickets before we get any revenue," said Arpey, "you see why that is more of a mountain than it would otherwise appear to be, despite the economic climate, despite all the other things going on. So, I think, Bill, we've not done as good a job as we should have. I think most of our efforts are on trying to convince the government to not do anymore harm in this environment."
Airline Capital Destruction
As the US airline industry struggles to re-invent itself into what it has largely unknown since deregulation – a consistently profitable business model, it must contend with government initiatives that, while filling federal coffers, sap its collective strength. Entire books have been written on why airlines cannot make money and, while executives would point to too much competition pouring in too many seats, there are other factors.
Taxed to death
Governments around to world have turned so often to airlines and aviation, the industry has become one of the most heavily taxed industries in the world. Ticket taxes account for USD60, or, 20%, of every USD300 ticket. The Passenger Facility Charge increase, as proposed in the House FAA Reauthorization bill this year, would increase that to USD70 or 23%. Taxes are so high as to be equal to such 'sin taxes' as tobacco and alcohol.
Ticket Tax Bite on USD300 Ticket Tripled
The International Air Transport Association notes airlines are the only transport sector that must pay for its own infrastructure. Meanwhile, governments use their revenue to subsidise competition. Airlines are taxed while railroads are subsidised. And now, the US government is taking a page out of the European playbook by launching a major new transport initiative – high speed rail.
While most transport observers see this a another pie-in-the-sky scheme that is better for headlines than actual policy, it is still commanding a USD13 billion tab – all coming from the general fund. That more than anything prompted the industry to collectively recoil in shock. If it were to come to pass, taxpayers would be subsidizing a new transportation mode while aviation users pay through the nose, not to get the improvements needed to make aviation more efficient.
To put this into perspective, it is important to understand that the general fund only pays for about 15% of the Federal Aviation Administration budget. Earlier this year, industry testified before both House and Senate that, given aviation's contribution to the US economy, more funding for the FAA and its programmes should come from the general fund. They recommended general fund contributions rise to 25-35%. Instead, both House and Senate Reauthorization bills advocated increased taxes and fees. Currently, in the US, the government rakes in USD18 billion.
"Special" Tax Comes on Top of Other Taxes
Travelers are no one's constituent
Governments at all levels exact taxes from travelers, simply because they can and despite efforts for passengers and travelers to band together into associations to have a bigger voice, they have accomplished little. And airlines are not unique as anyone who has looked at the taxes and fees added to a restaurant, hotel or car rental bill can attest.
Taxes show no sign of abating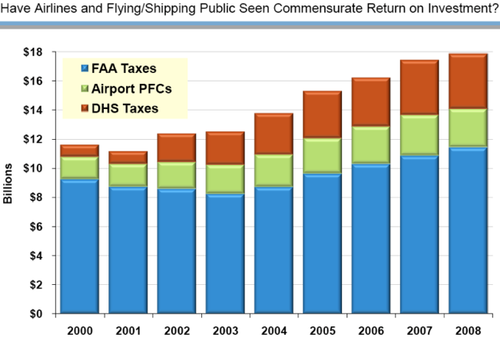 If taken in the context of return on investment, there has been none. Despite the USD21 billion paid for airports/airways last year, system delays have not abated. Most delays are still caused by the aviation system. Those delays cost the economy USD40 billion annually, not to mention driving the need for more gates and ground personnel than would otherwise be necessary.
Sadly, if we would ever finally get to modernisation and NextGen, the additional capability would unlock more than the current USD1.2 trillion the industry contributes to the US economy every year. FAA statistics show the potential. Near the peak of the last up cycle in 2006, FAA reported that the industry accounts for USD346 million in personal earnings and 10.2 million jobs. It accounts for USD692 billion (5.2%) in US GDP.
That is what makes it a cash cow, for everyone but the people who work for and invest in airlines.
Against this backdrop is the recent call for a commission on what the government can do to help airlines achieve greater profitability. The convening of such a commission is a sad commentary on how Washington works. Punt the issue by calling for a study, then, ignore the recommendations. We've had many such commissions and the recommendations have been relegated to dust gathering on some federal shelf.
What needs to be done is obvious to everyone except those who are addicted to taxes and fees in Washington. The industry is also victim to being an easy target for populist sentiment which prefers the antiquated view that aviation is still for the jet set rather than the more realistic view as an economic engine.
Indeed, even as airlines seek new revenues along with cutting expenses, legislators do little but complain about how they do it. They have targeted the new fees which now bring in USD2 billion as of the third quarter, according to the US Department of Transportation's Bureau of Transportation Statistics which released its report this week. Thankfully, so far it is not aimed at eliminating the fees, but just notifying passengers of additional costs to their ticket – such as taxes and fees – before they "buy" button.
Congressional initiatives such as those called for by Representative Jim Oberstar, chair of the House Transportation and Infrastructure Committee, designed to stem maintenance outsourcing and alliances, largely brought at the behest of workers, threaten to do more harm. Air Transport Association President Jim May testified that the US maintenance, repair and overhaul facilities do far more work for foreign carriers that foreign repair stations do for US airlines. But then again, must of what happens in Washington is for political theatre not actual results. Oberstar can now check off his IOU to the unions as a result.
However, if Washington paid more attention to the overall health of the industry, they would likely see more jobs created than the 150,000 lost to the current recession.