US commercial airline report seeks to spur government action
Analysis
Domestic yields for US airlines rose 13.1% in July to USD 14.95 cents, continuing this year's trend in robust yields, according to the US Air Transport Association. Atlantic yields rose 27.5% to USD 13.97 cents but was again bested by Pacific performance where airline yields soared 40.1% to USD 13.42 cents. Latin America posted a 15.4% increase USD 13.97 cents.
The latest yield results were a welcome relief as they came just after ATA released its 2010 annual report - a dismal reminder of last year. ATA continued its campaign to convince government that airlines are net contributors to society and should be at least left alone, if not helped. The campaign – when America flies, it works – is supported by the annual report showing that commercial aviation contributed USD731.5 billion to the US GDP – 5.2% – in 2009 and supported 536,200 million direct aviation jobs and 10.9 million total US jobs.
US airlines' annual US GDP contribution & jobs
"Some of the most recent government data tells us that commercial aviation helps generate more than USD1.2 trillion in economic activity and almost 11 million US jobs," said ATA President James May. "Remarkable, but like a lot of statistics, the raw data does not always connect us to the real story – the faces and families that numbers can never fully capture. As we all work toward a stronger economic future, it is indeed an opportune time to focus on the importance of what The Economist recently described so well as, 'the silver needles that sew the world together'. Those silver needles not only enable us to stay close to family and friends across the country and around the world – they also help us secure the fabric of our economy and our lives. In 2010 and beyond, it is more important than ever for both the airline industry and those in government to make the right choices to foster prudent investment in commercial aviation. Just as important will be the decisions to finance and develop the national infrastructure essential to enhancing aviation efficiency while optimizing environmental performance."
Would that mere words could kick-start government action to fulfill its promises to the millions of passengers who have paid billions of dollars for a new air traffic control system that has been 50 years in the making but, sadly, remains unfulfilled. Interestingly, the report puts in one place all the various taxes on passengers, showing they have grown to 20% today against the 7% tax paid at the dawn of deregulation 32 years ago.
Special Aviation Tax Rates – Jan. 1, 2010
Special aviation taxes, passenger facility charges, ticket tax trends, airway and security taxes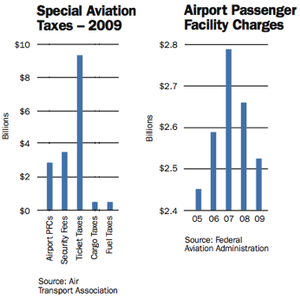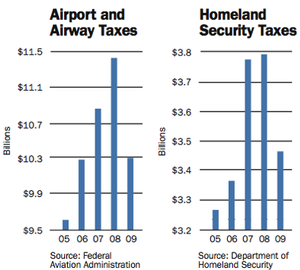 "Today, US airlines and their customers pay about USD60 in taxes or 20% of the price of a typical USD300 domestic round-trip ticket," said ATA, calling it a tremendous drag on profitability that forces the loss of jobs and service to communities. "That contributes to the USD23 billion in taxes and fees paid annually to airports, FAA and the Department of Homeland Security. These excessive costs make travel and shipping less affordable and inhibit airlines from making needed investments in the future, ultimately harming the people and businesses that rely on air transportation."
Coming eight months into a year in which airlines have consistently reported double digit year-on-year gains in almost all measures, the report pre-sages an even more robust report this time next year, unless the economy takes a double dip which analysts are watching closely. Indeed, the report showed significant declines across the board in airline operating statistics between year-end 2008 and 2009.
US airline operating statistics highlights
At a time when government is seeking to raise taxes by taxing ancillary revenues, ATA has gone on the offensive to illustrate just how many jobs depend on the industry. "If aviation were a country, it would rank at the world's 21st largest economy – eighth if factoring in its supply-chain contribution to tourism and employee spending," said the report, quoting Aviation: The Real World Wide Web.
Commercial aviation* job impact by industry
Civil aviation* job impact by state
All that in a depressed year when US airlines saw operating revenues plunge 17%, leading to the deepest two-year contraction in the industry's history, and extending industry losses to USD58 billion over a nine-year period beginning in 2001. The report recounted 2009's bitterly familiar and grim statistics which most would just as soon forget.
Operating revenues sank 16.9% to USD155 billion on a USD6.3 billion drop in passenger revenue and a USD20.2 billion drop in cargo revenue.
Cargo sales, which accounted for 15% of 2009 total industry revenues, fell 21.5% on an unprecedented slowdown in global demand. The average cargo yield dropped 11% to USD 92 cents per ton per mile, compounding the 12% drop in RTMs.
Passenger revenue fell 18.1% as a 13.6% drop in the average price paid (excluding taxes) to fly one mile exacerbated a 5.3% decline in miles flown by paying passengers. Unfortunately, relative to the size of the US economy, domestic passenger revenue shrank for the third consecutive year. Accounting for USD 46.5 cents of every USD100 of US GDP, it stood USD 26.3 cents below the 1991-2000 average, translating in historical terms to a staggering USD37.5 billion revenue shortfall for the industry in 2009.
Interestingly, as more are griping about rising air fares, ATA produced a chart showing how much other goods and services have skyrocketed compared to domestic and international travel. This is an illustration that will resonate with many people, especially those with a kid in college. Only television fared worse as the world turns away from traditional information and entertainment channels to the burgeoning telecommunications industry.
Price of air travel vs other US goods and services
While much of the rest of the report recounted aviation's track record on the environment, safety, security, fuel efficiency and innovation, it also recounts its now familiar pitch to make NextGen, NowGen which will likely be just as unsuccessful as it has in the past.
US airlines income statement (millions, except as noted)
ATA also recounted the industry's value to imports and exports showing US exports by air reached USD334.4 billion while imports topped USD366.9 billion. While exports went to a geographically diverse world top exports went to the UK while top imports – not surprisingly – came from China.
US export/imports by air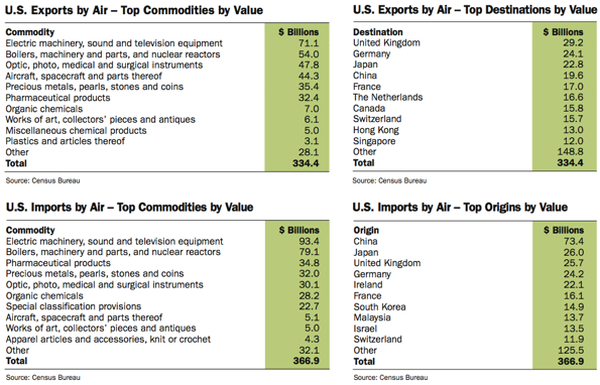 There is no question of the value of aviation to world commerce. Despite that, the Obama Administration has continued its steady, anti-business drumbeat preferring sound bites to the realisation of what business actually contributes. While egregious excesses spawned the economic recession, the rhetoric used against business and commercial aviation in the immediate wake of the economic meltdown and the assumption to the presidency by Barack Obama was far out of proportion and had absolutely nothing to do with either segment of aviation. With little thought, Obama condemned an industry that is the very nexus between Wall Street and Main Street, for it is on Main Street that business and commercial aircraft are built. Just as the luxury tax imposed a decade ago backfired by causing the loss of thousands of Main Street jobs, so too did all the language condemning incentive and business trips.
What would be nice is to hear both sides of the political spectrum come to terms with the fact that helping business means building more jobs, something much needed in today's fragile economy. Instead, we get gamesmanship that has not only locked down Congress but has stalled any hope of NextGen funding for four long years, something that is likely to be repeated this year.
Aviation's contribution is well known, but you wouldn't know it by looking at the record across the past five decades.