US carriers shrinking in United States-Southeast Asia market
Analysis
US carriers are shrinking their presence in the Southeast Asian market, which they serve via Asian hubs, typically in Tokyo or Hong Kong. United's current schedule sees a 27% drop from its last schedule, and is made feasible by merger partner Continental having a narrowbody fleet in the Asia-Pacific region. The decline follows previous cuts made by Delta merger partner Northwest. Despite United's cuts to Vietnam, Delta has no plans to add capacity. Southeast Asian carriers have almost twice the capacity to North America as US carriers have to Southeast Asia.
Delta even considered deploying its B777-200LR on non-stop flights from the US to Singapore, as Singapore Airlines does with a fleet of A340-500s, but determined sustaining the flights would be difficult. Working against US carriers are their higher cost bases than Southeast Asian carriers, despite US carriers having extensive fifth freedom rights in the region.
It is not a typical move in the airline industry to downgauge a route from the largest to the smallest Boeing. But that's exactly what United quietly did at the end of last month, when the US carrier swapped a B747-400 for a B737-800 on two of its routes to Southeast Asia. The change of gauge, which United dressed up as "fleet optimisation," has resulted in a significant decrease of capacity to Ho Chi Minh and Singapore. United operates daily flights to both cities from Hong Kong, where connections are available to Chicago, Newark and San Francisco.
United also serves Singapore from Tokyo, the carrier's largest Asian base, with B747-400s now again used on this route (in recent years United has shifted several times between B777s and B747s on Tokyo-Singapore). Decreasing capacity on Singapore-Hong Kong may be an effort to instead route US-bound traffic through United's hub at Toyko, which has seen sharp traffic declines following the Mar-2011 Japanese earthquake and tsunami, whereas Hong Kong traffic is much healthier.
Capacity from Hong Kong to Singapore (seats per week, one-way) for 19-Sep-2011 to 5-May-2011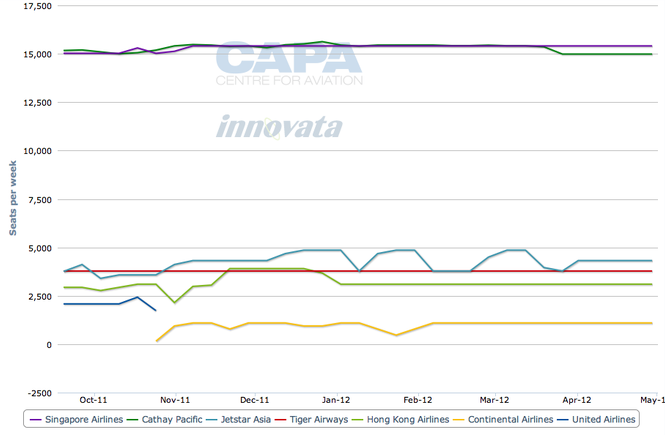 According to CAPA's route analyzer tool, United now offers just under 2,200 roundtrips seats per week in both the Hong Kong-Singapore and Hong Kong-Ho Chi Minh routes, down 55% from the over 4,800 roundtrip seats offered when B747-400s were still deployed on the route. When including its Tokyo-Singapore and Tokyo-Bangkok flights, United now offers a total of about 13,000 seats per week to and from Southeast Asia, down 27% from the recently completed Northern Hemisphere summer schedule.
For most carriers Southeast Asia represents a major growth market, with demand continuing to increase despite the challenging global economic conditions. But for US carriers, Southeast Asia is a shrinking market. Delta is the only other US carrier currently serving Southeast Asia, operating daily flights from Tokyo to Bangkok, Manila and Singapore also for a total of about 13,000 weekly roundtrip seats.
The cutbacks at United would seem like an opportunity for Delta, particularly in the Vietnam market. But Delta managing director Asia Pacific sales and affairs Jeff Bernier told CAPA last month that Delta has no plans to resume service to Vietnam. Northwest previously served Ho Chi Minh from Tokyo but dropped the route after it was acquired by Delta. Mr Bernier said Northwest lacked pick-up rights in Tokyo for Ho Chi Minh, which made the route difficult to sustain. Otherwise, Delta and United have extensive pick-up rights in Tokyo and Hong Kong.
Capacity from Hong Kong to Ho Chi Minh (seats per week, one-way) for 19-Sep-2011 to 5-May-2011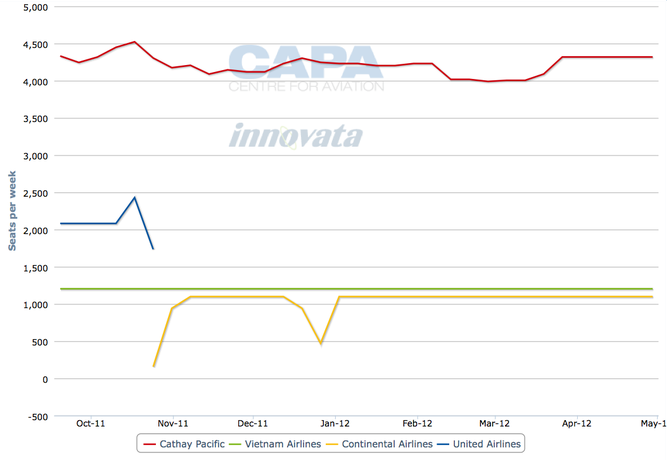 Vietnam-US remains an underserved market
US-Vietnam is a large and fast-growing market, driven by increased business ties between the two countries and a strong visiting friends and relatives (VFR) sector as there is huge Vietnamese population in the US. But Mr Bernier says Delta prefers to work with SkyTeam partner Vietnam Airlines rather than operate its own metal to Vietnam, explaining the Vietnamese carrier can operate the route more efficiently than Delta.
Vietnam Airlines was aiming to launch long-planned services to the US in 2012. But CAPA previously reported that those plans have been pushed back until at least 2013. Vietnam Airlines now has higher priorities for expanding its network. The fast-growing carrier is also currently unable to operate flights into the US because the FAA has not yet rated Vietnam's aviation authorities, although this is expected to occur next year. To launch or add flights to the US, or change gauge on existing flights, foreign carriers must be from a country with a Category 1 safety rating (Vietnam so far has no rating). It is a similar problem plaguing Philippine Airlines, which wants to deploy its B777-300ERs to America.
A Category 1 rating is also required for foreign carriers to codeshare with US carriers. As a result, Vietnam Airlines and Delta are currently limited to cooperating through an interline agreement.
Two other fast-growing Southeast Asian markets, Indonesia and the Philippines, also now lack Category 1 ratings. Indonesia's current Category 2 rating leaves future SkyTeam member Garuda in a similar situation as Vietnam Airlines in that it is unable to launch services to the US and codeshare with Delta. As is the case with Vietnam, Delta has no desire to serve Indonesia with its own metal.
Mr Bernier acknowledges the lack of Category 1 ratings in Vietnam and Indonesia limits Delta's ability to work with SkyTeam's Southeast Asian members. He says the interline arrangements it has with Vietnam Airlines and Garuda are for now sufficient but Category 1 would "allow us to take the partnerships to the next level".
Southeast Asian carriers have almost twice as much capacity as US carriers in Southeast Asia-US market
Four Southeast Asian carriers (Malaysia Airlines, Philippine Airlines, Singapore Airlines and Thai Airways) currently serve the US, offering a combined 45,000 seats per week, nearly double the seats offered to Southeast Asia by US carriers. While none of the capacity provided by the US carriers from Southeast Asia is non-stop, just over 10% of the seats provided by the Southeast Asian carriers to the US are on non-stop routes. As one-stops are the norm in the Southeast Asia-US market, North Asian and to a lesser extent European carriers also compete for Southeast Asia-US passengers.
Delta also previously studied launching non-stop flights to Singapore from the US using ultra long-range B777-200LRs. But Delta ended up selecting shorter routes for its B777-200LR fleet, determining that while technically feasible non-stop flights to Southeast Asia would be hard to sustain given the high costs of such operations and cargo limitations. Singapore Airlines has in recent times trimmed the frequency of its non-stop A340-500 services to the US.
Mr Bernier says Delta is always looking at new routes. But it seems new flights to Southeast Asia are not currently a high priority for Delta, United or any US carrier.
While the number of seats offered by US carriers from Southeast Asia has dropped significantly, not all of the capacity United has removed will come out of the Southeast Asia-US market because the portion of local intra-Asia passengers on the carrier's Hong Kong to Ho Chi Minh and Singapore flights will likely decrease. United previously had to compete with several Asian carriers to fill up seats on its Vietnam and Singapore-bound B747s which were not taken by passengers coming off its US flights. It would be hard for United to profit from these passengers as Asian carriers typically have lower cost bases. United also incurs high operating costs for its extra intra-Asia legs (pilot costs are particularly expensive because while United has flight attendant crew bases in Asia, its Asian-based pilots are on US salaries).
By operating B737-800s on these routes, United will lower its costs and no longer have to worry about picking up passengers in Hong Kong. But it also risks turning away passengers from its long-haul flights to the US because it lacks a sufficient number of connection seats to Southeast Asia.
When contacted by CAPA to explain the downgrade of its Hong Kong-Ho Chi Minh and Hong Kong-Singapore routes, United explained: "One of the biggest benefits of the merger is that United is now able to optimize its fleet. We are introducing Continental's B737 aircraft on Hong Kong - Singapore and Hong Kong – Ho Chi Minh City routes because this fleet optimization allows us to match the right aircraft to the right market to meet customer demand."
The unusual downgauge was indeed only made possible by United's merger last year with Continental. Without the merger, United wouldn't have narrowbody aircraft based around Asia-Pacific for Southeast Asian routes. The merger included Continental Micronesia, which has B737-800s based in Guam.
Continental Micronesia already served Hong Kong from Guam as well as other Asian destinations. As a result, United had an opportunity for the first time to operate narrowbodies on its intra-Asia services from Hong Kong by extending the Continental Micronesia B737-800s that already fly into Hong Kong from Guam.
At the same as downgauging the Hong Kong to Ho Chi Minh and Singapore services, United also resumed service on the Hong Kong to Tokyo route with B737-800s. Continental Micronesia already served both cities, making it very easy for Guam-based aircraft and crews to operate the route. United previously served Hong Kong-Tokyo with widebodies. The route is strategic in that it connects United's two Asian mini-hubs with local pick-up rights.
The United-Continental merger also opens up the possibility of the narrowbody routes within Asia such as Manila-Tokyo. Continental Micronesia already serves Manila from Guam.
US narrowbodies to Southeast Asia is unusual, but could be standard
US carriers operating narrowbodies in Asia is not unusual. Besides Continental Micronesia, Delta operates B757s on some intra-Asia routes and previously even based A320s at Narita. But these aircraft were and are only used for routes within North Asia. It is unprecedented for US carriers to be using narrowbodies to serve Southeast Asia.
It would not be surprising to see Southeast Asian passengers, accustomed to widebody aircraft, reacting a bit shell-shocked when seeing a tiny B737 in Ho Chi Minh and Singapore for their first leg of a journey to the US. But with American carriers frequently selected on the basis of price, not service or the passenger experience, passengers in the Southeast Asian market may reluctantly accept this narrowbody deployment.
Asian carriers, which over the last several years have raced passed their US counterparts in terms of services, will once again be the beneficiaries.