US carriers see continued unit revenue growth but increases fail to match inflation
Analysis
Continued positive trends in passenger yields and unit revenues have occurred in Mar-2011 linked to a recovery of high-fare business travel demand. However, despite improvements in the demand and yield environment, carriers are now facing a new challenge in escalating fuel costs, which have reached their highest level since 3Q2008, which could result in a more challenging revenue in the months ahead.
14 consecutive months of revenue growth for US carriers: ATA
The Air Transport Association of America (ATA) reported that passenger revenue, based on a sample group of carriers, rose 13% in Feb-2011, following growth of 10% in Jan-2011, marking the 14th consecutive month of revenue growth and reflecting the ongoing strengthened demand for air travel as airlines enter 2011.
ATA passenger revenue growth: Mar-2010 to Feb-2011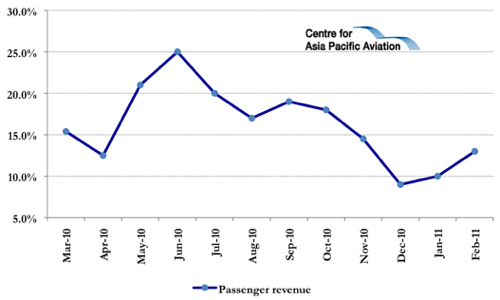 "Industry revenue growth persisted in February, despite widespread winter storms plaguing airline operations throughout the country, and reflects a strengthening economy and pricing environment buoyed by recent fare hikes attempting to offset rapidly rising energy prices. As fuel prices remain at or near historically high levels, US airlines may experience a more challenging revenue environment," ATA Vice President and chief economist John Heimlich said.
Miles flown by paying passengers rose 2.1% while the average price to fly one mile rose 10.8%. Domestic revenue grew 11.5%%, fuelled in large part by a 10.5% increase in yield. International market performance remains strong as passenger revenue grew 17%, led in particular by a 27% increase in Pacific revenue. ATA also noted that the break-even load factor among US airlines is "finally below 80% again" as yields close the gap to unit costs.
Breakeven Load Factor among US carriers: 2000 to 2011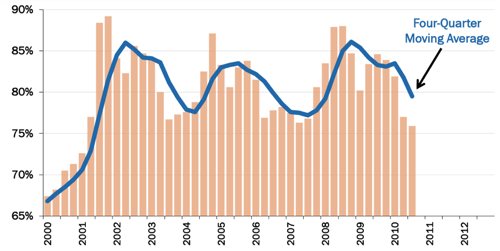 Fare increases not keeping pace with inflation levels
ATA also noted that the price of air travel, despite recent increases, has not kept pace with US inflation. Inflation rose 42.8% between 3Q1995 and 3Q2010, leaving a fare shortfall of USD71.
US inflation and fare levels: 3Q1995 to 3Q2010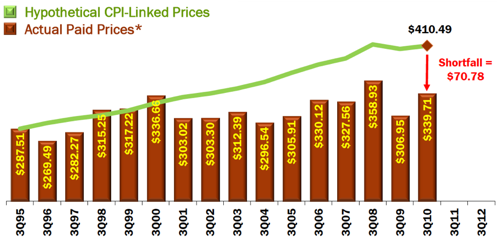 According to the US Bureau of Transport Statistics, in a Feb-2011 release, while average fares increased by 10.7% to USD340 in 2Q2010, they declined by 19.8% from the average fare of USD297 in 3Q2010 when adjusted to inflation. Fares in 3Q2010 were down 5.4% from the all-time high, not inflation-adjusted, of USD359 in 3Q2008.
31Q2010 Average Fares 1995-2010 Compared to Inflation Rate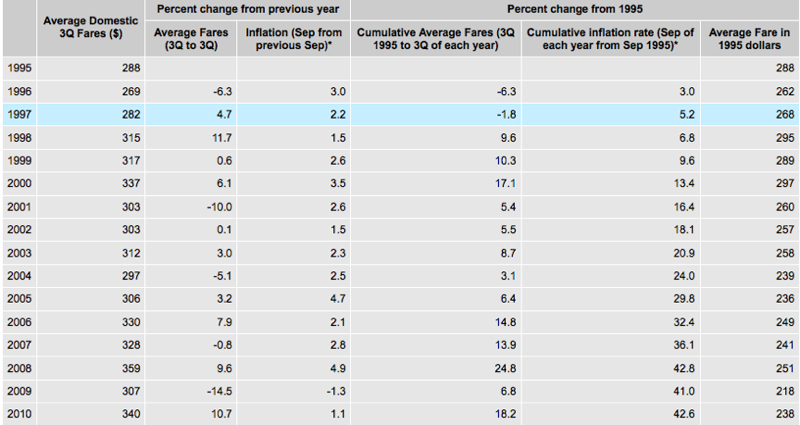 Renewed challenge of escalating fuel prices
ATA also noted the negative impact of fuel prices. Mr Heimlich stated airlines in 2011 are contending with rapidly climbing jet-fuel prices that have outpaced crude-oil prices to reach their highest level since Sep-2008. Meanwhile, US airlines could record for fuel costs when they report quarterly results in coming weeks, paying around USD3 billion more in 2011 so far. ATA stated that based on its estimates, fuel as a percentage of operating expenses could hit between 35 and 40% compared with the 36% level set in 3Q2011. "We've got to be awfully close to that. That wouldn't be established, though, until we see them report out," Mr Heimlich said in an interview with Reuters. The ATA projects fuel costs in 1Q2011 will be around USD3 billion higher than 1Q2010, increasing by around 35% to USD11.8 billion, or about 35%.
While fuel costs are a concern, the overall fuel increase does not pose the type of fundamental threat it did in 2008, when some large US airlines feared insolvency as the economy weakened. "It's completely different from the last time," US Airways Group CEO Doug Parker told Reuters in an interview. "The last time what happened is oil prices went up and we never were able to pass it along," Mr Parker said. He noted that healthy demand in a stronger economy has enabled carriers to pull off an initial round of fare increases to boost revenue and offset part of the increased fuel bill.
Mr Heimlich stated there has been a paradigm shift created by recent mergers and downsizing that have enabled carriers to better target premium business customers. Mr Heimlich also said executives are getting better at managing their balance sheets, keeping more cash on hand and being mindful of the potential for price volatility.
Jet fuel price development: Jan-2008 to Apr-2011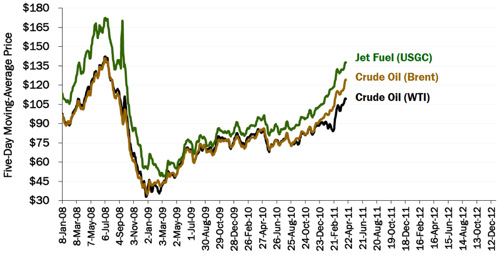 ATA stated that, excluding hedge gains or losses, if US airlines had to contend with USD3 per gallon jet-fuel prices for all of 2011, their fuel bill would increase USD15 billion, from USD39 billion in 2010 to an estimated USD54 billion in 2011. Annually, a USD 0.01 cent increase in a gallon costs US airlines USD175 million with a USD1 increase in a barrel to cost them USD415 million.
Impact of increased fuel costs on US airlines
Having the airlines' largest cost centre remain so volatile obviously makes business planning extremely difficult. ATA noted that "when jet fuel prices rise rapidly, airlines have limited options to mitigate these costs, principally generating more revenue or decreasing non-fuel expenses. As fuel prices increase, flights become less profitable so airlines may also reduce capacity, and some carriers already have reported downward growth plans. Unfortunately, fuel-hedging programmes are increasingly expensive and provide only limited protection when jet fuel prices are outpacing crude oil prices." However, fuel consumption remains 13% below 2005 levels.
Fuel consumption: 2005 to 2011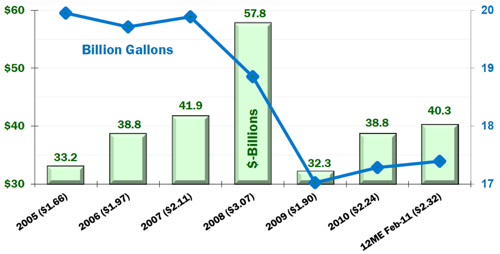 Individually, United Continental, Southwest Airlines, US Airways, JetBlue and Allegiant – ie all the carriers which report unit revenue data on a monthly basis – are reporting high single-digit or double-digit unit revenue growth in Mar-2011.
US airline unit revenue highlights (estimates): Mar-2011
| | PRASM | RASM |
| --- | --- | --- |
| JetBlue | +11% | n/a |
| | +8.0% to +9.0% | n/a |
| | +9% | n/a |
| | +9% | n/a |
| | n/a | +18.1% to 18.5% |
United and Continental's Mar-2011 combined consolidated passenger revenue per available seat mile (PRASM) increased an estimated 8.0% to 9.0% compared to the pro forma results from Mar-2010, while combined mainline PRASM in Mar-2011 also increased an estimated 8.0% to 9.0%. United and Continental's combined Mar-2011 PRASM results were reduced due to the impact of accounting for its trans-Atlantic JV revenue sharing agreement which is accounted for as net revenue in 1Q2011 and all periods going forward.
United Continental PRASM development: Feb-2008 to Mar-2011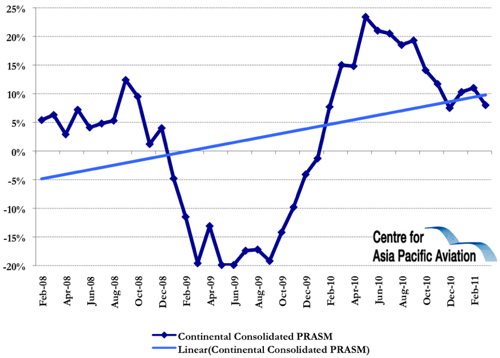 The carrier also noted that fuel prices per gallon is estimated at USD2.98 in Mar-2011 and at USD2.78 in 1Q2011.
United Continental preliminary financial results for Feb-2011 and Mar-2011

US Airways reported a 9% increase in PRASM in Mar-2011 but did not disclose RASM estimates.
US Airways RASM and PRASM development: Feb-2008 to Mar-2011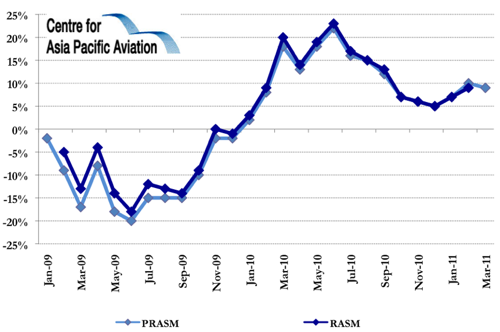 Meanwhile, Southwest PRASM growth has flatlined, increasing 9% in Mar-2011.
Southwest Airlines PRASM development: Jan-2009 to Mar-2011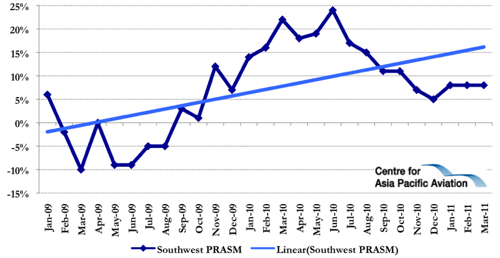 JetBlue reported the largest year-on-year PRASM growth among the reporting carriers, at 11% in Mar-2011.
JetBlue Airways PRASM development: May-2007 to Mar-2011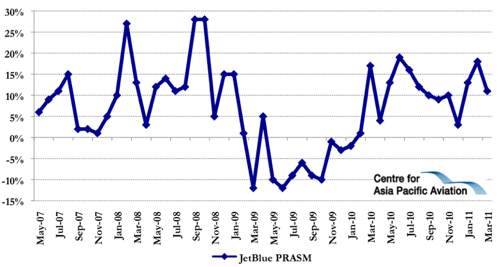 Among the smaller carriers, Allegiant reported estimated RASM growth of between 18.1% and 18.5% in Mar-2011 and TRASM growth of 12.5% in the month. The carrier also estimated Mar-2011 fuel costs per gallon at USD3.14.
Allegiant preliminary financial results: Feb-2011 and Mar-2011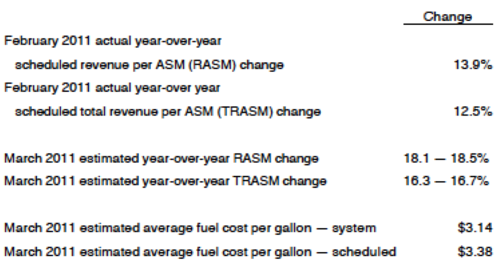 For 1Q2010, Allegiant estimated RASM growth of between 12.9% and 13.3% and TRASM growth in the 11% to 11.4% range. CASK is expected to increase by 9.6% and 10% excluding fuel. Fuel costs per gallon is estimated at USD2.87 in 1Q2011.
Allegiant unit revenue guidance for 1Q2011

Allegiant cost and revenue guidance for 1Q2011