US Airways, United Airlines in merger talks while the opportunity remains: third time lucky?
Analysis
The current wrangling between US Airways pilots and management over whether or not the current pilot contract would preclude further mergers has fuelled speculation of an imminent merger. So it came as no surprise yesterday that US Airways and United were apparently once again trying to merge. Without clear evidence yet that Delta-Northwest merger will succeed, the thinking was that there was still time for introspection. But today's opportunities will not last forever.
The two airlines have walked the walk before. They made a similar attempt in 2000, with a USD4.3 billion package that was ultimately foiled by regulators and unions. Then they tried again in 2008, but at that time the growing distress of the industry and the tightening of the financial markets put an end to the months-long negotiations. Whether the deal is real and whether they can make it happen is likely to colour US skies for some time to come.
A time to be taking risks – or at least initiatives?
The new negotiations were reported by The New York Times DealBook late on Wednesday 7-Apr-2010. This has since apparently been supported by several indiscreet comments by various participants in the negotiations.
If the suggestions are indeed correct, they would contradict much of what the respective CEOs have been saying during recent analyst conference and Q42009 conference calls. The consensus CEO theme was that they wanted to wait to see if Delta/Northwest was as successful as expected before entering into any similar transaction. See related report: US airlines taking wait-and-see stance on mergers and consolidation.
But there is a strong wind blowing across the face of the US airline industry right now, and any airline management which is not reviewing every opportunity to innovate, restructure or merge at present is likely to be charged retrospectively with having missed the opportunities of the moment.
The scope for deals is rapidly drying up, as potential partners are coupled off. This could mean that, even if the particular opportunity is not ideal, the risk of not trying it could prove more costly than staying with the apparent comfort of the status quo. Then again, adopting less than optimal strategies simply because they are there now and might not be next month can also be a recipe for disaster. Such is the pressure of the moment.
Blowing kisses across the room
United and US Airways have been among the most vocal on the necessity for reducing more capacity and costs by merging.
But they have also loudly signalled each other their desires to wed, especially after United CEO Glenn Tilton told the Financial Times recently that the market likes mergers, saying "The market seems to have suggested that scope and scale in a global business are important." Airline mergers gaining attention - and traction (?) in 2010.
However, United, which is well placed to lure a new partner, may well be keeping its options open. Continental, arguably a better partner, will be watching with more than academic interest at the love making – and that might just work in United's favour in extracting a better deal from one or the other.
The big question is whether the whole would be bigger than the sum of the parts
Neither airline has been performing above expectations over the last two years. So, given at least a short term set of teething problems, inevitably questions remain about the ability to downsize costs and rationalise operations.
United Airlines and US Airways operating Profit/Loss Margin: 1Q2007 to 4Q2009
Domestically the two have a similar sized footprint. But one difference recently has been US Airways' passenger/capacity growth rate. While United has maintained its conservative approach, US Airways has refired its growth trajectory in Mar-2010.
United Airlines and US Airways mainline passenger numbers growth: Jan-2009 to Mar-2010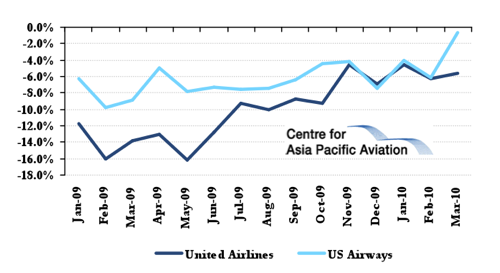 As can be seen from the following chart, United has been the most aggressively conservative major in terms of capacity reductions. Only Northwest, going through a merger, has cut more seats.
Top 10 US Carriers: 2009 scheduled domestic enplanements and growth rates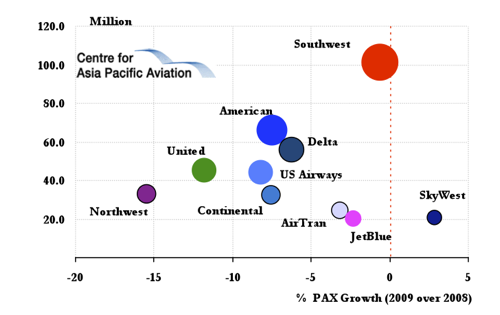 Even incorporating international services, United has led the way too in cutting back. But if Northwest's capacity reduction is any indication of post-merger downsizing, there would be considerable capacity excised from any joint operation.
Top 10 US Carriers: 2009 scheduled domestic and international enplanements and growth rate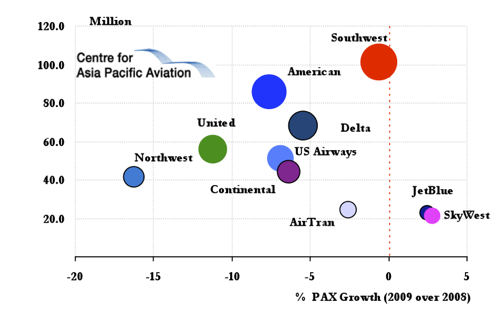 Airports too have a great interest in airline mergers. Who would lose?
A merger would almost certainly have a significant impact on one or more of the hubs that the airlines operate individually - just as the America West/US Airways merger undermined Pittsburgh as a hub. This would come at a time when airports are starting to recognise some long term shifts in the marketplace.
For example, US Airways is already downsizing its Las Vegas presence; and, while it is powerful at Washington National, United has established a large role at neighbouring Washington Dulles. There is unlikely to be a strategic advantage in operating both – other than to keep the competition out.
And who is left in the pot…..
A US Airways-United combination would probably put paid to talk of a United-Continental merger. But even on this, Continental CEO, Jeff Smizek has issued conflicting signals, suggesting that he intends to remain independent, although if the Delta/Northwest merger puts it at a disadvantage, merger was a possibility.
And then, even if the will exists, there are the regulators and unions to handle. As the number of competitors in the market diminishes, the hurdle for merger approvals grows higher, so compromises might well become more demanding.
The unions of each carrier too have been vociferous on a barrage of issues, with pilot seniority likely to be more than the usual sticking point.
So, even if US Airways and United are seriously planning to be united, the ultimate commercial outcome will be greatly coloured in the meantime by much more mundane concerns.