US airlines lifting off in celebration of 2Q2010 results
Analysis
The US airline industry is expected to be profitable for the first time since 3Q2007 – to the tune of USD1.7 billion – giving airlines much to celebrate as they roll out their second-quarter results this week with double-digit operating margins expected for United, Delta, Alaska and Southwest. Also this week, US President Barack Obama will sign the Restoring American Financial Stability Act of 2010, stemming commodity speculation including oil except for end users.
AirlineFinancials.com estimates the nine largest US airlines will report an accumulated $1.77 billion in net profits on $31.5 billion in revenues. "Every major airline excluding American (AMR), should be reporting significant profits for the recent second quarter," said AirlineFinancials.com Founder Bob Herbst on Friday. "American is estimated to be at or near break-even. Leading the way in estimated profit margins is US Airways at 8.17% followed by Alaska (ALK) at 7.8%, Southwest at 7.74%, Continental (CAL) at 7.67%, Delta at 6.46%, United (UAUA) at 6.25%, Air Tran (AAI) at 5.65%, JetBlue (JBLU) at 3.04%, and American at .03%. Average second quarter profit margin for all nine airlines is estimated at 5.63%."
Deutsche Bank's US airline operating margin expectations: 2Q2010
Herbst also expects strong revenue performance for the remainder of 2010. "Excluding American and assuming fuel prices remain in the USD75-85 per barrel price range, the airline industry should see significant profits for the current third quarter," he said.
"If these second quarter 2010 estimates hold true, excluding 2007, they will be the highest second quarter profits in the last 10 years," said Herbst. "Further, 2010 industry revenues are estimated to be the second highest in the history of the airlines topped only by 2008."
Delta leads the pack today and is likely to confirm its second-quarter projections that unit revenues will be up 20% year on year and 50% on its Asian routes. It also reported that corporate contracts – a fifth of sales – were up 63% in May from a year ago.
Airbus vs Boeing 20-year traffic forecasts: "Great Minds Think Alike - the Future Lies Across the Pond(s)
Commentary to watch for includes rising costs with summer demand and forward bookings into autumn, especially in the wake of increasing rhetoric on the threats of a double-dip recession and labour impatience. Analysts are already predicting price wars going into winter. Executives are likely to be peppered with questions concerning regulatory initiatives and costs and it is expected that analysts, eyeing the cash coffers, will ask about stock buybacks or dividends as they have been doing with other industries throughout the season. United and Continental just began their merger conferences so it can be predicted they will report they are going well.
Tempered celebrations
If there is anything to take away from this quarter it is one of mixed messages. Congratulations on the industry turnaround along with better industry financial management are in order, of course, but that is tempered by a still-uncertain recovery and a plethora of rising costs.
The International Air Transport Association (IATA) made a USD5 billion revision in its expectations for 2010, predicting the industry would post a global profit of USD2.5 billion this year. The results also represent a dramatic swing from the USD9.9 billion lost worldwide last year.
"A USD62 billion top line improvement this year puts us about 75% on the way to pre-crisis levels," he said, adding that no one expected a recovery this far, this fast. "We thought that it would take at least three years to recover the $81 billion (14.3%) drop in revenues in 2009. The $2.5 billion profit comes with some important health warnings. First, this represents a net margin of just 0.5%, which is a long way from sustainable profitability. Second, a major part of the global industry is still posting big losses. A stagnating economy, strikes, natural disasters and a currency crisis have left European carriers struggling with an anticipated $2.8 billion loss."
He predicted that matching capacity to demand will become a major challenge with utilisation still 5% below pre-recession levels for single-aisle aircraft and 8% for longer-range twin-aisle aircraft. The 100 aircraft taken out of storage during May and 93 the new aircraft delivered globally add further capacity pressure, he said.
Added to rising fares (up 6%, say IATA), unit revenues approaching 2008 levels and falling fuel prices, there is indeed much to celebrate although, as Air Transport Association Chief Economist John Heimlich said during a recent lunch: "Better does not equal good." He also pointed to the fragility of the recovery given the US unemployment rate and the fact the US gross domestic product remains depressed.
"Better" Does Not Equal "Good": Both the airline industry and the US economy have a long way to go
He noted fuel was still higher than last year and the continuing European financial crisis is depressing recovery there.
Airline fuel costs are high and poised to rise
Still, IATA is predicting North American carriers will post USD1.9 billion in profits this year with recovery well underway.
International Air Freight vs Premium Passenger Traffic
Carriers are also raking in new revenue by imposing fees on services such as checked luggage, blankets, early boarding and seat selection. Ancillary revenues are contributing much to this although the Air Transportation Association said the Government Accountability Office estimate of fees for luggage and other fees was USD2 billion lower than its own estimate, which indicates carriers raked in USD5 billion when including cancellation and change fees. Legislators are eyeing this revenue for taxation to feed the Aviation Trust Fund. Even so, the Department of Transportation's 1Q2010 report on ancillary revenues showed all but baggage in decline.
The only other cloud for US airlines centres over American, which remains at a USD600 million disadvantage to its peers who entered bankruptcy. American posted a USD500 million loss in the first quarter while its peers where all posting significant recovery. Even it, however, has reason to celebrate given the European Union's clearance of its oneworld trans-Atlantic alliance with British Airways and Iberia last week which, it says, will yield USD500 million in benefits. Hudson Securities Analyst Dan McKenzie fears the carrier "may prove an earnings zombie over this next cycle", according to a recent research note. And CRT Capital Group LLC Analyst Michael Derchin's projection that the carrier would eek out a small profit was retracted recently.
Derchin estimates US airlines will report overall net income of USD1.7 billion for the second quarter, a USD2.7 billion swing over a year ago when the industry was in the depths of its bloodbath. He suggested that airlines could post a 20% increase in 2Q2010 revenues despite a very limited traffic demand increase of only 2.5%. He also predicted yields would be up 17.6%. In May, according to ATA, international flight yield was up 28% on Atlantic and 25% of Pacific routes.
"Happy days are here again," he said. "There is clear evidence that business travel has come back and they're paying higher fares. And summer is off to a really strong start and planes are completely full. Airline managements are in the early stages of focusing on more stable, profitable business models capable of producing higher returns over a full economic cycle. Revenue growth has been a function of modest load-factor improvement and strong pricing."
Stifel Nicolaus analyst Hunter Keay agrees that executives have turned a corner in fiscal management. He recently wrote that they are abandoning the obsession with "butts in seats" which depresses yields as deep discounts push load factor at the expense of yield. Even so, he predicted some late-year discounting although it will not come as far out as has been the case in the past.
Linenberg agreed, pointing to airline efforts at doing more with less capital invested and assets deployed, divestiture of non-core assets, outsourcing of ground handling, maintenance and on-board catering, greater reliance on aircraft/equipment leasing and network expansion through codesharing joint ventures/alliances and consolidation. "All this indicates that management have become better stewards of capital," he told a recent International Aviation Club audience.
Linenberg cautioned that airline fares cannot be compromised in the face of higher capital and regulatory costs, looming environment costs with European ETS and possible US cap and trade along with higher fuel prices. Airline executives have continually hit rising airport and facility costs as major concerns in each quarterly conference call. He cautioned that demand is still fairly elastic.
Return on Invested Capital in the Global Airline Industry vs. Cost of Capital: 1993 to 2012F
He cautioned steep restraint on capital expenditures would increase free cash flow, a key metric for airline health.
US legacy airlines free cash flow: 1985 to 2011E
Stock recovery
AirlineForecasts' Vaughn Cordle pointed to the triple-digit stock returns for United, US Airways, Continental, Alaska, ExpressJet and Pinnacle in a recent memo praising management for the outstanding job they have done in the past two years putting themselves on the road for sustainable profitability for the first time. However, he noted that Allegiant, at the bottom, remained the most profitable.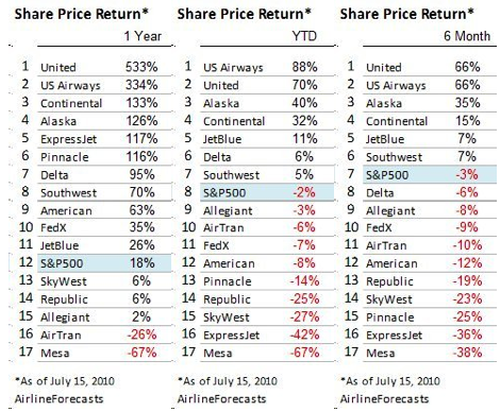 He expressed caution, however, saying this is only one year of performance with returns being highly exaggerated at the extremes of the business cycle. The airlines are still a very highly leveraged group with much debt to address. Heimlich concurred, noting the compromised credit ratings of worldwide airlines.
No Passenger Airline in the World Enjoys an A--Minus or Better Rating from S&P Minus or Better Rating from S&P
Despite Cordle's robust equity recovery, Heimlich said the US airline industry significantly trails other industries.
Equity market capitalisation (USD, billions): 12-Jul-2010
"Note the returns for the group as the industry faced higher fuel costs and a severe recession," said Cordle. "Jetblue has produced a negative 59% return over the last five years and Southwest has lost its investment mojo in terms of relative performance. Both airlines are former Wall Street darlings. Mesa was the most recent airline to file bankruptcy and American is not looking so good, especially if it cannot manage unrealistic labour expectations. The airlines will need to reduce risk and maintain capacity discipline if they are to continue to satisfy shareholders."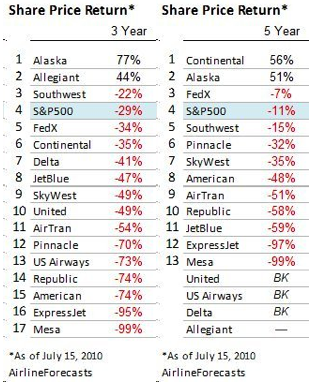 According to ATA, JetBlue is leading in capacity increases as it continues its expansion in Boston and the Caribbean. The legacies are still circumspect about adding capacity, however, with the nine carriers expected to post only median capacity growth of 3.8% during the third quarter, said ATA.
AIRLINE CAPACITY CHANGES
| Airline | 3rd quarter 2009 vs. 2008 | 3rd quarter 2010 vs. 2009 |
| --- | --- | --- |
| AirTran | +4.5% | +3.5% |
| Alaska | (-3.8%) | +6.6% |
| | (-8.2%) | +3.8% |
| | (-6.0%) | +1.7% |
| Delta/Northwest | (-1.9%) | +5.2% |
| | +2.4% | +9.2% |
| | (-7.4%) | +5.4% |
| | (-6.3%) | +2.3% |
| | (-3.3%) | +3.1% |
Risks
Airlines still face risks, not the least of which are the rising costs from increased government regulation in the offing, including safety measures on regional airlines that are part of the FAA reauthorisation bill. Also factored in are requirements airlines not only provide full fee disclosure in the pre-purchasing environment but also share that with all points of sale including travel agents and GDSs which is likely to dampen their ability to force high revenues through what the travel industry calls the confusion over fees, especially in the purchasing process.
ATA's Heimlich warned that constraints will affect US airline competitiveness.
Selected airline net profit margins: Calendar Years 2007-2009
In addition to a very hostile Washington environment, the industry is also facing labour unrest as unions try to recover their losses as they spot the dollar signs rising over the industry.
Still, airline fortunes are definitely taking off with double-digit increases in traffic, freight and, most importantly, yields across the board.
Financial reform
The financial stability bill forces oil trading to go through a clearing house and speculators to put more money up front in a provisioned authored by Senator Blanche Lincoln. The industry has been championing the bill, specifically the Lincoln provision, through its "Stop Oil Speculation Now" campaign launched after oil reached USD146 per barrel two years ago, driven by those who would never take delivery. The bill still allows end users to hedge.
"We applaud the Senate's action, particularly Senator Blanche Lincoln's outstanding leadership, which will close the door on Wall Street's high-risk gambling and unchecked commodities speculation that led to sky-high fuel prices," said ATA President and CEO James May. "Energy prices should be determined by supply and demand, not manipulation and secretive trading by investment banks. With President Obama's quick signature, Main Street America will no longer suffer at the hands of Wall Street. We also want to thank Stop Oil Speculation Now (SOS Now) coalition members, and recognise the unwavering support of its grassroots activists who, over the past two years, have sent nearly two million messages to Congress and the Commodity Futures Trading Commission."
The presidential signature is expected next week as airlines are expected to report operating profits for the second quarter. Analysts have signalled this expectation for all airlines, except American, for which they have waffled back and forth. Earlier, they expected a profit but recently suggested it would be the only airline to post losses.