US airlines get boost from 'Trump Bump' but protectionist rhetoric creates long term uncertainty
Analysis
The mystifying rise of now-US President Donald Trump is full of paradoxes. He embarked on his presidency with one of the lowest approval ratings in recent history, yet after his election victory markets were buoyed by a significant "Trump Bump", carried by his promises of tax cuts, less regulation and an increased focus on revamping the nation's infrastructure.

US airlines benefitted from the Trump Bump with a rally in corporate travel at YE2016, which helped many of those companies deliver a better than expected unit revenue performance that will propel them into positive territory for 1H2017.

However, the Trump Bump could be tempered by his continued protectionist remarks and the pace with which he delivers on his pro-business campaign promises.The uncertainty could create a certain level of volatility for US airlines as they work toward restoring business yields. But for now they believe the momentum in corporate demand and yields should continue into the foreseeable future.
Markets enjoy a "Trump Bump" on the promise of pro business policies
The US stock market rallied after the election of Mr Trump in Nov-2016, as business welcomed an end to uncertainty surrounding the tumultuous election. Trader optimism about a more corporate friendly administration catapulted the Dow Jones Industrial average to 20,000 on 25-Jan-2016. The S&P 500, an index many airlines compare themselves to, was also trading at record highs.

A corresponding increase in business travel also occurred after the election.
Data from the US Travel Association showed the US business travel index for Nov-2016 reached 51.9 (50 is the baseline for expansion). The index for business travel fell below 50 for much of 2016, only growing in Apr, Jun, Sep and Nov. It is likely to grow for Dec-2016 once the data are calculated.
US domestic leisure and business travel index: Nov-2016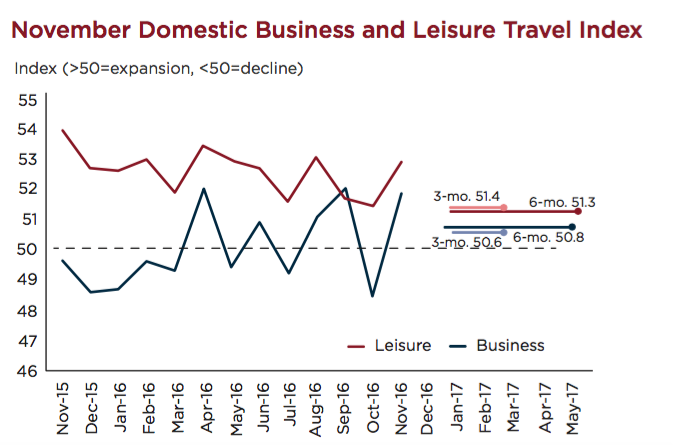 Delta, Southwest and United have all cited a bump in demand post election, and those airlines along with American all revised their 4Q2016 unit revenue forecast to reflect the better than expected demand. Combined, those airlines represent 72% of US system seats for the week of 23-Jan-2017.
United States of America system capacity by airline (% of seats): 23-Jan-2017 to 29-Jan-2017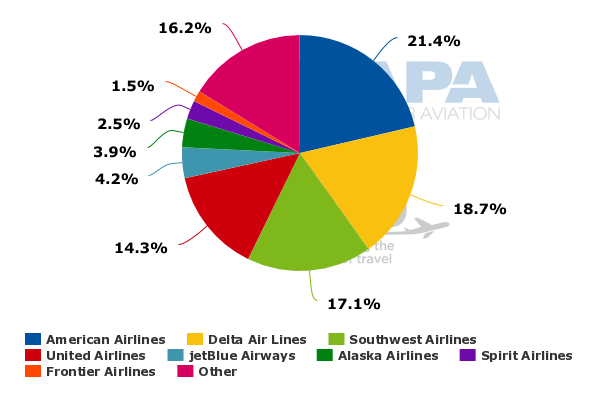 See related report: US airlines: a turnaround in unit revenue just as cost pressure rise in 2017
Delta and United enjoy a lift in YE2016 business demand from Trump's bump
Delta's 2.7% fall in unit revenue year-on-year in 4Q2016 was better than its initial projections of a drop between 3% and 5%. The airline cited improved business demand after the Nov-2016 election, and also stated that business yields, which had been weak for most of 2016, were beginning to firm up.

The airline stated that its most recent corporate survey indicates 85% of its business customers expect to maintain or increase travel spend during 1Q2017, which is nine points higher than the previous quarter, and the best outlook Delta has developed during the past two years.

However, Delta is not expecting business yields to reach historical highs in the near to medium term. On a historical basis, business fares fell by 30% to 40% during 2016. Delta executives recently concluded that core business demand held up in 2016 but corporate fares suffered during the year, and "we are not expecting them to go back to the historical levels in our current plan", the company concluded.

United's 1.6% decline in passenger unit revenue (PRASM) during 4Q2016 was better than initial guidance of a 3% to 4% decline, and fell in the top range of its revised guidance of a range between 1.25% to 1.75%.

The airline cited a better than expected business performance in Dec-2016, noting improvements in both the demand and pricing environment. United concluded that there had been an inflection point for business demand after the election, and combining those changes with rising fuel prices is resulting in many airlines pushing fare increases through.

In mid Jan-2016 United noted its unit revenues for the month had increased every day except two; however, although the company has concluded that corporate demand was strengthening, it has no plans to offer a specific longer term forecast for business demand.
Protectionist stance on trade deals creates uncertainty over business demand
Even as trends for forward looking business travel are encouraging, the recovery in business yields is just beginning, and much uncertainty remains over the economic direction the US will take under President Trump's leadership.

His pledges of tax cuts, the easing of regulatory burdens, and the bolstering of infrastructure spend helped create the market surge following his election, and the momentum continued until the inauguration. But markets fell slightly on the first day of trading after he officially took office, and at the same time struck a strong protectionist tone in his inauguration speech.

The new administration's unsurprising and symbolic decision to withdraw from the Trans Pacific Partnership (TTP) does signal that Mr Trump has no plans to back down from a potential trade war, and proponents of the pact are warning that China now has opportunities to increase its trade with Pacific rim countries at the expense of the US.

Renegotiating NAFTA is a top priority for Mr Trump, and movement on the trade pact could occur in his first 100 days in office. The new US president believes that NAFTA – covering trade among Canada, Mexico and the US – has destroyed US manufacturing jobs.
However, he has offered little substance about the changes he aims to negotiate with the US' two largest trading partners. Canada and Mexico represent 41% of international frequencies to and from the US by country for the week of 23-Jan-2016.
United States of America international capacity by country (frequency to/from): 23-Jan-2017 to 29-Jan-2017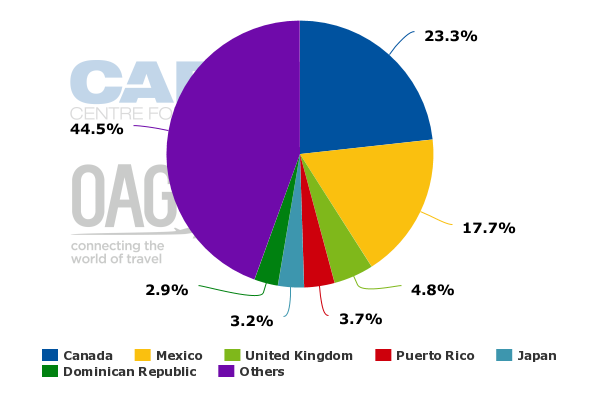 Any change to NAFTA could affect business demand to Mexico and Canada. Mexico's airlines, in particular, are bracing for overall changes in demand given the impending changes to NAFTA, and also Mr Trump's hard stance on immigration, including his proposed wall on the Mexico-US border. The US transborder market is strategic for Aeromexico, Volaris and Interjet; with the uncertainty surrounding US immigration and trade, and the effects that the US presidential election are creating for Mexico's economy, those airlines are likely in a wait and see mode before fully crystallising their transborder growth plans for 2017.

See related report: Mexican airlines: growing US protectionism creates a cloud of uncertainty over 2017

US airlines face the challenging task of weighing potential job creation that could occur from Mr Trump's proposed cuts in corporate tax rates – from approximately 35% to 15% to 20% – and less onerous regulations, against the possible diminishing of corporate demand that results from a more protectionist trade stance.

At the same time that Mr Trump is pledging significant corporate tax cuts, he has doubled down on instituting a "border tax" on US goods produced outside the country – an issue that does not have support among Republicans in Congress, who hold majorities in both the House and the Senate.

Until concrete details emerge from those promises, US airlines are somewhat hamstrung in crafting long term projections for corporate demand. For now, the election bump appears to be continuing into 1H2017, but demand patterns could change if Mr Trump fails to deliver on his promises. Even if the new president follows through on his pro business platform, the administration's protectionist stance will no doubt create long term repercussions on the US business climate.
Delta and US unions embrace President Trump's favourable business policies
US airlines do not generally support a specific political candidate, but Delta has expressed optimism about opportunities created by the election of Mr Trump. The airline's CEO Ed Bastian recently highlighted the tax benefits and regulatory changes under discussion. "We have already provided some input into the transition team and it will take some time over the next few months as things become a little more clear and individuals are staffed into new roles, but we are very excited", Mr Bastian remarked.

Delta's CEO also declared the company was excited to "present our case relative to the Middle East situation with all the growth that those carriers have brought to the country on a subsidised basis".
Emirates seems undeterred by possible sympathy from the Trump Administration in the debate between the US Big 3 (American, Delta and United) and Emirates, Etihad and Qatar. Emirates is launching fifth freedom Dubai-Athens-Newark services in Mar-2017.

See related report: Emirates Athens-Newark fifth freedom adds to season of trans Atlantic disruption; a test for Trump
Hawaiian Airlines executives concluded although the new administration is still in its early days, infrastructure investment and a desire to reform the US air traffic control system are positive policy directions for the new leadership. "To the extent that the administration takes on the sort of far reaching, broad level consumer regulations that actually limit the ability of airlines to compete and meet the needs of individual customers, I think that too, would be a positive", concluded company CEO Mark Dunkerley.
Unions are also stepping up their rhetoric as Mr Trump assumes office. The Association of Flight Attendants-CWA, AFL-CIO (AFA), commended Mr Trump's actions on TPP, noting that it had participated in a five year campaign to highlight dangers of the pact. The union called for Mr Trump to enforce open skies agreements in order to protect US jobs.
Administration uncertainty adds to growing challenges for US airlines in 2017
US airlines are working to restore their unit revenue performance to positive results against a backdrop of rising fuel costs and non fuel cost pressure driven by rising labour expense. Delta has already warned of margin compression in 2017.

Adding those known challenges to the uncertainty surrounding the economic implications of policy changes on US and global markets ushered in by the new Presidential administration, and the US airline business faces a rocky road – even with the promise of a more business friendly operating environment.