US airlines deploy widebody aircraft on long haul services, reclaiming their global roles
Analysis
The big three US airlines – American, Delta and United – are redefining their role as global operators. Since the glory days of PanAm Clippers circling the world, for US airlines "global" has recently meant meant occasional forays beyond Europe to the east, Japan to the west, and Latin America to the south. This is changing. United Airlines will open nonstop San Francisco-Singapore service, which will become the world's third longest flight. American Airlines will add a second ultra-long haul flight to Hong Kong while Delta – which currently operates the longest flight of a US airline (Atlanta-Johannesburg) – has the strategy of leveraging a global portfolio of airlines it has invested in.
With more of a global reach, US airlines are flying their long haul aircraft further. Delta's average sector length for its A330 fleet has increased 19% since 2006, while American's 777-300ER sector length is growing 9% over just one year. United's 787s will fly to three secondary Chinese cities. Strategic reasons for the longer flying can be as important as, or more important than financial. Some routes had been aspired to for years, but pre-bankruptcy costs and labour contracts precluded sustainability.
Now, financial success at home is enabling a more competitive product (retrofits have been extensive) and delivering the confidence to expand. Consolidation has reduced the number of US airlines but increased their coverage, therefore exposing network gaps. As disciplined as US airlines may have become domestically, international operations require different, more complex metrics.
US airlines are flying widebody aircraft over longer distances
Since 2006 US airlines have been increasing the average distance that their longest-range aircraft fly internationally. There was limited change until after 2010, which coincided with a rebound from the global financial crisis and newfound profitability at US airlines, helped first by reinvigorated emergence from bankruptcy and then by consolidation.
Average international sector lengths (km) for select US airline widebody aircraft: 2006-2016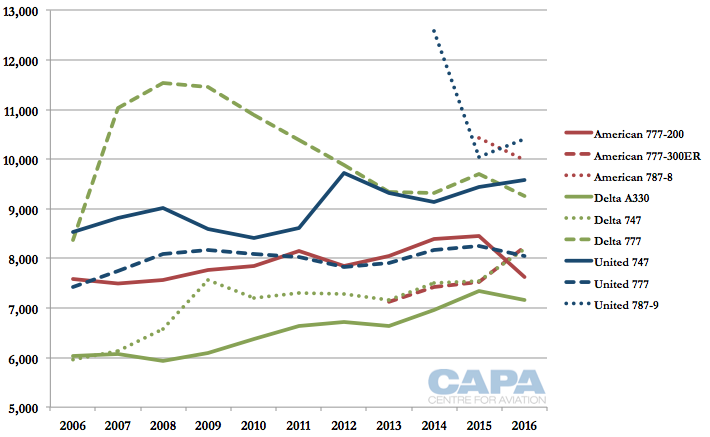 This report looks at a sample of calculated average international sector lengths for three widebody aircraft types at each of the Big 3 US airlines:
Historical calculations are adjusted to include mergers: United's 777 sector length includes historical data from Continental's 777 fleet (as will later be discussed, the addition of the Continental 777s boosted United's 777 average).
Three of the aircraft (American's 777-300ER and 787-8, and United's 787-9) have only entered service recently. Of the six dating back to 2006, four average international sector lengths have increased by 8-12%, one by 19% and one by 38%. It has been an 8% increase for United's 777, for the Delta 777 – 11%, and for the United 747 – 12%.
In 2016 American's 777-200 is flying on average only 1% further than it was in 2006, but this is the result of some of its longest routes being taken over by the 787 in 2015, creating some distortion. American's 777-200 flew 11% further on average in 2015 than in 2006. Two of the highest increases have been for Delta: 19% for A330 and 38% for 747.
Average international sector lengths (km) for select US airline widebody aircraft: 2006, 2016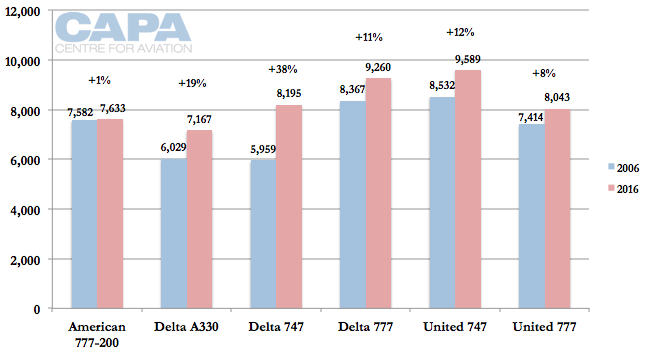 Of the three aircraft in this sample that have entered service in recent years: American's 777-300ER is increasing its average sector length and in 2016 flies longer on average than American's 777-200.
American's 787-8 and United's 787-9 are flying lower average sector lengths than when they first entered service. This is a distortion, since the fleets were initially small and used on select routes: United's first 787-9 route was Los Angeles-Melbourne, which is the third longest flight in the United system. Additional flying as more 787-9s entered service was bound to bring the average down.

United's 787-9 average sector length in 2016 is up from 2015 but still below that of 2014, the first year of service. United's average sector length for the 787-9 (10,412km) is the longest operated by US airlines, followed by American's 787-8 (9,982km), United's 747 (9,589km), and Delta's 777 (9,260km).
Three Ps – product, profit & partners – have underpinned US airlines' confidence
The increase in long haul flying by US airlines can be attributed to the vast and significant changes in the US airline industry. over the past decade The industry has gained financial sustainability by consolidation and strategic changes, it appears. Airlines are reporting record profits (see graphs below) and this began even before the decrease in fuel prices. Delta is seeking to be investment grade-rated, which only a handful of airlines globally are.
Profitability has given US airlines confidence to expand and reinvest in product. Product was often lagging behind global competition and this prevented US airlines from securing acceptable yields, especially needed from premium cabins on longer flights. Delta conducted extensive marketing in Japan, its Asia gateway, to overcome the negative image that had developed from its merger partner Northwest, whose Asian network Delta inherited.
Likewise, United worked to change its image after switching from an Australian network of ageing 747s, to newer 777s and more recently to 787s. American Airlines conducted a large product-focused campaign ahead of its Australian re-entry (to Sydney), in part to differentiate from the underwhelming impression of US airlines that Australia had, based partially on United but also on experiences of domestic US flying.
Partners, from deeper codeshares to joint ventures, help strategically and financially. The US airlines' most important partners are still European airlines. Experience from those trans-Atlantic relationships can be applied to more nascent partnerships. The strong financial performance generated from trans-Atlantic JVs can give airlines the power to consider routes they would not have been able to on weaker financials.
There could be a fourth 'P': people.
This was less of a voluntary change. The bankruptcy restructuring that the Big 3 – American, Delta and United – went through allowed management to change labour contracts. Old contracts held airlines back from expansion: not only were contract costs higher, but there were also expansive obligations or restrictions, ranging from maximum sector length to crew rest requirements. Some routes that US airlines have launched in recent years had long been objectives but had been held back by a variety of factors, of which labour issues were significant.
New aircraft, combined with other factors, have also helped expansion and although United is still working through its contracts, employment disputes have, at least temporarily, settled down. This may change with the emerging possibility that employees, after years of terms and salaries being decreased, will ask to share more extensively in their employers' new-found profitability.
Cumulative US airline industry net profit (USD billions): 1979-2014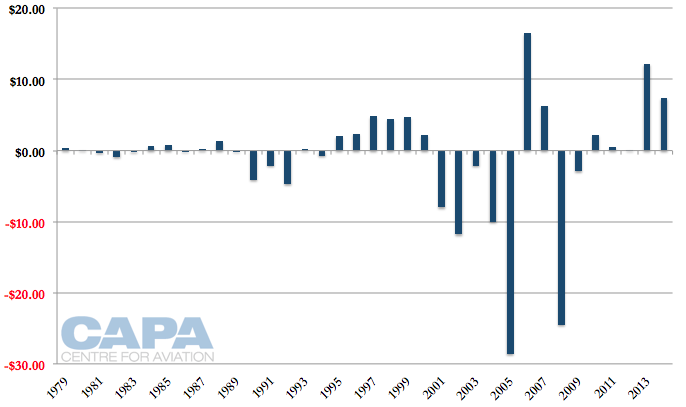 Cumulative US airline industry net margin: 1979-2014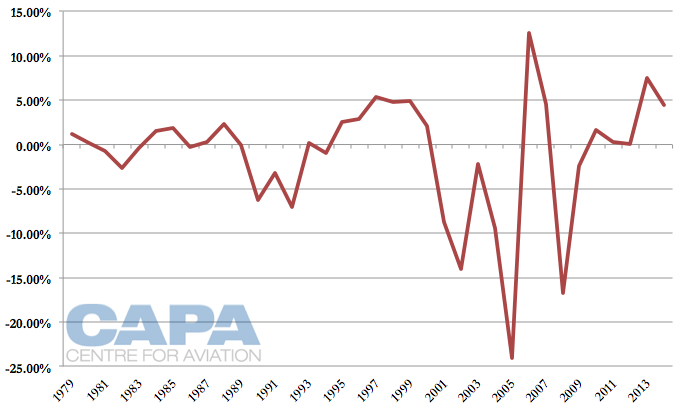 US airlines closing strategic white spots
Prior to consolidation the US airlines were fragmented. During mergers this fragmentation made for some strategic alignment, with networks complementing - or overlapping with - each other. For example, United gained Continental's niche of smaller European cities served from Newark. Delta, which prior to the Northwest merger had one single daily flight to Asia, gained Northwest's Asian network. American became, once again, the largest airline in the world.
With fewer airlines the network gaps between the large consolidated airlines became more apparent. Now each had to have comprehensive coverage if it were to compete holistically: Delta lacked a west coast Asian gateway, American was not in the South Pacific, United needed greater relevance in Singapore.
White spots are now being filled: Delta has established a west coast hub in Seattle and is working to enhance Los Angeles (as is American). American opened flights to Hong Kong and Sydney, acknowledging that those two cities were the most requested by its customers. United is going nonstop from San Francisco to Singapore at a time when other airlines are becoming more relevant in the one-stop US-Singapore market, and as Singapore Airlines prepares to resume its own nonstop service.
Delta, lobbying for protectionism, has the greatest sector length growth
A clear standout in terms of longer sector lengths is Delta. This is not to say that Delta is flying longer than other airlines on average, but rather that it is the most changed of the three. Averages comprise a mix of highs and lows, of course. Although some of Delta's sector lengths have increased partially because of fewer short (relatively speaking) flights, there has been growth at the upper end of the distance scale.
Delta's large increases are notable in the light of its battles effectively to restrict competition, although this is done in other names: these range from subsidies (allegations against Gulf airlines), to improper funding (Ex-Im), and to labour abuses (Norwegian International). There is a sweet irony in Delta growing so much, yet crying (strategically) poor and disadvantaged. In another view, Delta's growth – sector lengths, product improvements, partnerships – indicate the start of bold growth and Delta wants to hold back as much competition as it can while it fills some spaces.
See related reports: The Delta Air Lines paradox: Stellar fundamentals against a bemusing anti globalisation stance
Delta's A330 fleet of 37 had mostly entered service by the end of 2007, but it was not until 2010 that average sector lengths were firmly ticking upwards. After receiving an A330 in Oct-2007, Delta did not receive another until May-2015 and has received five A330s over 2015 and 2016. So Delta's A330 utilisation rate increased without changes to the fleet size or variants within the family, which could have affected flying opportunities.
The A330 growth is largely due to Asian expansion and fleet recalibration (withrawal of 747s). In 2006 the A330 fleet flew one flight (San Francisco-Tokyo Narita) of longer than 8,000km. In 2016 it flies nine regular routes longer than 8,000km – half of them to Asia. Of the nine, two are from Delta's new (post-merger) Seattle hub. These longer flights have come with some increase in domestic flying, such as to Honolulu, which can be shorter than most Asian, European and Latin American flying.
The 747 fleet has grown more than the A330 fleet but without significant change in long haul flying. In 2016, as in 2006, the 747 flies three routes over 10,000km (frequency has come down). The more noticeable change driving the 747 improvement is reduced short haul flying, in particular intra-Asia sectors.
In 2006 the 747 flew five intra-Asia routes, typically daily. These ranged from 1,703km to 3,048km. In 2016 there is only Tokyo Narita-Manila left as a regular intra-Asia flight.
Delta A330, 747 and 777 average international sector length (km): 2006-2016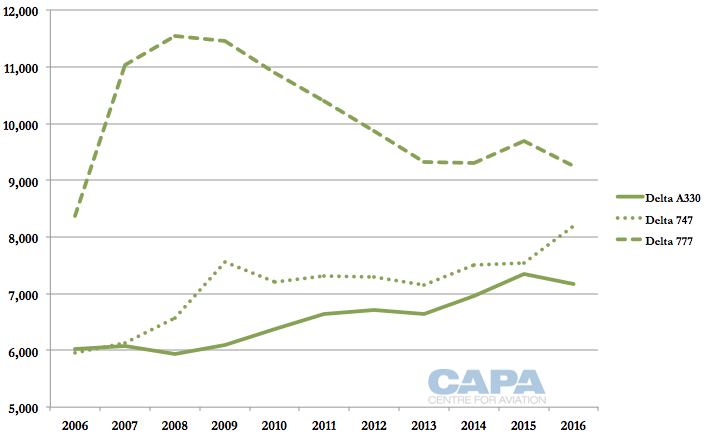 Delta attempted ultra-long haul flights with the 777
The single biggest change by US airlines has been in Delta's 777 fleet. From 2006 to 2016 the airline's average sector length increased by 11%. This is one of the bigger increases but is smaller than the growth that Delta attempted to start in 2007, and had largely pulled back from by 2012. Average sector length for the 777 peaked in 2008, when it was 38% higher than 2006. This 38% increase is the same as Delta's 747 growing 38% from 2006 to 2016. Yet as discussed above, the 747 increase was largely due to a reduction in shorter sectors, whereas the 777's growth was due to ultra-long haul flying.
Delta's ultra-long haul 777 flying commenced as Delta came out of bankruptcy and was having a strategic revival. Delta had under-exploited the opportunities offered by its 777 fleet.
In 1H2006 73% of Delta's international US departures were to Europe, a medium/long haul. In 1H2016 Europe represents only 4%. Latin America, another medium/long haul market, accounts for a further 5%. Ultra-long hauls to Africa (Johannesburg), Australia (Sydney), the Middle East and Northeast Asia make up 91%. Some of these flights have been enabled by Delta supplementing its -200ERs (eight in service, as of 18-Mar-2016) with longer range -200LRs (10 in service). Delta's -200LRs were delivered between 2008 and 2010, according to CAPA's Fleet Database.
This may appear contradictory: Delta's 777 average sector length was typically the highest by far of US operators until 2012 when Delta's 777 sector length was approximately the same as United's 747-400. The recent introduction of the 787 has meant that American and United post higher average sector lengths than Delta's 777.
American, Delta and United 777 average international sector lengths (km): 2006-2016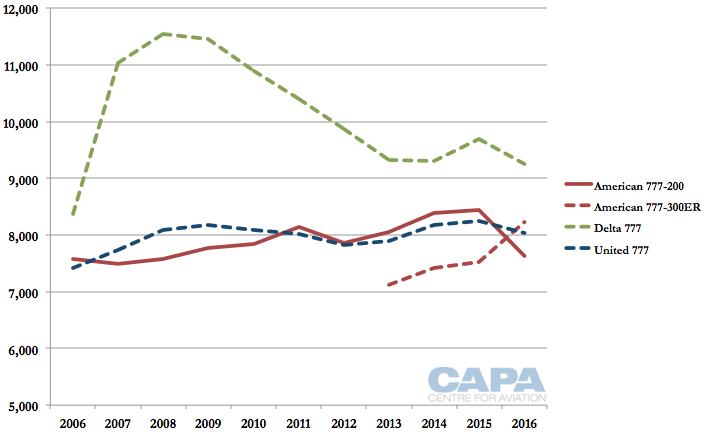 707" height="434" />
Of the 10 longest flights that Delta has ever used the 777 on, they were launched between 2006 and 2010. Only three remain active. Of the seven cancelled, four were to the Middle East and India. This is a region where Delta argues was impacted by unfair competition: Gulf airlines and Ex-Im funding to Air India. This is debatable, of course. Being the subject of many arguments, one cancelled flight was Atlanta-Mumbai. Delta has struggled to sustain long haul/ultra-long haul flights from Atlanta.
Of the remaining three cancelled flights, all were to East Asia where subsidies and Ex-Im have not been cited by Delta as major factors. Two of the three cancelled Asian flights were from Atlanta (to Seoul Incheon and Shanghai Pudong), demonstrating the hub challenge at Atlanta, even despite Delta's SkyTeam partner Korean Air having a hub in Seoul and operating Seoul-Atlanta. This was during friendlier times; more recently the Delta-Korean Air relationship has deteriorated.
The third cancelled Asian flight was Detroit-Hong Kong, which was too long for a small O&D hub; it was replaced by Seattle-Hong Kong.
Delta 777 international average sector length and timeline of launches/cancellations of 10 longest 777 routes (km): 2006-2016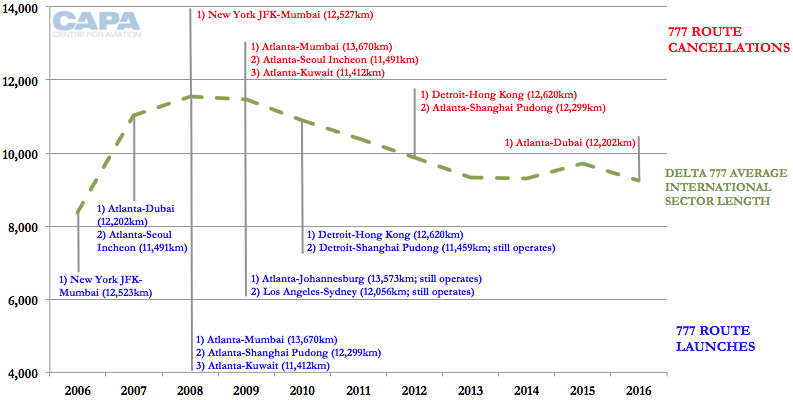 United's 777 average sector length has grown 8% but without significant change in the longest routes flown. Two of its longest routes in 2006 (Newark-Hong Kong and Newark-Mumbai, both from Continental) are two of the longest in 2016. American's 777-200 fleet increased 1% to 2016 (but 11% to 2015, reflecting the 787 taking over longer flights). American's longest 777 flights are shorter in 2016 than 2006: Chicago-Delhi and New York JFK-Tokyo Narita were suspended while Chicago-Shanghai Pudong has moved to the 787.
In contrast, Delta had one route over 12,000km in 2006 and two between 10,000-11,000km. Its longest route in 2006, Atlanta-Mumbai, has been suspended, yet Delta's three longest in 2016 are all above 12,000km.
Three longest 777-200 routes (km) from American, Delta and United: 2006, 2016
American's 777-300ER are flying longer routes than the 777-200
2016 marks the first year that American's 777-300ER fleet will fly longer on average than American's 777-200ER fleet. Although the -200ER has greater range, it was used to Latin America and Europe following its 2013 delivery. In the case of New York JFK-London, American's -300ER deployment allowed it to quickly offer a more competitive on-board product, including lie flat and direct aisle access seats in business class.
In 2014 the -300ER began Dallas-Hong Kong service, the longest route for American despite the -300ER on average flying shorter distances than the -200ER. In 2015 another ultra-long haul route was launched on the -300ER – Los Angeles-Sydney, American's second longest route. The 2016 launch of Los Angeles-Hong Kong on the -300ER will become American's fourth longest system-wide route.
On average the -300ER flies 16% longer routes in 2016 than in 2013. in 4Q2016 there will be a 9% increase over 4Q2015. Average sector length in 4Q2016 is only 1% longer than full-year 2016.
American Airlines 777-300ER average international sector length (km): 2013-4Q2016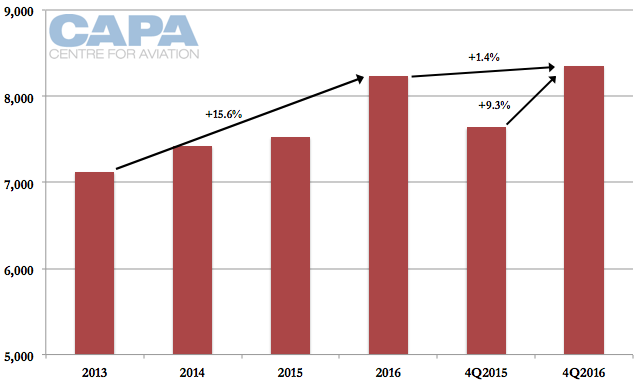 At the same time as the -300ER is flying further on average, the -200ER flights have become shorter as the 787-8 replaces the 777-200ER on some of American's longest flights. American's 2016 average sector length for the 777-200ER is 1% greater than in 2006.
This is largely because of a 10% decrease in 2016 compared with 2015. This decrease undid much of the growth over the last decade. 2006's average sector length to 2015 (not 2016) was up 11%. If a joint 777-200ER/787-8 average sector length calculation (black line below) is included, the decrease in 2016 is not as great. (The decrease occurs because the 777-200ER flies relatively shorter flights into markets such as Europe, having been released from longer Asian routes.)
American Airlines 777-200ER, 777-300ER and 787-8 average international sector length (km): 2006-2016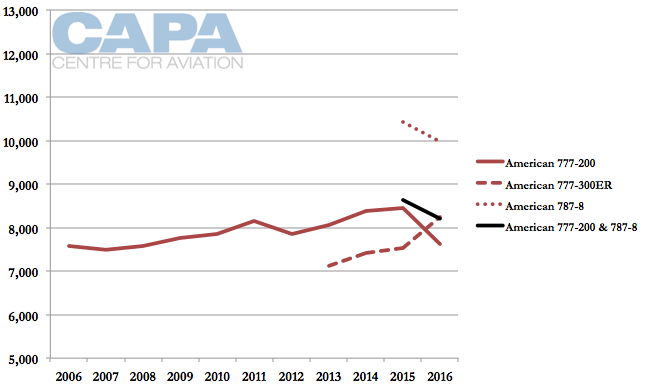 Despite the 777-300ER being such a long range aircraft, four aircraft have distinctly longer average sector lengths: American and United's 787s, United's 747s and Delta's 777s. In the future the -300ER will be American's only aircraft (so far) with long haul first class. This would limit it from some markets that are longer but do not warrant premium capacity or the large number of seats the -300ER brings. So it is unsurprising that the longest sector lengths by far are from 787s (American and United).
These operations appear to be proving Boeing's forecast of the aircraft sustaining service on the many long and thin routes previously unserved. United will receive its first 777-300ER (which will not have first class) in 2016, but the airline has not yet said where the aircraft will be deployed.
See related report: 777-300ER fleet report: orders have peaked but Swiss, United and Kuwait new operators in 2016
United's average international 777 sector length gives one example of the impact of mergers where there is overlapping fleet since both United and Continental operated the 777 prior to the merger. (One merger impact less easy to quantify is how management of the merged Delta started an increase in long haul flying.)
In the graph below the original value of the United 777 average sector length (dashed blue line) given in the main graph in this report is returned to. The average is the combined United and Continental value prior to the merger. The sector length of pre-merger United excluding Continental (black line) is added. The pre-merger average sector lengths are lower (by 7-10%), indicating Continental's average 777 sector was longer than United's.
This is unsurprising since some of United's longest routes (Newark-Hong Kong, Newark-Mumbai) were inherited from Continental. The 8% growth figure given for United's 777 fleet includes former Continental 777 flights.
United Airlines 777 and pre-merger United Airlines (excluding Continental) 777 international sector length (km): 2006-2016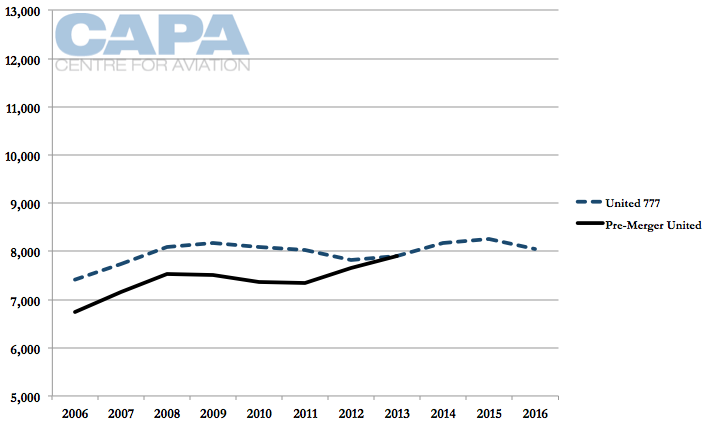 US airlines' longest routes are reaching further: Hong Kong, Johannesburg and Singapore
US airlines' longest routes across all aircraft types have changed significantly over the last decade, with most changes in recent years. In 2016 United's long-standing Newark-Hong Kong route (inherited from Continental) will be superseded by San Francisco-Singapore. United's second longest route in 2006, Chicago-Hong Kong, will become its fifth longest in 2016. American's four longest routes in 2016 have all been launched since 2014. Delta's five longest flights are older than American's and some of United's.
Five longest system routes (all aircraft types) for American, Delta and United (km): 2006, 2016
American
Delta
United
2006

2) 11,330

3) 10,824 New York JFK-Tokyo Narita

4) 10,747

5) 10,316 Dallas-Tokyo Narita

3) 12,056 Los Angeles-Sydney

4) 11,943 San Francisco-Sydney

2016

2) 12,056 Los Angeles-Sydney

3) 11,805 Dallas-Shanghai Pudong

4) 11,684 Los Angeles-Hong Kong

5) 11,330 Chicago-Shanghai Pudong

1) 13,573 Atlanta-Johannesburg

2) 12,202 Atlanta-Dubai (discontinued)

3) 12,056 Los Angeles-Sydney

4) 11,459 Detroit-Shanghai Pudong

5) 10,998 Atlanta-Tokyo Narita

1) 13,575 San Francisco-Singapore

3) 12,751 Los Angeles-Melbourne
Foreign airlines operate more of the longest flights into the US
Although US airlines are flying longer and average sector lengths are increasing, international peers appear to be better at exploiting hubs, emerging economies, US travel interest and improved aircraft technology. US airlines operated eight of the 25 longest routes (airline/airport pair) into the US in 2006, but will only operate five of the longest in 2016.
Some of the 25 longest routes into the US still exist, while others have been discontinued. What has changed is the growth in long flights. In 2016 the 25th longest flight – Qantas' Los Angeles-Melbourne (12,751km) – was eighth longest in 2006. The 25th longest flight in 2006 was Chicago-Shanghai Pudong (11,330km), which in 2016 is the 75th longest.
25 longest flights into the US by region: 2006, 2016
Asia and the Middle East dominate long haul routes, with a shift towards the Middle East. In 2006 East Asia was the biggest source of long haul flights into the US, accounting for 12 of the longest 25. India/Middle East accounted for six, as did Australia.
In 2006 the six routes from the region to the US that were in the 25 longest comprised two from PIA, two from Continental (Delhi and Mumbai), one from American (Delhi) and one from El Al.
25 longest airline/airport pairs from the US: 2006
| | | | | | |
| --- | --- | --- | --- | --- | --- |
| Rank | Distance (km) | Departure | Arrival | Airline | Nationality: US airline |
| 1 | 15,327 | | | | - |
| 2 | 14,095 | Los Angeles | | | - |
| 3 | 13,914 | New York JFK | | | - |
| 4 | 13,274 | Los Angeles | | | - |
| 5 | 13,087 | | Johannesburg | | - |
| 6 | 12,965 | New York JFK | | | - |
| 7 | 12,955 | | | | Yes |
| 8 | 12,751 | Los Angeles | | | - |
| 9 | 12,527 | New York JFK | | | Yes |
| 10 | 12,517 | | | | Yes |
| 11 | 12,160 | Los Angeles | | | - |
| 12 | 12,056 | Los Angeles | | | Yes |
| 13 | 12,056 | Los Angeles | | | - |
| 14 | 12,014 | | | | Yes |
| 15 | 11,943 | | | | - |
| 16 | 11,943 | | | | Yes |
| 17 | 11,869 | New York JFK | | | - |
| 18 | 11,758 | | | | Yes |
| 19 | 11,679 | New York JFK | | | - |
| 20 | 11,661 | Los Angeles | | | - |
| 21 | 11,634 | Los Angeles | | | - |
| 22 | 11,528 | Los Angeles | | | - |
| 23 | 11,489 | | | | - |
| 24 | 11,343 | New York JFK | | | - |
| 25 | 11,330 | | | | Yes |
In 2016 the Middle East is the largest region, accounting for 12 of the 25 longest flights to the US. Of the 12, nine are going to the hub of one of the three Gulf network airlines and are operated by their local airline: Emirates, Etihad or Qatar.
The remaining three are going to Saudi Arabia and are operated by Saudia. None are going to India or another Middle East/South Asia point.
25 longest airline/airport pairs from the US: 2016
| | | | | | |
| --- | --- | --- | --- | --- | --- |
| Rank | Distance (km) | Departure | Arrival | Airline | Nationality: US airline |
| 1 | 13,802 | DFW | Sydney | Qantas Airways | - |
| 2 | 13,575 | San Francisco | Singapore | United Airlines | Yes |
| 3 | 13,573 | Atlanta | Johannesburg | Delta Air Lines | Yes |
| 4 | 13,478 | Los Angeles | Abu Dhabi | Etihad Airways | - |
| 5 | 13,395 | Los Angeles | Dubai | Emirates | - |
| 6 | 13,385 | Los Angeles | Jeddah | Saudi Arabian Airlines | - |
| 7 | 13,341 | Los Angeles | Doha | Qatar Airways | - |
| 8 | 13,274 | Los Angeles | Riyadh | Saudi Arabian Airlines | - |
| 9 | 13,118 | Houston Intercontinental | Dubai | Emirates | - |
| 10 | 13,105 | Los Angeles | Medina | Saudi Arabian Airlines | - |
| 11 | 13,103 | San Francisco | Abu Dhabi | Etihad Airways | - |
| 12 | 13,049 | Dallas/Ft Worth | Hong Kong | American Airlines | Yes |
| 13 | 13,013 | San Francisco | Dubai | Emirates | - |
| 14 | 12,965 | Dallas/Ft Worth | Abu Dhabi | Etihad Airways | - |
| 15 | 12,965 | New York JFK | Hong Kong | Cathay Pacific Airways | - |
| 16 | 12,955 | Newark | Hong Kong | United Airlines | Yes |
| 17 | 12,955 | Newark | Hong Kong | Cathay Pacific Airways | - |
| 18 | 12,925 | Houston Intercontinental | Doha | Qatar Airways | - |
| 19 | 12,913 | Dallas/Ft Worth | Dubai | Emirates | - |
| 20 | 12,852 | New York JFK | Guangzhou | China Southern Airlines | - |
| 21 | 12,822 | New York JFK | Johannesburg | South African Airways | - |
| 22 | 12,802 | Boston | Hong Kong | Cathay Pacific Airways | - |
| 23 | 12,752 | Houston Intercontinental | Taipei | EVA Airways | - |
| 24 | 12,751 | Los Angeles | Melbourne | United Airlines | Yes |
| 25 | 12,751 | Los Angeles | Melbourne | Qantas Airways | - |
Product becomes a key distinction as the US long haul market continues to evolve
Myriad factors have coalesced to create opportunities for the three large US global network airlines to increase their long haul flying, ranging from more efficient aircraft to an improving cost base that makes those flights viable.
Indeed, it is a natural evolution to seek new markets as the US domestic and North American trans-Atlantic markets reach a certain level of maturity. The fact that aircraft and engine technology now make longer, and often thinner, routes possible completes the circle.
A key competitive distinction to watch in the future is the evolution of US airline product on those flights.
As American, Delta and United can now offer similar levels of global network coverage, distinguishing themselves through the customer experience becomes paramount, remaining innovative is vital. As their wider fleets are gradually upgraded, the priority is apparently to apply the better equipped aircraft on more iconic routes.
It will take some time for US airlines to return to the industry leadership of the glory days of the Pan American Airways Clippers, but what seemed unthinkable as recently as five years ago is now sprouting the shoots of a serious revival.