United loses ground, GOL, WestJet and Air Canada stronger as mixed signals reverberate
Analysis
United Airlines (shares down 5.7%) was the heaviest loser yesterday, apparently shunned as it was not yet prepared to announce more capacity cuts. Meanwhile, Brazil's GOL (+5.3%), WestJet (4.0%) and Air Canada (+3.6%) led the reverse charge. Being in the US domestic market currently is apparently not the place to be.
Delta (+2.0%) rose after earlier being on the downside. Revenue is down more than 20% year on year, outstripping anticipated cost savings from lower fuel prices - prompting President Ed Bastian to announce as much as a further 4% capacity reduction over and above the earlier 6% and another round of staff reductions.
A brighter outlook for air travel in South America boosted airline and airport stocks alike, helping GOL, TAM and COPA.
And an announcement that both Air Canada and WestJet would rely more heavily on travel agency sales preceded those airlines' rises.
For daily updates on American aviation stock prices and a complete wrap of the day's breaking news, sign up now for a complimentary subscription to America Airline Daily.
North & South America selected airlines daily share price movements (% change): 11-Jun-09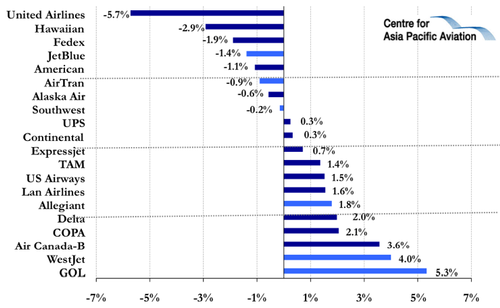 Capacity on the chopping block
Airline investors yesterday were swamped with information emerging from the Merrill Lynch conference in New York. This may have been sufficient to produce lopsided reactions as they sought to interpret what is actually going on. One thing is sure - and it is not good for the airlines - fuel prices are heading upwards again, as consumer sentiment appears to reflect a belief that the worst is behind us.
Suggestions that the downturn has bottomed have been seriously questioned by a flurry of airline pronouncements this week, first at the IATA AGM in Kuala Lumpur and then yesterday at the Merrill Lynch conference.
In New York, US airline CEOs were almost unanimously agreed that there was more to come and several hinted that they expected things to get worse still. Demand is soft and softening and fuel prices are going up.
Only AirTran, with its ultra-low cost model anticipates "one of the best years in its history", according to the carrier's Chief Financial Officer, Arne Haak.