30-Mar-2009 3:25 PM
United, Continental, US Airways, JetBlue lead the way down for US airlines.
United Airlines (-7.0%), Continental (-5.4%), US Airways (-4.6%) and JetBlue (-4.6%) led US airline stocks down on Friday, as the Dow Jones index turned south following a boisterous week of rises. But not all have fared similarly over the month of March (see below).
In Brazil, TAM, which continues to report slackening demand at the same time as its capacity rises, lost 5.2% of value on the day.

TAM is to participate in a cooperation agreement with El Al, which the Israeli carrier hopes to upgrade to codeshare shortly. El Al announced last week that the planned three times weekly service between Tel Aviv and Sao Paolo will now begin on 2-May-09. The target markets are South American Jewish concentrations and outbound Israeli tourism. This will be El Al's first major new route for a decade, with planning for 60,000 pax per year.

Israel last year concluded a free trade agreement with the Mercosur countries (Brazil, Argentina, Uruguay and Paraguay), the first country outside the region to do so.
For daily updates on American aviation stock prices and a complete wrap of the day's breaking news, sign up now for a complimentary subscription to America Airline Daily.
North & South America airlines daily share price movements (% change): 27-Mar-09
The past week saw most of the US carriers move up with the tide. But, as can be seen from the share index graph below, not all airlines have in fact performed the same way over recent weeks.
Selected US airlines share price movements: 02-Mar-09 to 27-Mar-09
(Index: 02-Mar-09 = 1)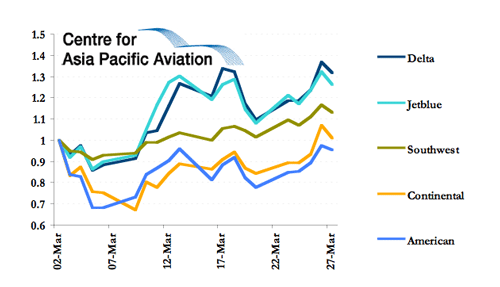 American and Continental have been hit harder by recent uncertainty, with Continental barely managing to recover to above its 2-Mar-09 level - and American is still languishing below. Delta and JetBlue, by contrast, are each up around 30% over where they began the month.

This segregating of performance may be an indicator of which airlines are to be preferred as the industry hunkers down to bear the brunt of an uncertain summer season.