United Continental joins American in posting net loss
Analysis
As expected, with the harsh weather and multiple disasters during the first quarter, United Continental Holdings posted a net loss of USD213 million on a GAAP basis, the company reported Thursday. It noted the loss narrowed by USD45 million from 1Q2010. Ex USD77 million in special items, largely integration costs, its net loss was USD136 million.
CEO Jeff Smisek opening its prepared comments saying that, while the first quarter was tough and the fuel environment was challenging the company's goal remains operating profitability throughout the business cycle no matter what the fuel costs. The company spends USD25,000 a minute in fuel.
He also pointed out that fuel-saving initiatives, including the use of ground power instead of auxiliary power units (APUs) showed positive early results, saving the airline 200,000 gallons per month for an annual run rate of 7.5 million gallons on a run-rate basis once all APU initiatives are implemented.
Mr Smisek seemed to take a cue from American CEO Gerard Arpey when he discussed revenue initiatives including plans for the integrated loyalty program being developed for the new United. "I can assure you it will not be your grandfather's frequent flier program," he told analysts. The company will announce details of the new program in the third quarter for a roll out in 2012.
The word merchandising is now the new industry mantra and executives are focusing on using it to increase revenues well beyond what they are doing with fares. Still, legacies continue to chase what Alaska, who reported a profit Thursday, has found; a reduction in the seasonality and the turn around of its worst quarter into steady profitability.
Mr Smizek indicated that the new DOT consumer rules, announced last week, would have no affect on the upward trajectory of ancillary revenues the company is planning, but he would not discuss details of ancillary revenue plans.
"We have a considerable number of new products in the pipeline and you'll be seeing a lot more new products coming out of the new United," said Mr Smizek, responding to an analyst question. "We will be doing considerably more targeted offers. Of course, that plays into a lot of issues with distribution and advances in technology and customer relations management but you will see us continue to disaggregate the product but also re-aggregations, based on the history of the passengers. There is now a lot of technology sophistication at United that we are using to help improve our revenue."
Chief Revenue Officer Jim Compton indicated that is what consumers are demanding of United. "We are hearing from customers they want to build their travel experience," he said. "Of course that results in a lot of opportunity. We are seeing that travel is an experience people want to participate in and this is one key area of focus to enhance the experience. We have already grown our ancillary revenue spend per person to USD16 which is up 15% year over year on the recent introduction of FareLock and from the improvement in how and when we offer our more mature products like Economy Plus. We are a leader in ancillary revenues and in innovation and you can expect that to continue with a lot of exciting productions to come. During 2011, the company expects to generate more that USD2 billion in ancillary revenues.
Interestingly, Smisek responded to a question as to why the new United was sticking to Economy Plus for the integrated airline after he rejected it as CEO of Continental.
"What has changed is our ability to merchandise better than United has been able to do historically," he explained. "We looked at it in my Continental days but that was before we had sophisticated merchandizing and at the airport and even on board. These will be profitable products for us, not withstanding loyalty benefits which are quite profound."
Mr Compton said PRASM for April will be up 9% for both mainline and consolidated on the shift of Easter/Passover and the impact of the Iceland volcano in the year-ago period which offset each other. He estimated the revenue impact of Japan PRASM for April will be about one percentage point.
The company reported that the decline in Japan traffic following the triple disasters there, drove a USD30 million revenue decline. It is experiencing less connecting traffic over Tokyo, but reported much of that is now going over other routes. Net bookings have recovered to pre-earthquake levels and executives are starting to see demand returning.
It cut capacity in the US-Japan market by about 10% in April and 14% for May compared with the capacity fielded in the same months in 2010. Consolidated domestic will be down 2-3%, said Mr Smisek, while consolidated international will rise by only 3-4%.
It has cut service, such as Cairo, it had previously planned on the political turmoil in the middle east and is also reducing frequencies in the fourth quarter, similar to the strategy it undertook in 2009.
Revenues
United Continental – parent to United and Continental – reported an 11.5% increase in passengers revenues for the first quarter to USD7.2 billion when consolidated PRASM increased 9.9% from 1Q-2010. Consolidated yield jumped a healthy 12.7%, according to Mr Compton, who noted the seven successful fare increases and two successful premium fare increases during the quarter.
Fuel surcharges, called the most effective tool for cost recovery, increased 26% in Atlantic, 42% in Latin American and 47% in the Pacific since the beginning of 2011. He emphasised fuel surcharges were only one part of the company's revenue strategy and pointed to new data and tools that helps the company manage inventory better.
He echoed others in pointing to the softness in the trans-Atlantic market, especially to London and Germany where the company was unable to sustain improving year on year PRASM performance. Trans-Atlantic PRASM was up only 1.3%, although yield was up 8.5%. Load factor, however, fell over five points to 71% on what he termed the "significant increase in industry capacity." Mr Compton indicated, United expected capacity to tighten after the peak season.
Even so, Latin America unit revenue was up by 15.4% year on year, in line with last quarter's PRASM's growth with Latin premium PRASM and yield growth rising 25%. South America saw double-digit growth in PRASM, up 12% and yield up 17%. Caribbean was extremely strong with PRASM up 20% and yields up 19%.
In addition, he reported a 20% improvement in domestic premium cabin PRASM. Despite the Japan tragedy, trans-Pacific PRASM continued to improve at 13.4% with the largest gains in China and Australia with double-digit growth in PRASM and yield.
Corporate revenues are growing slowly, said Mr Compton, who indicate volume increases are not yet materializing. This quarter, corporate yields up more than 17% compared with the 2010 first quarter.
1Q2011 revenues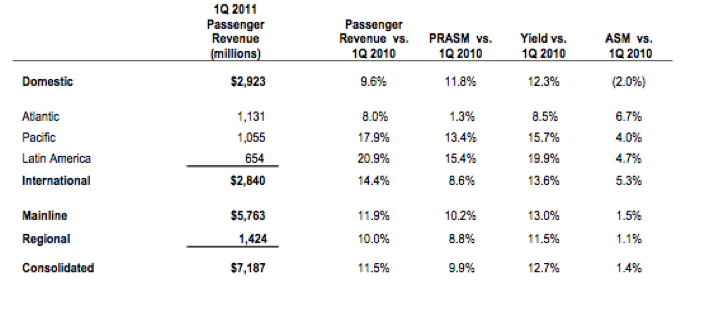 Total revenues were up 10.8% from the year-earlier period to USD8.2 billion. The company was not able to overcome its entire fuel cost increase with its revenue improvement, similar to what American reported last Wednesday.
The company reported that consolidated revenue passenger miles rose only 1% on a 1.4% increase in capacity for a 78% consolidated load factor in the quarter. Mainline RPMs dropped 1% on a 1.5% increase in capacity which yielded a nearly 79% load factor. Yield rose 13% from the pro-forma results in 1Q-2010, while mainline PRASM jumped 10.2% year on year.
"Our strong revenue performance is a result of my co-workers' focus on operational performance and delivering products and services our customers value," said Mr Compton. "We will continue to focus on growing revenue by tailoring our products to meet our customers' needs."
Expenses
CFO Zane Rowe reported consolidated operating expense increased 10% or USD747 million year on year in the first quarter on a 35% increase in fuel or USD 725 million year on year.
Consolidated unit cost was up 8.6%, while mainline was up 8.2%. However, holding fuel rate and profit sharing constant, first quarter consolidated unit costs were up 1.5% and 1.6%, respectively.
Echoing other carriers, Mr Rowe cited increased maintenance and revenue-related expenses with maintenance rising 23% contributing a point to the year-on-year CASM increase, which is also expected to be the same in the second quarter. With increasing revenues, the company experienced while revenue-related costs contributed seven tenths of a point to the year on year cost growth. These cost increases were offset by cost-cutting initiatives and merger synergies.
During the Q&A, Mr Rowe pointed out it would have several years lead on its competitors in integrating the 787 into the system. The aircraft is largely an international one for the company, added Mr Smizek
"The 787 is a very flexible aircraft for us," he added. "It is incredibly, I think, customer pleasing and I think we're going to have a true competitive advantage, because we have a multi-year head start on our North American competitors on the airplane. But it is also very efficient and it has good legs, so we can go pretty far distances and we can use it to both up-gauge markets like a 757 market or down-gauge markets, for example, taking out a larger aircraft and using the 787. We have, for example, publicly announced that we would like to start Houston-Auckland nonstop on that aircraft and because of the delay of the 787, we delayed the start of that route because that's a route that's a high-connect route. And we need a highly fuel-efficient aircraft for that route and lower operating costs and 787 fits that bill - but you'll see it operated out of our gateway hubs."
Cost details
Total consolidated expenses experienced an 11.2% increase or USD825 million, the vast majority of which related to fuel, excluding any impact from fuel hedges. Ex fuel, consolidated expenses rose only USD187 million or 3.6% on the 1.5% capacity increase. It met the fuel increases by reducing capacity one percentage point, effective 1 May. It will further reduce its schedule in September an additional four points from its original 2011 plans, to make full-year 2011 capacity roughly flat year on year.
CASM, ex special items, rose 8.6%, while mainline CASM, ex items, increased 8.2% during the first quarter compared to the year-ago period. Including special items consolidated and mainline CASM jumped 9.6% and 9.4%, respectively. In the first quarter, consolidated and mainline CASM, ex special items and holding fuel rate and profit sharing constant, increased 1.5% and 1.6%, respectively, compared to the pro forma results for the same period of 2010.
Guidance
United Continental Holdings expects second quarter ASMs to be down between 0.6% and 1.6%, and its consolidated international ASMs to be up between 4.1% and 5.1% for a consolidated system ASM increase of between 0.8% and 1.8% year on year.
For the full year, it estimates consolidated domestic ASMs to be down between 2.0% and 3.0%, and consolidated international capacity to be up between 3.0% and 4.0% and consolidated system ASMs to be approximately flat, year-over- year.
Second quarter consolidated CASM, ex fuel, profit sharing, certain accounting charges and merger-related expenses, is expected to be up 3.5% to 4.5%. For the full year, the company is estimating consolidated CASM, excluding fuel, profit sharing, certain accounting charges and merger-related expenses, will be up 1.5% to 2.5%.