United Airlines SWOT: positive direction after years of upheaval
Analysis
United Airlines has been through major changes during the past few years, ranging from an upheaval in C-Suite management to a domestic network overhaul. The company has also dealt with high profile customer incidents that generated negative customer sentiment, and brand damage.

But United seems to be slowly turning a corner. It has upped its share price guidance for 2018 and trimmed its capacity targets – a combination that has pleased investors.
However, even as United welcomes some positive recognition from Wall Street, company executives also recognise short term risks spurred by increases in fuel prices, macroeconomic changes and geopolitical events.

Despite those potential headwinds, United is declaring its EPS targets for 2020 as absolute, and they constitute part of the 'no excuses, sir' mentality it has adopted.

This report examines United's strengths, weaknesses, opportunities and threats.
Summary
Strengths: favourable investor metrics, an improving operational performance.
Weaknesses: challenges in sustaining a favourable brand image, uncertainty over scope.
Opportunities: successfully executing its domestic strategy, instilling lasting cultural change.
Threats: geopolitical upheaval and trade wars, failing to meet financial targets.
UNITED STRENGTHS
1. Favourable investor metrics
United is the only airline among the three largest US global network airlines that has posted an increase in its share price YTD through late-Jul-2018. The company's P/E is higher than both American's and Delta's, and its market capitalisation is higher than American's.
Those rankings are interesting given that markets were spooked earlier in 2018 when United stated that it could expand capacity by as much as 6% for the year. But United has lowered its guidance from growth of 4% to 6% (as of Jan-2018), to 4.5% to 5%. The company also bolstered its 2018 EPS guidance, from USD6.50 to USD8.50 (as of Jan-2018), to USD7.25 to USD8.75.
American, Delta and United selected financial metrics as of late Jul-2018
| | | | |
| --- | --- | --- | --- |
| Airline | Market capitalisation | P/E ratio | YTD share price change |
| American | USD17.8 billion | 6.83 | 20.89% decrease |
| Delta | USD36.6 billion | 10.66 | 6.71% decrease |
| United | USD22.6 billion | 12.65 | 21.05% increase |
2. An improving operational performance
A recent report compiled by OAG shows that United earned a four star ranking for its on-time performance from Jun-2017 to May-2018. The airline's annual OTP for that period was 80.7%.
Delta was the only other large major US airline to attain a four star ranking, and Hawaiian was the only US airline to post a five star performance.

United has calculated that its completion factor improved from 98.3% in 2Q2016 to 98.7% in 2Q2018.
UNITED'S WEAKNESSES
1. Challenges in sustaining a positive brand image
United has battled high profile negative passenger events during the past couple of years, including a passenger being forcibly dragged off a plane and the death of a pet in an overhead bin. The result has been an up and down public perception of the airline.
A recent article from Mediapost citing data from YouGov BrandIndex stated that in Apr-2017, prior to the dragging incident, 35% of travellers would have considered booking United. It fell to 18% one month later. The report stated that statistic had rebounded to 30% in Apr-2018, which was 6ppt above the domestic airline sector average.
2. Uncertainty over scope
United has reached the limit for 70 to 76-seat jets allowed for its regional operations as stipulated in its current pilot contract. As a result, the airline has been adding 50-seat jets, and recently ordered 25 Embraer 175 to replace older 70-seat Bombardier CRJ700s in its fleet.

United and Delta have similar scope arrangements that require a certain number of 100-seat mainline jets for every 70 to 76-seat jet addition at the regional level exceeding current scope limits. Delta has opted to add Boeing 717s and Bombardier CSeries at the mainline, but in the past United has not appeared convinced of the operating economics of 100-seat jets at the mainline, even as it aims to close margin gaps with its rival Delta.

Obviously using 50-seaters to execute its strategy over the long term (see below) is not ideal in order to bolster overall revenues. But United does not appear to be rushed in obtaining scope relief. The amendable date for its pilot contract is Jan-2019.
See related report: US airline scope clauses pose challenges for United
UNITED'S OPPORTUNITIES
1. Successfully executing its domestic strategy
The main driver of United's higher capacity growth versus that of its peers is a push from its hubs to bolster connectivity to more small and medium sized markets. The strategy has been met with some scepticism, but during 2Q2018 United offered some encouraging results from its tactic of working to shore up higher yielding connecting revenue.

Recently, company executives stated that one of the goals in rebanking its mid-continent hubs in Houston and Chicago O'Hare was providing customers from short haul cities with more connecting options.
During 2Q2018, in those two hubs combined, United posted a 10% increase in both large medium to small city revenue and an almost 20% increase in small city revenue.
The airline is planning a rebank at its Denver hub in early 2019. Denver has considerable LCC and ULCC presence. Southwest holds a 29% share of Denver's domestic seats and Frontier represents an 11% share. In theory, the higher concentration of ULCC/LCC seats shouldn't affect United's ability to produce similar results from Denver's rebanking, but it will be interesting to see if the exercise in Denver will be as successful as in Chicago and Houston.
Denver International Airport domestic seat share by airline as of late Jul-2018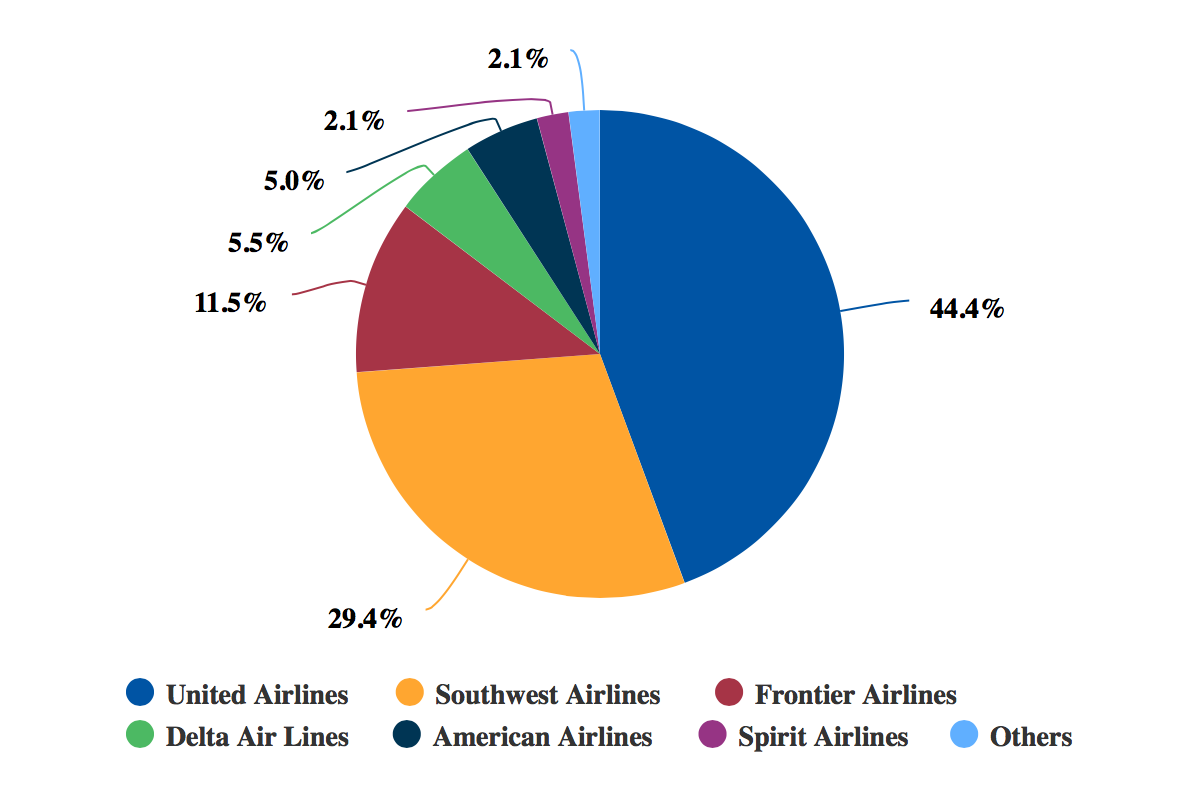 2. Instilling lasting cultural change
United is engaging in an employee training programme dubbed Core4 aimed at improving employee-passenger relations, among other goals.
The company's customer satisfaction ranking in the JD Power and Associates North American airline survey for the 12M ending for Mar-2018 was 708, which was lowest among the region's global full service airlines and a decrease from its score of 716 in 2017.
The survey ranks airlines on a 1000 point scale, and the average for what JD Power deems as traditional airlines was 741.
Scores for selected airlines in the JD Power 2018 North American airline survey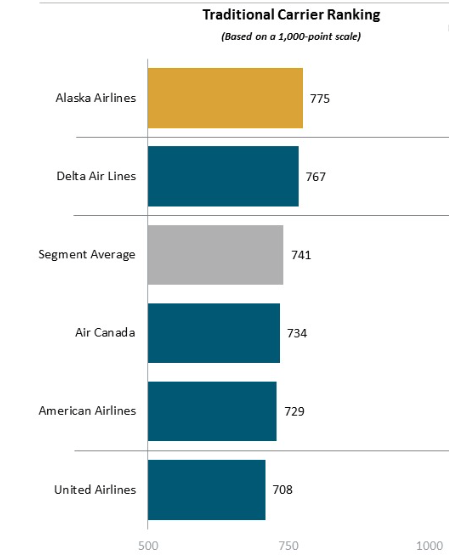 United's management seems to understand that a favourable management-employee relationship has a direct effect on customer sentiment, so placing an emphasis on training to improve the employee-customer experience is an important step in repairing United's brand awareness.
UNITED THREATS
1. Geopolitical upheaval and trade wars
United has assured that it has flexibility to address a recession or trade wars through the retirement of older aircraft and returning aircraft off lease.
However, the airline has the largest seat share among US operators between the US and China and its Pacific operations are just starting to rebound, and during 2Q2018 it achieved the first positive unit revenue result in the region since 3Q2014.
Approximate one-way seats and share between the US and China as of late Jul-2018

Generally, airlines have not attempted to offer clarity about a potential escalating trade war, but are giving assurances that they have the means to withstand any fallout from trade policy. Overall, during the past three to four years there has been overcapacity in the US-China market, and if trade affects demand between the two countries, all US airlines will face trans Pacific headwinds.
2. Failing to meet financial targets
United has stressed that it does not necessarily need scope relief to attain its 2020 targeted EPS of USD11 to USD13. The airline acknowledges that short term risks, including fuel price increases and geopolitics, could result in United missing its declared quarterly guidances, but management is stressing that it will "move heaven and earth" to make sure it meets its targets.

At the end of 2016 United stated ambitious goals of closing the margin gap with Delta by 2020. But its margins have not increased since that time, and now the airline has declared that it is moving away from its previous relative targets to absolute goals of a 2020 EPS of USD11 to USD13.
United CEO Oscar Munoz recently stated: "...we've switched to absolute targets that there's no hiding from". The investment world prefers absolutes, and even as United has adopted a 'no excuses' mentality, missing those targets would dent United's credibility with financial markets.
United starts to reap some positive rewards after years of upheaval
Although United and Continental completed their merger in 2010, the combined company has experienced many fits and starts in its strategy.

With the exception of the recent departure of its CFO, for the time being United's upper management seems stable.

After battling some erosion of its brand and some pushback from the investment community over its strategy to regain domestic share, United seems to be steadying its ship and producing positive results from its push to shore up domestic connectivity.
There is definitely much to be done for United to prove it is on the right course, but recent positive developments are encouraging.