UAE air and passenger traffic up but with worrying cargo weakness showing
Analysis
Air traffic movements in the UAE are closing in on 2000 movements per day, with 57,773 flights handled across the country over Sep-2011. That is an increase of 9.7% year-on-year, continuing the healthy growth in traffic that the UAE General Civil Aviation Authority has been reporting through the year.
Dubai, home to Emirates and flydubai, accounts for more than half the country's air traffic movements, handling 25,874 flights last month. That eclipses the UAE's capital, Abu Dhabi, which plays home to Etihad Airways. Abu Dhabi International Airport handled just 8354 aircraft movements, or 14%, in September.
Sharjah, where local LCC Air Arabia has its main hub, handles around 5000 aircraft movements per month. The remainder of airports in the country – comprising Al Maktoum International Airport in Dubai, as well as airports in Ras Ali Khaimah and Fujairah – handled just over 1000 movements.
Overflights were 12,626, up 8.2% year-on-year.
Constant growth at Abu Dhabi, but Dubai traffic more volatile
Traffic growth at Abu Dhabi has been better than at Dubai, although the airport is developing its growth off a significantly smaller base. Abu Dhabi has been handling around 900,000 to 1 million passengers per month over the first eight months of the year, while Dubai typically handles more than 4 million passengers a month, making it one of the world's busiest international hubs.
Both passenger traffic and cargo tonnage at Abu Dhabi have growth at double digit levels every month since Feb-2011, with the airport handling a record 1.2 million passengers over Jul-2011, almost 200,000 more than the same month in 2010.
Traffic growth at Dubai has been more choppy, partially a result of larger capacity there than at Abu Dhabi from international carriers, whose traffic is more volatile than constantly-growing Emirates and Etihad. 1Q2011 saw several months of comparatively moderate growth, with February and March traffic up around 5%, thanks in part to the negative effects of the Arab Spring. Second quarter traffic was much stronger: there was double-digit growth as airlines added capacity to the airport under their northern hemisphere summer schedules.
Jul-2011 saw a record 4.7 million passengers handled at Dubai, fully a million more than went through the airport in the same month in 2009. However, Aug-2011 traffic was almost flat, up just 0.8%, the smallest monthly increase in more than three years. The cause was a fall in Middle Eastern passenger numbers – down 65,000 due to affect of Ramadan and the lingering regional instability – as well as flat traffic from Western Europe.
Despite the monthly blip, Dubai Airports CEO, Paul Griffiths, is confident that the airport is on track to meet its target of 51 million passengers for the full year.
UAE and selected airports passenger traffic (% change): Year to Aug-2011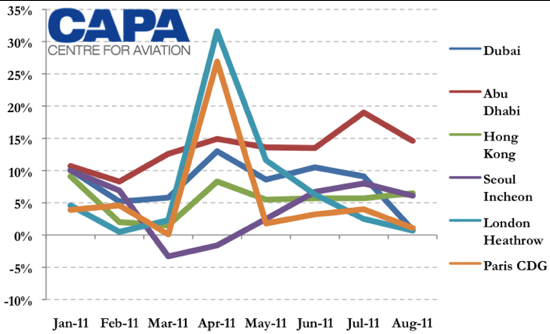 Dubai's attraction as an international hub has not diminished. Apart from the continued expansion by home carriers Emirates and flydubai, the airport maintains its attraction to international carriers, which continue to add new routes and capacity to their exiting schedules.
In the last few months, SpiceJet, IndiGo, Finnair, Bahrain Air, China Eastern Airlines, MartinAir Cargo and GMG Airlines have all added new capacity or announced new routes to the airport.
More worrying though is cargo performance, which has weakened noticeably in the second half of the year. For the year to Aug-2011, Dubai International handled a total of 1,433,270 tonnes of cargo, a contraction of 1.2%. Aug-2011 traffic was down 7.9%.
UAE and selected airports cargo traffic (% change): Year to Aug-2011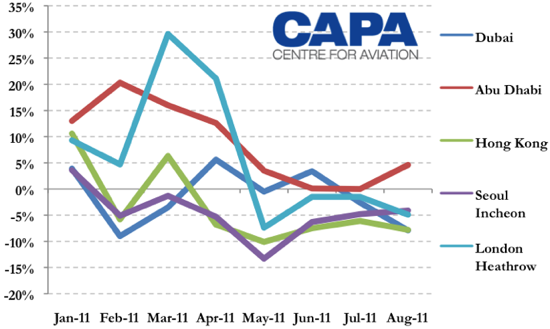 Dubai Airports stated that air freight traffic has been affected by economic uncertainty in the US and Europe. Air freight traffic is a strong forward indicator of global economic performance and the pattern in the UAE is repeated elsewhere. Other large freight hubs, including Seoul Incheon, Hong Kong and Memphis have been reporting either slight growth or contracting cargo traffic for most of the year after very solid growth in 2010 and the first few months of 2011.
See related article: Global freight outlook: declines punctuated by Cathay Pacific's volume falling below 2009 levels