20-Apr-2009 8:15 AM
Cathay Pacific hit by "severe business downturn"
This hasn't been a good week for three of the region's leading network airlines. Qantas first on Tuesday announced 1,750 job cuts, Singapore Airlines yesterday stated it was removing 17% of its fleet capacity starting this month and has reduced its Summer 2009 schedule. And today Cathay announced it will reduce passenger capacity by 8% and overall cargo capacity by 11% from May-2009.
Cathay has implemented a reduction in employee work days and reduced management salaries. The next step, if demand fails to improve, is to ground more aircraft and start reducing its headcount to move its overheads more in line with the reduced scale of its operations.
SIA has been silent on the potential for job cuts, but noted it would "continue to monitor traffic changes and make appropriate adjustments to its route network where necessary to match capacity to demand". But the carrier suffered a horrendous fall in numbers last month. Singapore Airlines' passenger load factor plummeted 11.4% to 69.4% (the second consecutive month below 70%), as the carrier failed to reduce capacity fast enough. That is despite reducing ASKs by -9% year on year.
The Cathay cutbacks will be accompanied by "a Special Leave Scheme". Under the scheme, all of the airline's 17,000 staff (about 13,600 in Hong Kong and 3,400 offshore) will be "asked to take unpaid leave of one to four weeks, depending on seniority, over a 12-month period from 1 May 2009 to 30 April 2010".
Announcing the cost cuts today, Cathay Pacific CEO, Tony Tyler, said: "We anticipate an extremely challenging year in 2009 and a toxic combination of low fares, a big drop in premium travel, weak cargo loads, poor yields and a negative currency impact is making it more important than ever to preserve cash. In the first quarter of 2009 we saw a marked deterioration in our business compared to the same period last year."
This has had a massive impact on Cathay's bottom line. The carrier's turnover for the first three months of this year was 22.4% down on the same quarter in 2008. And this is despite just a 0.8% reduction in seats flown.
What a difference a few months can make......
The turnaround in fortunes is heavily emphasised by the difference in attitude at the airline in just seven short months. On 19-Sep-09, Cathay announced that it had carried just 0.5% more passengers in the previous month, Aug-08. This was despite the fact that the carrier had increased capacity (ASKs) by 14% year-on-year. At that time, General Manager Revenue Management, Tom Owen, put the problem down to the fact that the Beijing Olympics and the two typhoons that hit Hong Kong had had a "negative impact on passenger numbers for the month".
With a very large order book, Cathay had by then added significant amounts of capacity in that month year-on-year, mainly on routes to Australia, North America and India. The Southwest Pacific market had been worst affected, with a double-digit decline in load factor, as Cathay added new frequencies to Australia under its 'capacity redeployment plan' that was 'not yet being met by increases in demand".
However, there were already some signs of what was to come. Mr Owen went on to note that premium demand "continues to show signs of softening in the months ahead". In recent months, premium traffic has dropped by around a quarter in most Asia Pacific and Asian markets. Air freight, a major component of Cathay's revenues, has also slumped dramatically.
Then, last month, Mar-2009, Cathay disclosed it was on the verge of making some "very difficult decisions" about its network and about the company generally, to secure the sustainability of the business as demand and revenues continue to weaken.
Slamming the machine into reverse
An indication of the speed of Cathay's rapid turnaround, as its order book pushed new aircraft into to the fleet can be seen in the following graph). Passenger traffic (RPKs) on European services rose 3.4% year-on-year in Mar-2009, but fell 19.5% on North American services fell 19.5%, reflecting capacity levels in both regions.
And the stark reduction in capacity on the long-haul Pacific route indicates clearly just how substantially Cathay's strategy in that market has changed.
Cathay Pacific passenger capacity growth by region: Apr-08 to Mar-09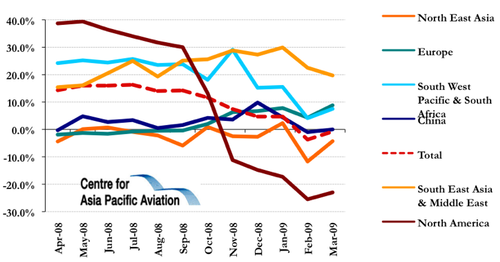 However, it is still evident that, as of last month, capacity on most routes within the region was still well up, with South East Asia and the Middle East capacity up most strongly on 2008 levels.
Fleet and capex reductions too
Today's announcement was for five aircraft to be sold and three freighters to be parked. Negotiations are also under way with manufacturers to defer deliveries of new aircraft - a highly expensive move in the current market - as well as "considering whether to renew expiring aircraft leases".
Other capex in areas such as airport lounge renovations in Hong Kong and London are also to be postponed, negotiations with suppliers for more concessions are continuing and its home airport of Hong Kong is to be pressured to reduce landing and parking charges.
(Cathay has already announced it would defer completion of its new cargo terminal by two years, until 2013.)
The planned capacity cuts
According to Cathay Pacific, the capacity cuts (and some reallocations) will be made as follows. These include "redeploying flights to more profitable routes (and) making ad hoc cancellations to align with market demand":
Passenger Flight Reductions
London - Ad hoc cancellations of 17 round trips in May and more are likely in June upon further review.
Paris - Cut 7 round trips off the twice-daily services in May. Plans to cut down to 10 flights per week from June to the end of August, then daily from September, subject to changes in accordance with demand.
Frankfurt - Cut 9 round trips off the 10-flights a week service in May. From June, cut 3 weekly services to make a daily service.
Sydney - Cut 1 flight daily to 3 flights per day.
Singapore - Cut 10 flights weekly to 32 flights per week.
Bangkok - Cut 4 flights weekly to 31 flights per week.
Seoul - Cut 1 flight daily to 4 flights per day.
Taipei - ad hoc cancellations.
Additions
Denpasar - Add 4 flights weekly to existing daily flight from July to September.
Sapporo - Add 3 flights weekly to become daily in July/August.
Cargo Flight Reductions
Total weekly frequency down to 84 from the 2008 peak at 124
The following reductions are compared with the 2008 peak
Europe (via Middle East or India): to 22 flights per week from 32
North America - to 26 flights per week from 31
Australia - to 2 flights per week from 3
North Asia - to 10 flights per week from 20, mainly Osaka, Taipei,
S.E. Asia - to 3 flights per week from 9, mainly Penang, Jakarta, Ho Chi Minh City
Middle East & India - unchanged at 6 flights per week
Biting the bullet
Cathay is making some relatively bold moves to stem the financial bleeding that it is suffering. These are at the same time probably little more than holding measures, while the carrier assesses where it goes from here. Much depends on how long the economy continues to bump along the bottom - if in fact that has been reached yet.
Cutting aircraft orders, parking aircraft and even forcing unpaid leave are expensive - most particularly deferring and/or cancelling orders. As a result Cathay has tried hard to avoid this last resort measure. However, at a certain point, the pain of operating losses becomes greater than the capital cut.
That turning point has now been passed.
What happens next will depend on how long and how bad things remain. There are some hopeful signals that the freight downturn is easing, but these are less than clear and certainly not significantly enough to restore revenue levels in the medium term.
There is going to be more pain to bear before the process of evolution moves to the next stage.