Thai Airways "restructures" in its usual way – but troubles loom
Thai Airways' share price moved up 5.4% yesterday on news that the airline's President, Apinan Sumanaseni, had tendered his resignation, effective 1-Jan-09. His current contract was due to expire in May-09. He cited health problems and disagreements with the Board.
Executive Vice President, Narongsak Sangkapong, will act as President pending a formal appointment.
The positive response of the market probably reflected relief that differences between the President and his Board (and the Thai cabinet) over issues such as whether the airline should be leasing or buying eight A330s to be acquired by Thai. The underlying reasons for these differences have little to do with the basic strategic direction of the airline.
Sadly for Thai Airways, potentially a leading regional airline, the national version of restructuring generally means changing leadership very frequently. Failure to address fundamental issues - often because of political interference and internal squabbling - has meant that Thai could in fact now face meltdown as the global economic crisis worsens.
Thai is poorly equipped for serious competitive conditions, is still a high cost, strategically unguided operation. All of these characteristics leave it poorly placed to weather the storm.
Over the past six months, the flag carrier's loads have plummeted, accelerating to alarming levels in the past few weeks, as economic conditions deteriorated.
Thai Airways International passenger numbers growth and cargo volume growth: Oct-07 to Sep-08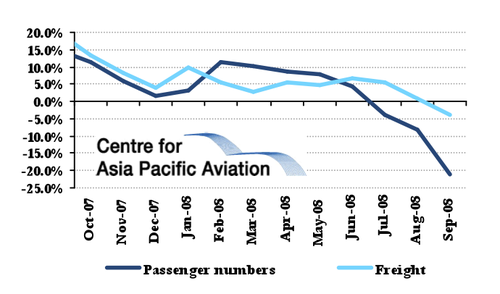 The carrier's main response to the downturn, like most others, has been to reduce capacity. But it has not done this quickly enough to retain respectable loads. Even after reducing some capacity, its passenger load factor for September, at 66.8%, is down 17.1% on Sep-07.
Thai Airways International passenger capacity growth and passenger load factor growth: Oct-07 to Sep-08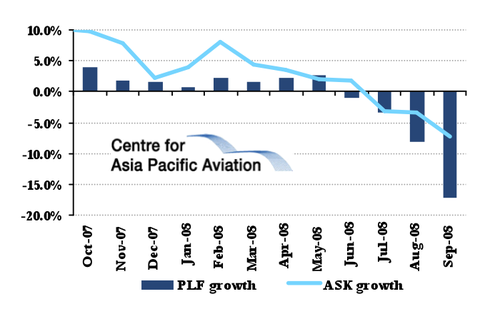 While yields are not disclosed, it is probable to assume that these are bleeding too - or will be soon, as cash starts to dry up and slackening demand forces the flag carrier to discount to encourage customers.
The worst performing routes are the carrier's most important: within Asia - where high quality competition from its neighbours is most intense - and on the Pacific, where its experiments to exploit the high yield non-stop US market have been financially disastrous, leading to withdrawal of New York and Los Angeles non-stops. The A340-500 aircraft used for these services have been sold. Europe too is quickly deteriorating.
Thai Airways passenger load factor by route: Oct-07 to Sep-08
There are urgent issues that the new management will now have to face, as Thai's operating margin continues to lag. This is only likely to get worse as the new environment bites and shows up in its financial reporting.
So long as the government - still the largest shareholder - insists on intervening on day to day management issues, there is little hope of serious action being taken to pre-empt the ugly financial outcome that is now looking inevitable for Thai.
Thai Airways International Operating profit margin and net profit margin: 1Q08 to 3Q08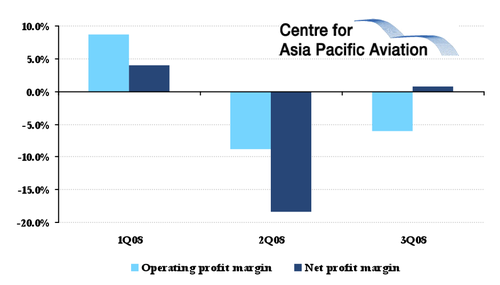 Yesterday's escalation of domestic political dissent, including the temporary closure of the hub airport at Suvarnabhumi, is a serious inhibitor to traffic growth to and through the country. Europeans in particular, already staying away in their droves as their home economies slump, will be intimidated by this news, only adding to Thai's woes.
The combination of a politically-misdirected, unwieldy, un-restructured airline, along with continuing political disorder in its home market, has all the signs of an unhappy ending.
Effectively unable to cut staff, Thai's only policy option appears to be to cut capacity drastically. This might help to reduce losses, but it will do nothing to prepare the unwieldy company for the cold weather that lies ahead. But at least it could remove the need to squabble over acquiring new aircraft.