StarFlyer integrates its network with owner All Nippon Airways, bringing benefits but also limits
Analysis
After seeking a free and independent life, moving back in with the parents can be a loss of face. While it brings stability and shelter, it also means restrictions and less freedom. This is where Japan's StarFlyer now finds itself. After many years of having only four aircraft, StarFlyer grew to nine aircraft and launched international services that proved a folly. StarFlyer found its boutique positioning – with a heavy cost base – gave it a niche that was difficult to expand. Part-owner All Nippon Airways has started network integration, with the two swapping routes.
StarFlyer's growth is uncertain. Load factor and revenue gains can be made, but with its cost structure and lack of Haneda slots, capacity growth opportunities are unclear. There are parallels for Skymark Airlines, which is pursuing a partnership with ANA and/or Japan Airlines. Skymark has a much lower cost base than StarFlyer, but parental association will come with some inevitable loss of freedom.
StarFlyer expects to return to profitability
Swift measures at StarFlyer have seen it sharply reduce its first half loss from JPY1318 million (USD12.8 million) to JPY189 million (USD1.8 million). The airline expects to end FY2014, the year to 31-Mar-2015, with a profit, albeit modest at JPY200 million (USD1.9 million) at the operating level, equating to an operating margin of less than 1%.
A return to profitability has allowed StarFlyer to withdraw a regulatory disclaimer that its future survival was a concern. StarFlyer's operating margin has been consistently low.
StarFlyer operating margin: 2009-2013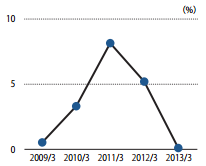 In 1HFY2014, Revenue growth of 7.1% outpaced cost growth of 1.3%. Scheduled passenger service accounts for almost all of StarFlyer's revenue. Revenue growth occurred despite a 12% drop in passenger numbers as StarFlyer shrunk its fleet and workforce and also decreased salaries. StarFlyer is seeking greater synergies, such as ground handling costs, with ANA. Despite these cost-saving measures, total costs were likely up due to rising fuel costs as the yen depreciated.
StarFlyer revenue up 7% - financial highlights for six months ended 30-Sep-2014:
Operating revenue: JPY17,156 million (USD166.6 million), +7.1% year-on-year;
Operating costs: JPY16,444 million (USD159.6 million), +1.3%;
Operating profit (loss): (JPY330 million) (USD3.2 million), compared to a loss of JPY1436 million (USD13.9 million) in p-c-p;
Net profit (loss): (JPY189 million) (USD1.8 million), compared to a loss of JPY1318 million (USD12.8 million) in p-c-p;
Passenger numbers: 709,773, -12.0%;
Passenger load factor: 63.5%, -0.3 ppt;
Total assets: JPY24,124 million (USD234.2 million);
Cash on hand and in banks: JPY3652 million (USD35.5 million);
Total liabilities: JPY22,205 million (USD215.6 million);
FY2014 forecast:

Revenue: JPY35,400 million (USD343.7 million);
Operating profit: JPY200 million (USD1.9 million);
Net profit: JPY540 million (USD5.2 million).
The carrier reported (31-Oct-2014) foreign exchange gains of JPY342 million (USD3.3 million) during 2QFY2014 due to fluctuations in foreign currency exchange rates.
In 1Q2014, the latest figures available, only StarFlyer and Jetstar Japan posted domestic yield gains.
Japanese domestic yields by fiscal quarter: 2012-2014
Newly-installed StarFlyer president Sadami Matsuishi is a veteran of StarFlyer's part-owner All Nippon Airways. Mr Matsuishi also has experience with Japan's "new entrant" airlines from the 1990s/2000s as he was an executive MD and VP of Skynet Asia Airways, now Solaseed. Many have faulted StarFlyer for being mis-guided in recent years.
Mr Matsuishi appears to have entered the company with a somber but candid assessment, believing employees were too isolated. In an interview with Aviation Wire, Mr Matsuishi thought staff had become jaded as there is almost no competition at Kitakyushu, StarFlyer's home. Kitakyushu-Tokyo Haneda is StarFlyer's largest route by far and its only service to/from Kitakyushu. "This may have an influence on the atomosphere inside the company," Mr Matsuishi said.
Most of StarFlyer's other flights are to/from Tokyo Haneda. Lack of competition at Kitakyushu may have made StarFlyer think it was capable of growing more than it could with a low density high-cost product that is not as well-known as Skymark, amongst others. StarFlyer last stated a management plan to have a CASK between JPY11.5-12.0 (USD9.7-10.0 cents).
Internal isolation and hierarchy was also a problem according to Mr Matsuishi. He has sought to quickly change corporate culture, working amongst staff rather than in a private space, encouraging staff to approach him directly and have more people ask questions. "I think if you want to be closer to them, you should show yourself to them," Mr Matsuishi said. To further his point, he has even cleaned the airline's aircraft. While such practices, even if occasional, may be common at new age airlines elsewhere in the world, in Japan this is a radical breaking down of barriers.
See related report: Japan's StarFlyer, struggling to expand its niche, will reduce its fleet and receive new management
The closer relationship between ANA and StarFlyer sees ANA sell more of StarFlyer's flights. In 1HFY2014, the six months to 30-Sep-2014, StarFlyer sold JPY4737 million (USD46.0 million) worth of seats to ANA, a 72.8% increase despite StarFlyer's passenger numbers dropping 12% in the same period. This strong gain in ANA sales saw the share of seats sold by ANA increase from 17.1% in 1HFY2013 to 27.6% in 1HFY2014.
Further increases are likely as the two draw closer and also because of network changes implemented in Oct-2014. Those changes saw StarFlyer pull off some primary city frequencies and take over secondary flights from ANA.
Japanese regulators limit the number of codeshare seats that can be sold by another airline, ensuring an airline cannot become a proxy for another carrier. The limit is higher on regional flights, an incentive to provide more regional services while recognising those flights are harder to sell than primary flights. With StarFlyer undertaking more secondary flying, ANA will be able to sell a greater share of those seats.
The parallel for Skymark Airlines, as it considers its future path, is having one of Japan's two main players help its distribution. The extent of the possible gains is unclear. Skymark is bigger and better known than StarFlyer and has higher load factors. Skymark competes on more trunk routes whereas StarFlyer operates some smaller services.
In the case of StarFlyer's main Tokyo Haneda-Kitakyushu service, ANA does not fly (JAL does), ensuring ANA passengers effectively take the StarFlyer codeshare. There may not be this incentive on main routes where Skymark's partner flies.
One of the biggest constraints holding Skymark back was the lack of a loyalty programme. While Skymark has been working on this, accepting an ANA or JAL codeshare could see Skymark gain higher-yielding corporate passengers who previously shunned Skymark. Although flight distances (and possible mileage earning) are short in Japan, affinity to loyalty programmes runs high.
See related report: All Nippon Airways acquisition of Skymark and its A380s would be difficult but with upside for both
StarFlyer and ANA adjust their network strategy
StarFlyer and ANA have started to work more closely and adjust network strategy. However, they are unable officially to coordinate services, even with ANA's ownership in StarFlyer. As a result, the two can only work together by one airline adjusting its network first and the other responding.
In Oct-2014, StarFlyer reduced its Tokyo Haneda-Fukuoka offering by three daily flights and instead launched three daily Tokyo Haneda-Yamaguchi-Ube services at the same time ANA reduced its frequencies from five to three. StarFlyer had targeted business passengers, but with its Yamaguchi-Ube route is moving into heavily leisure routes, although competition is limited. StarFlyer will see to change its marketing and selling tactics for the route.
ANA had previously offered five daily flights across four daily 767s and one A320 or sometimes five daily 767s. The three frequencies ANA now has are all typically serviced by its 767, each seating approximately 200. StarFlyer's three daily flights on smaller 150-seat A320s provide some growth in capacity when looking at combined ANA and StarFlyer capacity (ANA codeshares on StarFlyer's flights). Collectively the ANA/StarFlyer frequency has increased to six daily flights, matching JAL's six daily flights on the route.
To accommodate the three daily Yamaguchi-Ube flights, StarFlyer withdrew three of its daily flights to Fukuoka from Haneda. StarFlyer expects Yamaguchi-Ube to have lower profitability than Fukuoka, but that Fukuoka would become more challenging as Skymark put in high double digit growth from Tokyo Haneda, in addition to LCC flights from Tokyo Narita.
Tokyo Haneda Airport to Fukuoka Airport (seats per week, one way): 19-Sep-2011 to 24-May-2015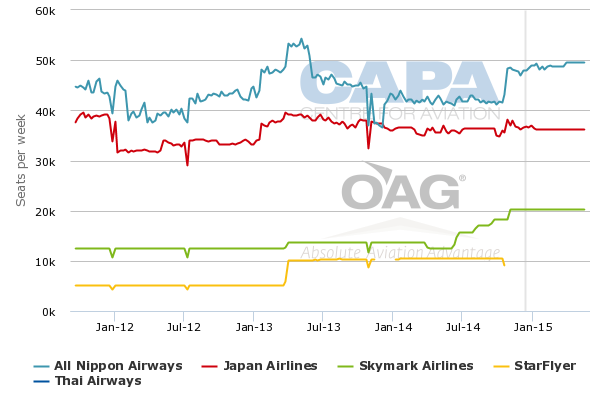 StarFlyer increased Fukuoka capacity in Apr-2013, and this decrease unwinds much of that growth. StarFlyer's additional capacity in Apr-2013 could not be fully absorbed, and load factors almost throughout FY2013 remained below levels in FY2012 before the capacity increase.
StarFlyer Tokyo Haneda-Fukuoka load factor: FY2012-FY2014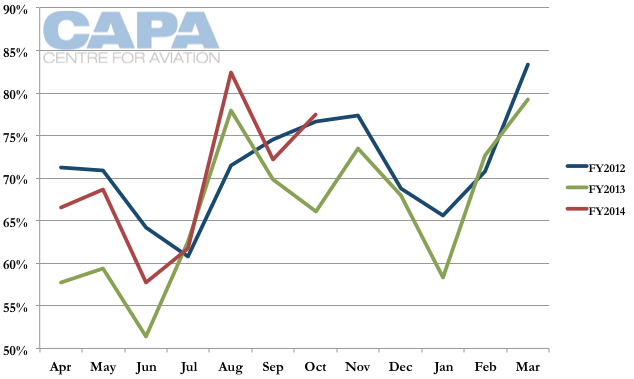 Ambitious growth curtailed. StarFlyer may add only one aircraft
StarFlyer's international foray into the Kitakyushu-Busan route was clearly misguided. But the carrier's overall growth also appears to have been overly ambitious. As recently as 2013, StarFlyer expected to have 12 A320s in 2015.
It will now have nine A320s with the possibility to grow to 10. Growth by increasing utilisation of the existing fleet is unlikely as management believes that with nine A320s the highest number of flights they can operate a day is 60, which they already do.
StarFlyer sector and aircraft history: 2006-2013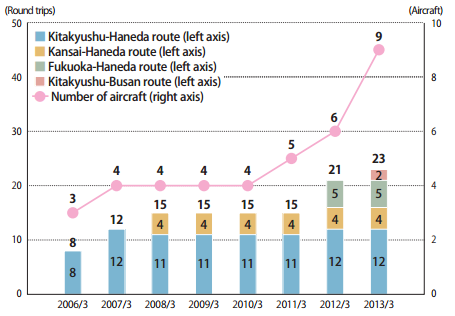 It is unclear where a future 10th aircraft would be used. Management expects it could open six flights (three round-trips). Additional Tokyo Haneda domestic slots are unlikely to be made available in the near future, and it is at this airport StarFlyer has the largest potential for a sizeable population to be interested in its niche offering.
Further, with Skymark likely to become stronger through cooperation with either or both of ANA and JAL, Skymark's appeal will be increased. As seen with the Tokyo Haneda-Fukuoka route, a stronger Skymark – plus more LCC activity – may limit opportunities for StarFlyer. "We cannot fight with LCCs on an equal footing," Mr Matsuishi conceded to Aviation Wire.
StarFlyer's base of Kitakyushu has limited growth potential. ANA would be unable to transfer Haneda slots to StarFlyer, not that there would be strong rationale for that.
StarFlyer continues to discuss the possibility of re-entering international flights from FY2016 on routes up to five hours long, effectively around Asia up to Hong Kong. StarFlyer however is concerned about potential opportunities on its niche platform, including low density 150-seat A320s. A re-configuration would be expensive, and management is concerned a higher density could see passengers perceived them as a LCC. Management is not confident profits could be possible.
A departure point would also be a challenge for StarFlyer, with Kitakyushu likely too small a market and Tokyo Haneda not having daytime international slots.
StarFlyer needs to re-gain its higher load factor levels
StarFlyer's load factor has dropped from a high of 73.7% in FY2010 to 64.8% in FY2013. This decrease is consistent with StarFlyer growing its fleet. StarFlyer had four A320s between 2007 and 2010 but increased this to nine A320s in 2013. StarFlyer's new management wants to improve load factors by about 10ppt. This would place StarFlyer only slightly above where it was last decade.
While these load factors in the 70% range are high compared to ANA and JAL's load factors in the 60% range, on a global average this is not strong performance. Higher load factors would allow StarFlyer to decrease its high unit costs, but non-LCC Japanese airlines favour yields over load factor.
StarFlyer system load factor: 2008-2013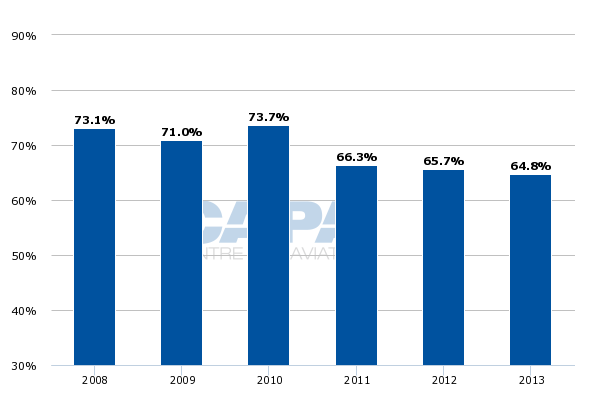 StarFlyer started FY2014 with gains in load factor but momentum appears to have been lost. Oct-2014's load factor was above Oct-2013, but it is not yet evident if this is a real start of a new improved trend.
StarFlyer monthly passenger load factor (Domestic): 2012-2014
StarFlyer has changed little since its inception. A high cost base limits growth
Despite the world of change that has occurred in Japan and beyond since 2006 when StarFlyer launched, StarFlyer is very much the same airline. An up-scale product positioning no longer has its earlier appeal now that the Japanese carriers offer in-flight WiFi (which StarFlyer does not), JAL is copying StarFlyer's leather interior or against Skymark's all-premium economy A330s.
Lack of meaningful innovation is a further challenge in Japan as consumers like new concepts and products; StarFlyer still touts its Tully's coffee and leather seats. Nor can StarFlyer trade off a comparable experience with lower cost: it has the highest cost base in Japan of the major airlines.
Even with a return to profitability, StarFlyer's profits will be small, as they have been for most of its history. Considerable efficiency gains can still be made, and a more competitive environment looms in the immediate future. Any aircraft growth may be a token gesture to show that StarFlyer is still on its own.
More disciplined parent ANA would likely find it difficult to agree StarFlyer has strong opportunities at its current high cost base. StarFlyer continues to face the fundamental question of how to grow beyond its niche and high-cost offering. But even the strictest of parents have sometimes to indulge their offspring with new toys.