St Louis: WOW Air flights herald new opportunity in a mature US market
Analysis
St Louis Lambert International is another example of a former hub airport that has remade itself, charting solid passenger growth and celebrating the return of service to Europe this year with WOW Air's new service to Reykjavik.

Other European destinations are on the airport's wish list, and work continues to add service to some US Midwest destinations previously in St Louis' network profile.

Another element of St Louis' transformation is the opening of a new common use lounge in Terminal 2, which is home to Southwest and the home base of WOW's service to Iceland. Passengers have been requesting a lounge in the terminal, and the project should also drive solid revenue for the airport.
Summary
St Louis sustains solid passenger growth in 2017, and is off to a strong start in 2018.
The airport feels good about its domestic position, but is working to add back service to some US mid-western markets.
St Louis is marking a major milestone during 2018 with the launch of new service by WOW Air to Reykjavik, which will create connections to several European destinations, Tel Aviv and (eventually) Delhi.
A new common use lounge that recently opened in the airport's Terminal 2 should generate solid revenue for St Louis Lambert and satisfy passenger desire for a lounge in the terminal that houses Southwest and now WOW Air.
St Louis marks solid passenger growth and looks to regain US Midwest service
St Louis logged 5.5% passenger growth in 2017 and recently celebrated 31 straight months of passenger growth in Mar-2018 when passenger throughput increased by 4.4%.
St Louis Lambert International Airport annual passenger numbers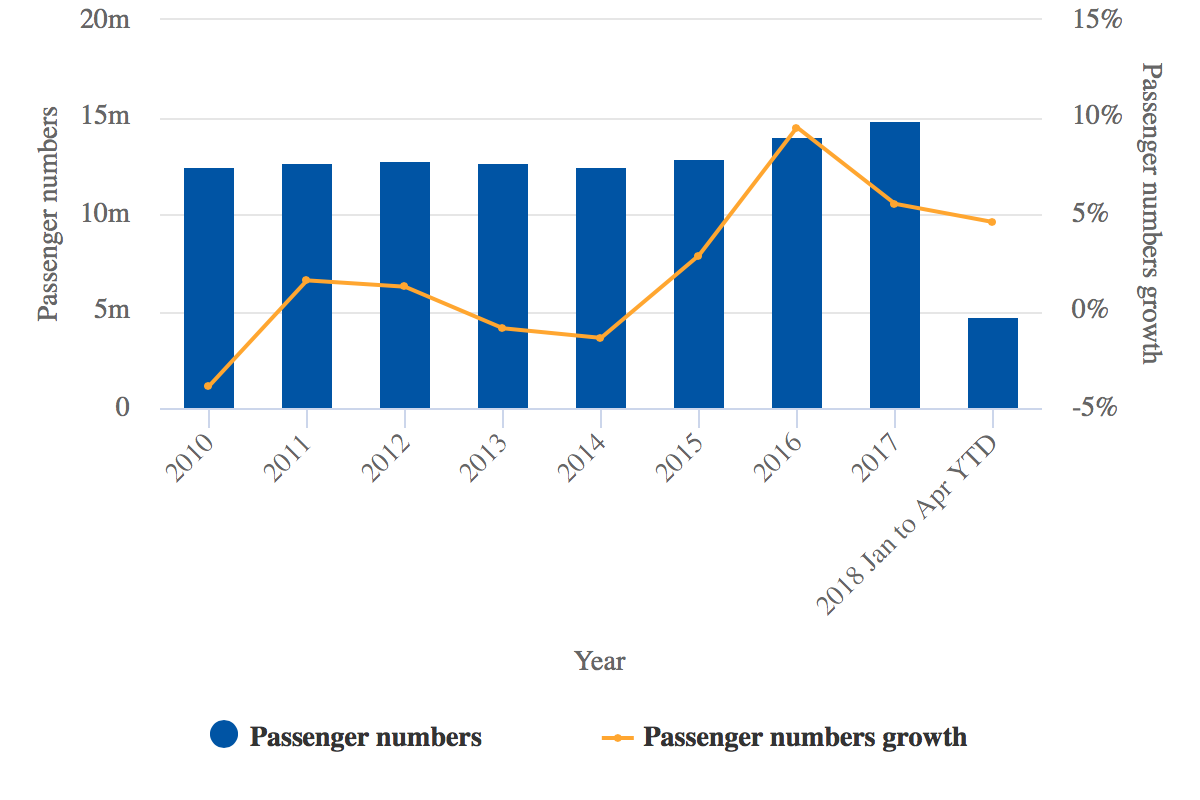 It has been almost a decade since American officially de-hubbed St Louis and during that time Southwest has built up its service at the airport, now representing 62% of the airport's seats on offer.
Southwest continues to expand from St Louis, recently launching flights to San Jose and Sacramento, California. The airline also plans new service to Hartford, Connecticut in Aug-2018.
St Louis International airport airline capacity by seats as of mid-Jun-2018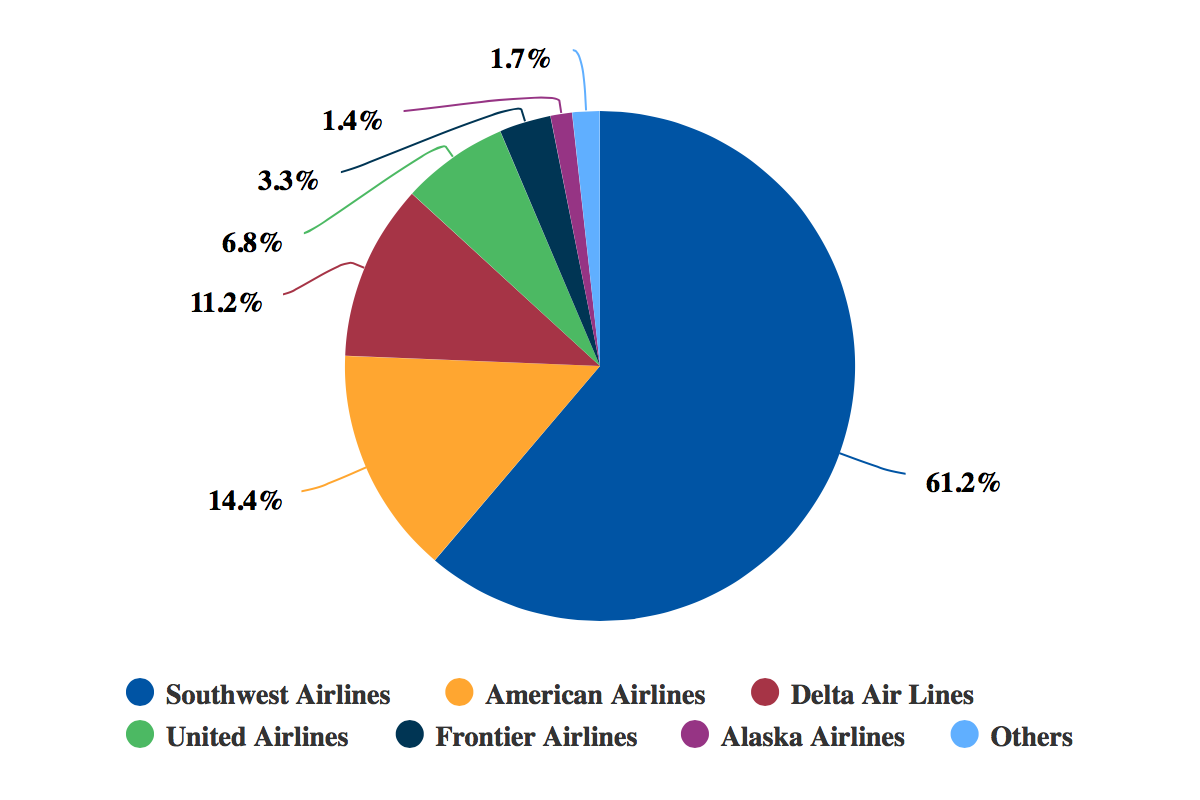 At the recent CAPA Americas Summit in Houston, Texas, airport director Rhonda Hamm-Niebruegge stated that St Louis is fairly well served from a US domestic perspective, particularly with its long haul markets. Some of St Louis' largest markets measured by ASKs include Las Vegas, Los Angeles, Seattle and San Francisco.
St Louis airport director Rhonda Hamm-Niebruegge speaking at the CAPA Americas Aviation Summit
The airport is looking to add back service to some Midwest destinations that were previously served, including Indianapolis, Indiana, and Louisville, Kentucky. Jacksonville, Florida, was also on the airport's wish list, and Frontier Airlines plans to launch thrice weekly service to Jacksonville in Aug-2018.
St Louis makes a big move with new flights to Europe by WOW Air
One of St Louis' biggest milestones in 2018 is the launch of new flights to Reykjavik, Iceland, by WOW Air, which has been making a huge trans Atlantic push during the past couple of years. WOW's other US destinations include Baltimore, Cincinnati, Detroit, Newark, Boston, Cleveland, Los Angeles, Pittsburgh, Chicago O'Hare, San Francisco and Dallas/Fort Worth.

With WOW's service St Louis passengers get one-stop access to the airline's European network, which includes 18 destinations. WOW also recently announced new flights to Delhi, India, and also operates service to Tel Aviv, Israel.

According to news outlet the St Louis Post Dispatch, area governmental agencies offered USD800,000 in incentives to attract WOW's service, and also agreed to waive landing fees for 18 months. Those types of incentives are standard in the airport business. For example, another former hub, Pittsburgh International airport, has awarded close to USD4.6 million in incentives to airlines since 2015.

See related report: US smaller airports using incentives to attract new LCC services

Ms Hamm-Niebruegge remarked that St Louis would like to expand its roster of long haul service to Europe, highlighting London, Paris, Amsterdam and London as destinations on the airport's wish list. Demand for the new service to Reykjavik will definitely be a gauge used by other airlines to evaluate the addition of long haul flights from St Louis. The airport's other international destinations are Cancún, Mexico, operated by Frontier and Southwest, and Toronto Pearson, operated by Air Canada.
St Louis fulfils a major customer request for a Terminal 2 lounge
For many medium sized airports such as St Louis, the backfilling of service cuts by full service airlines has been largely accomplished by low cost airlines and as a result, the approach to amenities offered by those airports has changed.

In Jan-2018 a new common use lounge, Wingtips, opened in Terminal 2 at St Louis Lambert. The lounge is independently operated by Airport Terminal Services, and The St Louis Post Dispatch has reported that the airport should garner USD3.45 million in revenue from the lounge over ten years.

The airport has said that a common use lounge is one of the most requested amenity by passengers. The lounge resides in Terminal 2, which is home to Southwest and WOW Air's operations at the airport. Ms Hamm-Niebruegge said that feedback from WOW customers was that the lounge would be a great amenity for the flight to Reykjavik.

Lounge customers can purchase a single, four hour, day pass for USD38 or an annual membership for USD75. Corporate packages are also available. Amenities in Wingtips include a complimentary food buffet, juices, espresso coffee, a range of alcoholic beverages and WiFi. The lounge's hours are 04:30 to 22:00 Sunday through Friday and Saturday from 07:00 to 17:00.
St Louis and other US airports take a rational approach to network development
St Louis is a solid example of a former hub in the US marketplace that has worked to adapt and remake itself in the face of a somewhat concentrated market. It has the benefit of a large presence by Southwest to cover a large swathe of the US market while working to gather steam slowly for additional trans Atlantic service.

Through the ebbs and flows of the general global aviation cycle, airports such as St Louis are adapting to the realities of the current market, patiently working to expand their network profiles in rational ways.