Spring Airlines seeks to redefine itself in a more crowded Chinese LCC market
Analysis
The company folklore of the Chinese low cost carrier Spring Airlines has become entrenched in aviation history, with photos of Spring staff on duty trips sharing hotel rooms while eating instant noodles.
For the Chinese market this thriftiness, and regular candid interviews with billionaire founder Wang Zhenghua, became synonymous with the growing number of budget flights on Spring Airlines. The public became educated about China's only notable LCC, which was markedly different from the cookie cutter format of full service domestic airlines.
But the spectrum of airlines in China is widening and Spring, now under the leadership of Stephen Wang, needs to reassert its position in the Chinese market.
Mr Wang addressed CAPA's Americas Aviation Summit in Orlando in Apr-2017. There are new LCCs and airlines transitioning to LCCs with different service levels, making Spring wonder if it should be an "ULCC". The reality of a government orchestrated market means Spring needs to consider widebody operations for domestic trunk routes, and possible long haul flying. Spring also needs to diversify its presence: its home hub of Shanghai is high yielding but this has invited envy, and an aviation hub overhaul could mean that LCCs are moved to a new and remote third airport in Shanghai.
Spring Airlines must find greater efficiency as legacies catch up
Spring Airlines has a significant cost advantage over the state owned airlines that dominate China's marketplace. The advantage is due to Spring's own cost reduction efforts and also to the bloated nature of state owned airlines, which have some cost inefficiencies they cannot address (such as the government not willing to let them restructure staffing).
In other areas, however, state owned airlines are making changes. As typically holds true in China, once there is a realisation of a problem and directive to fix it – change happens quickly. Online sales at state owned airlines could have been in the region of 10% a few years ago, but China Southern – the largest domestic operator – has reported that 43% of sales in 2016 were from its online channels.
Spring President Stephen Wang told CAPA TV at the CAPA Americas Aviation Summit in Orlando in Apr-2017 that Spring receives over 80% of sales from online channels (where mobile and app payments, such as WeChat, are more common than for European or North American airlines). So while Spring still has an advantage on distribution costs, the gap is narrowing.
Spring Airlines CEO Stephen Wang speaks to CAPA TV at the CAPA Americas Aviation Summit: Apr-2017
For a decade, Spring Airlines was essentially China's only LCC. But since the CAAC encouraged reforms and upheld the LCC business as a model of efficiency, there has been a growing number of LCCs. Beijing Capital Airlines has identified as an LCC, and with 71 aircraft it is larger than Spring Airlines (68 aircraft).
There are other airlines that have identified as LCCs that are smaller than Spring, but with a few years of fast growth could overtake Spring: Lucky Air (part of HNA) has 45 aircraft, while China United (owned by China Eastern) has 34, Chengdu Airlines (part of Sichuan Airlines) has 28, and West Air (also HNA) – 27.
Many of the LCCs are still transforming and do not have readily identifiable LCC characteristics or a cost base with a notable advantage.
Lucky Air has both Airbus and Boeing narrowbody aircraft and its foray into the long haul market will have standard eight abreast seating in economy and a separate business cabin. This is more likely the result of taking the aircraft at short notice; Lucky expects future widebodies to be in an all economy configuration.
Ranking of Chinese LCCs by fleet size: 18-Apr-2017
Spring Airlines considers whether it should be a "ULCC"
Some particulars of the LCC transformation are confusing to passengers, blurring the understanding of what an LCC is and therefore what passengers should expect. Spring Airlines continues to educate its market about what an LCC is, and that they should not expect the delivery of a full service airline.
The market has become confused in some instances as airlines proclaim themselves as LCCs while still essentially being full service airlines. This has prompted Spring to consider whether it should reposition itself as an ultra low cost carrier. No airline in China positions itself as a ULCC – a designation that formally came about only recently in Europe and America. By positioning itself as a ULCC, Spring could segment itself away from this confused LCC space.
Mr Wang told CAPA TV that he does not yet see Spring as a ULCC. The other side of the LCC/ULCC debate is Spring's sensitivity to consumers. Spring believes Chinese consumers are more demanding than in other markets. The LCC proposition has been difficult enough, and has not achieved high ancillary revenue, so a ULCC positioning could be even more challenging.
"Of course for LCCs cost is very important, but on the other hand we also respect our customers", Mr Wang said.
Government efficiency directives could result in Spring flying widebodies
Spring Airlines is once again evaluating widebody aircraft operations. The primary intent at this stage of operating widebodies would be for domestic deployment. Spring would like to remain an A320 operator, which gives consistency, efficiency and reduces risks. However, Chinese authorities increasingly want to see airlines operate trunk routes with widebody aircraft. Slots and airspace are constrained, so from a government perspective a widebody – with approximately twice the capacity of a narrowbody – is more efficient.
Spring's Dec-2015 order for 60 aircraft included 45 A320s and 15 A321s – the first time Spring has ordered anything larger than an A320. Spring has not yet taken delivery of an A321. Inclusion of A321s in the order was partially to placate the regulatory interest for larger aircraft. However, Spring no longer believes the A321 will be large enough to keep it in good standing with Chinese aviation's all powerful authorities.
Operating widebodies domestically would improve Spring's existing network and also open new frequencies and routes. Without widebodies, Spring may be constrained in winning routes and traffic rights.
On eight of Spring's 10 largest domestic routes, narrowbody flights from all operators account for over 95% of frequencies and widebodies account for the balance, according to OAG data. On Spring's largest route, Shanghai-Shenzhen, narrowbodies account for 86% of frequencies. On Shanghai-Guangzhou, also one of Spring's largest routes, there is a near even balance of flights on narrowbody and widebody aircraft.
There is a shift towards widebody flying, with route allocation having a preference for airlines proposing to use a widebody. Sometimes an airline proposing to use a narrowbody – as Spring must do – is not considered at all for the route or slots.
Spring is absent from China's largest domestic market: Beijing-Shanghai. Spring tried to enter the market but could not secure enough slots, and at suitable times, to have a meaningful presence on the high frequency market. Between Beijing and Shanghai, narrowbody aircraft account for only 30% of flights.
Widebody and narrowbody flights from all airlines on Spring Airlines top 10 domestic routes: 17-Apr-2017 to 23-Apr-2017
Spring Airlines is an all Airbus operator but its subsidiary, Spring Airlines Japan, operates brand new Boeing 737s. There are some parallels to Juneyao Airlines being an all Airbus operator but selecting 737s for its subsidiary 9 Air (a Guangzhou based LCC). Juneyao went on to order 787s, despite its short history with Boeing.
Boeing is obviously eager for Spring to sign for 787s. However, there could be higher than normal political considerations owing to Airbus having an A330 Completion & Delivery Centre in Tianjin near Beijing. The A330 centre has an advantageous cycle of expectations in which China will approve Airbus orders in exchange for Airbus placing more of the aircraft value chain in China, but in doing so Airbus expects more Chinese aircraft orders.
Should Spring embark on long haul flying it would likely need more range, and could consider the A350, which is gaining sales momentum in China.
Long haul, low cost, is not an easy decision for Spring to wade into
Should Spring acquire widebodies, its intent is for deployment mostly in the domestic market. But the range associated with widebody aircraft naturally allows Spring to fly further. Spring has considered low cost, long haul flying and Mr Wang is still not attracted to the proposition. "We will not fly the very long haul, across the Pacific and Asia-Europe continent", Mr Wang told CAPA TV. However, he noted: "We follow our customer, market demands".
Chinese tourism to long haul markets is growing, but so too is capacity. There is so much overcapacity that for most months of the year airlines selling long haul flights out of China are essentially low cost (or at least low fare) operators.
Although Spring could have lower costs, there is lower cost differentiation between full service and low cost airlines on flights over eight hours: variable costs (where LCCs typically achieve most of their savings) make up a smaller share of total trip costs as the flight becomes longer. Fuel, which has a fixed price (ignoring hedges), takes up a larger share of costs the longer the flight becomes.
As long as overcapacity persists, it is unclear whether Spring, even with lower costs, could achieve a healthy return. Further, Spring's own long haul operation could jeopardise the opportunity to be a neutral airline partner providing domestic China connections to foreign airlines. Spring has talked about providing interline and codeshare access, but has not yet invested in the necessary IT infrastructure to facilitate partnerships from its custom made IT to other solutions.
Spring could first deploy widebodies internationally on Asian routes
Spring Airlines could first test international flying with widebody flights on regional services. Even Singapore from Shanghai is a stretch on the A320. A widebody would give Spring the range to access points deeper in Asia (Indonesia is becoming popular) or Southeast Asian points from northern Chinese cities. Spring could also upgauge points like Bangkok that are well within A320 range and have high demand (but limited slots in Bangkok).
Even if regional international flying is a success, conditions may not be right for Spring to fly long haul. As Mr Wang told CAPA TV: "We are considering to buy long haul aircraft, not only for the Chinese market but also Southeast Asia – we need long-range".
Shanghai aviation hub planning for the future – possibly a distant LCC airport
The status quo is seldom a guarantee in China. While Spring looks to develop new opportunities, there is concern that its lifeblood – its Shanghai base – should not be taken for granted.
"Spring is very lucky: we went into China and Shanghai very early", Mr Wang said. "Shanghai is very important. Shanghai people are more open, Shanghai is more high-end so we're sticking with Shanghai", Mr Wang said, but cautioned "we will also see other cities not only in China but other nations nearby".
Spring's diversification from Shanghai is partially by force, as slots at congested Shanghai airports are difficult to obtain, and also by choice, as Spring seeks other bases to have a wider footprint, leverage discounts and incentives and ultimately have development options.
Shanghai's aviation hub planning is at an inflection point. Shanghai needs more capacity and at the same time there is government urging to support LCCs and develop LCC terminals, and even airports.
Shanghai's long term plan could result in a third airport being constructed. There is concern that this airport, far outside the city, would be designated a low cost airport and LCCs could be forced to move from existing Shanghai airports to the new facility. An inconvenient base could significantly impact LCC demand.
Spring's position in Shanghai is attractive: it holds 5.5% of Pudong's commercial slots and 9% of Hongqiao's slots.
Shanghai Pudong International Airport system frequency share by airline: 17-Apr-2017 to 23-Apr-2017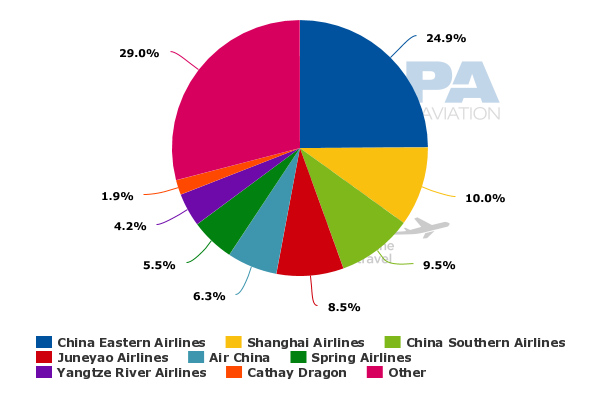 Shanghai Hongqiao International Airport system frequency share by airline: 17-Apr-2017 to 23-Apr-2017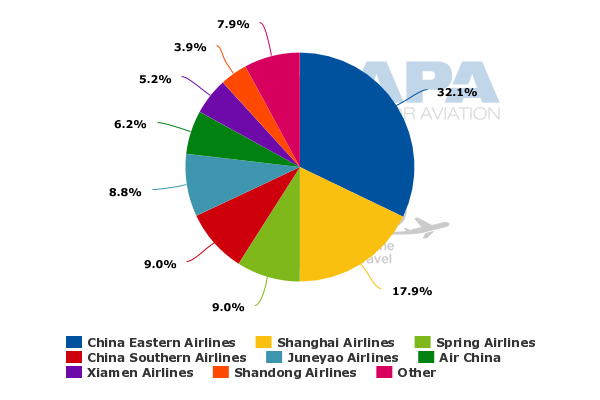 Outlook: Spring Airlines – a leader, now needs to shape its future
For an airline with consistent low cost practices, and is at the forefront of the sector and nudges the regulator, Spring Airlines is still China's leading LCC.
Others may be close in fleet size, and could even overtake Spring should they curry enough regulatory favour and be given permission to expand fleet sizes. Spring's 68 aircraft fleet is sizeable, although it would like the fleet to have doubled by now if the government would allow it.
However, to the multi hundred aircraft state owned airline behemoths – Spring is small. Spring has carved a position in the market and has outsized influence due to its enviable efficiency and low costs. But Spring still seeks survival.
Chinese aviation is rapidly developing e-commerce, both for its own sake and to align to the government's internet/technology push. Successful application of distribution and general marketing could allow a smaller airline to leapfrog others.
Rapid adaptation continues to be a guiding directive for success in China. Fortunately, moving quickly is in the DNA of LCCs, and notably Spring.