Spirit A320neo order allows carrier to replace costly A319 and expand further into South America
Analysis
Spirit Airlines' memorandum of understanding to acquire 45 A320neos and 30 A320s will allow the low-cost carrier to replace its A319s, which the carrier is falling out of favour with due to their higher trip cost than the A320. The A320neo's improved range surpasses that of the A319, allowing Spirit to rationalise its fleet while also potentially using the A320neo's longer range to open new routes. The A320neo will also allow Spirit to serve markets with a full payload that its current A320s cannot serve, or which its A319s can but with a lower seat count.
While Spirit will look to grow its fleet with the order it announced at this week's Dubai air show, 28 of its current 35 aircraft have leases expiring between 2016 and 2018, when the A320neos will start to be delivered.
The new order, valued at USD6.7 billion at list prices, expands the airline's current order, which still has 33 aircraft yet to be delivered, with delivery slated between 2016 and 2021. Airbus is offering the A320 with the GE Leap X engine as well as the Pratt & Whitney 1100G PurePower engine, but Spirit did not say which engine was destined for its aircraft.
Spirit Airlines projected delivery dates all aircraft (as at 11-Nov-2011)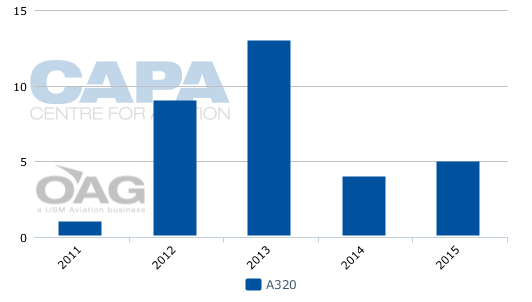 "The A320 is just a more efficient airplane. It has 23% more seats than the A319," CEO Ben Baldanza told CAPA earlier this year as he was mulling a fleet order. "There are some things the A319 can do that the A320 can't do, however. We fly Fort Lauderdale to Lima and Los Angeles for example, and fully loaded the A319 can do those routes fine, but the current A320 can't."
Airbus says the A320neo will offer up to 500nm of additional range over the A320. The A320neo compared to the A319 offers an approximately 200nm improvement in range, potentially allowing Spirit to open deeper routes, potentially in South America. Spirit serves the top of South America and its most southern route is to Lima, Peru, pushing the range of the A320.
From Spirit's base at Fort Lauderdale, which is about the farthest south an airline go in the continental US, the additional range of the A320neo over the A319 opens potentially few new markets. The major Latin American cities at the A320neo's range threshold, or requiring a payload restriction, from a Fort Lauderdale departure point are the cities of La Paz, Bolivia and Sao Luis, Brazil. American Airlines operates from La Paz to Miami while there is no service from Sao Luis to the US, or service from any foreign airline to the airport.
On this map of the projected range from the A319 and A320neo, Lima (LIM) squeaks in while La Paz (LPB) and Sao Luis (SLZ) are just outside the range would be difficult given high altitudes. The exact range figure when calculated to Spirit's undisclosed specification may bring those destinations within range, or Spirit may have to restrict payload to serve them. Bigger cities in South America are well beyond the A320neo's range.
Projected range of A319 (inner circle) and A320neo (outer circle) based on Airbus data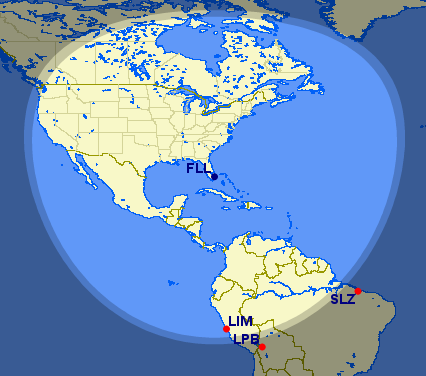 The A320neo's bigger impact on Spirit's route network will be its ability to replace the A319 without payload restrictions but increase seat count and decrease unit costs.
The A319 accounts for 74% of Spirit's fleet, but by early next decade it will largely be the A320neo that will become the carrier's workhorse.
Most popular aircraft types in service for Spirit (as at 18-Nov-2011)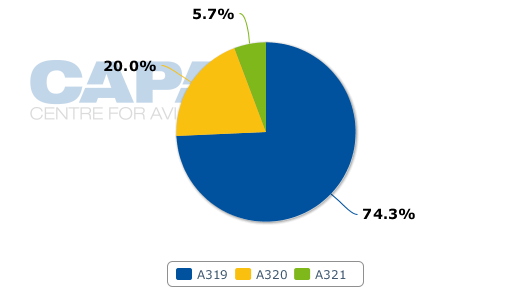 Airbus has logged more than 1000 orders for its neo aircraft in less than a year since it announced it would produce the new versions. In the interim, Boeing opted to re-engine its hearty 737 to compete with the neo.
The company is in high-growth mode benefiting from the weakened economy in which travellers trade over to low-cost or ultra-low-cost airlines. In true Spirit style, Mr Baldanza stated the aircraft would "allow Spirit to liberate more cities from their high fares." The new order will support Spirit's growth in the US, the Caribbean, where it is going head to head with jetBlue, and Latin America. The largest carrier in the Fort Lauderdale market, it is also competing with JetBlue there.
Spirit Airlines Fleet Summary (as at 18-Nov-2011)

US market reacts to doubling of booking fee
The aircraft announcement was overshadowed in the US media by the airline's decision to double its fee for buying tickets on its website to USD16.99 one way, matching that charged by Allegiant. The increased fee took effect on 08-Nov-2011, doubling the charge for its former fee of USD8.99 each way. The company calls it a passenger usage fee, which can only be compared to resort fees regularly charged by hotels.
Spirit is known for giving back when it raises fees. When it imposed a fee for carry-on bags in an attempt to smooth the boarding and deplaning process to gain extra aircraft utilisation, it also lowered its base fare. This time around the beneficiaries were international passengers whose online booking fee was reduced USD2.
Most Spirit flyers are already familiar with its ultra-low fares and policy of trading fee revenue for what other airlines charge in fares. For that reason, it is famous for USD9 and USD14 fares, meaning the additional USD33.98 will more than double the price in some instances – and that does not even include government-imposed fees which adds even more to the cost. If passengers want to avoid the fee, they need to go to the airport.
But even that will not be free since, in Jan-2012, it is will begin charging USD5 for boarding passes printed by ticket agents. Nor does Spirit have to disclose the fee once the new Department of Transportation (DoT) consumer rules take effect because it is not mandatory.
The interesting thing about Spirit's contrary policy is that, at a time when other airlines are trying to attract more traffic to their websites and offering hotels, car rentals and insurance during the booking process, Spirit discourages such traffic with new fees, although the likelihood of many passengers purchasing tickets at airports is unlikely.