Southwest unveils all-new Rapid Rewards programme
Analysis
With a promise of netting several hundred million dollars in incremental revenues on a USD100 million investment, Southwest rolled out the long-awaited upgrade to its 24-year-old Rapid Rewards frequent flyer programme. Rapid Rewards 2.0 is set to launch on 1-Mar-2011.
"This year we enter our fifth decade of giving Americans the freedom to fly, and what better way to kick-off the year than to introduce a new frequent flyer programme that our customers are going to LUV," said Southwest's Chair, President and CEO Gary Kelly. "We tailor-made the All-New Rapid Rewards programme to meet the needs of today's traveller, making it faster and easier than ever before to go, see, and do on Southwest Airlines."
Pay more, get more
Following JetBlue, the major reform is its pay-more-get-more model which awards points based on the amount paid for the fare. Critics, however, indicated this will challenge Southwest's brand as treating everyone equally. However, it has been moving away from that model with its ancillary revenue offerings such as Early Bird which offers special treatment – as long as you pay for them.
Southwest's comment board voiced mixed reviews with some disliking the new reward strategy or the introduction of more complexity as it replaces the ease of gaining a free flight for every five flights with a complex reward and redemption system. However, it does put the passenger in charge of both earnings and redemptions – especially in eliminating black-out dates and seatrestrictions. It also eliminates expiration dates as long as a member has some earnings activity within a calendar 24 months rather than a rolling 24-month period. That means the high-earning Business Select passengers will redeem points at the lowest-fare and displace fewer high-paying passengers as long as they plan ahead.
Earnings are definitely designed for the up-sell to Business Select. One dollar equals 12 credit and each credit equals 1200 points. There are also multipliers depending on the cost of the fare. A Business Select fare is multiplied by 12 points, while an Anytime fare has a 10-point multiplier and a Wanna Get Away fare has a six-point multiplier. Currently, passengers get one credit for each one-way flight and must accrue 16 credits for a round-trip free flight. In addition, credits expire after two years in the current programme.
Earnings multipliers

In addition to enhancing its A-List and Companion Pass programmes for its most active members, Southwest is adding a new member category beyond its current basic and A-List membership which carry different multipliers. A-List membership requires 35,000 points but includes amenities of faster security, drinks coupons and priority for standby flights. The airline has also introduced a dedicated customer service number for A-List members.
The new member category – A-List Preferred – which critics says hurts the airlines egalitarian image, requires 70,000 points but comes with the A-List amenities along with free inflight Wi-Fi. A-List Members are also being offered a 25% earning bonus on flights and the new A-List Preferred member will get new benefits including a 100% earning bonus on flights.
A-List points per dollar

A-List Preferred points per dollar

"I'm not really sure why the A-List Preferred matters here," said Cranky Flyer Blogger Brent Snyder in his review. "Yeah you get bonus points and free Wi-Fi, but that's a pretty small recognition of so much flying. It seems like they need to beef this up further if they really want to make it relevant, but that gets further into this tiered structure that Southwest has always eschewed. Also, not sure why they didn't try to fold the companion pass earning into the standard format here instead of just keeping it as a legacy standalone. But it does seem that Southwest is convinced it needs elite tiers and is strengthening them over previous offers. The old A-List only gave priority check-in/security and an earning bonus. That's not bad, just different."
Fewer points needed for redemption depending on length of advanced planning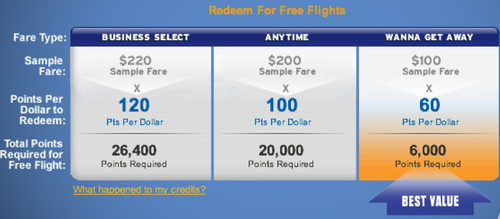 The new programme is designed to attract business travellers who are at high-point levels at other carriers. It is also designed to be a revenue generator and has enough flexibility to be ahead of the pack in redemption.
In his blog post yesterday, Senior Director of Customer Loyalty and Partnerships Ryan Green, said the new program was several years in the making but was "the single biggest new product launch in our company's history."
Enhancements have also been made to the Rapid Rewards credit card programme allowing card holders to redeem their points for international flights including those on codeshare partner Volaris and the expected additions to the route network with the acquisition of AirTran. Rewards are also redeemable at hotels as well as gift cards but, again, this perk is for cardholders only.
The airline is also adding the facility that has brought so much revenue to other airlines – the ability to purchase points – made in blocks of 1000 with a minimum purchase of 2000 points for USD50 and then USD25 for each block thereafter.
"We took our award-winning programme and made it even better by giving our members more flexibility and control over how and when they earn and redeem their points," Mr Kelly said. "We know our customers are going to appreciate the fact that their points don't expire and every seat on every flight is a Reward seat."
Mr Green said the changes resulted from numerous customer surveys which revealed the importance of eliminating blackout dates, seat restrictions and expiring credits, setting Southwest further apart from its legacy counterparts which have moved to offering alternative redemption methods besides air travel in response to complaints that miles are hard to redeem. Southwest is also offering addition redemption products as well.
"In the All-New Rapid Rewards program, Members can redeem their points for every seat, every day, on every flight, with absolutely no blackout dates or seat restrictions," he wrote. "Simply put, if we are selling the seat, you can redeem points for it." This has proved popular at WestJet.
He also pointed members to a video introducing the new programme at www.newrapidrewards.com .
Comments on the Green's blog site were mixed bag but included complaints that the changes – especially the fare-based accumulation – more complex. "Southwest has found a new way to screw us," said one. "Get less points for flying the short-hops (eg: LAS to PHX) and lose the flexibility to pick up a last minute free flight because it will cost MORE points than previously. We're better off only flying southwest when we can plan far enough in advance to get a low fare and earning our 'frequent flier' miles elsewhere where 25k can still get you a round trip ticket ANYWHERE in the USA."
But airline blogger Boarding Area likes the changes, calling it a more flexible and more competitive programme for both Southwest members and those from other airline loyalty programmes.
"Given that this programme now becomes very rich on the short-haul, might we see a return to short-haul rewards from both American AAdvantage and United Mileage Plus who a few years back introduced such awards for redemptions of less than 750 (or 751 miles in UA's case) miles," he asked.
However, Boarding Area also cited two problems. "A simple program has become more complicated for the masses," he said. "And the long-haul member of the program may feel the inflation of a revenue-based redemption system."
Even so, Cranky Flyer agreed the programme deserved a thumbs up. "Overall, I like what they've done here," said Snyder. "The earning and redeeming is very simple and sensible. The increased tiering of the program bugs me as someone who has been flying Southwest since Rapid Rewards was the Company Club, but I understand why they're doing it. It's all about catering to the top travelers, even though that's historically a very un-Southwesty thing to do. The only thing I don't like is the credit card requirement for non-Southwest redemption, but overall, they've done a really good job here."