Southwest Airlines closes the chapter on AirTran. What's next for the middle aged LCC?
Analysis
Southwest Airlines is starting to show some middle aged girth, with its cost base climbing and employee relations not what they used to be. But Southwest began 2015 with a celebration: completing the integration of AirTran Airways after the latter's final service flight in late Dec-2014. The merger integration was a lengthy four year process, reflective of Southwest's historically slow approach to such huge undertakings.

At the time it unveiled its acquisition of AirTran, Southwest outlined three major benefits it would derive from the purchase of its smaller rival – access to Atlanta, an ability to tap small markets and instant access to international markets in Latin America and the Caribbean operated by AirTran.
As the merger unfolded, Southwest's objectives in some of those areas changed, particularly in its small market philosophy and the decisions it made to alter operations in Atlanta. It is tough to determine if Southwest would be worse off if it had not opted to participate in US consolidation; but its financials are no worse for wear after closing the AirTran chapter, with a very decent 19% ROIC for the 12M to Sep-2014.
The AirTran merger helps Southwest Airlines sustain its domestic position and grow ROIC
Southwest's position in the US market place measured by capacity deployment does not appear to be measurably different today from when it opted to acquire AirTran. At the time Southwest announced its intentions to purchase its smaller rival, CAPA estimated that Southwest's share of US domestic capacity was approximately 18.7%, and AirTran's share was roughly 3.5%.
Data from CAPA and OAG show that for the week of 12-Jan-2015 to 18-Jan-2015 Southwest represents about 18.8% of US domestic ASMs.
United States of America capacity by airline (% of ASMs): 12-Jan-2015 to 18-Jan-2015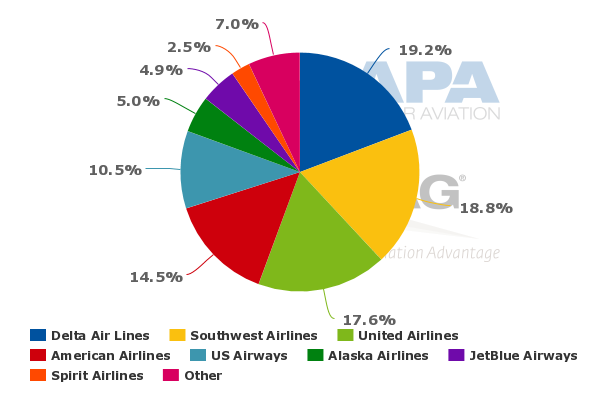 See related report: Southwest, AirTran plan merger, Atlanta and revenue, the story

As Southwest embarked on its merger with AirTran, Delta was completing its merger integration with Northwest and United and Continental had just announced their intent to merge, so the combination of those four airlines into two also affected ASM allocation among the consolidated airlines.

Although consolidation among the major US airlines and its own pursuit of AirTran has kept Southwest's position in the market place relatively stable, the merger achieved, "depending on what measure you use, somewhere between 20% and 25% capacity increase for Southwest Airlines," company CEO Gary Kelly concluded in late 2014. "It was profitable. It's been profitable throughout. We were able to improve on that profitability with the synergies, and clearly it was very meaningful and very helpful in us achieving our ROIC target and achieving a lifetime high with Southwest stock."

After missing its targets for a pre-tax ROIC of 15% during the last couple of years, Southwest recorded a 19% return for the 12M ending Sep-2014.
See related report: Southwest Airlines draws questions about raising return targets after posting strong 3Q2014 results
Southwest's eagerness to access AirTran's smaller markets wanes
Mr Kelly also concluded that the AirTran acquisition added "21 new cities, with seven of those international. I would argue to you that it essentially accelerated the completion of our route system for the 48 states into a two-to-three year time period".

Southwest estimated that in Apr-2011 it served 72 airports and AirTran operated from 69 airports. Data from CAPA and OAG show that as of 18-Jan-2015 Southwest operates to 93 non-stop destinations. At the time the merger was announced Southwest stressed there was little route overlap, and concluded that AirTran's smaller 717s would allow it to access small to medium sized markets not viable for its fleet of Boeing 737s. But its attraction to the small narrowbodies quickly vanished, and starting in late 2011 and continuing through the next couple of years Southwest heavily pruned AirTran's network, cutting several small markets and striking a deal for its new rival in Atlanta – Delta – to take the 717s off its hands.

Airports that were eliminated from AirTran's network include Allentown, Atlantic City, Asheville, Branson, Bloomington, Charleston (West Virginia), Key West, Gulfport, White Plains, Lexington, Harrisburg, Miami, Moline, Newport News, Sarasota, Knoxville and Tunica.

AirTran's domestic markets that were retained by Southwest include Dayton, Wichita, Pensacola, Memphis, Richmond, Portland (Maine), Grand Rapids and Charlotte. At the same time Southwest also gained access to Washington National through slots held by AirTran, more slots at New York LaGuardia, an expanded presence in Boston, and of course an all important entry to Atlanta.

Southwest's vision to access smaller markets through the merger did not quite materialise after it determined that rising fuel costs during the 2011 time period made some of the smaller markets operated with the 717 unviable. Those jets are also powered by Rolls-Royce engines versus Southwest's CFM-powered 737s, so engine maintenance expense was also likely a factor in Southwest's decision to eliminate what would have been its second fleet type.

Ultimately, the purchase of AirTran enlarged Southwest's presence in several key large domestic markets, which should be an advantage now that the last significant merger between American and US Airways has gotten underway. Southwest needs a solid presence in airports including LaGuardia and Washington National as it works to increase its penetration among corporate travellers. The airline estimated it recorded double digit corporate sales growth in 3Q2014, which had to be driven in part by its ability to market a more attractive network to small corporate clients on tighter budgets.
One of the largest benefits Southwest touted about the AirTran acquisition was the access it would obtain to Atlanta Hartsfield International Airport, which had been a significant gap in the airline's network. Questions quickly surfaced over what type of threat the nimble Southwest would pose to Delta in Atlanta and how the competitive dynamics would change.
But as Southwest got deeper into the integration, it transformed Atlanta from a hub operation into a rolling schedule similar to its other top bases. The airline concluded the hub structure that featured early morning and late evening banks was timed poorly for local traffic and business passengers.
See related reports:
Now that the de-hubbing is complete, the number of departures from Atlanta post merger has fallen roughly 24%. At the time it was acquired by Southwest, AirTran operated 200 daily departures from Atlanta, and as of mid-2014 departures had fallen to 151. Atlanta is Southwest's seventh largest base measured by departures, and the airline presently (12-Jan-2015 to 18-Jan-2015) represents 9% of Atlanta's system ASMs and roughly 14% of the airport's domestic ASMs.
Southwest/AirTran top cities by departures as of mid-2014

Atlanta Hartsfield-Jackson International Airport system capacity by airline (% of ASMs): 12-Jan-2015 to 18-Jan-2015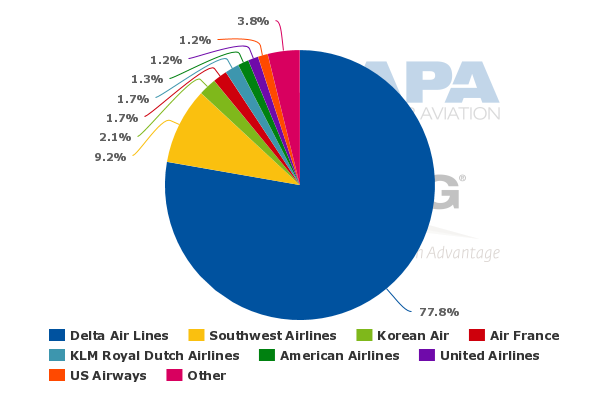 Atlanta Hartsfield-Jackson International Airport domestic capacity by airline (% of ASMs): 12-Jan-2015 to 18-Jan-2015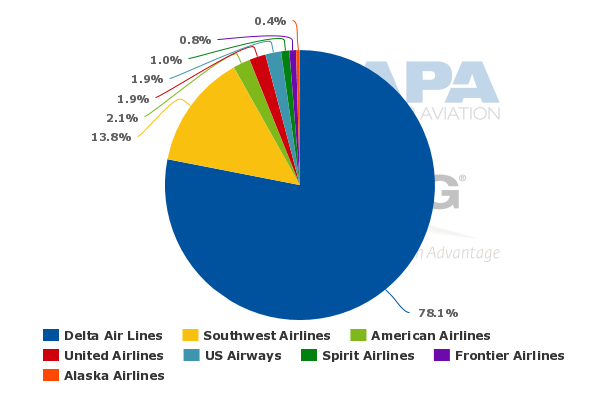 The potential headaches Southwest could have created for Delta in Atlanta never really materialised. As Southwest was spooling up some of its own branded flights in 2012, Delta at the time observed that Southwest appeared to having difficulty filling its seats, and opted to take some aggressive pricing actions in the market. Delta also welcomed Southwest's capacity reductions in Atlanta, concluding somewhat ironically that it would create long-term benefits in the market.
AirTran acquisition allows a low risk means to study LCC operations on international routes
As Southwest moved to slash smaller markets from AirTran's network, it preserved most of AirTran's small international footprint that included service to Cancun, Los Cabos, Mexico City, Montego Bay, Aruba, Nassau, Punta Cana and San Juan. As the integration progressed, Southwest opted to connect other points in the combined network to some of those destinations including Austin and Cancun, and Orange County to Los Cabos and Mexico City.
In 2015 Southwest plans to add new service from Baltimore to San Jose, Costa Rica and between Orange County and Puerto Vallarta. Southwest also aims to open its highly anticipated new international terminal at Houston Hobby in late 2015, and is presently trying to petition the DoT to force United to give up some of its route rights from Houston Intercontinental to Mexico City and Los Cabos so it can launch service on those routes.
See related report: Southwest Airlines aims wrestle rights to serve the Houston-Mexico market from United
Prior to the merger with AirTran, Southwest expressed interest in expanding internationally on numerous occasions, but could never quite commit - in part because it lacked the technology to support those operations. In some ways the AirTran acquisition allowed Southwest a low risk means to observe international flights and conclude the technology spend for international expansion was worth the investment.
But even as Southwest's assumption of AirTran's international service under its own brand and the addition of other international markets has captured attention, the reality is international flights remain a small fragment of Southwest's operation, representing just 3.4% of its ASMs for the week of 12-Jan-2015 to 18-Jan-2015.
Although the airline has stated it could envision deploying up to 15% of its ASMs into international markets, it will be a slow build up to that target.
Southwest Airlines international vs domestic capacity (% of ASMs): 12-Jan-2015 to 18-Jan-2015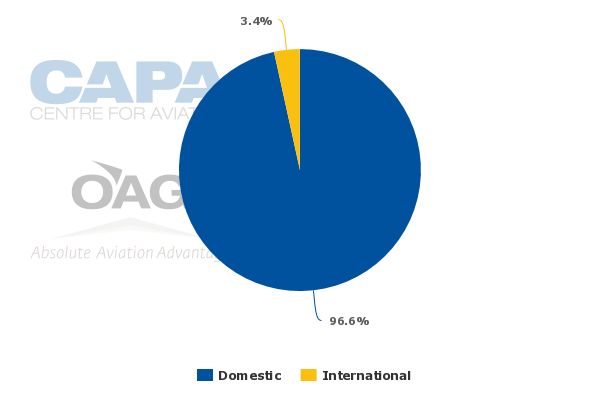 AirTran integration has not diminished Southwest's profitability
During 2010 when Southwest declared its intent to purchase AirTran, Southwest's stand-alone revenues were USD12.1 billion and AirTran had posted USD2.6 billion in revenues. Since that time Southwest's annual revenues have grown to USD17.7 billion in CY2013. Its profits have grown from USD459 million in CY2010 to USD754 million in CY2013. The company's profit plummet in CY2011 was triggered by special items.
Southwest and AirTran select operating and financial performance metrics: 2010

Southwest Airlines annual operating revenue: 2010 to 2013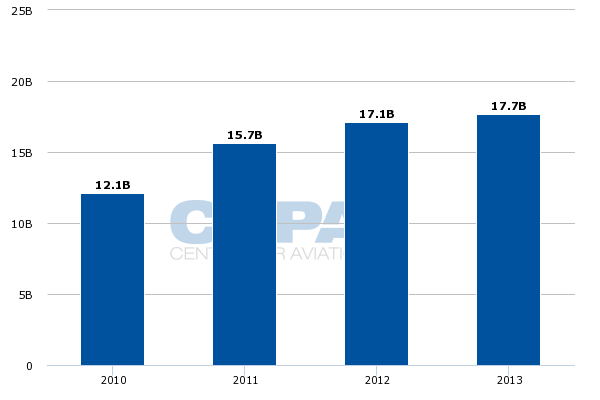 Southwest Airlines annual net profit: 2010 to 2013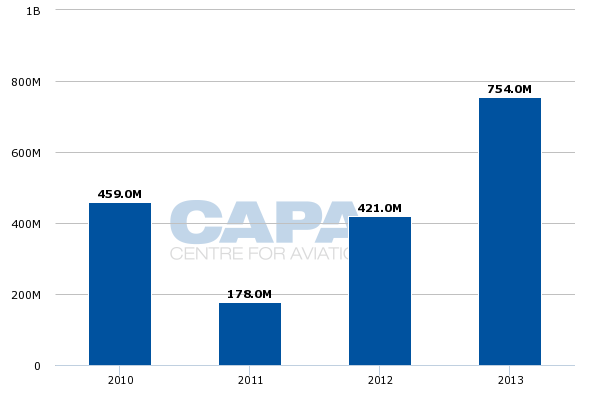 It is doubtful that Southwest would have grown its top-line revenues by USD5.6 billion during a three year period without the benefit of acquiring AirTran, and although there are costs and complexities associated with any merger, Southwest has remained consistently profitable through the integration. The airline also absorbed a meaningful amount of capacity, growth that would have been nearly impossible organically.
With the AirTran chapter closed, what is Southwest's long-term vision
Southwest's USD1.4 billion purchase of AirTran proved timely as it did allow the airline to quickly expand just as the US global network airlines were striking their own deals to consolidate the US airline industry. It gave Southwest an ability to retain its role as a dominant domestic force while providing a necessary impetus for the airline to expand internationally.
Now that the AirTran brand has officially retired and Southwest feels it has a certain level of breadth and depth in the US domestic space, what lies ahead for the emblematic low-cost airline that finds itself facing cost creep in middle age? For the short term it will focus on opening its new international terminal in Houston and working to add near-international destinations.
But over the long term Southwest's needs to decide if it will maintain its stature as a mostly domestic airline with a certain degree of international service, or if it will aim to challenge its US rivals on a truly global scale with the operation of widebodies to long-haul markets.
As it works to find its place in the US market over the long term, Southwest's next chapter remains unwritten. What would Herb do?