Southwest Airlines adds a new competitive dimension on routes to Mexico and the Caribbean
Southwest officially became an international airline in early Jul-2014, when it transitioned service operated by its AirTran Airways subsidiary to its own brand. The acquisition of AirTran in 2010 allowed Southwest to take a low-risk approach to introducing its own branded flights to international destinations.

For years prior to acquiring AirTran, Southwest often talked about its aim to eventually extend its domestic network beyond the US borders. Purchasing AirTran allowed Southwest a low-cost and low-risk way to fully study and understand the nuances of operating to Mexico and the Caribbean before assuming the routes under its own brand - which is obviously sacred to the company.

Even as the expansion into international markets is a key pillar of Southwest's long-term strategy, the reality is markets outside the US will only comprise a small portion of Southwest's capacity in the near-to-medium term. But as Southwest grows internationally it may find itself facing increasing competition from Spirit and JetBlue, raising interesting questions about Southwest's longer-term pricing traction and revenue performance on some international routes.
Southwest faces some familiar and some new competitors on international routes
Southwest now operates service from Baltimore Washington International Airport to Aruba, Montego Bay and Nassau. The airline also operates service from Orlando International Airport to Aruba and Montego Bay and from Atlanta to Montego Bay.

Those flights joined service launched in 2013 from San Juan (located in the US territory of Puerto Rico) to Baltimore, Fort Lauderdale, Atlanta, Orlando, Tampa and Houston.

Later this year Southwest is converting AirTran's international flights from Cancun to Austin, Baltimore, Denver, Atlanta and Chicago Midway. Other flights scheduled for transition are service from Los Cabos to Austin, Denver and John Wayne Airport in Orange County. AirTran's service from Mexico City to Orange County and San Antonio will also be converted in addition to its service from Punta Cana to Baltimore and Chicago Midway.

Southwest faces familiar competitors on many of its international routes. Schedules in CAPA and OAG show that for the week of 7-Jul-2014 to 13-Jul-2014 Delta operates flights from its Atlanta hub to Montego Bay and JetBlue offers service from Orlando to Montego Bay.

Both Frontier and United operate service from Denver to Cancun and Los Cabos and from Chicago O'Hare to Punta Cana (Southwest will operate service to Montego Bay from Midway).

Southwest will be up against competition from Aeromexico and Interjet on flights from San Antonio to Mexico City and from Interjet between Orange County and Mexico City. Southwest is obviously directing the bulk of its efforts to US point of sale, and AirTran has been operating on those routes for some time, so the transition to Southwest-operated flights does not drastically alter the existing market dynamics.
Southwest aims for a maximum of 15% of its ASKs dedicated to international service
Southwest began selling international itineraries under its own brand in Jan-2014 after making a long-awaited investment in the technology necessary to offer international service.

The acquisition of AirTran also helped Southwest accelerate its plans to operate international service as AirTran operated several routes to the Caribbean and Mexico when it was acquired by Southwest in 2010.

Rather than studying various international options using abstract modelling Southwest was able to examine AirTran's results in its international markets and create its strategy based on concrete data. It also helped Southwest to accelerate discussions with various international airports since the negotiations simply involved a transfer of service.

From a broader perspective, Southwest needed to branch out beyond the US domestic market place, as that reaches seeming maturity. With the bulk of US consolidation complete, the market is now in a solid state, with the three large network carriers consolidating their traffic (and pricing) across their hubs and Southwest straddling mid-size strongholds such as Milwaukee and Kansas City and larger markets including Atlanta, New York and Washington, DC.

Just how large will Southwest's international operations become? Presently international operations represent roughly 2% of the airline's capacity measured in available seat miles.
Southwest Airlines international vs domestic capacity (% of ASKs): 7-Jul-2014 to 13-Jul-2014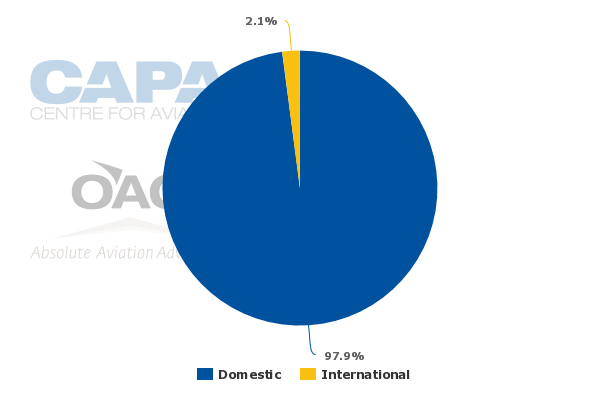 Management has stated that while there are numerous opportunities to increase its international scale, Southwest's long-term target for international ASM deployment is 10% to 15%, which compares with current levels of 17% at Delta, 23% for United and a combined 36% for American and US Airways (all figures are based on CAPA and OAG data for the week of 7-Jul-2014 to 13-Jul-2014).

Specifically Southwest has said there are up to 50 international destinations it could serve with hundreds of aircraft. But given the airline's overall conservative approach, it will likely in the short term stick to connecting international destinations it presently serves from other US markets.
Houston is the next big step for Southwest in its international strategy
Key to Southwest's international strategy is its victory in developing a five gate terminal at Houston Hobby Airport, beating back opposition from Houston Intercontinental's largest tenant United Airlines.

See related report: Houston airport operator envisions Hobby offering international flights to 12 markets

The terminal is scheduled to open in late 2015, which indicates Southwest may catch its breath with current international service and then start a second wave from Houston next year.

Houston Hobby is Southwest's sixth largest base measured by seat deployment, and the overall market in Houston may be ripe for lower fare international service to destinations in the Caribbean, and at some point Latin America.
United remains in the midst of a tumultuous merger integration, and has its attention focussed elsewhere. With Southwest's existing scale in Houston, the airline should not have a problem quickly spooling up international markets to profitability.
Southwest Airlines global top 10 hubs/bases/stations by seats: 7-Jul-2014 to 13-Jul-2014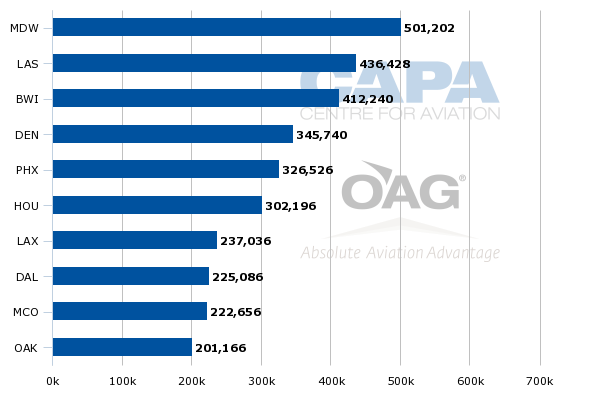 Studies conducted by the city of Houston projected that the initial six markets Southwest, and perhaps Mexican carriers Volaris and VivaAerobus, would serve include Cancun, Mexico City, Monterrey, San Jose del Cabo and San Salvador.

Southwest will likely stick with Cancun and Mexico City in its initial raft of international service from Hobby. Its existing service to other markets including Aruba and Montego Bay are also likely candidates for Houston service. Although Southwest has stated it has aircraft range capable of reaching upper South America, the airline will likely wait for some period of time before it ventures into those markets given its typically conservative approach to shifts in its business strategy.
Spirit could provide competitive pressure in Southwest's international growth
One wildcard in Southwest's international aspirations is Spirit Airlines. Spirit serves multiple international destinations in the Caribbean and Latin America. Although Spirit is a much smaller carrier than Southwest, (57 aircraft at Spirit vs 607 jets for Southwest), Spirit deploys nearly 16% of its ASKs into international markets, and it has expanded its international offerings beyond Fort Lauderdale. It presently serves Cancun and Los Cabos from Dallas/Fort Worth.
Spirit Airlines international vs domestic capacity (% of ASKs): 7-Jul-2014 to 13-Jul-2014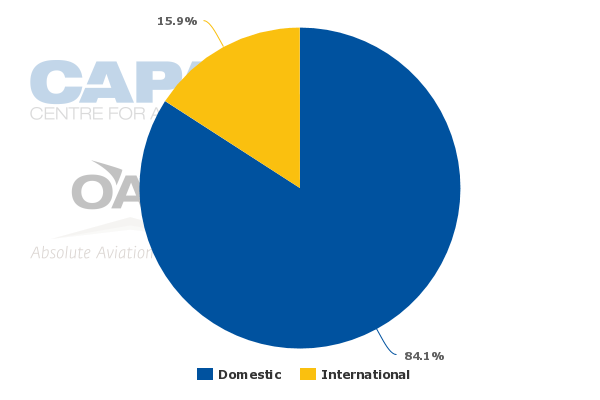 Spirit has made a push from Houston during the past couple of years, seeing an opening to stimulate low-yielding traffic. Even though Spirit declares its major focus is in the US domestic market, the airline has had international expansion pretensions in the past and is no doubt studying the possibility of expanding its international footprint from other US points outside Fort Lauderdale.
It could be several years before Spirit contemplates any type of international service from Houston; but if there is a whiff of success, Southwest could at any time find itself competing against the ultra low-cost carrier, which may affect Southwest's pricing in those markets at some point in the future.

See related reports:
Is there an opportunity for more low-fare international service from South Florida?
Southwest is likely to increasingly encounter Spirit on international service within the next couple of years as Southwest has stated plans to launch international flights from Fort Lauderdale, Spirit's largest base and headquarters, and the springboard for its international flights.

Spirit's international network from Fort Lauderdale is vast, as it covers most of the major destinations in the Caribbean and several markets in Latin America. Those dynamics create some questions about the type of passengers Southwest aims to target from South Florida.
Southwest cannot match Spirit's base fares, and does not have the same product proposition as JetBlue, who is massively building up Fort Lauderdale.
Spirit Airlines route map as of Jul-2014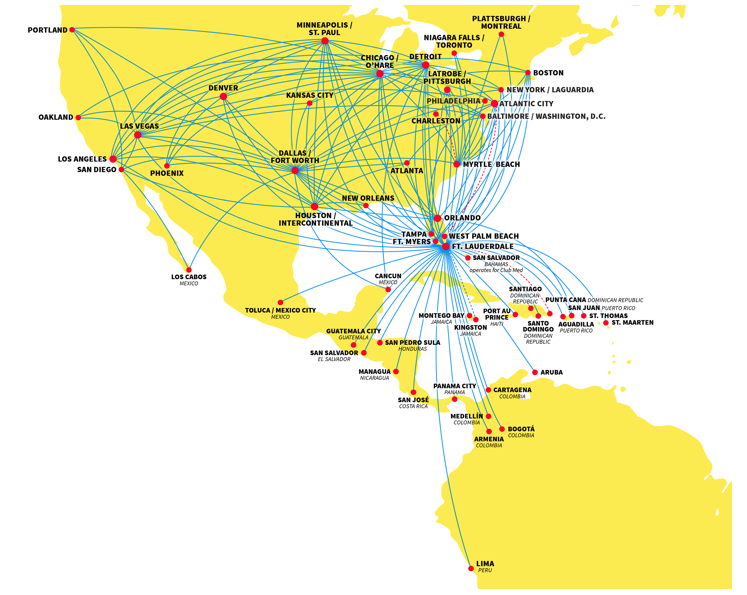 JetBlue also already serves numerous destinations from Fort Lauderdale and is working towards its goal of 150 daily departures from the airport. Spirit and JetBlue also compete on many international destinations from Fort Lauderdale including Bogota, Cancun, Kingston, Montego Bay, Lima, San Jose and Santo Domingo.

See related report: JetBlue sees an opportunity to mine Fort Lauderdale as Spirit turns its attention elsewhere

Southwest already has some direct competition with Spirit and JetBlue from Fort Lauderdale to San Juan, Puerto Rico as all three airlines operate in the market, and for the moment are co-existing.

But there is still a big question as to whether latent demand remains in South Florida given Spirit's long-standing status as the ultra low fare alternative to the Caribbean and Latin America, and JetBlue's more mid-level attractive product positioning. It seems the visiting friends and relatives (VFR) and price-sensitive passenger segments are well covered by Spirit and JetBlue, and JetBlue's aspirations for international service expansion at Fort Lauderdale are well known. The revenue potential for Southwest from international service at Fort Lauderdale may prove lower than other points in its network.
Southwest has a solid foundation for its international aspirations – for now
The possible changing dynamics in Fort Lauderdale are off in the future as Southwest sets its sights on building up an international presence in Houston, which seems like a solid proposition given its power in the market.

Southwest also has the advantage of not having its international markets create an initial revenue drag since AirTran has been operating those routes for some time.
By being able to leverage a foundation built by AirTran, Southwest created a smooth entry for itself in the international arena; but over the long term it needs to be prepared to face challenges from younger and arguably more nimble airlines that already have a wealth of knowledge about the international market place.