South Pacific aviation markets will be defined by China's expansion
The nature of the South Pacific's geography makes finding the right partners for its airlines essential for their survival in international long haul markets – as most are.
The region is characterised by relatively liberal access regimes and by partnerships of varying levels – in New Zealand especially, where Air New Zealand's international network is dominated by JVs. Virgin Australia has built a 'virtual alliance' alongside HNA, Singapore Airlines, Etihad and Delta, with very little of its own metal flying outside Australia. At Qantas Group, international performance has improved markedly following its Emirates partnership, as its operating focus has shifted from Europe toward Asia and North America, with local JVs, and close partnerships with American Airlines and China Eastern continuing to grow and mature.
For all airlines in the region, the China market will define much of the growth over the coming decade. (This report is taken from the Jul/Aug-2016 issue of CAPA's Airline Leader)
The China market and Asia more generally offer enormous potential for Australia/New Zealand airlines
For both of the Australian airline groups and Air New Zealand, the China market and Asia more generally offer enormous potential and securing access across the region will help define their futures. Virgin's virtual airline strategy will support a move into Beijing and Hong Kong during 2017 as part of its Singapore Airlines and HNA Group partnerships, while Qantas seeks positions via its Jetstar JVs and a partnership with China Eastern, as well as with Japan Airlines and Vietnam Airlines.
Over the next decade, Qantas Group will steadily expand its international footprint further with the arrival of its Boeing 787-9 fleet while the Virgin Group reviews its international moves. Contrasted with Qantas, international has always been a challenge for the carrier, which lacks economies of scale and reach with a handful of services to the US, South Pacific and Southeast Asia.
Asia will be the key for these airlines' growth, as it is for many others. The South Pacific's geographic proximity to these emerging markets make it an attractive first option for airlines testing the international waters, while existing operators in the South Pacific are likely to continue focus on a hub-to-hub strategy with partners before adding more dots to the map.
Air New Zealand and Fiji Airways are both quiet achievers – the former in bedding down its Pacific Rim strategy and becoming a key connecting point for the region. Some 30% of traffic on its recently-launched Auckland-Buenos Aires service originates in Australia, for example. Fiji Airways has typically focused heavily on Australia and New Zealand, but has recently pivoted toward North Asia – especially China, which is likely to be a key growth market for Fiji.
South Pacific carriers have embraced virtual long haul networks more than any other region
This is mostly a consequence of geography. While Qantas and Emirates have paved the way for a seismic shift in how alliances are formed, Virgin Australia has steadily added to its airline partnership stable, which now includes Etihad, Delta, Singapore Airlines, Air New Zealand and Hainan Airlines; another Chinese, non-airline, investor Nanshan, has recently joined the share registry.
Air New Zealand has added JVs with Singapore Airlines into Asia and United Airlines to the US, alongside an existing codeshare agreement with oneworld's Cathay Pacific (with whom Qantas does not cooperate).
Air New Zealand has been able to grow such a large JV network due to its historically friendly approach and smaller, under-the-radar size. In contrast, an outcome of Qantas' size was that airlines worked together against it. Air New Zealand has also benefited from a relaxed regulatory environment for approving JVs.
Fiji Airways has yet to find a strategic partner of its own but has built upon its boutique carrier image with codeshare partners in Alaska Airlines, Air New Zealand, Cathay Pacific and Qantas Airways. This is the best path for its operation for now.
As end of line carriers, all suffer from intermediate competition – though this has been converted to an opportunity rather than a structural disadvantage. Air New Zealand's Pacific Rim strategy – connecting Asia, Australia, New Zealand and the Americas – has proved successful at tapping new markets such as Buenos Aires, Houston and Singapore.
Notably, all but two international routes operated by Air New Zealand are either monopoly routes or operated as part of a metal-neutral JV with the only other operator.
Until recently, the New Zealand-US route was also a monopoly market which Air New Zealand described as "one of the highest yielding long-haul markets in the world" – although both United Airlines and American Airlines have since entered the fray, tilting that balance.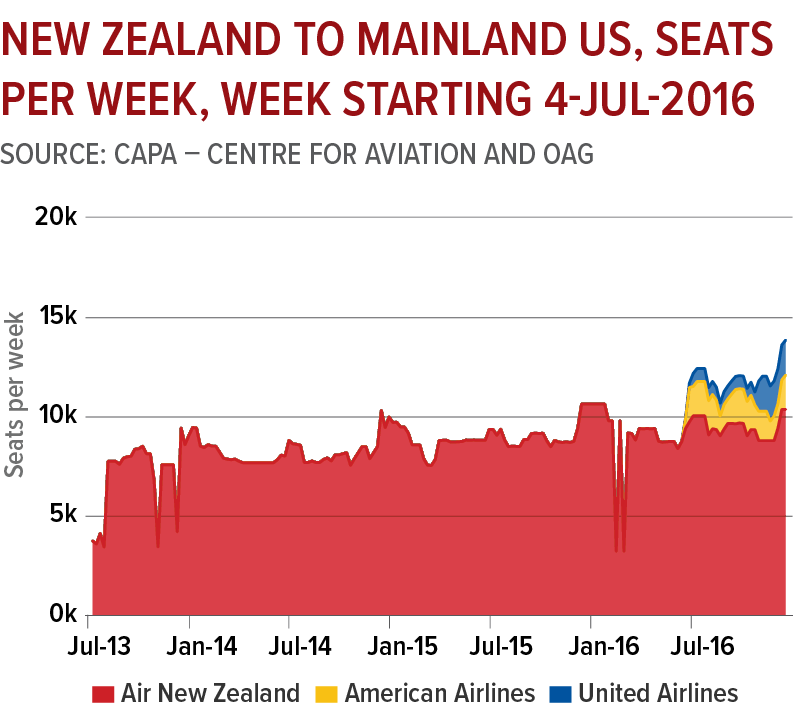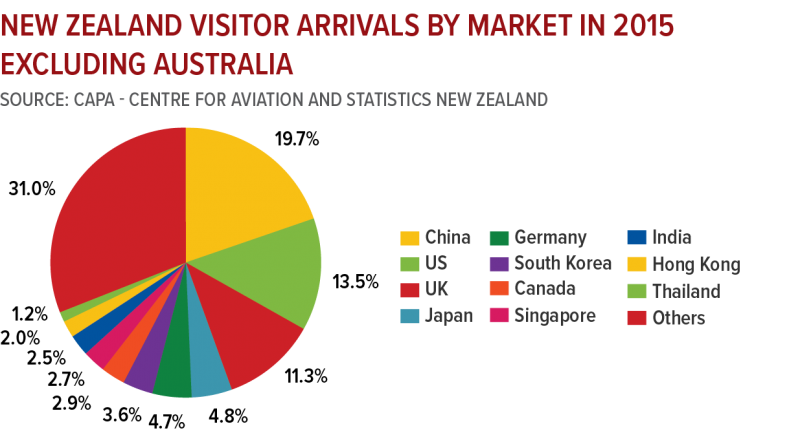 Airline capacity between New Zealand and the mainland US is now at an unprecedented high. Open skies agreements govern relations between all three countries, making for several layers of potential competition.
Asia becomes the growth story for the South Pacific
But the US is relatively a fading star for New Zealand and indeed much of the South Pacific as Asia becomes the growth story; in New Zealand, arrivals from China have increased considerably each year since 2009 with China accounting now for around 11.4% of total visitor arrivals. Excluding Australia – by far the largest inbound market for New Zealand – that number increases to 19.7%, almost one in five tourists.
American visitation to New Zealand and Australia continues its upward trajectory, but is coming to represent a smaller piece of the pie – the decline broadly corresponded to the global financial crisis and the strengthening NZD and AUD against the USD, making inbound tourism more expensive though encouraging additional global air capacity into those markets.
For now, foreign airlines reliant mainly on outbound have cooled their capacity growth in response to the falling currency. Hawaiian Airlines CEO Mark Dunkerley, in Jun-2016 said that while Australia remains an important part of its network, demand is slowing: "The Australian market is probably the one market in our entire network where we have seen some slowdown in demand," adding: "It's not as strong as it was a couple of years ago and travel trade is seeing that in terms of outbound demand."
In the short term, plans for a Melbourne service have been put off.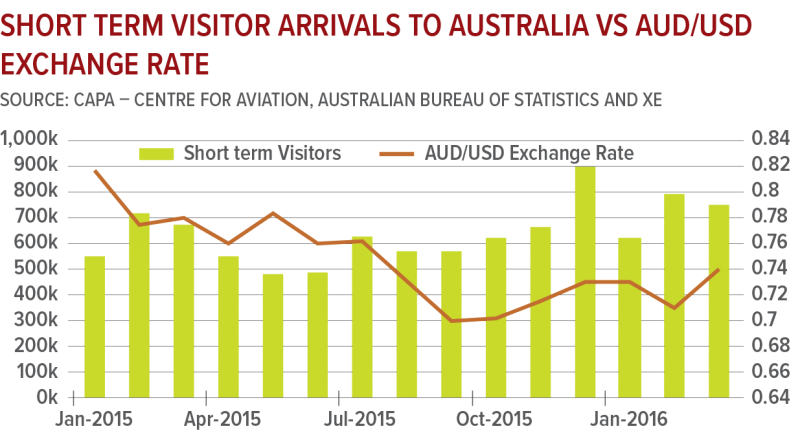 Jetstar Group CEO Jayne Hrdlicka mirrors the sentiment, and the carrier plans to suspend twice weekly Brisbane-Honolulu service in Oct-2016. The aircraft will instead be deployed to Indonesia and Thailand, more profitable markets for the group: "It's fair to say we've seen a moderate dip in demand out of Brisbane and we believe it is the right time to move this capacity to Asia where more Australians want to travel."
High inbound growth rates to Australia from most Asian countries have continued, but more liberal bilateral agreements remain necessary with several key markets including China, Hong Kong and Malaysia – especially in advance of capacity requirements.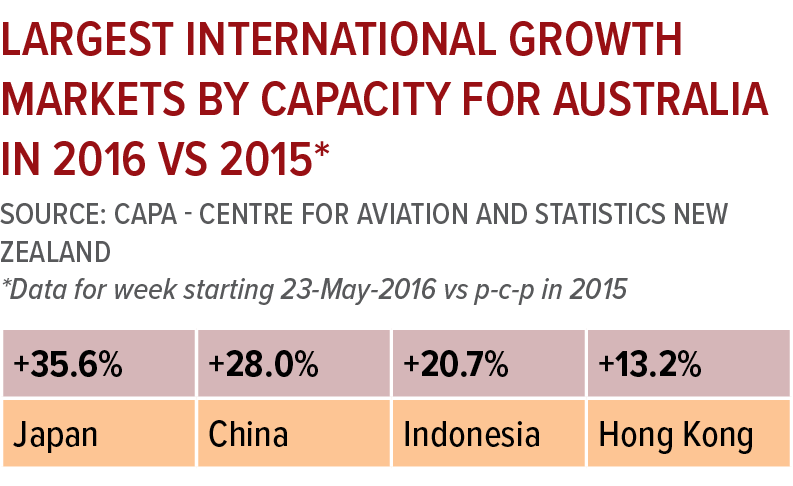 Other markets, such as Qatar and the Philippines, have recently entered in to new agreements, though others remain problematic – indeed Hong Kong is unlikely to be expanded, and even so airport capacity in Hong Kong remains challenging. For now, China remains the biggest growth story for Australia – reaching 1 million visitors during 2015. The average Chinese tourist also takes between two and three domestic legs while in the country.
While Australia considers its future with Chinese tourism and air services, many non-Asian countries could look at today's Australia as an indicator for their future.
In 2016, the largest outbound aviation markets from Australia are predictable: New Zealand, Singapore, United Arab Emirates (via Emirates and Etihad, as well as Qantas), Indonesia and the US.
China's absence is notable; there the flow is predominantly inbound to Australia. From New Zealand, Australia, US, China, Fiji and Singapore top the list – though Australia dominates with 60% of seat capacity.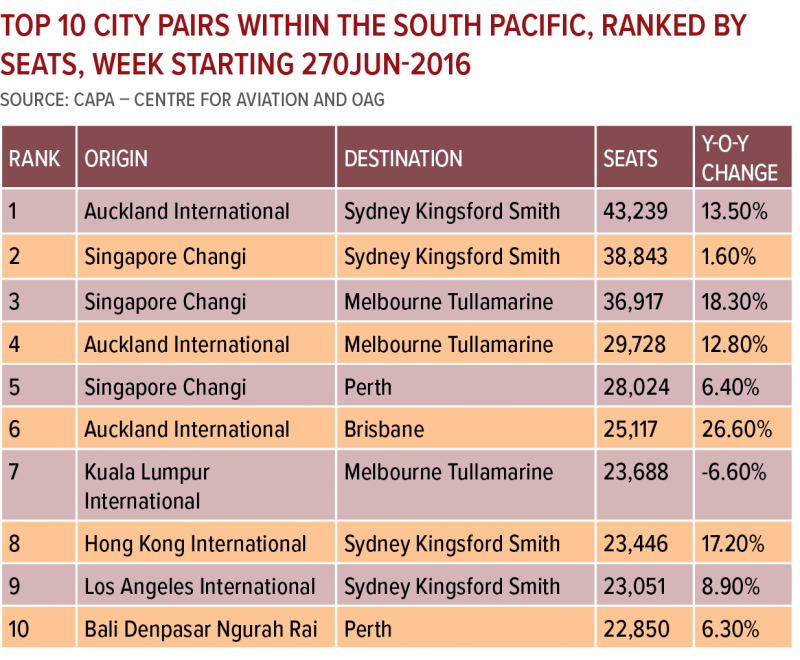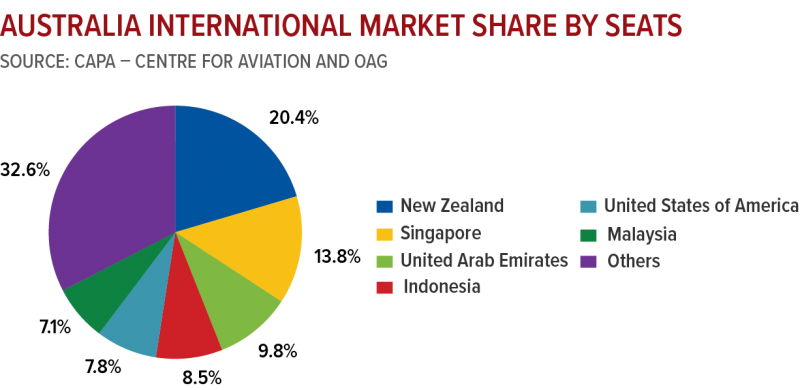 Australia's future growth will align heavily around North Asia as most other markets continue to moderate; Southeast Asia has experienced an overall capacity decline while North America has flattened (though at a current peak, largely from growth into New Zealand). The China-Australia market is dominated in non-stop seat capacity by China Southern, which holds over 40% of the market in Jul-2016. China Eastern holds about 20% and Air China around 15%.
The recent entry of smaller airlines, as well as secondary routes from other carriers, has meant rapid growth in links, even if capacity expansion is more moderate and capacity is concentrated on core routes.
The biggest growth prospects are from mainland China. Until 2010 only three Chinese cities (Beijing, Guangzhou and Shanghai) had service to Australia. This number swelled to six in 2014, and is so far planned to double to 12 in 2016.
Most of the growth has occurred since late 2015, when Xiamen Airlines opened Sydney services from Fuzhou and Xiamen, and Hainan Airlines from Xi'an. China Southern plans to open service from Shenzhen to Melbourne in Sep-2016 after launching Shenzhen-Sydney service in Jan-2016. Australia-China city pairs could grow to at least 21 in 2016.
Indonesia has yet to show its full potential
With its population of 250 million, Indonesia's enormous potential may well be recognised over the next decade. A thriving domestic market, growing economy and a fast expanding Lion Group (it has a fleet of 252 aircraft, with 490 on order), establishing cross border JVs in southeast Asia, along with a revitalised Garuda Group, means change is in the wind.
Indonesia has been a laggard in liberalisation, although more open recently, but a big problem remains congestion at the main hub, Jakarta, with limited expansion likely, so that growth must come from other gateways too.
Australia/NZ traffic flows reverse along with their dollars
The previously high AUD resulted in an imbalance in favour of outbound travel, supported by the long-running strength of the Australian economy. Among the most peripatetic nationalities, Australia and New Zealand outbound traffic will always be influenced by the level of their currencies. But, situated on the lip of Asia, they are well positioned to attract new inbound traffic flows.
In this respect the two countries are frequently treated as a single destination.
Aided by an Australia-New Zealand open skies agreement – which also permits fifth freedom operations – many visitors arrive in New Zealand and depart Australia in one trip. Primarily a tourism destination, Fiji is still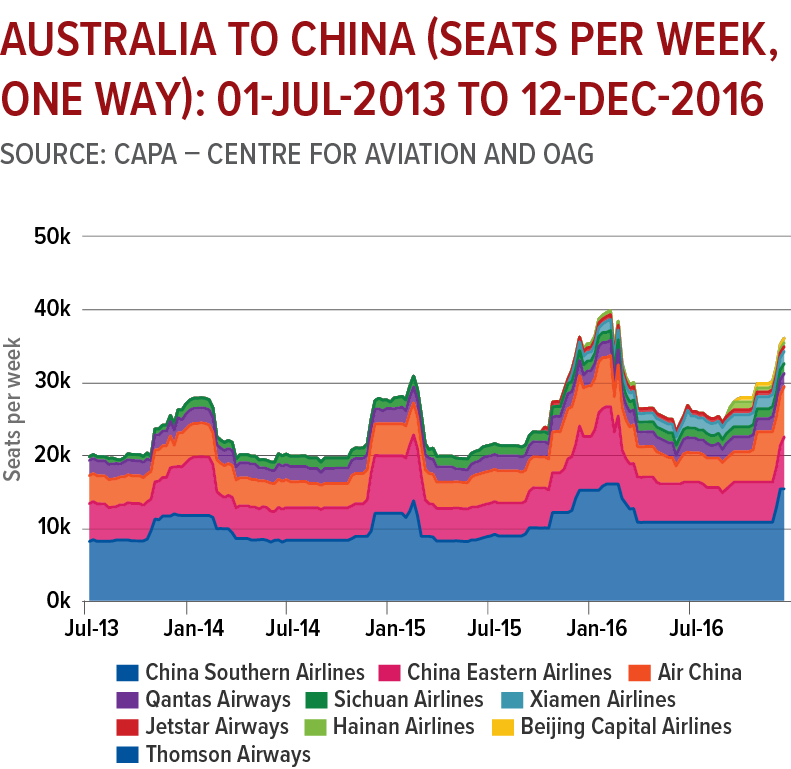 developing its market in China through a series of ad hoc charters on behalf of local agents, but is poised to take advantage of further opportunities.
Qantas, Virgin Australia and Air NZ have developed cohesive Asian strategies
Perhaps most importantly, each of Australasia's major international airlines has developed a relatively cohesive Asian strategy. Qantas has rebuilt its Singapore hub around regional connections, and focused on greater partnerships in each hub destination.
Previously, most of its Asia capacity was dedicated to through Europe-Australia service. Virgin Australia, with its Singapore Airlines partner (and part owner) has not yet been able to establish an attractive Asian pricing structure or north Asian partnership, but a new arrangement with shareholder Hainan gives Virgin a much needed partner in North Asia.
Air New Zealand meanwhile has anchored with Star partners Singapore Airlines and Air China.