Skymark switches first A380 destination from London to New York but viability remains to be proven
Analysis
Skymark Airlines, Japan's third-largest domestic carrier, is switching its first A380 destination from London to New York in a bid to improve profitability amidst an atmosphere of economic uncertainty in Europe that shows no signs of relenting. But Skymark has far more work ahead of it, and success from its A380 operation seems an elusive goal. The carrier faces significant hurdles in three key areas: network, partnerships and aircraft configuration.
An entirely domestic carrier, Skymark accounts for only 5% of domestic Japanese seats, limiting feed opportunities. It has no earnest partnerships of its own despite much-bigger All Nippon Airways and Japan Airlines having joint-ventures across the Pacific and to Europe that deliver far greater traffic opportunities and a larger customer pool. Finally, Skymark intends to have the least dense A380 with a mere 394 seats in all premium economy and business configuration – and aims to have an average load factor of 60%, requiring tickets to be sold at yields too high to see profitable take up.
Update: In Jul-2014 Airbus cancelled Skymark's A380 order. See CAPA reports since this one was published:
Quixotic order for A380s comes as Skymark finds itself in uncertain competitive field
The origin of Skymark's order for six A380s, first announced as four in a Nov-2010 MOU and increased by two at the 2011 Paris air show, is buried in lore, but came as a surprise to even Airbus.
Skymark was established in 1998 as one of Japan's new entrant carriers, a medley that grew and eventually became synonymous, not always accurately, with the term low-cost carriers. Its cost base is indeed lower and in recent years Skymark found a niche as providing a cheaper alternative to ANA and JAL, whose domestic yields are some of the highest in the world. It benefitted from the government's affirmative action that dispensed slots at highly-prized Tokyo Haneda airport to smaller carriers in a bid to increase competition.
Japan domestic seats per week by carrier: 12-Nov-2012 to 18-Nov-2012
More recently its viability has been questioned as three new LCCs were established in 2012 offering an even lower cost base and fares. While the combined capacity of the three new LCCs – AirAsia Japan, Jetstar Japan and Peach – is half that of Skymark, the three are growing rapidly and based on their growth could collectively overtake Skymark in 2014 or later. Unlike Skymark, the three new LCCs may not have access to Tokyo's very convenient Haneda airport, but their barrage of unprecedented airfares is seeing some passengers turn up in central Tokyo at midnight for an overnight bus ride, with a rest break, out to Narita to catch 6:00 flights. Such a scene was unimaginable a mere year ago, let alone when Skymark ordered A380s when it had a more confident operating base.
Haneda is expanding slot access but Skymark may be losing favour as a fledging upstart entitled to additional slots compared to more nascent carriers like Solaseed and Starflyer. Seven A330-200s due for delivery from 2013 will enable Skymark to grow capacity on trunk routes where slots cannot, but the aircraft, joining an all-737 fleet, bring their own cost complications. Skymark appears to be readying for growth outside of trunk routes, with President Shinichi Nishikubo saying the carrier is eyeing Japan's regional market. But so too is Jetstar Japan, which for even greater traction and feed may codeshare with part-owner JAL. Some 44% of Skymark's seats are to or from Haneda, which is the carrier's largest hub.
Skymark Airlines top 10 hubs/bases/stations by seats: 12-Nov-2012 to 18-Nov-2012
The fear is that without change Skymark will get caught in the middle of the LCCs and full service ANA and JAL: more expensive than the LCCs but without the perks of legacy competitors. It can be hard to see now, but pressure is growing. In FY2011 Skymark achieved a 15.8% operating margin (profit of JPY15,800 million, or USD200.3 million) and an 8.8% net margin. 1H2012 dipped to a 14.4% operating margin (JPY6,676 million (USD84.1 million), representing a 26.8% decline in profit. It expects a FY2012 margin of 12.4%, still commendably high but in an environment where full service competitors are reducing costs, LCC competitors are relatively tame and Skymark's own base (no major partners or loyalty programme but a high cost) is not sturdy. As Australia, Europe, North America and Southeast Asia have shown, LCCs work their magic – and damage to high-cost carriers – in mere years.
It would not be inaccurate to say Skymark's future partially hinges on how fast Airbus can manufacture the A320s operated by the three new LCCs, two of which – AirAsia Japan and Jetstar Japan – are part of larger cross-border airline groups with foreign subsidiaires (and undoubtedly more in the pipeline) fighting for new aircraft, while the third LCC, Peach, has expressed interest in joining the AirAsia, Jetstar and Tiger groups in having its own foreign subsidiaires. China's Spring Airlines intends to set up its own Japanese subsidiary in 2013; its focus will be flights to China, but there will be domestic services too. The more aircraft the LCC groups will receive, the more that will find their way to Japan, cutting short Skymark's time to take costs out but also, more critically, add value: Skymark charges for drinks onboard but unlike ANA and JAL offers no global travel opportunities.
So it comes as a volatile time to add A380s, which bring few solutions but many challenges.
Skymark's network – in feed and corporate base – is small
Skymark is the third largest domestic carrier in Japan by some distance. While Tokyo is Japan's main gateway, there is decent traffic connecting from elsewhere in the country, Skymark has a lower network to penetrate. Its smaller size also means its customer base, and corporate in particular, is smaller. It offers no frequent flyer programme or associated credit card offers, which competitors ANA and JAL are well versed in. Japan-based members of Delta's SkyMiles frequent flyer programme can redeem Delta miles on Skymark flights, but cannot accrue Delta miles from Skymark flights, a relationship that favours Delta. Additionally, whereas competitors ANA and JAL run shuttle services between key cities, Skymark's services are more limited. This is disadvantageous to pull traffic but also for the limited inbound connecting traffic.
Between Tokyo Haneda and Sapporo, for example, Skymark has 126 weekly return flights while ANA has 406 and JAL 238. Between Tokyo Haneda and Fukuoka Skymark has 140 weekly flights while ANA has 254 and JAL 238.
Skymark top 10 domestic routes based on frequency (to/from): 12-Nov-2012 to 18-Nov-2012
ANA top 10 domestic routes based on frequency (to/from): 12-Nov-2012 to 18-Nov-2012
JAL top 10 domestic routes based on frequency (to/from): 12-Nov-2012 to 18-Nov-2012
Partners and alliances are critical in this new world, and Skymark has none
From Emirates-Qantas to Singapore Airlines-SAS and even conservative Cathay Pacific getting in the mix with a deal with Air New Zealand, strategic alliances are critical to open markets and gain synergies. Deep alliances, such as anti-trust immunity, have been forged in both markets Skymark is targeting for A380 services: Europe and North America. Across the Pacific, JAL is with American Airlines while ANA is with United Airlines. Korean Air and Delta have mulled deeper cooperation of their own.
These partnerships expand flight options, both by city and time, and lead to higher bookings. ANA reports that following its ATI JV with United, United booked approximately 300% more codeshare seats (off an undisclosed base level) on ANA.
FY2011sSeats sold on partners vs. FY2010 (NH/UA codeshare flights)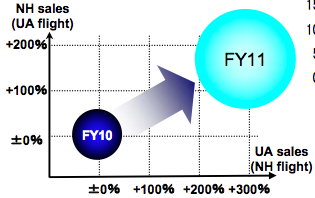 JAL, in launching its Tokyo Narita-Boston service, made a point of saying how partner AA's presence there helps the flight, likewise for ANA to Seattle. JAL and AA account for approximately 25% of available capacity in the Japan-US market while ANA and United account for 30%. Delta alone accounts for about 25% while other carriers, including Hawaiian Airlines and fifth freedom carriers comprise the rest.
Skymark, with no partners, faces the unenviable position of a single initial service to North America, possibly ramping up to two or three depending on its balance to Europe (it has mulled Frankfurt and London as destinations). While New York may be popular, and ANA will increase service to double daily, Skymark will still benefit from feed if available.
Top 20 Airports for Japan-US traffic ranked by Seats: 12-Nov-2012 to 18-Nov-2012
Europe likewise is getting tied up in JVs of its own. ANA's initial JV with Lufthansa was expanded to include Lufthansa Group carriers Austrian and Swiss.
Map of ANA/Lufthansa Group's joint long-haul services: Jul-2012
As part of the alliance, proposed in Jul-2012, the carriers would have a 33% share of direct Japan-Europe flights.
Traffic share (seats) between Japan and Europe: 09-Jul-2012 to 15-Jul-2012
JAL and BA meanwhile would have just under 15%. The two in Oct-2012 expanded their European codeshare network EX-London.
JAL and British Airways codeshare network: Oct-2012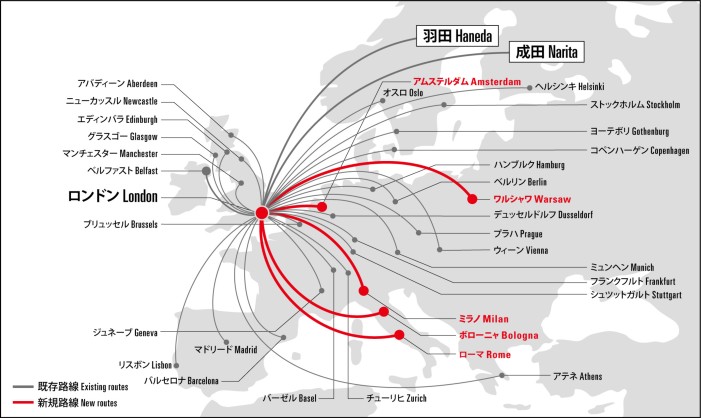 There is, however, significant backtracking, unlike at ANA with its continental partners. JAL may seek improvements by partnering with Finnair, whose hub at Helsinki JAL will commence services to in 2013.
Flight time comparison from Tokyo Narita to select European destinations: Oct-2012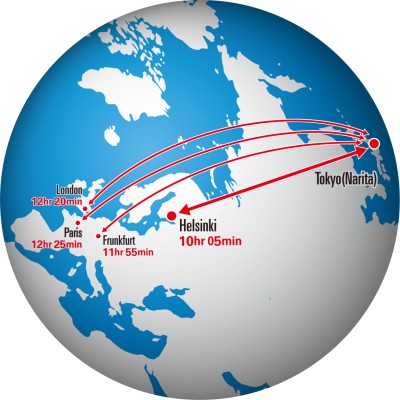 Finnair boasts Helsinki is on the shortest possible flightpath between Europe and Asia, and JAL when announcing its Helsinki route even pointed out how more efficient Helsinki would be as a transit point compared to Frankfurt, where ANA and Lufthansa meet up. Even additional time savings could be made if comparing a Helsinki connection on Finnair to a London one on BA.
Outbound Japan connections in Europe, Helsinki versus Frankfurt: Oct-2012
Destination

Route / transit point

Dep. time

from NRT

Arr. time

at destination

Total travel time

(includes connection time)

Reduction in travel time

Stockholm

11:45

16:15

12hr 30min

3hr 30min.

12:25

21:55

16hr 00min

11:45

18:30

14hr 45min

3hr 50min

12:25

23:00

18hr 35min

11:45

18:15

14hr 30min

1 hr 40min

via Narita-London

11:45

19:55

16hr 10min

Berlin

11:45

18:00

14hr 15min

2 hr 15min

12:25

20:55

16hr 30min

Dusseldorf

11:45

17:55

14hr 10min

2 hr 25min

11:05

19:40

16hr 35min
Outbound Europe connections in Europe, Helsinki versus Frankfurt: Oct-2012
OriginCity

Route/ transit point

Dep. time from origin

Arr. time

at Narita

Total travel time

(includes connection time)

Reduction in travel time

Stockholm

13:00

10:15+1

13hr 15min

1 hr 50min

16:50

15:55+1

15 hr 05 min

Oslo

13:15

10:15+1

13 hr 00 min

3 hr 45 min

London-Narita

15:15

16:00+1

16 hr 45 min

11:35

10:15+1

14 hr 40 min

3 hr 05 min

14:10

15:55+1

17 hr 45 min

11:40

10:15+1

14 hr 35 min

1 hr 45 min

London-Narita

15:40

16:00+1

16 hr 20 min

13:05

10:15+1

13 hr 10 min

4 hr 30 min

14:15

15:55+1

17 hr 40 min
While New York and London may be high O&D routes from Tokyo, that traffic alone cannot sustain the routes – plus that assumes Skymark could even capture a part of it with its lower corporate offering and limited schedule.
Skymark's A380 configuration is challenging to fill – and market
Even with a stronger network and partners, Skymark's A380 would be challenging to fill. It has selected a low density configuration of 394 seats, split between 280 premium economy seats and 114 business class seats, the least dense configuration of any operator.
A380 operators seat configurations
Airline

First A380
delivery

Total
seats

First

Business

Premium
Economy

Economy

Oct-2007

409

12

86

311

471

12

60

399

Jul-2008

489

14

76

399

517

14

76

427

Jun-2011

407

12

94

301

May-2009

526

8

98

420

Sep-2008

450

14

72

32

332

Oct-2009

516

9

80

38

389

538

9

80

449

Oct-2011

506

8

70

428

2Q2012*

508

8

54

420

Sep-2012

507

12

60

435

2014*

394

0

114

280
Skymark has indicated its product will consist of angled lie-flat seats in business class on the upper deck. Angled lie-flat is globally falling out of favour although Japanese carriers were slow to catch up to peers in updating their cabin. Premium economy will reportedly consist of fixed-back shell seats, which tend to receive negative feedback on long-haul flights. Premium economy will fill the lower deck with 280 seats where, in comparison, Lufthansa fits 420 regular economy seats on the lower deck of its A380.
Overall Skymark's proposed A380 configuration is just short of others by Korean Air and Singapore Airlines, but well below the global trend of 500-seat configuration. With an almost non-existent freight network, Skymark will be entirely dependent on making its A380 services profitable from passenger yields, which will need to be high to recoup the lower density seating – and there are already questions if Skymark could attract passengers, let alone those willing to pay a premium.
The marketing of premium economy seats will be difficult as Skymark will expect a yield premium but will need to explain what its premium economy consists of. The scale of "premium economy" varies widely across the world, but in Europe tends to suggest a slightly bigger seat with more legroom and recline while in the US it is merely a seat with more legroom. Significant marketing will need to be undertaken to explain what its premium economy cabin is and why it is worth spending more on. And this is only for direct sales channels – on a GDS or online travel agency, Skymark will not be able to explain its product (indeed, if it is even shown since it is not a strict economy offering). This further works against the carrier since it has growing recognition in Japan but almost none overseas.
It is true that Skymark has a lower operating cost, but the proportions of the A380 force a re-frame of the suggestion. A more modest international expansion with A330s or 777s could be justified, but the A380 is a large risk. Skymark reported in Nov-2012 that its CASK fell bellow the JPY8 barrier to JPY7.69 (USD9.68 cents). ANA in FY2012 is targeting a CASK of JPY9.9, a figure that is flattered by more-efficient long-haul operations; matching short-haul for short-haul, Skymark has a bigger advantage. But there are some disadvantages – network, partners – that no cheaper ticket can fix.
ANA unit revenue and unit cost trend: FY2010 to FY2013F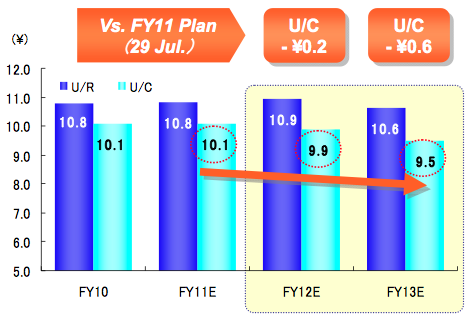 Any CASK advantage will work against Skymark's stated intention to have average A380 load factors of 60%. In 2011 JAL had an average trans-Pacific load factor of 77% and 71% to Europe while ANA's overall international load factor was 74%.
Competition in North Asia is needed, but A380 endeavour may set Skymark back
Japan's carriers are inefficient and could do with an external threat delivering a shakeup, and likewise long-haul fares to Japan tend to be on the high side owing to limited competition. More players are welcome, but with Skymark's proposal, this may be neither the right place nor the right time – and certainly not with the right aircraft.
The carrier could see greater advantages by strengthening its position at home, such as with a frequent flyer programme to ensure loyalty, or looking at partnerships – SkyTeam may not be a completely forlorn suggestion. Alternatively, Skymark, if it wishes to see its A380 operation be profitable, will very likely have to develop these initiatives. Skymark's A380 may ultimately see the carrier take the right initiatives, but in a roundabout way, aviation's equivalent of the chicken and the egg, all the while surrounding competition is a step even further.