SkyEurope soars as capital position is reorganised; Southwest likely to be downgraded by Moody's
Worldwide LCC share prices were mixed on Thursday (16-Jul-09), despite a stronger day on the worldwide markets and a reduction in oil prices.
SkyEurope led the way among the gainers, soaring 60%. The Eastern European carrier's massive share price gain occurred amid changes to the carrier's share capital position. Earlier this week, SkyEurope shareholders approved a share capital reduction, from EUR42.8 million to EUR6.6 million, reducing it to the actual level of the company's assets reflected by the share price, by consolidating the shares in a ratio 6.5:1. On 16-Jul-09, two significant batches of share tradings were recorded, covering 418,200 and 262,000 shares, respectively, an unprecedented increase for the carrier.
Selected LCCs daily share price movements (% change): 16-Jul-09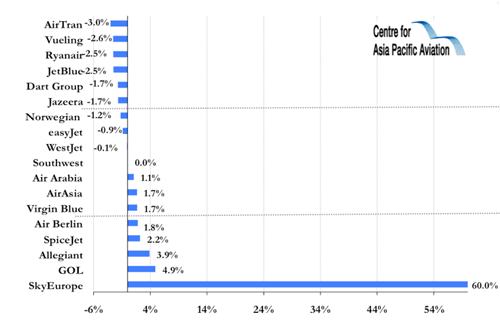 Among the other major European LCCs, both easyJet and Ryanair shares slipped yesterday, by 0.9% and 2.5%, respectively.
In the Americas, WestJet shares sipped 0.1% yesterday, Also on 16-Jul-09, Air France and KLM commenced their interline agreement with WestJet, with the development marking the "successful first step" in the strategic partnership between the carriers. The agreement covers the Canadian gateways of Calgary, Vancouver, and Edmonton, where passengers of the three carriers could connect with the other's networks.
Southwest's shares remained stable yesterday, despite Moody's Investors Service warning that it is considering lowering its credit ratings on concerns that the airline sector's weak demand trends will continue well into next year. Moody's added that, even with the LCC's advantageous cost structure, the current yield environment will likely challenge Southwest to restore credit metrics to levels supportive of its current rating.