Singapore Airlines to resume non-stop US services with A350-900ULR: a strategic imperative
Analysis
There is no long haul market more popular with Northeast Asia's airlines than North America. There are fewer competitors than to Europe, no intermediate options (Gulf carriers – for now) and a good balance of leisure and premium demand. Southeast Asian airlines, with unfavourable geography, have had to sit out. Philippine Airlines is an exception, but Malaysia Airlines has ended North American service while Thai Airways and Singapore Airlines have ended their non-stop experiments with A340-500s that proved too costly against twin-engined competitors and rising fuel prices.
Following SIA's exit, one-stop competitors from Northeast Asia and the Gulf added service to Singapore for its valuable premium traffic. This has impacted SIA's competitiveness, and it plans to return to non-stop US services in 2018 with the new A350-900ULR "Ultra-Long-Haul" variant for which it is the launch customer. The A359ULR will be more efficient than the A34-500s, but competitors' fleets have also become more efficient.
Other carriers, notably Cathay and Emirates, boast a large number of North American destinations and frequency, giving a scale advantage over SIA. The non-stops to Los Angeles and New York (and perhaps also Houston or San Francisco) have no guarantee of profitability but will certainly have strong competition. Strategic value and branding of these flights will be the prime motives, outweighing profitability objectives.
By withdrawing the non-stop US service, SIA always risked losing customers (who are profitable elsewhere across its network) to other carriers.
Singapore Airlines is the launch customer for A350-900ULR, resuming US non-stop service
Airbus on 13-Oct-2015 announced the launch of the widely anticipated long range version of the A350, the A350-900ULR for "Ultra Long-Range" (the title is perhaps grander than Boeing's "Long-Range" for the 777-200LR). Singapore Airlines is the first customer. SIA has 63 A350-900s on order and has upgraded seven of those to be -900ULRs. As part of the transaction, SIA has exercised four purchase options into firm orders, bringing its total commitment to 67 A350s and 16 options.
The -900ULR has a stated range of 8,700nm, enabling SIA to resume non-stop services between Singapore and Los Angeles and New York (airport unspecified). SIA discontinued these two flights, the world's longest, in 2013. Qantas' Dallas-Sydney A380 service took the title of world's longest flight, and will be surpassed in 2016 with Emirates' 777-200LR service between Dubai and Panama City.
See related reports:
SIA orders 7 A350-900ULRs, allowing for more non-stop destinations – Houston, San Francisco?
SIA's order for seven A350-900ULRs is two more than its fleet of five A340-500s, which operated exclusively to Los Angeles and Newark. This indicates plans for growth in ultra-long-haul services. Frequency growth is unlikely. At the peak SIA operated daily non-stop services to Los Angeles and Newark.
Singapore Airlines weekly non-stop frequency from Singapore to Los Angeles and Newark: 2005-2013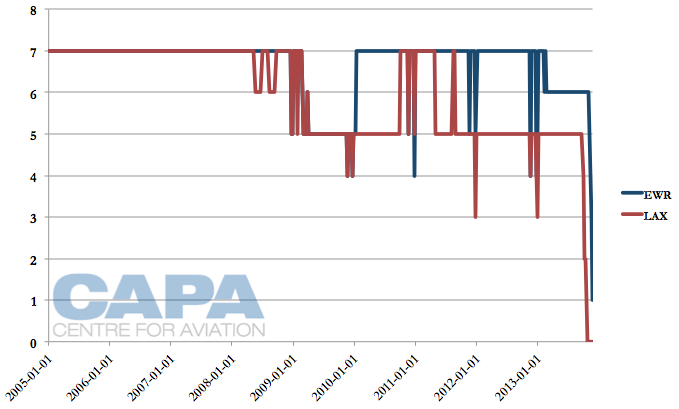 An SIA statement notes "Non-stop flights between Singapore and additional points in the US are also under consideration." Data from OAG Traffic Analyser indicates New York City is the largest O&D market from Singapore with approximately 175 passengers a day, followed by San Francisco (130 per day) and Los Angeles (115 per day). However, looking only at premium (first and business class) bookings, it is New York followed by Los Angeles that are the most popular. Houston and San Francisco vie for third largest market.
San Francisco is SIA's largest North American market with double daily 777-300ER flights; Los Angeles and New York JFK each receive a daily A380 service and Houston a 777-300ER. Houston receives five weekly flights. Houston's prospects over the next few years will depend how impacted its energy sector is from low fuel prices. SAS has already announced plans to discontinue oil shuttle route from Stavanger to Houston.
See related report: Houston Intercontinental Airport enjoys solid traffic growth and wins new key long-haul service
Houston and San Francisco are the most likely candidates for a non-stop service. SIA serves no other cities in the US (and none in Canada) and would be unlikely to open a non-stop service to an entirely new station. Should Houston eventuate, at 8,629nm it would surpass Singapore-Newark (8,285nm) as the longest non-stop flight. Singapore-Houston's 8,629nm is just under the A350-900ULR's stated range of 8,700nm – this is probably not a coincidence. With seven aircraft, SIA would be able to launch a daily service (or about) to one additional point but could not manage two additional points.
Airbus will need additional customers for the A350-900ULR
Unlike the A340-500, which was an entirely new variant, the A350-900ULR will be a comparatively cheaper sub-variant as it will be based on the A350-900. But Airbus will still be banking on additional customers.
As CAPA highlighted in a 10-Sep-2015 analysis report, Vietnam Airlines is a possible second customer for the A350-900ULR:
Singapore Airlines (SIA) has been pushing Airbus to develop the A350-900ER, which could be delivered as early as 2018 or two years ahead of the expected entry into service date for the 777-8X. SIA is keen to resume non-stop services to the US in 2018 and does not want to wait for the 777-8X.

Airbus has not yet launched A350-900ER and will likely need orders from multiple customers to justify developing the variant. A combination of orders from SIA, which would use the A350-900ER to resume non-stop flights to the US, and Vietnam Airlines could give Airbus enough commitments to proceed.

Launch orders from multiple Southeast Asian carriers is the most realistic scenario for the A350-900ER as US carriers generally remain uninterested in ultra long-haul routes and Gulf carriers can use existing aircraft, including the 777-300ER and A380, to serve North America and virtually all potential destinations from their Gulf hubs.

SIA sees a potential opportunity with new technology to efficiently operate non-stops to North America. It ended all-business A340-500 services to Newark and Los Angeles in late 2013.

Thai Airways also previously used the A340-500 to operate non-stops to Los Angeles and New York. Currently Philippine Airlines is the only remaining Southeast Asian airline with non-stop services to North America but has a geographical advantage as Manila can be reached from the west coast of North America with the 777-300ER.

Vietnam Airlines remains keen to launch non-stops to North America and will likely take a stab at some point. But inevitably it could discover that it will be difficult to generate sufficient yields to make ultra long-haul flights profitable from Vietnam even with new technology. The Singapore-US market is smaller and not growing as fast but has a much larger premium component, a critical factor for making ultra long-haul routes viable.
See related report: Vietnam Airlines begins new chapter with A350s, 787s. Are 777-8Xs and a strategic investor next?
Qantas also has provisionally hinted at a Perth-London or Sydney-New York ultra-long-haul service. But such flights will remain niche, with impacts on aircraft numbers needed.
Only 34 A340-500s were built and 13 remain in active service, according to CAPA's Fleet Database. The largest number – four – are with Etihad and are expected to be retired soon. Boeing has built 59 777-200LRs (passenger variants, excluding the freighter version).
Competitors swooped on SIA's exit from US non-stop services
The discontinuation of the all-premium services led to a 16% drop in SIA's total seat capacity to the US, including a 26% drop in premium seats (business and first) and a 12% drop in economy seats. To soften the reduction in capacity resulting from its non-stop cancellations, SIA deployed to Los Angeles and New York JFK its A380s in the configuration with 26 extra business class seats, partially offsetting the loss of the 100 business class seats that operated on the A340-500 in an all-business configuration. The additional business seats came at the expense of economy seats but promised higher revenue per flight.
Competitors then stepped up their focus on the Singapore market, sensing an opportunity to compete for the one-stop market. Northeast Asian carriers compete to all points in North America, while European and Gulf carriers have the strongest competitive advantage to East Coast North American destinations, and some central/mid North American points. West Coast of North America is more efficiently served from Northeast Asia.
Cathay introduced a Newark service, complementing its JFK presence, partially for its overall network and reach across the New York City area, but also because of SIA's void in Newark. Competitive moves have continued in 2015. For example, EVA Air has added a second frequency to Singapore and deployed its Hello Kitty 777-300ER that was timed to connect with trans-pacific flights from its Taipei Taoyuan hub.
Qatar Airways introduced in mid-2015 a third daily Doha-Singapore service that enabled quicker connections to North America. Emirates also has added capacity to Singapore while Etihad increased focus on the Singapore-North America market after decoupling Singapore with Brisbane.
See related report: Qatar Airways pursues rapid expansion in Singapore after the first A350 lands at Changi
Low fuel prices of 2015 may not persist in 2018 and beyond
SIA's order for the A350-900ULR and the long routes to the US represent something of a gamble. Today the cost environment for long haul and ultra-long-haul is more favourable than in the past.
But ultra-long-haul still carries a fuel penalty as an aircraft taking off must have fuel to carry the fuel needed for the last few hours of flight; it carries very large amounts of fuel just to carry fuel. This penalty becomes more pronounced the longer the distance.
When SIA signed a letter of intent for five A340-500s and five options (which were never taken up) in May-1998, average US jet fuel spot price as recorded by EIA was USD42 cents a gallon. The average price between 1990 and 1998 was USD56 cents; excluding 1990 (distorted due to the Gulf War) the average from 1991 to 1998 was USD53 cents.
When the A340-500 finally flew SIA's first ultra-long-haul flight in Feb-2004, the fuel spot price had increased to USD93 cents. Later that year fuel would exceed USD1.50. SIA's final ultra-long-haul flight in Nov-2013 was when the spot price was USD2.83.
The Oct-2015 resumption occurs with a spot price of USD1.40 – relatively low, but still higher than when SIA ordered its A340-500s or placed them into service. There can be no prediction for fuel's price in 2018 when the A350-900ULR is due to enter service with SIA, or the cost of fuel during that aircraft's lifetime.
Timeline of Singapore Airlines' ultra-long-haul history and US gulf coast jet fuel spot price per gallon (USD): 1990-2015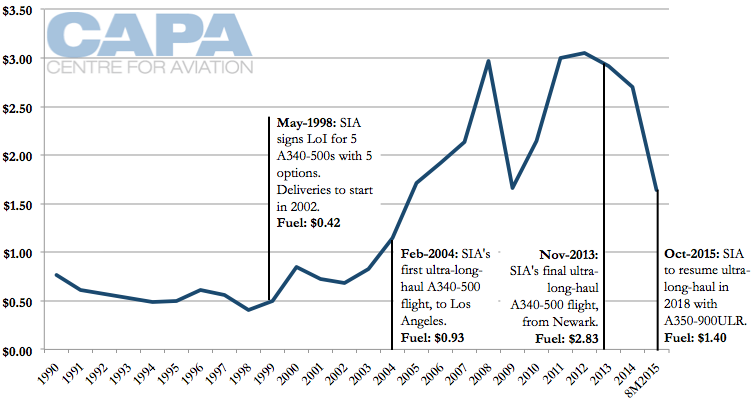 SIA will use the more efficient A350-900ULR, but competitors are also more efficient
The A350-900ULR will be more efficient than the A340-500s SIA used during its last endeavour for non-stop US services. But this comparison cannot be viewed in isolation. There must be consideration of the wider market; the aircraft's performance must be viewed relative to its peers. In 2005 during SIA's first full-year of non-stop US operations (launched at various points in 2004), the trans-Pacific market was defined by four-engined aircraft: the 747 alone accounted for 49% of trans-Pacific flights, according to OAG data.
The A340 family had an 11% share while three-engined aircraft, the DC-10 and MD-11, had a 3% share. Overall, twin-engined aircraft accounted for only 37% of flights.
Trans-Pacific marketshare by aircraft type: 2005 and 2015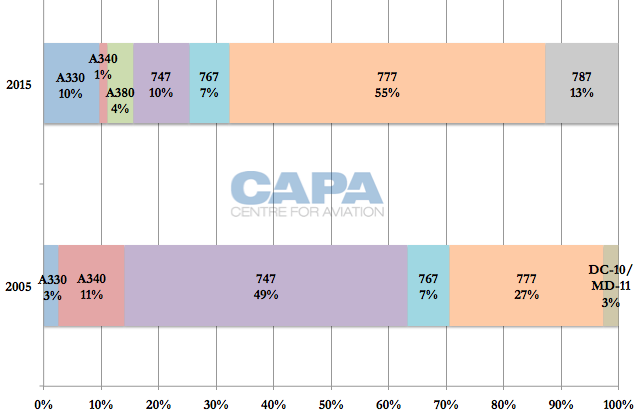 In 2015, it is the 777 that defines the market: 55% of all trans-Pacific flights are on the twin-engined aircraft. Overall, twin-engined aircraft account for 85% of flights in 2015. As the market shifted from four-engined 747s to twin-engined 777s – and fuel prices increased – SIA's A340-500 non-stop flights became less viable.
It is not relevant to compare the A350-900ULR operating in this old environment where 747s and even DC-10s plied the trans-Pacific. Competitors have become more efficient, and will continue to introduce more efficient aircraft that the A350-900ULR must compete with. The 787 is growing in popularity and airlines will deploy other variants of the A350 across the pacific.
A few years after SIA resumes non-stop services, the 777X will enter service, introducing a further level of efficiency. Not insignificantly the launch customer for the 777X in Asia is Cathay Pacific, which is best placed to compete with Singapore Airlines to North America. Another Asian 777X customer, All Nippon Airways, has bold growth plans centred on the trans-Pacific market and tapping Asian connections.
SIA's non-stop focus will have to be different from competitors
Although Asia's airlines (mostly in the Northeast) are focussed on trans-Pacific growth, there are many segments within this market. The biggest volumes are typically low yielding leisure passengers out of China and parts of Southeast Asia, such as the Philippines and Vietnam. China also has growing premium traffic that hubs in Hong Kong, Seoul and Tokyo have divided up.
SIA will need a different focus. The ultra-long non-stop service demands a focus on higher yielding passengers. Geography limits SIA's catchment area: there will be no sourcing from the large China market given the heavy backtracking that would be involved. Even Vietnam and the Philippines will require some backtracking.
SIA's strength will be in its home Singapore market. Singapore is arguably the only market in Southeast Asia that can support non-stop US flights with a chance of commercial viability (excluding the Philippines, whose more northeasterly geography is favourable; Manila is closer to Los Angeles than Hong Kong is).
Thai Airways' experiment with non-stop US services, also with the A340-500, failed. It dropped non-stops to Los Angeles and New York in 2008. Thai has since continued to serve Los Angeles with a one-stop product but is dropping Bangkok-Seoul-Los Angeles in late Oct-2015, joining Malaysia Airlines (MAS) in pulling out of the US market entirely. MAS dropped its one-stop service to Los Angeles via Tokyo Narita in Apr-2014.
Asia-North America destinations by carrier: North American destinations for Asian and Gulf carriers (red and tan), Asian destinations for North American carriers (blue): 12-Oct-2015 to 18-Oct-2015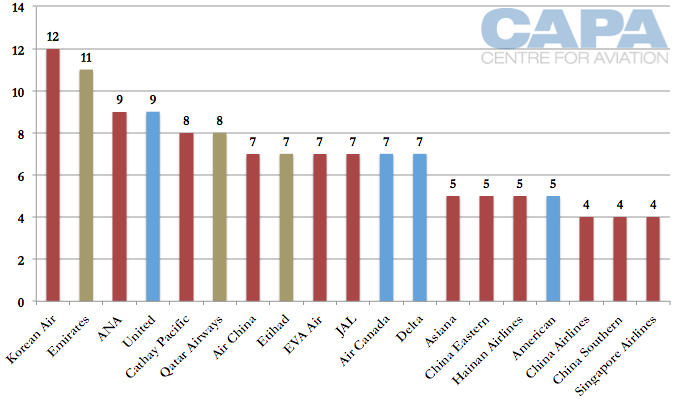 Where passengers may connect onto SIA's non-stop US services, competitors may have a more attractive offering. Northeast Asian and Gulf carriers do not have as wide a network around Southeast Asia as SIA and Silk Air do, but trans-Pacific volumes out of these secondary and tertiary cities is small. Out of Southeast Asia's core cities, competitors in Northeast Asia and the Gulf can offer higher frequency (Emirates double daily to Boston, Cathay four times daily to New York) and one-stop service to multiple destinations (Qatar to Philadelphia, not served from a Northeast Asian hub; ANA to San Jose, United to Denver, American to Dallas).
Korean Air has the most destinations to North America (12) followed by Emirates (11). SIA's first challenge is the limited size of the non-stop market, and then customer willingness to pay a premium for such flights.
North American carriers have the highest average frequency per destination. In the case of Air Canada, Delta and American (average frequencies to Asia), this reflects a smaller network footprint. Whereas Asian carriers may serve a North American destination from a single Asian hub, North American carriers are typically serving an Asian city from multiple North American hubs.
It is only Cathay Pacific among Asian carriers that has a high frequency per destination, and its North American destination portfolio (eight) is outpaced by Asian carriers ANA (nine) and Korean Air (12).
Emirates has more frequencies per North American destination than any Asian carrier except Cathay. Emirates also has the second-highest North American destination count (11; Korean Air has 12).
Asia-North America average weekly frequencies per destination by carrier: North American average frequency for Asian and Gulf carriers (red and tan), Asian average weekly frequency for North American carriers (blue): 12-Oct-2015 to 18-Oct-2015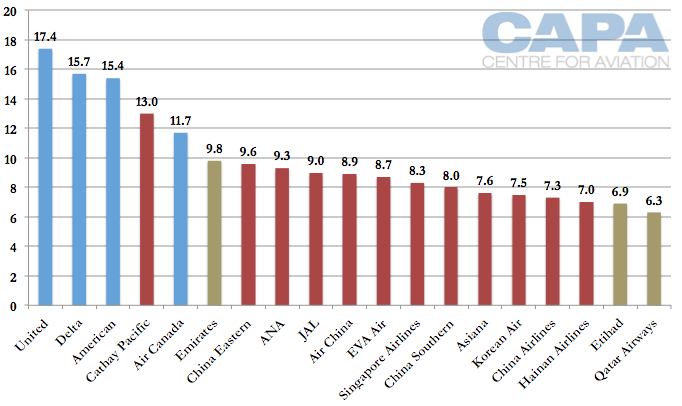 Non-stop services were SIA's last option due to limited transit rights
Much is said of the services being able to re-introduce a non-stop option, bringing convenience to New York and Los Angeles. SIA still serves New York via a one-stop flight through Frankfurt (to JFK, the non-stop had been to Newark) and Los Angeles via Tokyo Narita. But these one-stop services are a finite resource, dependent on intermediate countries granting the traffic rights.
Singapore and the US have an open skies agreement that permits unlimited fifth freedom flights but which either requires the stopover country also to have open skies (with fifth freedom liberalisation) or to grant fifth freedom rights. A country could grant the right to stopover without uplifting or discharging any passengers, making the stopover technical (for fuel) only, but this is not commercially viable.
Over the last decade SIA has reduced the size of its North American network, withdrawing from Chicago (via Amsterdam), Las Vegas (via Hong Kong), Vancouver (via Seoul) and Newark (initially via Amsterdam and subsequently non-stop). SIA also previously operated a one-stop flight to Los Angeles via Taipei. Presumably these rights remain in place but may not be viable (SIA could not operate daily to Canada, for example).
Countries willing to grant expanded/viable fifth freedom rights have proven elusive. Some of the traffic rights SIA uses to serve the US non-stop have a long history. Had countries realised the future strength of the trans-Pacific market, and the clout Singapore Airlines would develop, the rights may not have been granted in the first place. The rights can be mercantilistic in their precision: Singapore's agreement with Korea allows SIA to operate from Seoul Incheon to San Francisco with a daily 777-300ER, but not with an A380 (to operate with an A380 it would have to reduce frequency).
SIA and Singapore authorities have been pushing for several years for a more liberal bilateral with South Korea. SIA also has been keen for several years to serve North America via mainland China but Singapore has been unable to secure fifth freedom passenger rights from Chinese authorities. (Cargo rights have been easier.)
Northeast Asia is the ideal transit point, and its airport hubs are in a once-in-a-lifetime battle to plot growth that will determine their future. The trans-Pacific is their strongest long haul opportunity. The hubs are associated with national carriers that have either financial or exceptional government links to the state. To these airlines, their growth and the hub's growth is intertwined; allowing an intermediary carrier like Singapore Airlines brings too much competition.
Protectionism backfires? Competitors now have to contend with non-stop services
Protectionism often manifests ironies, particularly as technology improves and options increase. This is certainly true with SIA's non-stop resumption. As various states have denied liberalisation, they have prevented SIA from growing one-stop services. The objective may have been to keep SIA at bay in North America, but the carrier's consistent long-term views, government shareholding and central focus in the Singapore aviation hub strategy meant SIA would not ignore the North American market in the long run. By blocking one-stop growth, competitors will now have to contend with a stronger non-stop proposition even if at the end of the day its profit contribution to SIA is marginal or loss-making.
Had SIA been allowed to up-gauge some US markets from 777-300ER to A380 and even introduce another service or two, it would have been more difficult to justify the non-stop resumption. Although SIA will emphasise customer preference for non-stop services, the underlying market demand is simply for greater supply to the US than what SIA can provide now.
SIA's capacity injection with the non-stop flights may be less than what it would have added through up-gauging and all-new services. This provides some relief for airlines. But for airports looking to grow overall volumes and transit traffic, this is a lost opportunity.
See related report: Seoul Incheon airport confronts a new paradigm: Chinese/Japanese hubs take transfer traffic
Partnerships did not bring SIA a sufficient a solution to access North America
Singapore Airlines has been growing its partnership portfolio in general and for the purpose of increasing its (virtual) presence in North America.
SIA partners with Star Alliance airlines including Air Canada, ANA, Asiana, EVA and Virgin Atlantic. Asiana and EVA are the most recent additions. The effectiveness of all of these partnerships is not yet apparent. They were clearly secondary to SIA's organic growth.
As CAPA previously wrote:
SIA traditionally has partnered with Virgin Atlantic via London Heathrow to access additional points in the eastern US such as Boston, Miami, Orlando and Washington DC. Virgin Atlantic does not serve Singapore but SIA owned a 49% stake in the carrier which it originally acquired with the specific purpose of accessing the US over London. That ownership endured until mid-2013, when a sale to Delta Air Lines was completed.

The Virgin Atlantic-SIA partnership has been maintained, helping feed SIA's four daily flights to London Heathrow. The partnership was expanded in 2013 to also include Aberdeen, Edinburgh and Manchester after Virgin Atlantic launched a short-haul operation using A320s wet-leased from Aer Lingus.

At Heathrow, SIA also has a longstanding codeshare with Air Canada covering services to Toronto. The Air Canada partnership also covers Toronto and Montreal via Frankfurt and Vancouver via San Francisco. But SIA does not codeshare with Lufthansa on flights from Frankfurt to North America.

ANA provides SIA with offline access to the US via Tokyo Narita as part of another longstanding relationship. SIA currently places its code on ANA-operated flights from Tokyo Narita to Chicago, New York and Washington. While the SIA-ANA codeshare includes reciprocal flights between Singapore and Tokyo as well as domestic destinations beyond Tokyo the carriers do not codeshare on Tokyo to Los Angeles (which both operate) or San Francisco.

In Apr-2014 SIA added Asiana as a new partner to the US, covering flights beyond Seoul to Los Angeles, Honolulu and Seattle. Seoul-San Francisco, which both Asiana and SIA operate, is not part of the expanded pact.

Previously SIA and Asiana only codeshared on Singapore-Seoul. As the two carriers now have blanket codeshare authorisation from US authorities, expansion is possible to cover other Asiana gateways such as Chicago and New York.

SIA EVP commercial Mak Swee Wah said at the group's 1Q2014 results briefing that starting to make use of the carrier's Seoul gateway for codeshare services to North America is part of its broader strategy of expanding partnerships and relying more on partners to cover the US market. "These are all means to retain as much of the US market as we can while we have cut back on the unprofitable ultra long-haul flights," Mr Mak explained.
See related reports:
Outlook: SIA's long-haul resumption is more important to it than to the overall trans-Pacific market
The world's longest flights continue to attract attention that far outweighs their size. SIA not only having the longest flights but resuming a market it abandoned adds to the focus. The non-stop flights will be important to SIA for strategic value and branding. This will always outweigh any (probably only marginal) profit, if any. SIA's original non-stop US flights on the A340-500 were never meant to be profit blockbusters, but nor was it expected they would rack up such high losses at the end.
SIA's resumption of services will be more important for itself than for the growing and dynamic trans-Pacific market.
Far more important and wide-reaching topics are the resurgence of US carriers in offering a product that better allows them to compete; the emergence of Beijing and Shanghai as trans-Pacific hubs; the growth potential of Taipei; the rapid build-up of Cathay Pacific; and the future for trans-Pacific partnerships.
Outside the direct airline environment, the growing middle class and visa liberalisation underpin growth. Bureaucracy and putting visa labels in passports may not be as sexy as flying for the better part of a day, but it does underpin growth.
Within the lifespan of SIA's A350-900ULR non-stop US flights, SIA and other Asian carriers will need to forge significant partnerships for the trans-Pacific market. Such partnerships must even exceed, in size and value, the current ANA-United and JAL-American joint ventures. With eventual consolidation – which may not evolve until the next decade – these non-stop flights may once again become a bridge too far.
See related report: Cathay Pacific Airways' long-haul growth could provoke Asian airline consolidation; ANA and SIA?