SAS loses 91% of value this year. Vueling the only airline improved. LCCs perform better than majors
Meanwhile, yesterday, there was little movement outside the now normal daily fluctuations, while the overall European market sentiment improved, as investors clutched at the rare piece of good news about retail sales and a glint of hope on the banking side.
Vueling (-3.9%), lost some of the strong gains of the previous day and SkyEurope (+7.1%) also moved in the opposite direction to its Monday close. Beleaguered Aer Lingus (-3.8%) unhappily slipped further south too.
For daily updates on American aviation stock prices and a complete wrap of the day's breaking news, sign up now for a complimentary subscription to America Airline Daily.
European airline share prices (% change) 31-Mar-09: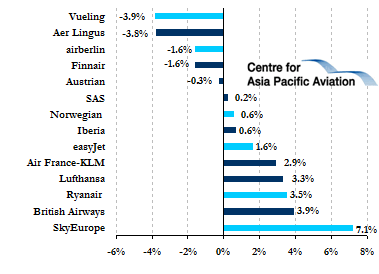 Europe airline quarterly share price report: 1Q09
In an almost uniform downward trend among European airlines, the major airline share prices have fallen heavily in 1Q09. The main LCCs constitute the better performing airlines however with one of their number, Vueling (+19%), the only carrier across Europe to be in positive territory this year.
SAS shares have lost a whopping 90.5% last quarter, although this fall was contributed to significantly by a one-for-one share issue in Feb-09. But, even factoring that into the end of quarter share price, SAS has still been the worst performing airline stock in the region.
Next in line among the negative performers is Aer Lingus, like SAS a takeover target, although SAS is courting its suitor (Lufthansa), while Aer Lingus is backpedalling as fast as it can to avoid falling into the clutches of Ryanair.
Each of the two flag carriers, in losing effectively a half of their capital valuations, has to be in extremely dangerous territory. It is only the fact that their respective (de facto) controlling shareholders - their governments - are exempt from normal market forces that allows them to retain the status quo.
Air Berlin (-38.8% this year), which does not share that status, is more anxious to restore balance and its recently announced partnership arrangement with TUI should help with equilibrium.
SkyEurope (-37.5%) has no such comfort and, despite return of much of its fleet and a substantial capacity reduction, still faces an uncertain future.
European airline shares 1Q09 share prices (% change):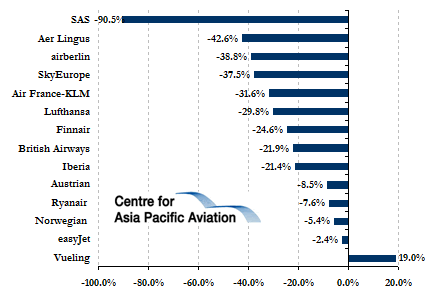 Big three suffering like never before
But in terms of major market capitalisation, the largest shocks to the system are the big three, Air France-KLM (-31.6%), Lufthansa (-29.8%) and British Airways (21.9%).
Air France-KLM has declined steeply in recent weeks, as it (somewhat predictably) eventually abandoned its previously solid outlook, with the world changing around it. Lufhansa, despite its growing market share, is choosing both the best and the worst time to be buying up all of its neighbours.
The opportunities for expansion are there like never before (and perhaps never again, but who knows?); but at the same time, buying up liabilities and weakening a balance sheet in the current climate has to be a risk, calculated or not.
And, strangely enough, although it has been exposed to much of the negative media and has yet to consummate a merger with Iberia (which had reportedly been due by the end of Mar-09), British Airways is least affected. A fall in market cap of 21.9% over the quarter is hardly positive, but its better market performance does suggest strongly that investors are clinging to balance sheets in this economic gale.
But LCCs weathering the storm best
The least bad performers over this ugly quarter have been the listed European LCCs. If hybrid Air Berlin and uncomfortable SkyEurope are removed from the reckoning, all of the best performing airlines in Europe are the region's low cost carriers.
This is, according to conventional wisdom, not surprising in difficult economic conditions. But there can hardly be a more graphic exposition of that theory, with Vueling (helped a lot admittedly by its clickair merger deal), easyJet (-2.4% for the quarter), Norwegian (-5.4%) and Ryanair (-7.6%) well out ahead of the main pack.
Their respective strategies vary somewhat, but none of them is looking at a substantial reduction in capacity and is at or around a profitable outlook despite this. By contrast, most of the network airlines are cutting back on capacity - and in doing so, opening up opportunities, while incurring losses off their higher cost bases.