Ryanair's latest fight over airport charges could lead to drop in traffic in Morocco
Europe's largest no-frills carrier has unveiled plans to cut 34 weekly flights from its schedule to and from Morocco in a row over airport charges. The cut represents about 14% of its current capacity to/from Morocco and will result in Ryanair's capacity share in the Western Europe-Morocco market dropping 1 percentage point to about 16%. The new cut follows cuts implemented over the last nine months which have already reduced Ryanair's share of capacity in the Western Europe-Morocco market by 4ppt from about 21% to 17%.
While relatively small in the broader Moroccan market, the new cuts are significant because Ryanair is the largest low-cost carrier in the country and is the second largest carrier in the key Morocco-Europe market. The dispute with Morocco's state owned airports authority ONDA (Office National Des Aéroports) could potentially lead to further capacity cuts by Ryanair, leading to a potential drop in traffic at ONDA airports and impacting Morocco's important tourism industry.
Ryanair is claiming that ONDA has "reneged" on an agreement with the airline "by imposing a new monopoly handling company on Ryanair, which would have resulted in a massive increase in charges for the airline". But ONDA quickly responded and pointed out that it started the liberalisation of the ground handling market in 2004, and that it recently awarded new licenses to two foreign companies following an international tendering process launched in Jan-2012.
Ryanair has a long-standing tradition of engaging in public disputes with airport operators and/or public (mostly regional) authorities as it tries to squeeze airport tariffs to the minimum and incentives to a maximum. While the the carrier does not always follow up on its threats, it certainly does not hesitate to cancel services, close bases or lower frequencies if it does not get its way.
The airline is planning to stop operating six routes from Europe to Morocco and reduce frequency on a further four routes as of 01-Oct-2012. It will cancel 34 services or 17 return flights per week, equating to 6426 seats to/from Morocco per week as it operates a fleet of Boeing 737-800s configured with 189 seats. The cut represents about 14% of its current capacity to/from Morocco, which stands at almost 45,000 weekly seats.
Planned Ryanair flight schedule reductions to/from Morocco
| | | |
| --- | --- | --- |
| Cancelled routes | Weekly flights | Effective |
| | 2 | 01-Oct-2012 |
| | 2 | 01-Oct-2012 |
| | 2 | 01-Oct-2012 |
| | 2 | 01-Oct-2012 |
| | 2 | 01-Oct-2012 |
| | 3 | 01-Oct-2012 |
| | | |
| --- | --- | --- |
| Route frequency reductions | Weekly flights | Effective |
| | 2 | 01-Oct-2012 |
| | 1 | 01-Oct-2012 |
| | 1 | 01-Oct-2012 |
Ryanair is Europe's largest airline in passenger numbers (76 million in fiscal year ended 31-Mar-2012) and it does not shy away from competition. The carrier's threats to withdraw from selected routes to Morocco indicate an underlying underperformance of these routes, which the airline aims to counter with further price concessions by the public airport authority.
Ryanair is currently the only operator on four of the six routes it intends to discontinue, according to schedules in Innovata. The carrier's monopoply routes are London Stansted-Fes, Valencia-Marrakech, Madrid-Nador and Girona-Nador. While Ryanair does not face direct competition on the Girona-Nador route, it competes indirectly with Jetairfly and Air Arabia Maroc which operate to Nador from Barcelona's main international airport, Barcelona El Prat.
On Oujda-Marseille, Ryanair competes with Royal Air Maroc and on the Oujda to Brussels South Charleroi route it competes with the rapidly expanding TUI Travel subsidiary Jetairfly. Royal Air Maroc also operates from Oujda to Brussels Airport. After it pulls these two routes from Oujda Angads Airport on 01-Oct-2012, Ryanair will no longer operate to this airport located in northeastern Morocco.
Oujda is the country's eighth busiest airport and recorded a 10% increase in passenger throughout in 2011 compared to 2010, according to data from ONDA. However, in the first five months of 2012 passenger traffic has plunged year-on-year by 19% while on average Morocco's airports posted a markedly less sharp fall in passenger traffic of 6%.
Ryanair also faces competition on the three routes where it will reduce frequencies, specifically on Marrakesh-London Luton. No other carrier serves the airport pairing but Marrakesh, which is year-round tourist and incentive travel destination for Europeans, is adequately served from three other London airports - Heathrow, Gatwick and Stansted.
London airports to Marrakesh capacity by carrier (one-way seats per week) and capacity share: 09-Jul-2012 to 15-Jul-2012
Airport

Carrier

Seats

Share

774

23%

378

11%

567

17%

1227

423

36%

13%
Madrid to Tangier capacity by carrier (one-way seats per week) and capacity share: 09-Jul-2012 to 15-Jul-2012
| | | |
| --- | --- | --- |
| Carrier | Seats | Share |
| | 1323 | 65% |
| | 700 | 35% |
Brussels Charleroi to Fes Saiss capacity by carrier (one-way seats per week) and capacity share: 9-Jul-2012 to 15-Jul-2012
| | | |
| --- | --- | --- |
| Carrier | Seats | Share |
| | 756 | 67% |
| | 378 | 33% |
Brussels to Fes Saiss capacity by carrier (one-way seats per week) and capacity share: 9-Jul-2012 to 15-Jul-2012
| | | |
| --- | --- | --- |
| Carrier | Seats | Share |
| | 270 | 100% |
Ryanair is Morocco's second largest airline in terms of scheduled seat capacity. It was the first LCC in Europe to clinch a deal with the Moroccan authorities following the signing of an Open Skies agreement between Morocco and the European Union in 2006. Details of the five year accord were never disclosed though Ryanair has stated it committed to open at least 20 routes to Morocco delivering 1 million passengers p/a by the end of the five-year period.
ONDA and the Moroccan Tourism Authority pledged support for Ryanair at most of the country's regional airports. Casablanca Mohammed V International Airport, the main hub of national carrier Royal Air Maroc, was excluded in the Ryanair agreement.
See related article: Jordan continues to see no LCC influx despite EU Open Skies agreement
In its statement announcing the route cuts and denouncing ONDA's refusal "to guarantee Ryanair the continuation of the cost levels of its original agreement", Ryanair deputy CEO Michael Cawley noted the airline had "spectacularly over-delivered" on all its undertakings under the agreements with the Moroccan authorities "within an earlier timescale."
The airline deploys approximately 22,300 one-way seats on 39 routes from Western Europe to six Moroccan gateways (Agadir Al Massira Airport, Fes Saiss Airport, Marrakech Menara Airport, Nador El Aroui Airport, Oujda Angads Airport and Tangier Ibn Batouta Airport), according to schedules in Innovata for the week 09-Jul-2012 to 15-Jul-2012. This gives Ryanair a roughly 17% capacity share of the Morocco-Western Europe market.
Royal Air Maroc (RAM) is still the country's largest carrier but its scheduled capacity share (in term of seats) has gradually dropped to 47% on international routes and 40% on routes to Western Europe. Ryanair's share of total seats deployed on international routes to/from Morocco is nearly 13% and the airline's share of international movements over peak times (between 6:00-9:00 and 16:30-15:30) is 17%, whereas RAM's share is just 24%.
See related article: Royal Air Maroc fighting back LCC tide with new fleet, cost cuts and possible privatisation
Morocco international capacity by carrier (% of seats): 09-Jul-2012 to 15-Jul-2012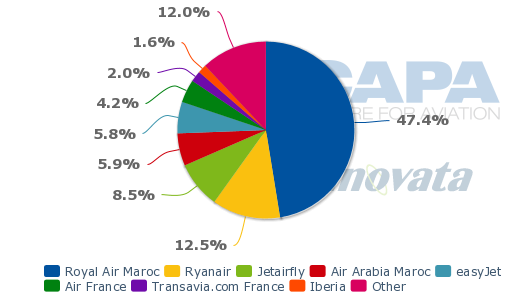 Ryanair has been gradually reducing capacity to Morroco
Ryanair deploys virtually all its capacity within Europe. Its network spans 165 non-stop passenger destinations of which just six are outside of Europe. All six of these are in Morocco and its capacity to these airports represents just 1% of its total international seat capacity.
Ryanair international capacity by region (seats per week): 09-Jul-2012 to 15-Jul-2012
The airline has made a lot of noise this month about its planned capacity reductions for Morocco as of 01-Oct-2012, but Ryanair has been gradually and quietly reducing seat capacity to Morocco since winter-2011. Based on schedules in Innovata, the LCC operated about 26,300 one-way seats from Western Europe to Morocco in the week of 02-Oct-2011 to 08-Oct-2011 compared to about 22,300 seats in the week of 09-Jul-2012 to 15-Jul-2012. This will further decrease to 20,500 one-way seats in the week of 30-Sep-2012 to 06-Oct-2012.
Morocco to Western Europe capacity by carrier (seats per week, one way): 19-Sep-2011 to 30-Dec-2012
Traffic to Morocco from Western Europe is typically seasonal and Ryanair's anticipated 7% seat capacity reduction from Jul-2012 to Oct-2012 is less than the average 9.5% scheduled seat capacity reduction of all carriers operating in that market. Also, Ryanair's share (of scheduled seats) remains stable at 17%.
However, Ryanair trimmed seat capacity to Morocco by 15% from Oct-2011 to Jul-2012 while on average total capacity on routes from Western Europe to the North African country expanded by 9% in the period. Between Oct-2011 and Oct-2012 the discrepancy is even more pronounced: the total market shows a contraction of about 1% whereas Ryanair's seat capacity on routes to Morocco is showing a 22% reduction, based on schedules loaded in Innovata.
Capacity share (% of scheduled one-way seats) by top the top five carriers operating between Western Europe and Morocco: 02-Oct-2011 to 08-Oct-2011 vs 30-Sep-2012 to 06-Oct-2012
Carrier

Share

02-Oct-11 to 08-Oct-2011

Share

30-Sept-2012 to 06-Oct-2012

34%

36%

21%

17%

Jet4You

2%

7%

11%

13%

9%

5%

8%
Ryanair's main competitor and Europe's second largest LCC in terms of passengers carried easyJet is also recording a decreasing seat share in the Moroccan market. Conversely Royal Air Maroc, Air Arabia Maroc and Jetairfly are winning market share.
Belgium's Jetairfly increases its Moroccan footprint
Jetairfly is the rapidly growing Belgian airline subsidiary of TUI Travel and is in the process of fully integrating the operations of its Moroccan sister airline Jet4You. Jetairly is closing in on Ryanair and is currently the third largest operator (in terms of set capacity) between Western European and Morocco, is the largest operator between Belgium and Morocco and the second largest operator between France and Morocco, according to schedules in Innovata for the week 09-Jul-2012 to 15-Jul-2012.
Western Europe is Morocco's main market, accounting for 75% of international scheduled seats flown to/from the country. France is the largest market with some 125,400 seats per week followed by Belgium with almost 32,000 seats. The market from Eastern European to Morocco is relatively small.
Morocco international capacity by region (seats per week): 09-Jul-2012 to 15-Jul-2012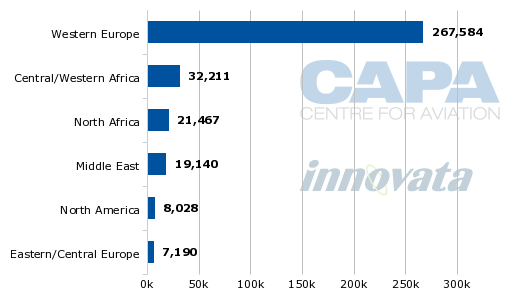 Jetairfly flies 37% of scheduled seats between Belgium and Morocco, Royal Air Maroc offers 30% of weekly seat capacity between the two countries seats, Ryanair offers 23% and Air Arabia Maroc accounts for 9% share. Jetairfly on 23-Jun-2012 launched a new twice weekly service form Brussels Airport to Rabat, the airline's 10th destination in Morocco. It currently flies from Brussels to Agadir, Marrakech, Casablanca, Fez and Tangier. The carrier are also offers flights from Charleroi airport to Al Hoceima, Casablanca, Fez, Nador, Oujda and Tangier, and from Liege to Tetouan.
Royal Air Maroc is by far the largest operator between France and Morroco, with nearly half of scheduled seat flown. Jetairfly has a near 13% share of the market seat capacity, ahead of Ryanair, which offers only 6000 one-way seats from France to Morocoo to the country equating to a 10% capacity share. Air France offers 12% of the weekly seat capacity between the two countries, but Air France and its leisure/ LCC subsidiary Transavia France.com have jointly a 18% share.
See related article: Transavia France is spreading its wings to regional airports in its home market
France to Morocco capacity share by carrier (% of seats): 19-Sep-2011 to 30-Dec-2012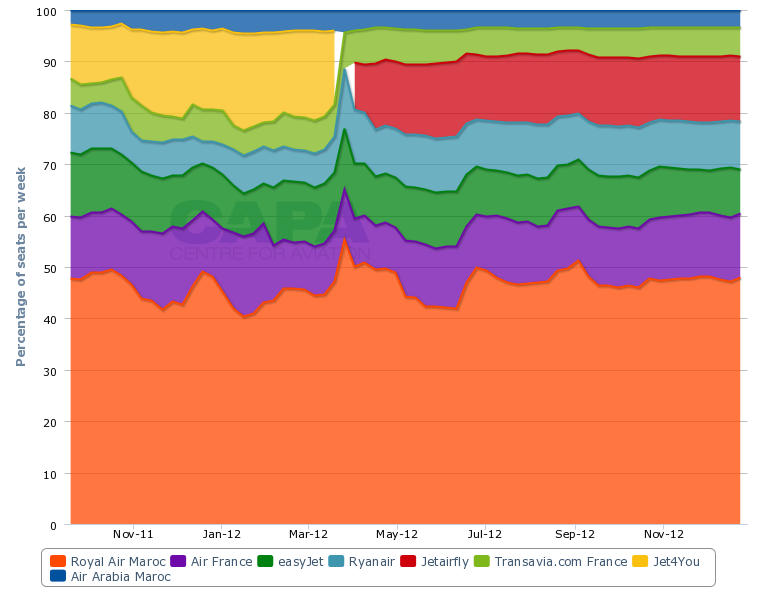 Morocco is not important for Ryanair but the LCC is important for Morocco
Ryanair deploys just 1% of its network-wide seat capacity to Morocco and as such the North African country is not very meaningful for the airline. In contrast, Morocco would not want to lose its main LCC. Tourism is a key sector of the country's economy and contributes up to 9% to the GDP, according to recent data of the ministry of tourism.
Stimulating traffic flows and tourism spend was the main driver behind the Open Skies agreement with the EU. Results have been within – or beyond – expectations. Total passenger throughput at Morocco's airports has grown 50% from 10.4 million in 2006 to 15.4 million in 2010, according to ONDA statistics.
But growth slowed last year as air passenger traffic rose just 2% to 15.7 million. In the first five months of 2012, passengers passing through the country's terminals fell 6% on the year-ago period. Travel to Morocco has been negatively impacted by the effects of the Arab Spring as well as the eurozone debt crisis, and the IMF has lowered the 2012 GDP growth forecast for the country from 4.9% to 3.7%.
Morocco needs airlines to support its economic growth and it has an attractive incentive scheme in place till end 2013 for both FSCs and LCCs. But Ryanair is no ordinary LCC. It is a very large yet intensely demanding customer. Moroccan authorities are facing some difficult months of balancing and counter balancing the pros and cons of continuing the "partnership" with Ryanair.