Ryanair's customer refocus delivers 1Q load factor and 25% profit rises; Germany the next big target
Analysis
Ryanair has continued its impressive growth with a 25% increase in net profit and a 15% increase in passenger numbers in 1Q of its FY2016. This is more evidence of the success of its 'Always Getting Better' customer service initiatives. Profit growth was helped by lower fuel prices, although the benefit was limited by fuel hedging at last year's higher prices driven in part by another jump in load factor. More significantly, a jump in load factor more than offset lower average fares to drive up revenue per seat.
With 35 aircraft deliveries in FY2016 and 50 in FY2017, Ryanair continues to add to its network. The coming winter will see it open bases in Berlin Schoenefeld and Gothenburg. It is also in talks with many other airports across Europe that are interested in the traffic growth that Ryanair can bring. The strength of its network is such that it can happily continue to serve former bases by serving them from other airports, as demonstrated by its recent decision to close its Copenhagen base.
Ryanair's net profit rose 25% in 1Q
In 1Q of FY2016 (Ryanair has a March year end, so 1Q is Apr-Jun), Ryanair made a net profit after tax of EUR245 million, 25% higher than in the same period a year earlier. Revenue increased by 10% to EUR1,653 million and the operating profit grew by EUR57 million, or 24%, to EUR288 million. The operating margin gained 2ppts to 17.5%
Ryanair 1Q highlights (three months to Jun): FY2016 versus FY2015
| | 1Q FY2015 | 1Q FY2016 | Change |
| --- | --- | --- | --- |
| Passengers million | 24.3 | 28.0 | 15% |
| Load Factor | 86% | 92% | +6ppts |
| Avg. Fare (incl. bag) EUR | 46 | 45 | -4% |
| Rev. Per Pax. EUR | 62 | 59 | -4% |
| Revenues EUR million | 1,496 | 1,653 | 10% |
| Operating profit EUR million | 231.8 | 288.4 | 24% |
| Operating margin % | 15.5 | 17.5 | +2.0ppts |
| Profit after Tax EUR million | 196.8 | 245.1 | 25% |
Traffic grew 15% and the load factor jumps again
Passenger numbers were up 15% year on year to reach 28 million in the quarter. Only five European airlines carried more than 28 million passengers in the entire year in 2014, when Ryanair was Europe's largest airline by annual passenger numbers.
Ryanair's 1Q load factor gained 6ppts to reach 92%, from which we calculate that seat numbers grew by 8%. This continues the impressive load factor increases that began in FY2015, when the annual load factor was up 5ppts to 88% and a yearly average of more than 90% is now within reach. Its FY2016 guidance includes a 90% load factor target.
These load factor increases are a vote of confidence by passengers in favour of Ryanair's customer service and network improvements.
See related report: Ryanair: Michael O'Leary's new cuddly approach is rewarded with 66% profit growth
Ryanair load factor by month FY2013 to FY2016*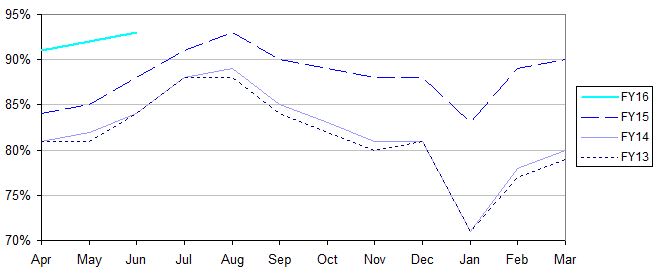 Ryanair's revenue was up 10%
Revenue grew by 10% year on year in 1Q, faster than the growth in seat numbers, but less than the growth in passenger numbers. Growth in ancillary revenue was slightly slower, at 9%, and ancillaries took a 24% share of total revenue (down from 25% in 1Q of FY2015). Ryanair expects ancillary revenue growth for FY2016 to be slower than traffic growth, although it will be "well ahead" of its long term target of 20% of revenue.
Ryanair's load factor gain came at the price of lower revenue per passenger, down 4%, but this helped to drive revenue per seat up 2%. Lower average fares were due to the timing of Easter, weaker April yields and fewer checked bags as Ryanair now allows two free cabin bags.
Ryanair 1Q revenues (three months to Jun): FY2016 versus FY2015
| EUR million | 1Q FY2015 | 1Q FY2016 | Change | % of total in 1Q FY2016 |
| --- | --- | --- | --- | --- |
| Scheduled revenues | 1,125 | 1,248 | 11% | 76% |
| Ancillary revenues | 371 | 405 | 9% | 24% |
| Total | 1,495.7 | 1,652.7 | 10% | 100% |
Operating costs rose 8%
Operating costs increased by 8% year on year, in line with seat growth and less than passenger growth. Fuel costs fell by 1%, in spite of the capacity increase, due to lower fuel prices, partially offset by a weaker EUR versus USD and Ryanair's fuel hedging programme, which locked in prices equivalent to around USD93 per barrel for Brent crude. Still by some margin Ryanair's biggest cost, fuel's proportion of total costs was 41%, down from 45% in the same period a year earlier.
For FY2016 as a whole, Ryanair has hedged 90% of its fuel needs at a jet fuel price of USD910 per metric tonne, compared with an average price paid in FY2015 of USD950, and it expects a saving of around EUR85 million. For FY2017, it has hedged 70% at USD657 per metric tonne and it expects a saving of EUR250 million.
Ex fuel costs grew at the faster rate of 15%, ahead of seat growth. To some extent, Ryanair's moves to more primary bases and a better customer service level are making themselves felt in the cost base. Airport and handling charges increased by 19%, driven by new routes and bases at primary airports and a stronger GBP versus EUR. Route charges increased by 11%, reflecting prices increases in Germany, France and UK.
Staff costs were up 14%, boosted by increased activity, a 2% pay rise and the strength of GBP. Marketing, distribution and other costs grew by 26%, due to new route/base launches, higher on board sales and costs related to French air traffic control strikes in Apr-2015.
Total cost per seat was flat year on year, but this was entirely due to lower fuel and ex fuel cost per seat was up by 6%. We calculate that Ryanair's lower fuel cost per seat accounted for EUR48 million out of the EUR57 million improvement in 1Q operating profit versus last year.
Ryanair 1Q costs (three months to Jun): FY2016 versus FY2015
| | 1QFY2015 | 1QFY2016 | Change | % of total in 1QFY2016 |
| --- | --- | --- | --- | --- |
| Fuel and oil | 564 | 560 | -1% | 41.0% |
| Airport & handling charges | 195 | 232 | 19% | 17.0% |
| Route charges | 155 | 172 | 11% | 12.6% |
| Staff costs | 133 | 152 | 14% | 11.1% |
| Depreciation | 97 | 106 | 10% | 7.8% |
| Marketing, distribution & other | 60 | 75 | 26% | 5.5% |
| Maintenance, material and repairs | 35 | 32 | -10% | 2.3% |
| Aircraft rentals | 26 | 36 | 37% | 2.6% |
| Total | 1,264 | 1,364 | 8% | 100.0% |
| Costs ex fuel | 700 | 804 | 15% | 59.0% |
FY2016: Ryanair's traffic target is raised, with profit to be at upper end of guidance range
The strength of Ryanair's load factor has led it to increase its FY2016 passenger target from 100 million to 103 million, giving an increase of 14% for the year. It also plans to ground fewer aircraft over the coming winter, around 40, compared with 50 last winter, 70 aircraft in winter 2013/2014 and 80 the winter before that.
Ryanair expects 1H passenger growth of 13%, implying 2Q growth of 10%, and 2H growth of 15%. It expects 1H average fares to be broadly flat (previous guidance was flat to -2%). Given that 1Q average fares were down 4%, this implies that 2Q should enjoy an increase of around 3%, reflecting firm demand.
The airline says that visibility on average fares is lower into 2H, but "our faster capacity growth [up 15%] and lower oil prices may lead to an aggressive pricing response from competitors". It is cautiously guiding that 2H average fares will be at the upper end of its range -4% to -8%. Cost per seat is expected to fall by around 3% for the year, all due to lower fuel prices.
Ryanair has not changed its FY2016 net profit guidance range of EUR940 million to EUR970 million, but now says that it will be towards the upper end of this range. This would mean a 12% increase on last year's result of EUR867 million. Ryanair's longstanding conservatism with respect to its profit guidance probably means that there is a good chance that it will be higher than the top of the range, but last year's 66% growth in net profit is unlikely to be matched.
Shareholders in Ryanair will also benefit from a EUR400 million share buyback in FY2016, of which EUR195 million was implemented in 1Q and which will be completed in Aug-2015. Shareholders will have received almost EUR3 billion in cash through special dividends and share buy backs since 2008.
Growth outlook is positive; the German market is to be targeted
Ryanair's longer term traffic growth prospects remain solid, after accelerating its traffic plans for FY2016. It still plans to carry 160 million passengers in FY2024, roughly doubling over 10 years from FY2014. In the coming winter, the airline will take delivery of 31 aircraft, taking the year end fleet of Boeing 737-800s (net of lease returns) from 308 for FY2015 to 340 for FY2016. The total is expected to be 420 aircraft at end FY2019, after which it will start to receive 737MAX aircraft. The fleet target for end FY2024 is 520 aircraft.
Ryanair is "inundated with growth offers from primary and secondary airports", it says, notably where incumbent airlines are cutting capacity. In Sep-2015, it will open its sixth German base in Berlin Schoenefeld, with 17 new routes.
It will enter the German domestic market this winter with a four times daily service to Cologne/Bonn, from where it will also add other new routes. Ryanair expects to grow its market share in Germany "strongly" over the next five years from its current level of around 5%.
See related report: No hamburgers or frankfurters, but Ryanair will be serving Germany more
It will also open a second Swedish base at Gothenburg in Sep-2015. In Nov-2015, Ryanair will launch flights to Eilat Ovda from Budapest, Kaunas and Krakow, making Israel its 31st country served.
The growth path is not always smooth, however. Earlier in Jul-2015, Ryanair closed its two Danish bases in Copenhagen and Billund. This followed a dispute with unions in Denmark (who did not represent Ryanair pilots or cabin crew in Copenhagen) over Ryanair's use of non-union staff on contracts not negotiated with the Danish unions.
The unions had threatened to blockade Ryanair's aircraft and so the airline decided to move its Copenhagen aircraft to Kaunas in Lithuania. It will continue to serve Copenhagen and Billund from airports outside Denmark.
Sale of Aer Lingus shares to IAG will raise another EUR400 million in cash
Also earlier in Jul-2015, Ryanair decided to accept IAG's offer for its 29.8% stake in Aer Lingus. This was expected, since Ryanair had been repeatedly prevented from acquiring all of Aer Lingus and, moreover, part of its original rationale when it first bid for its Irish rival was to access primary airports, but it is now doing this with its own brand.
See related reports:
Ryanair has not yet decided what it will do with the approximately EUR400 million proceeds from the disposal, but it will further increase its already huge liquidity of EUR4.9 billion.
Expect further returns of cash to shareholders from one of the airline industry's most impressive generators of cash.