Ryanair looks bullish, but steep yield decline a concern
Ryanair yesterday reported a Q3 (Dec-09 quarter) loss of EUR102 million, against a profit of EUR35 million for the same quarter in 2007. The main contributor to the loss was high fuel prices, which cost the carrier EUR136 million more than last year, while consumption increased by only a few percentage points. But, despite an optimistic Ryanair, yields remain a challenge, as economies slide deeper into recession.
After two better periods, the third quarter dragged the YTD margin down to a low 5%.
Ryanair profit after tax and net profit margin: FY06 vs 1-3QFY09 (financial year ended 31-Mar)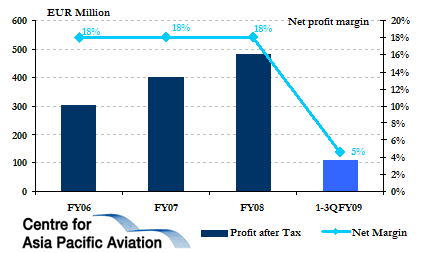 And the impact of the events of the last half of 2008 can be seen clearly from the breakout of quarterly results:
Ryanair revenue growth, passenger growth and net profit margin: 1QFY09 vs 3QFY09 (financial year ended 31-Mar)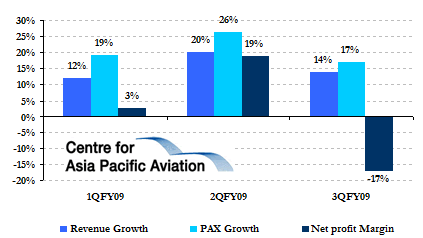 Reversal of the fuel price trend allowed management to predict a profit for the full year to Mar-09 of EUR50-80 million, implying a loss of some EUR30-60 million in the final quarter.
This is smaller than previously expected, reflecting lower fuel costs and the unravelling of last year's high priced hedges. However, as an indicator of the speed of its home market's economic decline, Ryanair predicts yields will fall by 20% this quarter - as against a much smaller 9% decline in average fares ("incl. bag" - presumably baggage charges) for the recent December quarter - as the GBP slips and recession grips. Only a small part of this can be attributed to the fact that Easter fell in Q4-08, whereas it is in April this year, deflating this year's numbers.
Ryanair has aggressively discounted fares during the quarter, partly to challenge competitors, partly to stimulate cash flow and to maintain load factors - still a healthy 84% - while it poured new capacity into the market.
Ryanair passenger numbers and passenger load factor: FY06 vs 1-3QFY09 (financial year ended 31-Mar)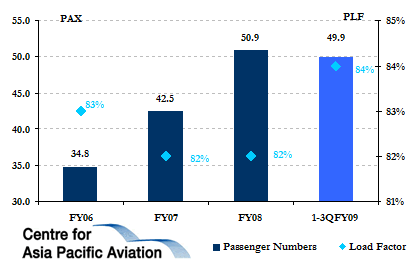 The trajectory of this fall in yield suggests that any outlook should be treated with considerable caution. It will take at least another three months to get a good idea of when there may be a levelling out and also any suggestions of how long and deep the downturn will be.
The strategy proposition
The carrier's shares rose 6.3% on the day, against a generally negative trend, suggesting that the market was more impressed than it had expected.
Ryanair's strategy hinges on two simple assumptions, one for the long term, the other short term:
establishing market share and cost base now will secure the airline's long term future - despite a probable need for more pain at present; and
that higher yielding passengers will trade downwards, while discretionary travellers will seek the very lowest fares - "the longer and deeper this recession is, the better it will be for the lowest cost producers in every sector" - Michael O'Leary, CEO of Ryanair.
If the second assumption is correct and Ryanair is able to maintain a sufficient differential between its costs and average yield, then the long term outlook is rosy.
Cost control is difficult as the carrier expands and opens new bases, but, as the following chart shows, Non-fuel costs have in fact been well capped, as traffic has expanded faster than the cost increases in most cases (though a near-doubling of marketing and distribution costs suggests new tactics for the difficult times). And a 71% increase in fuel costs is hard to digest.
Ryanair operating costs breakdown: 3QFY08 vs 3QFY09 (financial year ended 31-Mar)
It expanding into a declining market necessarily threatens yield and will not be enough to expect that some airline fallouts and consolidation will compensate adequately. Adding to ancillary revenue helps offset the yield decline. Ryanair generated 22% of its revenue from non-ticket costs, but the level of absolute fares is a more useful indicator of where the market is heading.
Looking to the long term
(1) the internal driver: strong balance sheet and low cost
According to the report, Ryanair's "balance sheet continues to be one of the strongest in the industry with over EUR1.8b billion in cash at the end of Q3." The carrier added, "Our large floating cash deposits provide a no-cost hedge to our floating debt and we plan to take advantage of the historically low interest rates to lock in much of our 2009 aircraft deliveries at these low fixed interest rates."
(2) the external market: attack on the "surchargers"
Meanwhile, airlines go out of business or consolidate.
"As losses increase in 2009, more EU airlines will close and/or consolidate,
as many lack the cash reserves to survive next Winter...This consolidation is hastening the emergence of four large European airlines, comprising three high fare fuel surchargers, led by Air France, BA and Lufthansa, and one very large low fare airline, Ryanair." (Somehow the only slightly smaller easyJet seems to have slipped off the Ryanair horizon - or is predicted to go the way of its other competitors).
Compared with the "surchargers", Ryanair does have a substantial advantage in terms of risk distribution: its 31 bases and 800+ routes across Europe give it considerable market penetration, as well as the opportunity to concentrate expenditures in lower cost markets.
Ryanair's European bases: 2008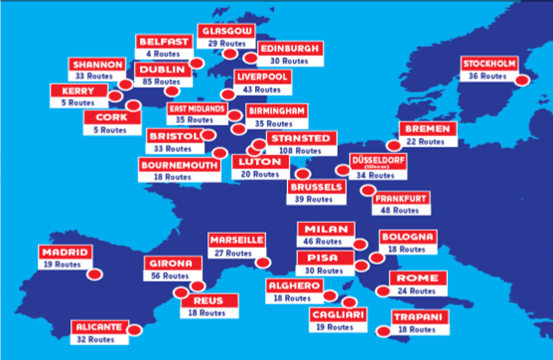 Going long-haul?
In an uncertain environment, Ryanair management probably would not want to risk spoiling an otherwise relatively bullish outlook by talking about the carrier's risky long-haul aspirations. Indeed, other than making its intentions broadly known, details will apparently be drip fed as developments occur.
However, following recent talks with US airports, it is clear that the issue is still on the agenda and, as aircraft values fall and fuel prices stay low, so the potential for Ryanair to commence flying across the North Atlantic increases.
These plans may or may not involve Aer Lingus. The Irish government's refusal to sell to Ryanair last month "sadly condemns Aer Lingus to a bleak future as a loss making, subscale, regional airline, which has a high cost base and declining traffic numbers, and which, we believe, will report substantial losses in 2008 and again in 2009," account to Ryanair.
Interestingly, the statement was less than categorical about having another go at the Irish flag carrier: "It is doubtful that Ryanair will waste any further management time or resources making another offer for Aer Lingus, as its scale and losses will continue to render it increasingly irrelevant in Europe's airline landscape."
A "doubtful" in this case clearly keeps the issue on the table. But inevitably all other options will be under consideration. Ryanair sees opportunities in the massive US market that the carrier's low cost model can exploit.
The most likely timing for this will be about mid-year - presuming that we have by then a clear idea of how the medium term global economy will shape up and aircraft values have descended to sufficiently low levels so that these lower costs would flow through into the economic recovery period. Ryanair, now having shown its hand, will be anxious to ensure that no-one pre-empts its move, once the timing is right.
Meanwhile, Ryanair will continue with its crash-through-or-crash approach. Right now, it looks to be on the right track. It has the advantage of being the lowest cost operator around, but it still needs to fill seats at sensible yields.
So, until we have a better idea of what is around the next corner, either outcome remains distinctly possible.