Royal Jordanian aiming for 85% load factor on KL service; Kenya Airways and Air Arabia down
Middle East and African shares were mixed on Wednesday (28-Mar-2010), reflecting weakness on global stock markets, particularly in Europe.
Royal Jordanian aiming for 85% load factor on KL service
Royal Jordanian (-1.5%) shares were down. The carrier announcing it is targeting an 85% load factor on Amman-Kuala Lumpur service in the first year of operations. The carrier is scheduled to launch three times weekly Amman-Bangkok-Kuala Lumpur service on 02-Jun-2010. The carrier suspended operations to Kuala Lumpur five months earlier.
Air Arabia (-3.1%) meanwhile took the day's biggest fall, as the Dubai bourse (-1.9%) fell on news of downgrades of Greece, Spain and Portugal's debt ratings.
Wataniya to announce details of European and Egyptian services next week
Kuwait National Airways was flat. Subsidiary, Wataniya Airways, announced plans during trading to reveal the details of its first three European destinations (Istanbul, Vienna and Rome) and its third Egyptian destination (Alexandria) at the Arabian Travel Market (ATM) on 05/08-May-2010. The new services will increase the airline's destinations to 12 using six A320 aircraft.
Kenya Airways to introduce Business class on E170 cabins
In Africa, Kenya Airways (-1.7%) reportedly plans to reconfigure its E170 cabin to include Business Class seats, following complaints related to the aircraft's Economy-only configuration. The new layout will have eight Business seats in a dedicated cabin. The overall number of seats on the Embraer will be slightly reduced due to the reconfiguration.
Elsewhere in Africa, 1time Holdings and Lonrho were flat, while Comair (+1.9%) was the day's only gainer, despite a 2.7% decline in South Africa's JSE index.
IATA reported Middle Eastern airlines are benefiting from regional economic growth and market share gains on long-haul routes to grow passenger traffic (RPKs) 25% during 1Q2010 and air freight (FTKs) by 34%.
African airlines are now starting to benefit from the upturn, having lost market share. RPKs in the region grew 10.4% for the period.
IATA airlines RPK growth by region: Mar-09 to Mar-2010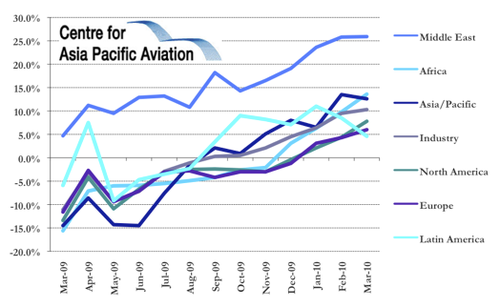 Both regions also witnessed a rise in capacity (ASKs), growing 15.8% and 8.2% in the Middle East and Africa, respectively.
IATA airlines ASK growth by region: Mar-09 to Mar-2010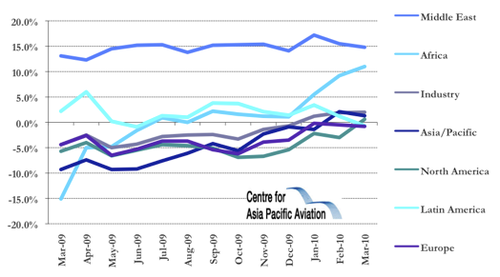 The Centre for Asia Pacific Aviation (CAPA) has launched a unique new strategic business information service covering one of the world's most exciting emerging aviation markets. Middle East-Africa Airline Daily is an efficient morning briefing on airline developments from both regions. Covering fleets, routes, financials, traffic, bilateral agreements, alliances, financing, ownership, along with analysis of all significant developments, it is your one-stop shop to aviation news from Africa and the Middle East – and best of all it's free for a limited time. Sign-up today!
Selected African and Middle Eastern airlines share price movements (% change): 28-Apr-2010