Rising fuel costs start to eat away at profits at Asiana and KAL
Analysis
South Korea's two main carriers remain in the black but have seen their operating profits slip so far this year as they are unable to completely offset rising oil prices.
Market leader Korean Air (KAL) posted a consolidated operating profit of KRW163 billion (USD152 million) for 1Q2011, a 41% drop compared with 1Q2010 as fuel costs increased by 30%. This included a 44% drop in operating profits at its airline unit to KRW145 billion.
Meanwhile, smaller Asiana saw its operating profit drop 30% for 1Q2011 to KRW98 billion based on IFRS accounting standards as fuel costs increased 23%. On a net basis, Asiana's profit dropped 34% to KRW62 billion while currency exchange gains drove a 50% improvement at KAL to KRW282 billion, including a 14% increase at the airline unit to KRW190 billion.
Korean Air 1Q2011 consolidated income statement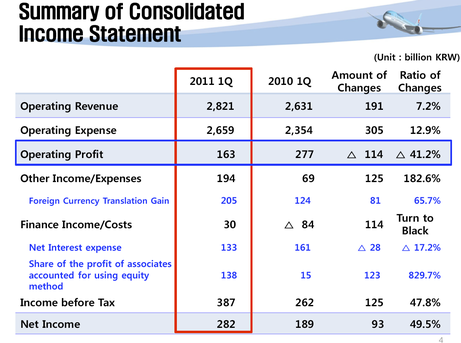 Asiana Airlines 1Q2011 income statement
Both companies saw revenues increase by 7%, reaching KRW2.821 trillion at KAL and KRW1.256 trillion at smaller Asiana. But expenses increased by 13% at both companies, reaching KRW2.659 trillion at KAL and KRW1.022 trillion at Asiana. At KAL's airline unit, revenues were up 6% to KRW2.719 trillion while expenses were up 12% to KRW2.574 trillion.
Fuel accounted for 39% of total expenses at KAL and 34% at Asiana, compared to 33% and 31% in 1Q2010. Both carriers succeeded at passing on some of the extra cost of fuel to passengers by improving yields. On a US dollar basis, Asiana yields were up by 21% system-wide while at KAL yields were up 11% on international routes and 4% on domestic routes.
KAL was also able to achieve an improvement in load factors in 1Q2011. On international routes, KAL's RPKs were up 3% while capacity was up 2%, resulting in a 0.7 percentage point increase in load factor to 77.7%. KAL says it saw a 3% drop in outbound Korea traffic in 1Q2011 but it was able to offset this by increasing its transit and Korean inbound business by 6%. On domestic routes, KAL's traffic dropped 4% but capacity was reduced by 6%, resulting in a 1.3 percentage point improvement in load factor to 58.8%.
Korean Air passenger traffic: 1Q2011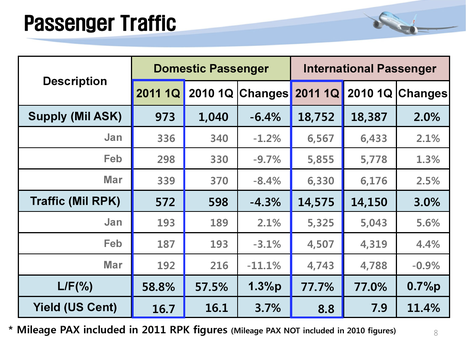 Asiana, on the other hand, saw its total RPKs drop 4% in 1Q2011 despite a 4% increase in capacity. As a result Asiana's system-wide load factor slipped by 6.2 percentage point drop to 73.5%. International RPKs were also down 4%, marking the first quarter Asiana had recorded a year-over-year drop in international RPKs since 2Q2009.
Asiana Airlines international passenger traffic (RPKs): 1Q2007 to 1Q2011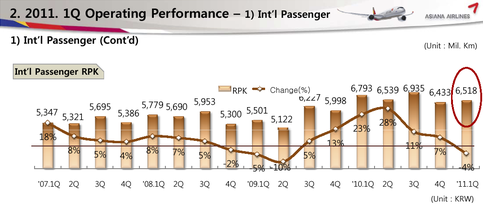 For Asiana, international traffic in 1Q2011 was down in all regions except China, where RPKs were up 11%, surpassing the 6% gain at KAL. On Asiana's European routes traffic plummeted 32%, a much more precipitous drop than the 2% decline at KAL. On Japanese routes, where demand was affected by the Mar-2011 earthquake, RPKs were down 5% at Asiana but KAL recorded a 4% increase. To and from Oceania including Australia, Asiana's traffic was down 9%, matching the 9% drop at KAL.
Cargo revenues at Asiana were up 3% in 1Q2011 to KRW321 billion. Asiana's cargo traffic was up 7% but capacity was up 9% and yields were down 4%. From a regional perspective Asiana cargo traffic behaved the opposite to passenger traffic, with big increases on European and US routes but a drop on Chinese routes.
KAL, which generated KRW854 billion in cargo revenues in 1Q2011, recorded a 2% drop in cargo traffic despite a 1% increase in capacity. But KAL's cargo yield improved by 3%. FTKs were up on routes to Japan and Southeast Asia but down on routes to the Americas, Europe and China. KAL says it expects cargo traffic to track up the remainder of this year due in part to demand for relief material transport to Japan. It says extra traffic will also be generated outside Japan as some manufacturers which were sourcing parts in Japan need to find alternative suppliers.
In 1Q2011, cargo accounted for 31% of group revenues at KAL. International passenger operations accounted for 54% of total revenues and domestic passenger operations, which have shrunk in recent years due to the introduction of high-speed trains in South Korea, accounted for only 4%. KAL's aerospace division, which produces components for aircraft manufacturers, accounted for 3% of the company's total revenues.
KAL ended 1Q2011 with a fleet of 131 aircraft, including 107 passenger aircraft (30 narrowbodies and 77 widebodies) and 24 widebody freighters. KAL plans to take 16 aircraft over the last three quarters of the year, including its first five A380s, three additional 777s and two additional 747Fs.
Asiana ended 1Q2011 with a fleet of 72 aircraft, including 60 passenger aircraft (30 narrowbodies and 30 widebodies), 10 widebody freighters and two combis. Asiana added two A321s and one A330 during 1Q2011. The carrier says the six A380s it has on order will be delivered from 2014 to 2017 while the 30 A350s it has on order will be delivered from 2016 to 2022.
Korean Air fleet as at 1Q2011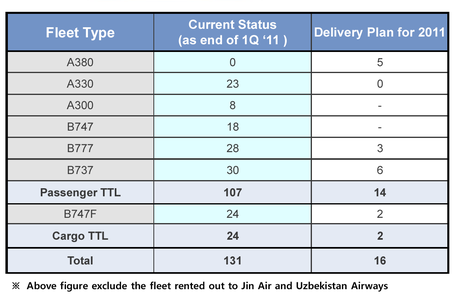 Asiana Airlines fleet as at 1Q2011