Qatar Airways adds 12 cities; perhaps time for Emirates to combine with flydubai
Analysis
There is a different rhythm in Doha with Qatar Airways. As Emirates trims US flights by 19% and Etihad cuts global destinations and capacity, on 24-Apr-2017 Qatar Airways announced its intent to add 12 new destinations in 2018. This is on top of eight destinations for 2017 that it announced in late 2016. These cities still need to be realised, but are characterised by thinner markets with a leisure focus. Qatar is growing its London and Bangkok catchment areas with service to Cardiff and Utapao.
Qatar Airways serves the highest number of destinations of the three Gulf airlines, and it serves 49 destinations that Emirates does not. About three quarters of these destinations are flown by narrowbody aircraft and small widebodies, which Emirates does not operate. This highlights Emirates' own growth constraint of effectively having the 777-300ER as it is smallest aircraft type. Emirates needs agility to diversify and right size its network. Emirates has been studying an order for smaller widebodies – A350s or 787s – and more recently is evaluating narrowbody aircraft, too. Rather than establishing its own narrowbody operation, Emirates could consider merging with sister airline flydubai.
Qatar Airways to add 12 destinations – focus on secondary and leisure points
On 24-Apr-2017 Qatar Airways announced its intent to add 12 destinations in 2018. Half are in Europe, with a further three in Africa.
Qatar Airways' 12 new destinations by region: 24-Apr-2017
The industry will approach this growth with some caution.
In late-2016 Qatar Airways announced eight new destinations for 2017. Of the eight, two – Dublin and Yanbu (Saudi Arabia) – have schedules. The other six destinations have not launched or do not yet have schedules. These markets include Las Vegas, Canberra, Rio de Janeiro, Santiago (Chile), Tabuk (Saudi Arabia) and Medan (Indonesia). Qatar has given press reports indicating Canberra is still expected, while Las Vegas will be delayed due to unspecified technical reasons – the airport was surprised to hear that Qatar had selected it; Las Vegas' heat and altitude pose problems for the return journey.
The new markets can be characterised as mostly thinner destinations with a leisure focus. Qatar is also developing the catchment areas of two major markets: London and Bangkok. Qatar will be Cardiff's first long haul service and the flight will capture the local traffic that otherwise departs from a London area airport or transits in a European hub.
Utapao is the airport of Pattaya, Bangkok's increasingly popular beach area. Pattaya is growing, with domestic Thai flights and regional services but no long haul flights at this point.
Generous incentives are to be expected, and Qatar receives the possible benefit of growing its offering to Bangkok and London (slot constrained), since some passengers who would have used Bangkok and London can now use the Cardiff and Utapao flights instead, thereby creating seats for sale on Bangkok and London. Bangkok and London are Qatar's two largest long haul markets by seats (the Doha-Dubai shuttle is larger) while Bangkok and London are the absolute largest in terms of ASKs.
Qatar Airways 10 largest routes ranked on available seat capacity: 24-Apr-2017 to 30-Apr-2017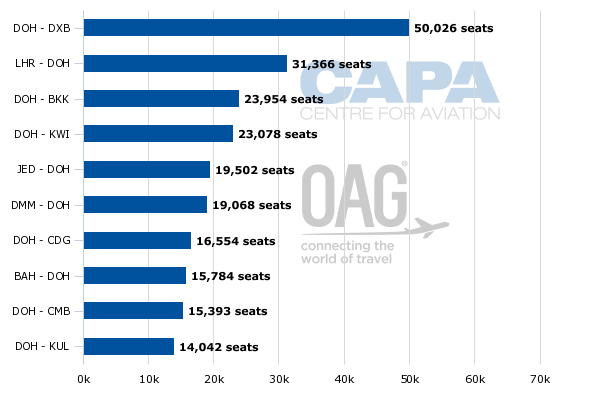 Still, these areas are not large and do not have strong commercial activity, impacting yields for what will be long flights to/from Doha. Utapao has the additional challenge of mostly being an inbound market, but few people even in Southeast Asia would know of Utapao/Pattaya and be aware there are flights. Qatar has been aggressively growing in Southeast Asia with a focus on smaller leisure points, like Krabi and Chiang Mai in Thailand. Those destinations, however, are well known.
Qatar Airways has largest superconnector network; could reach 176 airports
Qatar Airways already has the largest network of destinations among Gulf airlines. As of Apr-2017, Qatar has put schedules in place to serve 158 destinations. This compares to 89 from Etihad and 142 from Emirates. Emirates and flydubai collectively serve 202 airports, while Turkish Airlines in comparison serves 278.
Etihad's 89 destinations compare to 94 in 2016. Etihad will further trim its network, with a planned suspension of service to Venice.
Despite being overall smaller than Emirates, from 2011 to 2014 Qatar dovetailed with Emirates as the airline with the largest number of destinations. Qatar took a wide lead in 2015, and since then has been growing destinations faster than Emirates.
A wider destination footprint is theoretically important since Gulf airlines largely overlap on destinations and major O&D traffic flows. There are some factors that allow one airline to have stronger market reception, even if it has a similar overlap with a competitor: Emirates has strong reception in Australia (a major market) because of its partnership with Qantas, while globally Qatar Airways benefits from its membership in the oneworld alliance and British Airways links.
In practice, a wider destination footprint is not productive if the destination is loss making, even after taking into account total network contribution. Qatar's large growth in station openings adds direct cost, as well as ongoing costs, assuming the destinations need at least two years of service if they are to be profitable.
Qatar's 158 destinations in 2017 exclude six that in 2016 it said that it would launch but has not yet put schedules in for. If all six destinations from 2016, as well as all 12 announced in Apr-2017, are launched, Qatar's destination count would grow to 176 airports. Although it appears unlikely all of the destinations will be added, as time progresses other markets will be added instead.
Superconnector destination comparison: 2006-2017F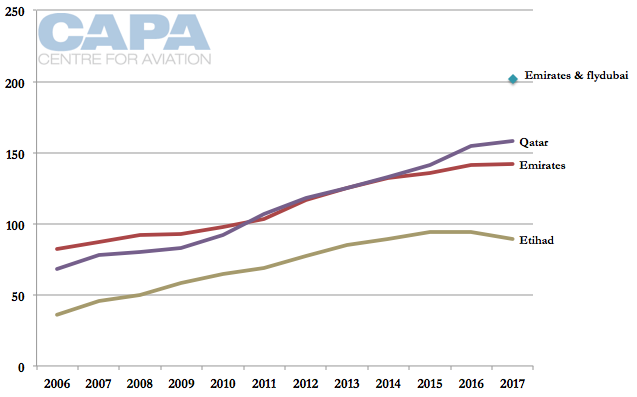 Emirates' need for smaller aircraft
Qatar's growth in secondary markets, often using smaller aircraft, highlights the increasingly urgent need for Emirates to have smaller aircraft. Its smallest aircraft is effectively the 777-300ER as its handful of 777-200LRs are often earmarked for specific missions, operationally and strategically.
Smaller aircraft can open thinner markets and off peak frequencies, but can also right size existing services that are at overcapacity because the 777-300ER is too large, for example allowing for added frequencies.
Emirates and Qatar overlap on 109 destinations. Qatar serves 49 destinations that Emirates does not. The comparison is not exact: the 49 unique destinations include a few instances of UAE markets (Abu Dhabi, Dubai World Central etc.) that Emirates has ground access to, or include an instance where Qatar serves a city's secondary airport while Emirates serves the primary market. In some markets that Qatar serves and Emirates does not this is because of traffic right restrictions; if Emirates could fly to the city it could do so with a large aircraft, whereas Qatar uses a smaller one.
Still, the figures give indications. Of Qatar's unique 49 destinations, two (Atlanta and Montreal) are served by large widebody aircraft; one a mixture of all aircraft (but this is Abu Dhabi, so should not count); one (Helsinki) a mixture of narrowbody and small widebody aircraft; 11 flown exclusively by small widebody aircraft, and then 34 points flown exclusively by narrowbody aircraft.
It is not a direct correlation that if Emirates had narrowbodies and smaller widebodies it would serve Qatar's points – but again, this is an indication.
Emirates is re-evaluating the A350 and 787 after it had cancelled an order for the A350. Emirates has also indicated it is examining a narrowbody operation, but rather than establish its own narrowbody operation, it might be better for Emirates and flydubai to have closer cooperation and even a merger.
In a non liberalised region – and certainly with India, Pakistan and Saudi Arabia persisting with traffic rights restrictions – Emirates running its own narrowbody operation alongside flydubai may present too much overlap without enough differentiation, strategically or financially.
Emirates-flydubai integration – or even merger – has considerable logic
Logic is not always an inevitable an outcome in airline operations, with its many peripheral regulatory, political and cultural impedances. But the common ownership and geographic complementarity of Emirates and flydubai do suggest a match.
Of the 34 points Qatar flies with narrowbody aircraft that Emirates does not serve at all, many are served by flydubai. flydubai, like Emirates, is ultimately owned by the Dubai government but managed separately.
The two interline, but flydubai's location across the runway from Emirates at Dubai makes for long minimum connection times and a transfer process that is not seamless. flydubai's gradual move from Dubai International (Emirates' hub) to Dubai World Central (no Emirates passenger flights) ends connectivity.
An Emirates-flydubai merger is not the farfetched topic it was a few years ago. There would, of course, be integration matters to address: co-locating flydubai with Emirates, and moving flydubai more upmarket from its existing hybrid model (albeit one that already has inseat IFE and recliner business class seats). These are not easy, but nor are they insurmountable.
flydubai effectively gives Emirates a ready made narrowbody operation. flydubai would enlarge Emirates' network; allow Emirates to grow frequency on seat constrained markets (like India) by replacing widebodies with more numerous narrowbodies; and right size regional capacity that is suffering from overcapacity because of the large use of widebodies.
Closer integration or a merger would result in Emirates reviewing flydubai's order book of 75 737 MAX 8s to determine whether that needs adjustment – either alone or in combination with a 787 order. An Airbus order is complex too, since Emirates still needs an A380 replacement.
The larger destination footprint of Qatar Airways is not a challenge to Emirates in itself, but does highlight Emirates' network wide need to become more agile and less stuck to a model where it serves destinations at least daily with a 777-300ER.
Although Emirates is not indicating a timeframe on fleeting, it is publicly messaging that is working on the matter – one that is very complex, with potential broad implications for competitors in the region and beyond.