Qantas, WOW, CityJet, Air Malta, LEVEL, Wizz's Varadi scoop 2018 CAPA Aviation Awards for Excellence
Analysis
Qantas Group, WOW air, CityJet, Air Malta and LEVEL scooped the airline awards at the 2018 CAPA World Aviation Outlook Summit, held in Berlin on 27-Nov-2018.
Wizz Air CEO Jozsef Varadi won the executive of the year award and Winding Tree the innovation of the year award. Orlando International and Avinor Oslo Airport won the two airport categories.
CAPA's Aviation Awards for Excellence are intended to reward airlines and airports that are not only successful but have also provided industry leadership in adjusting to a new environment. At a time of industry upheaval, our winners are adopting strategies that offer new directions for others to take up. The CAPA Aviation Awards for Excellence are not driven by customer surveys or sponsorship.
CAPA's Aviation Awards for Excellence are regarded as the pre-eminent awards for strategic excellence in aviation.
Qantas Group awarded CAPA Airline of the Year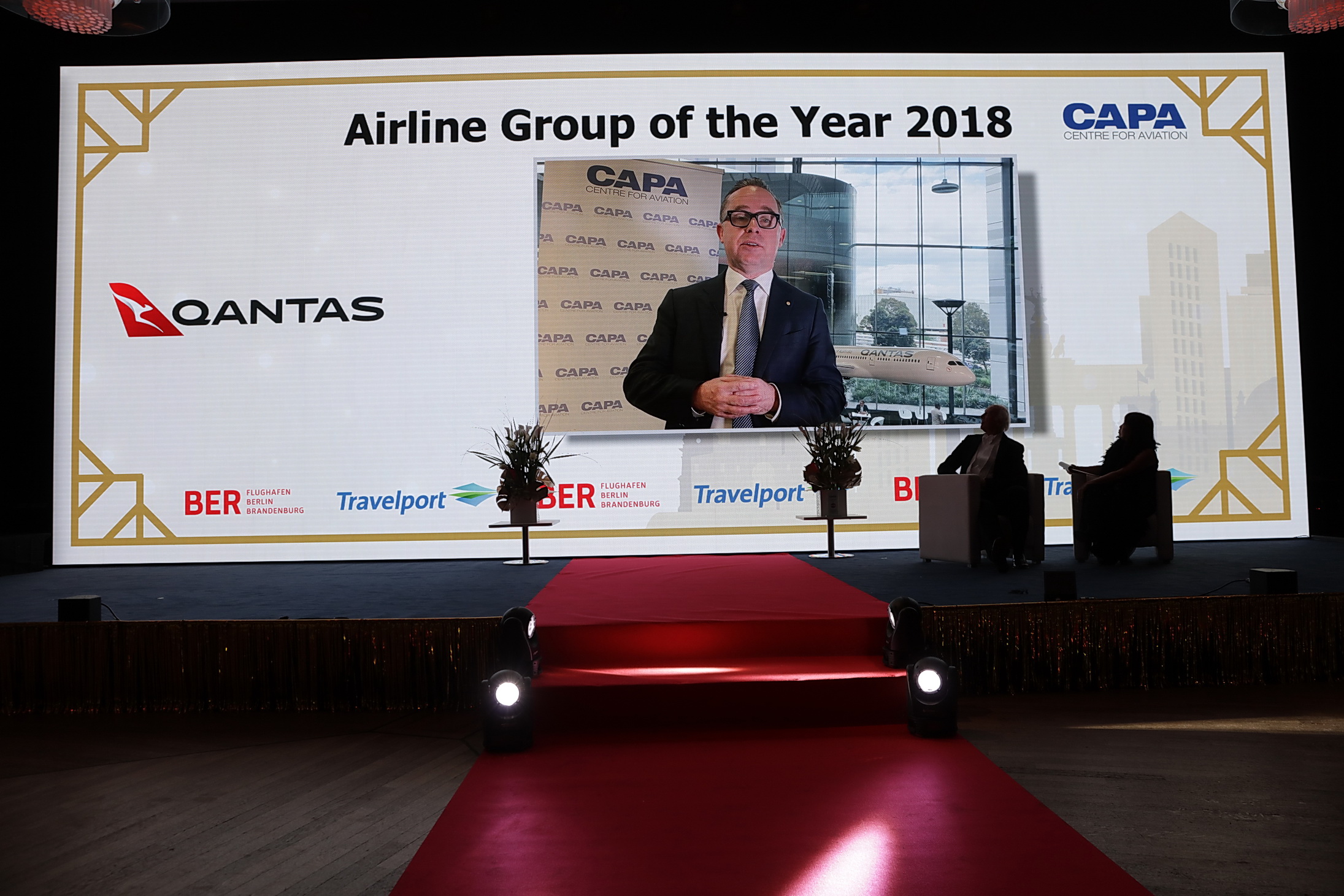 This award is to the airline that has been the biggest standout strategically during the year, has had the greatest impact on the development of the airline industry, has established itself as a leader, and provided a benchmark for others to follow.
Qantas was selected for yet another year of strategic accomplishments. Qantas Group CEO Alan Joyce won the CAPA Airline Executive of the Year award in 2015 and under Mr Joyce's leadership the Qantas Group has since continued to post some of the highest profit margins in the airline industry while continuing to innovate.
In Mar-2018 Qantas launched service from Perth to London, marking the first ever nonstop link between Australia and Europe. Qantas also has used its new 787 fleet to launch new flights from Melbourne to San Francisco and replace 747-400s on several existing long haul flights, driving efficiency improvements and frequency increases.
Meanwhile, Qantas has pushed Airbus and Boeing this year to develop a new ultra-long range widebody capable of operating nonstop flights from Sydney to London with a full payload of 300 passengers across four classes.
The group committed early this year to 18 A321neoLRs, which will be used by its LCC subsidiary Jetstar Airways to improve efficiency on Australia-Bali routes and launch potential new long haul narrowbody routes to Asia. Jetstar Group's overseas affiliates, which are all now profitable, are also well positioned to grow by up-gauging to A321neos and A321neoLRs.
The Qantas Group has turned operating profits of at least USD1 billion in its last three fiscal years while generating revenue of USD12 to 13 billion, with ROIC well in excess of its target of 15%. At the same time the airline has been a leader in the areas of customer satisfaction and loyalty programme development.
"Qantas has had yet another remarkable year, posting a record profit for FY2018 and for the first time connecting the antipodes non-stop by launching nonstop flights from Perth to London," CAPA Executive Chairman Peter Harbison said. "Linking Australia and the UK nonstop is a major milestone for aviation in Australia and globally. Qantas is now pushing the envelope even further with preparations for nonstop services from Sydney to London, what it correctly claims will be the 'holy grail' of flights."
Jozsef Varadi awarded CAPA Aviation Executive of the Year Award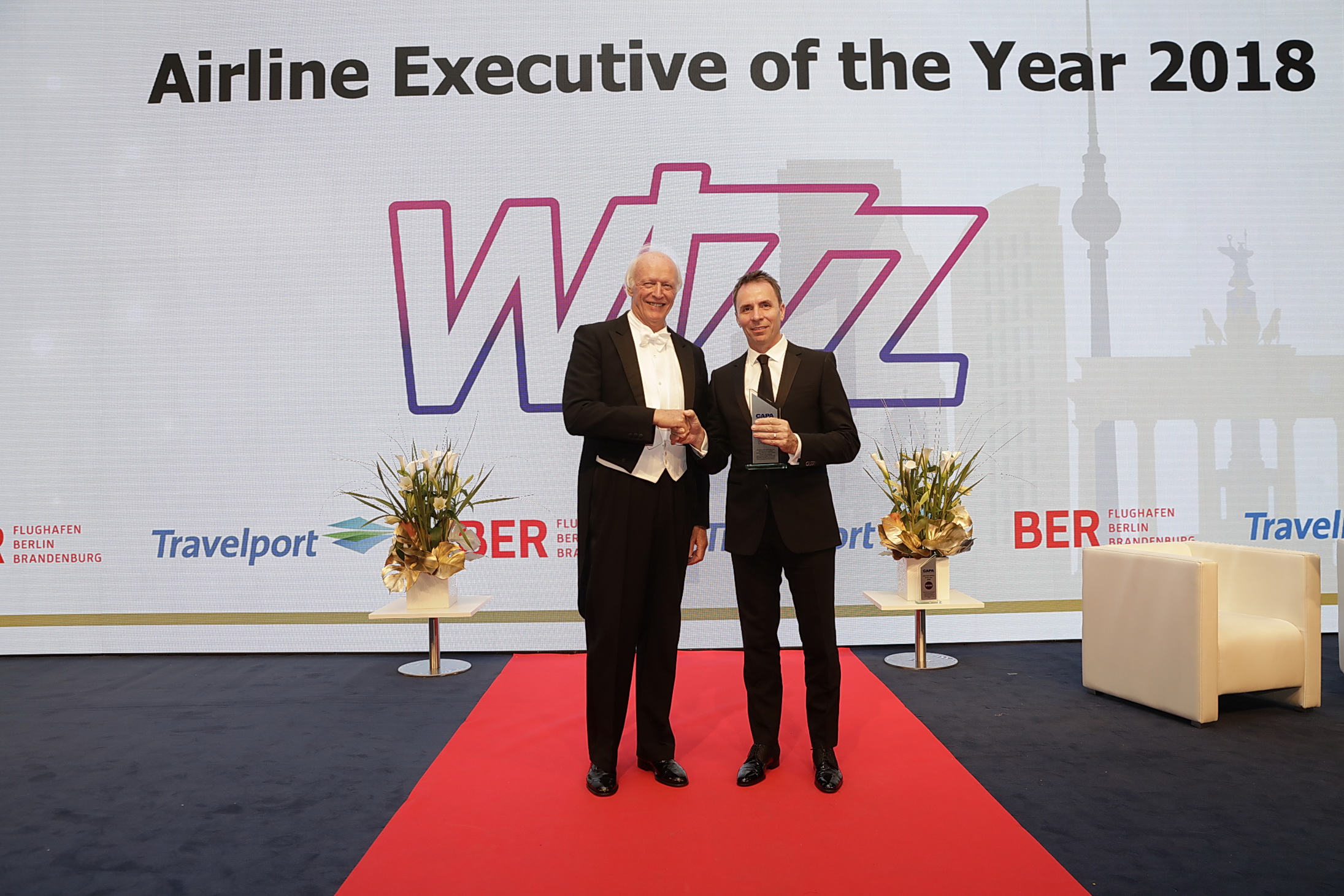 This award is for the airline executive who has had the greatest individual influence on the aviation industry, demonstrating outstanding strategic thinking and innovative direction for the growth of their business and the industry.
Jozsef Varadi was selected for growing Wizz Air into the largest airline in Central/Eastern Europe. Mr Varadi co-founded Wizz in 2003 and the airline now carries over 34 million passengers per year with a fleet of 105 aircraft.
Wizz won the CAPA Low Cost Airline of the Year in 2016. It has since grown, profitably, by nearly another 50%, recording passenger growth of 24% in 2017 and 20% through the first 11 months of 2018.
In the the decade to FY2018, Wizz Air's fleet increased from 18 to 93 aircraft and its passenger numbers grew at an average of 21% pa, while its load factor rose from the low 80s to more than 91%. The airline has managed this growth, while also developing a consistent track record as Europe's second most profitable airline company by operating margin over the past four years.
Wizz's very low unit cost defines it as an ultra-LCC, which allows it to drive demand with very low fares, and its commercial focus means that ancillary revenue is 42% of the total, the highest such share among European airlines. Wizz Air has more aircraft on order, 264, than any other airline in Europe as it seeks to transform its fleet from A320ceo domination to one that is dominated by A321neos in search of even lower unit costs.
"Jozsef Varadi has shown remarkable courage and vision in building a profitable low cost airline in a market historically associated with state owned, bureaucratically run, loss-making flag carriers," Mr Harbison said.
WOW air awarded CAPA Low Cost Airline of the Year
The Low Cost Airline of the Year Award is for the low cost or hybrid airline that has been the biggest standout strategically, has established itself as a leader, has been most innovative, and provided a benchmark for others to follow.
WOW air was selected for pioneering the long haul low cost connecting model, using its Reykjavik hub to offer one-stop services between Europe and North America.
WOW commenced operations in 2012 and has grown its seat capacity at an average of 28% pa over the past five years. WOW now operates a fleet of 17 narrowbody and three widebody aircraft from its Reykjavik hub to 10 destinations in Europe and 10 in North America. Delhi, its first destination in Asia, is launching on 6-Dec-2018.
WOW only entered the trans-Atlantic market in Mar-2015, but is now the second largest LCC in this market with a 1.7% seat share.
On 5-Nov-2018, Icelandair announced that it had agreed to take over privately owned WOW air in an all share purchase to create a bigger Icelandic competitive force on the North Atlantic, subject to shareholder and regulatory approval. "It is a mark of WOW air's success that its biggest and closest competitor's only response is to buy it," Mr Harbison said.
CityJet awarded CAPA Regional Airline of the Year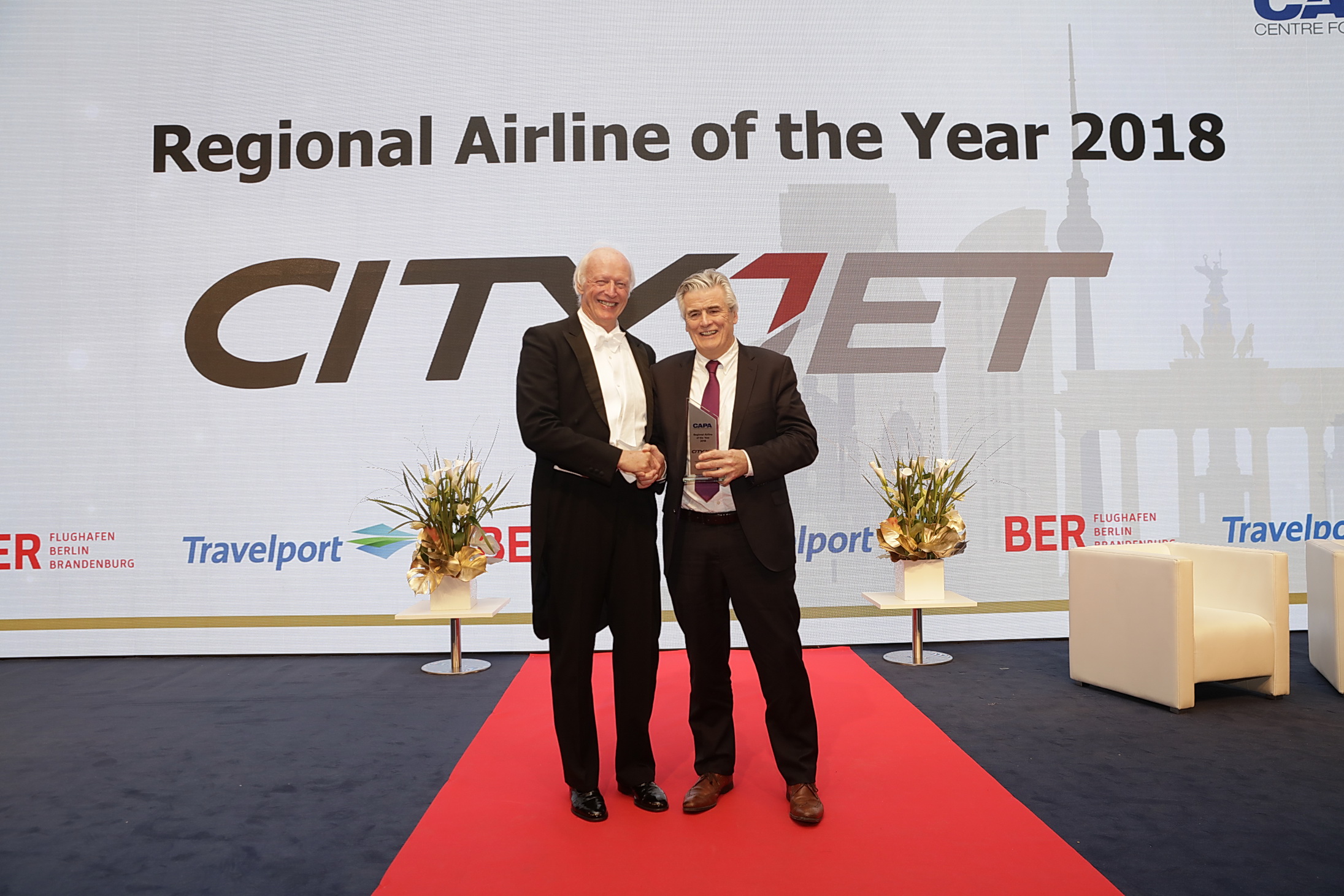 This award is presented to the regional airline that has been the biggest standout strategically, has established itself as a leader, and demonstrated innovation in the regional aviation sector.
CityJet was selected for its successful strategic transformation that has resulted in its emergence as Europe's leading third party provider of regional airline capacity under ACMI arrangements.
CityJet was a loss-making franchise operator and also had a spell as a scheduled regional operator under its own brand before adopting the ACMI model 2017. Its airline customers now include Brussels Airlines, SAS, Air France and Aer Lingus.
CityJet also has emerged as a leading consolidator in the European regional airline market, having acquired Blue1 in 2015 and Cimber Air in 2017, both from SAS. In Jul-2018, CityJet pursued further consolidation by announcing a proposed merger with Air Nostrum that would create Europe's largest regional airline.
"CityJet has very astutely pioneered a new vision of regional airline operations in Europe, focusing on third party wet leasing to offset revenue risk and driving consolidation in pursuit of greater efficiency," Mr Harbison said.
Air Malta awarded the CAPA Turnaround Airline of the Year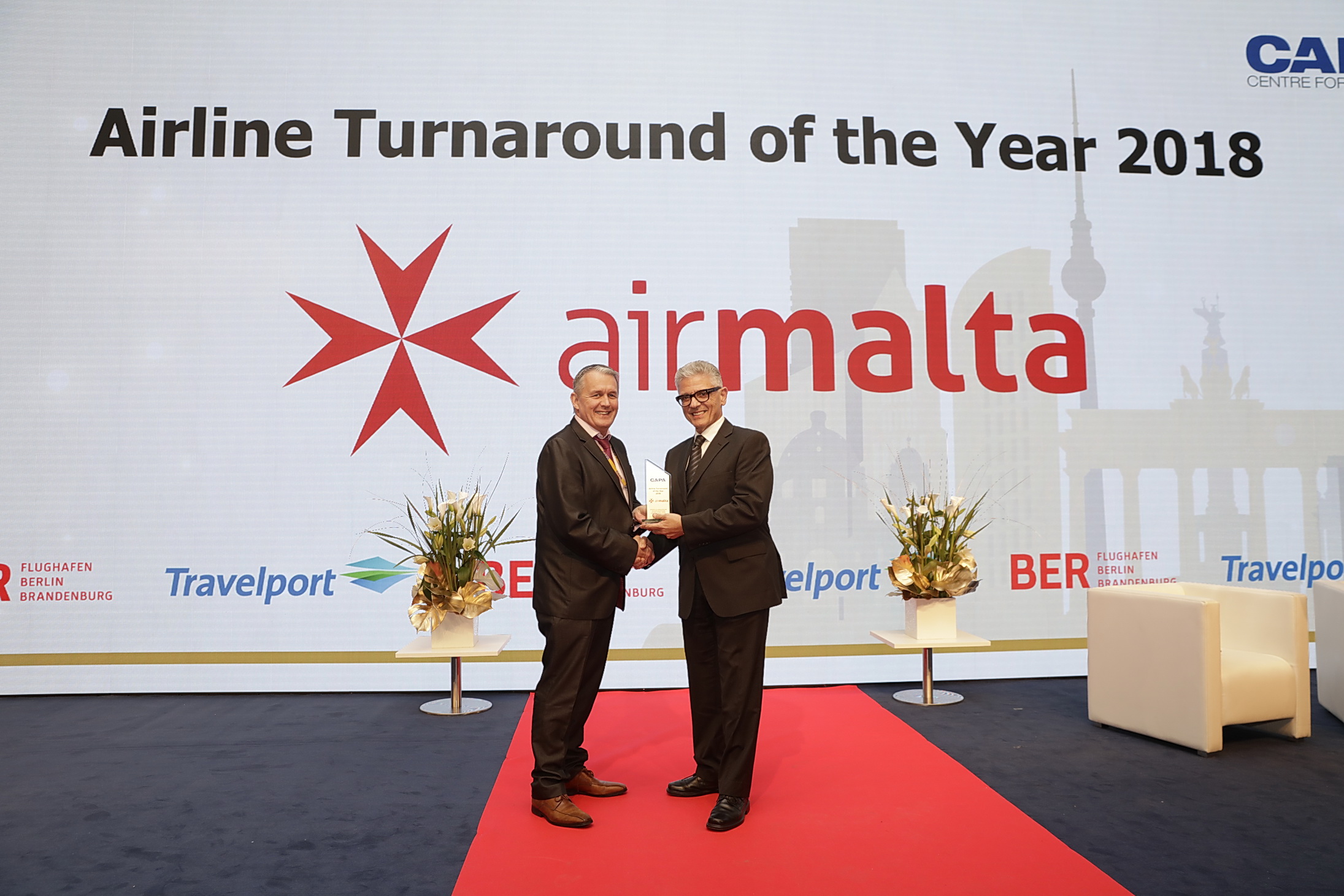 The CAPA Turnaround Airline of the Year is awarded to an existing airline that has turned around through innovative strategic changes and/or a restructuring exercise.
Air Malta was selected for its successful transformation, resulting in transformation from a heavy loss-making to a break-even result for the fiscal year ending Mar-2018.
Air Malta had been unprofitable for nearly 20 years as it struggled to overcome multiple challenges, including increasing competition from LCCs, outdated work practices and tensions in the North Africa market, which impacted its traditionally strongest routes. The flag carrier accumulated operating losses of more than USD300 million over the 10 years ending Mar-2017.
The airline has rebuilt its operations with a financially viable business model and hybrid product that now allows it to compete with LCCs. The transformation included a cost control mindset, increased aircraft utilisation, improved staff productivity and the move to a hybrid business model to serve today's increasingly price-driven industry.
After a period of consolidation, in 2018 the Airline increased significantly its routes, fleet and passengers to continue supporting the Maltese economy. Air Malta is planning further expansion in 2019, while renewing its current fleet with modern A320 neo aircraft and leveraging its new cost efficient hybrid model, while it supports the continued emergence of Malta as one of Europe's fastest growing holiday destinations.
"Air Malta is a classic example of the need to remain relevant in the airline sector," Mr Harbison said. "For a long time it had seemingly ignored the competition and accepted its own slow decline. But, with some brave decisions it has been reborn and is now profitably flying the flag for Malta. The higher fuel price and volatile currency rates are dark clouds, but Air Malta is now better positioned to weather these market forces."
LEVEL awarded CAPA Start-up of the Year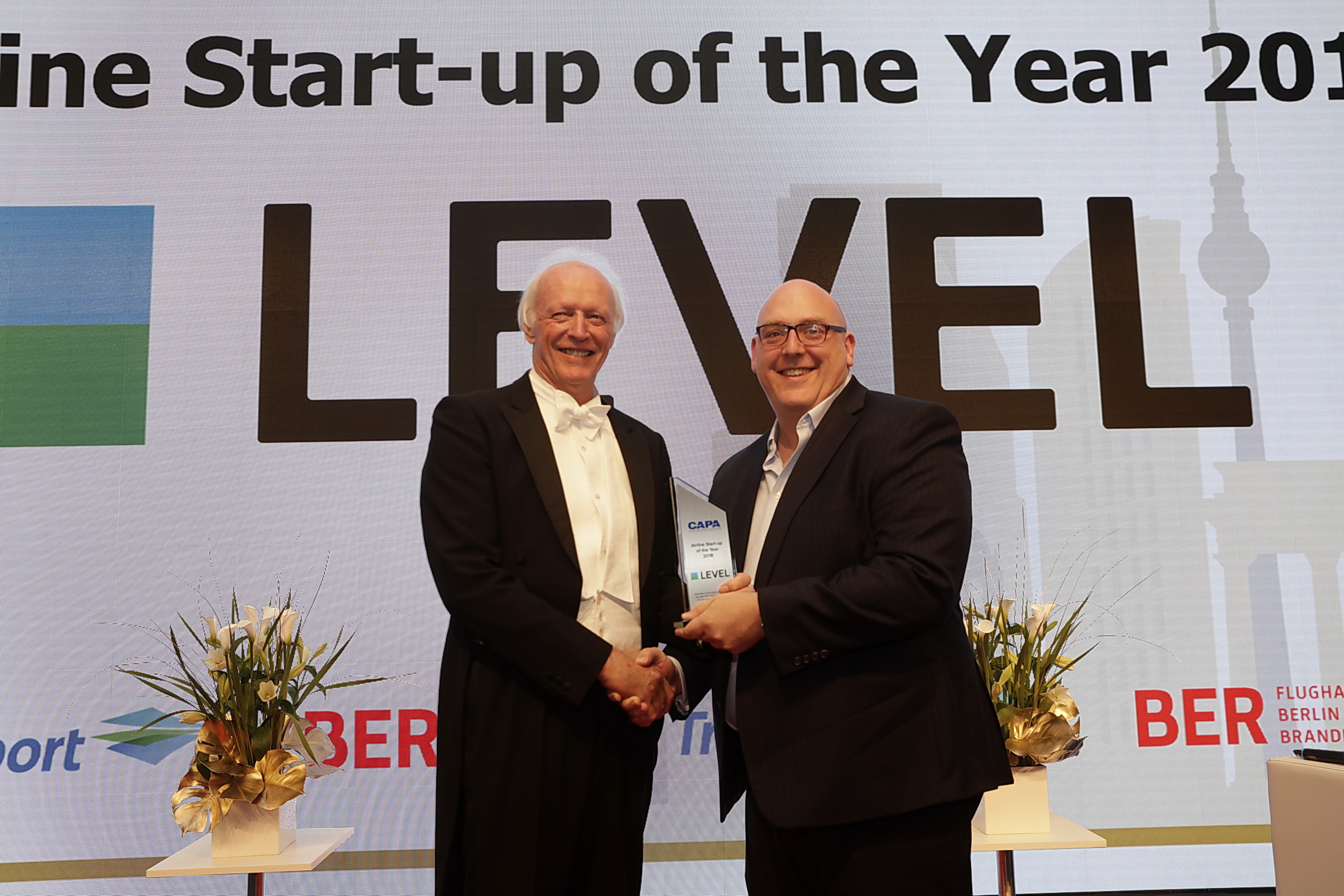 The Start-up of the Year award is for the past year's airline start-up that has been the most innovative and had the greatest impact on the industry since launch.
International Airlines Group (IAG) low cost unit LEVEL was selected for its innovative strategy and rapid growth since launching in Jun-2017.
Born as a brand, but developing what is a new type of airline management model, LEVEL is IAG's strategic response to the changing dynamics of the sector. Initially flying long haul from Barcelona and more recently Paris, it has this year deviated from that structure to introduce short haul operations out of Vienna.
All three initial operations are very different: there is the external production model where Iberia operates under the Iberia operator certificate out of Barcelona El Prat Airport; the subsidiary model with OpenSkies operating in France as LEVEL France; and the franchise model operated by Anisec Luftfahrt and branded as LEVEL Austria.

"LEVEL is an example of a fluid and highly adaptable approach to airline management and a strategy that is key for a disruptor brand in an enormously competitive market," Mr Harbison said. "It neatly complements the operations of other airlines under the IAG umbrella, which can feed its own development."
Winding Tree awarded the CAPA Innovation of the Year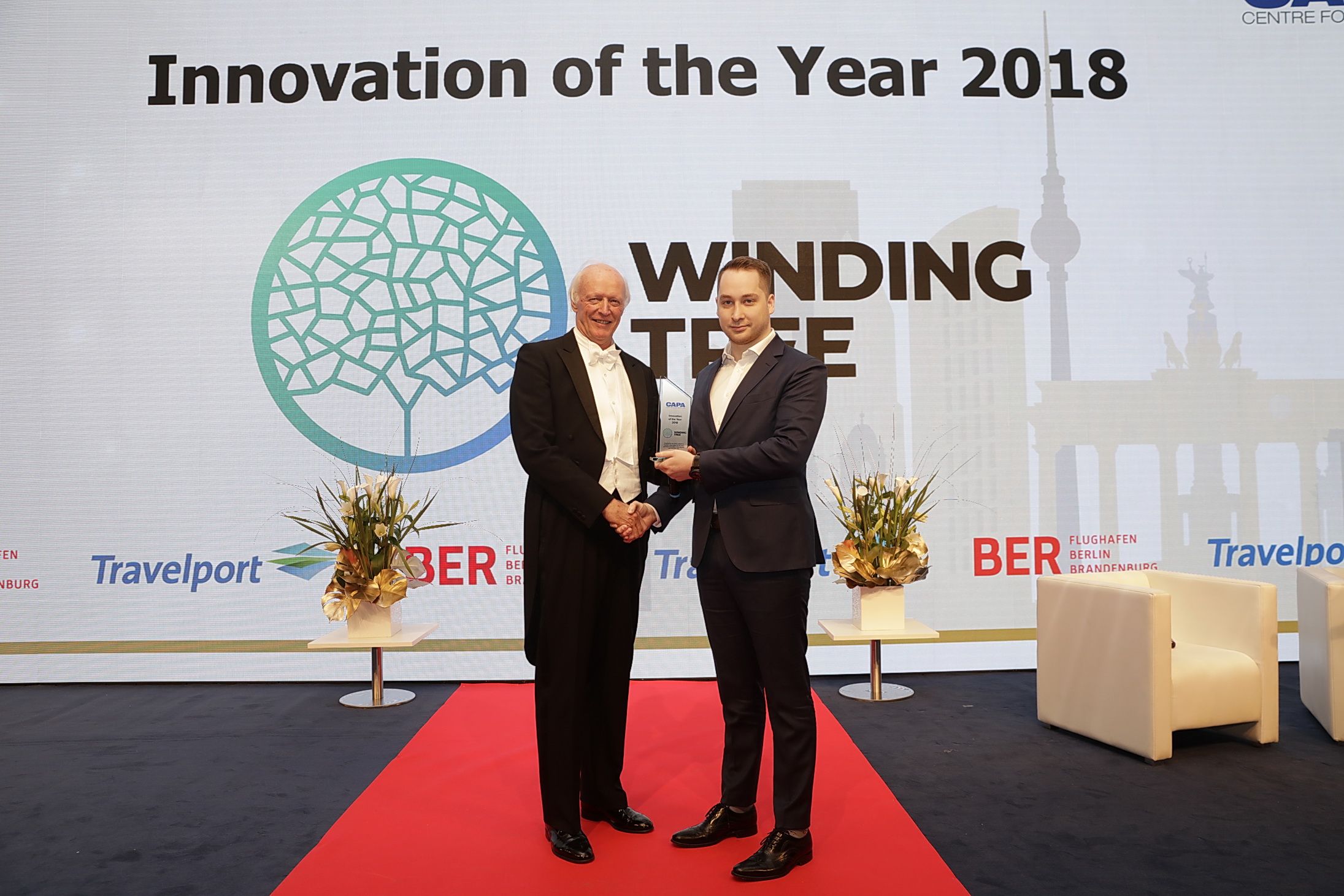 This award is given to the airline, airport or supplier responsible for the most powerful innovation in the industry over the past 12 months.
Winding Tree was selected for developing innovative blockchain technology for the travel ecosystem.
Winding Tree is a non-profit foundation that drives the development of open-source protocols to allow any company, big or small, or even an individual developer, to try them out and integrate with its blockchain-based decentralised open-source travel distribution platform.
Blockchain is one of the buzzwords of today and could help replace older legacy technology across the travel and air transport sectors. Winding Tree has already secured agreements with the likes of Air France-KLM, Air New Zealand, Lufthansa and Swissport as it works to develop blockchain technology for the industry.
"Blockchain is being used globally to build encrypted, shared platforms, providing a secure and efficient way to track the exchange of goods or information," Mr Harbison said. "Winding Tree plans to open the door for innovation in the travel industry."
Orlando International Airport awarded CAPA Large Airport of the Year (over 30 million annual passengers)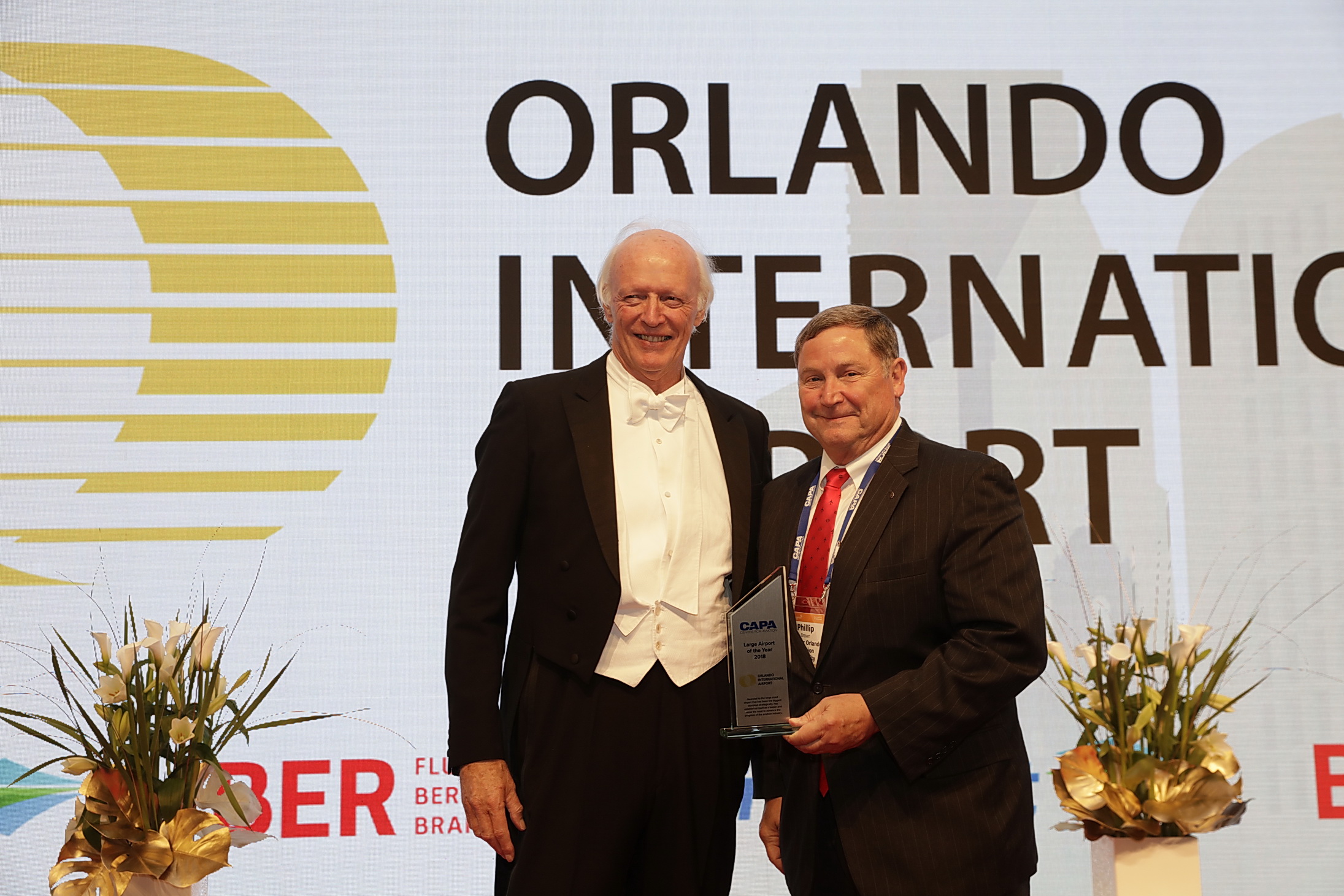 This is awarded to the airport with over 30 million annual passengers that has been the biggest standout strategically, has established itself as a strategic leader, and done the most to advance the progress of the aviation industry.
Orlando International Airport was selected for its creative adoption of new technology and rapid growth.
Orlando overtook Miami in 2017 to become Florida's busiest airport. Passenger numbers reached nearly 45 million in 2017 compared to less than 35 million in 2010 and Orlando should reach the 50 million milestone in 2019. Growth has accelerated the last four years with passenger numbers increasing by at least 6% every year since 2015.
Orlando has deepened its network breadth, securing a wide range of new services in recent years, including Emirates' flights to Dubai and a recent build up by US ULCC Spirit Airlines. In addition to Dubai in the Middle East, Orlando's international network now encompasses 20 destinations in Europe and 26 in Latin America, a remarkable feat for a non-hub airport. International traffic is on pace to reach 6.5 million passengers in 2018 compared to less than 3 million in 2009.
The airport is now planning a major capital improvement programme that will culminate in the planned opening of a new South Terminal in 2021. JetBlue, which is planning to pursue further rapid domestic and international expansion at Orlando, will be the anchor tenant. JetBlue is already the largest international airline at Orlando; another LCC, Southwest, is the largest domestic airline.
Orlando International is also at the forefront of technology adoption. The airport is positioning itself as the first US airport to fully deploy the Custom and Border Protection's biometric entry and exit programme for the arrival and departure of international travellers.
"Orlando International has experienced a remarkable period of rapid growth that has positioned it as one of the ten largest airports in the US. Mr Harbison said. "The airport is well positioned to enjoy more rapid domestic and international growth and is also leading the way in customer processing efficiency with its adoption of biometrics technology."
Avinor Oslo Airport awarded Medium Airport of the Year (over 10 million annual passengers)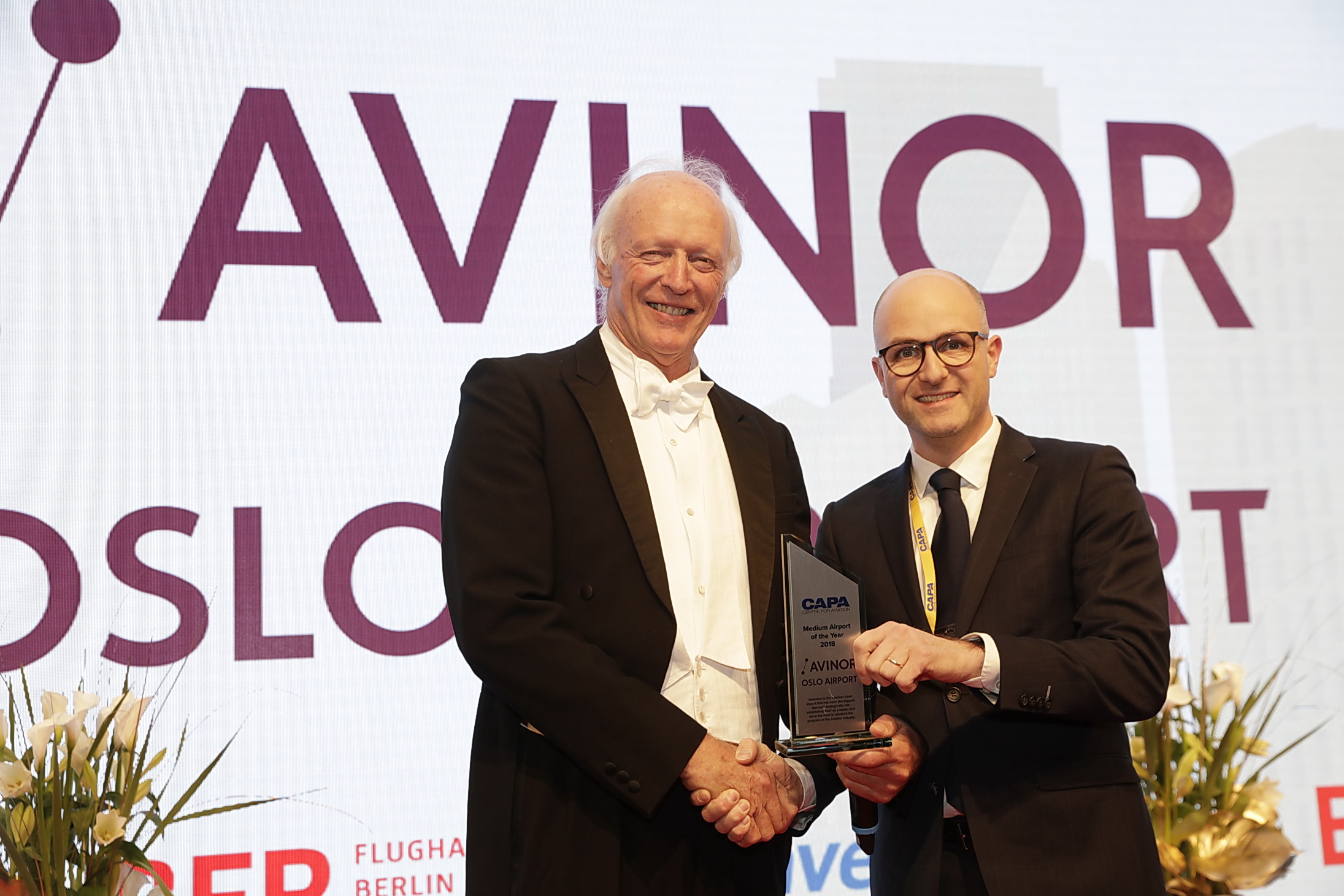 This is awarded to the airport with over 10 million annual passengers that has been the biggest standout strategically, has established itself as a strategic leader, and done the most to advance the progress of the aviation industry.
Avinor Oslo Airport was selected for its innovation in the area of environmentalism and the opening of a second terminal.
Oslo traffic has increased by more than 50% since 2010, when it handled only 19 million passengers. It is on pace to handle around 29 million passengers in 2018, making it the second biggest airport in the Nordic region despite Norway having the smallest population apart from Iceland.
Norway's airport authority, Avinor, has gained a reputation for seamless integration of new infrastructure, as witnessed by the successful integration of the EUR900 million Terminal 2 in 2017 and for its propensity for advance planning. Construction of a EUR350 million extension for the non-Schengen east terminal began in Oct-2018 and will increase the airport's non-Schenghen capacity by almost 50% to 8 million when it is completed in 2022. Oslo has experienced rapid growth in non-Europe traffic in recent years and the airport now has 14 links outside Europe.
It is perhaps in the area of environmentalism that Norway and its leading airport are best known. The country has already set a date for the implementation of electrically-powered only aircraft on short haul routes (it already has the highest number of electric cars per capita in the world). For its part Avinor Oslo Airport is collaborating in an ambitious project to build a 'sustainable' and 'energy positive' (meaning solar powered) airport city to be built around an existing business park, using electric vehicles only. A geothermal power project has also been launched at the airport site.
"Avinor Oslo has been a standout in Europe's competitive airport sector for several years," Mr Harbison said. "The opening of the second terminal and the breaking ground on a further terminal extension as well as its innovative environmental work further positions Oslo's main airport as a strategic leader in Europe and globally."
Note: From 2003, when CAPA's Aviation Awards for Excellence were established, through until 2011 they were limited to Asia Pacific including the Middle East. In 2012 the Awards became global and began including recipients from all regions.
Since 2014 CAPA has held two annual award events, one covering the global industry and one for Asia Pacific including the Middle East. The 2018 Asia Pacific winners were announced at the CAPA Asia Aviation Summit in Singapore on 8-Nov-2018.
See related report: JAL, Thai Lion, Saudia, flyadeal scoop 2018 CAPA Asia Pacific Aviation Awards for Excellence