Qantas slashing capacity in response to fuel costs, disasters. Fares under pressure in key markets
Analysis
Qantas has announced a range of measures, including a significant recalibration of its capacity growth plans for 2011, as a response to high jet fuel prices a series of natural disasters in Japan, New Zealand and Australia. In a statement reminiscent of the dark days of the global financial crisis, Qantas announced reductions in domestic and international capacity, retirement of aircraft, reduction of management positions and ongoing fuel surcharges.
Qantas CEO, Alan Joyce, said, "There has never been a time when the world faced so many natural disasters, all of which have come at a significant financial cost to the Qantas Group", adding, "we need to act decisively to respond to rising fuel costs and natural disasters, just like we did during the Global Financial Crisis, to ensure the ongoing sustainability of our business."
Qantas is implementing a number of measures, including:
Reduction of Qantas Group domestic capacity growth in 2HFY2011 from 14% to 8% and the reduction of Qantas Group international capacity growth in 2HFY2011 from 10% to 7%;
Suspension of up to four return weekly Jetstar services from Australia to Japan (from 01-Apr-2011 to end of Aug-2011); the suspension of Qantas services between Perth and Narita (from 08-May-2011); and downsizing of Qantas aircraft between Sydney and Narita from a B747 to an A330;
Reduction of three daily Jetstar domestic New Zealand services to Christchurch and one Melbourne to
Christchurch daily service (all from Apr-2011);
Fleet changes with the early retirement of two B767 aircraft; and
Review of manpower costs which will include initiatives to reduce management headcount and annual and long service leave balances.
Mr Joyce said, "We want to limit redundancies wherever possible and will be using a range of initiatives to manage the reduction in capacity including annual and long service leave. At this stage only management positions will be made redundant."
Increasing competition at home
Qantas' domestic network is exposed to increasing levels of competition, as reflected by the outlook for fares in several core markets.
Qantas' Top 5 domestic routes*
City Pair
seats
% of
network

Sydney-Melbourne

92,179

12.1%

54,030

7.1%

Melbourne-Brisbane

30,025

3.9%

25,656

3.4%

24,172

3.2%
Economy fares on Qantas' biggest route, Sydney-Melbourne Tullamarine have been trending downward for months. Click here for more fares data from Sydney Airport.
Return economy fares from Sydney to Melbourne Tullamarine: Oct-2010 to May-2011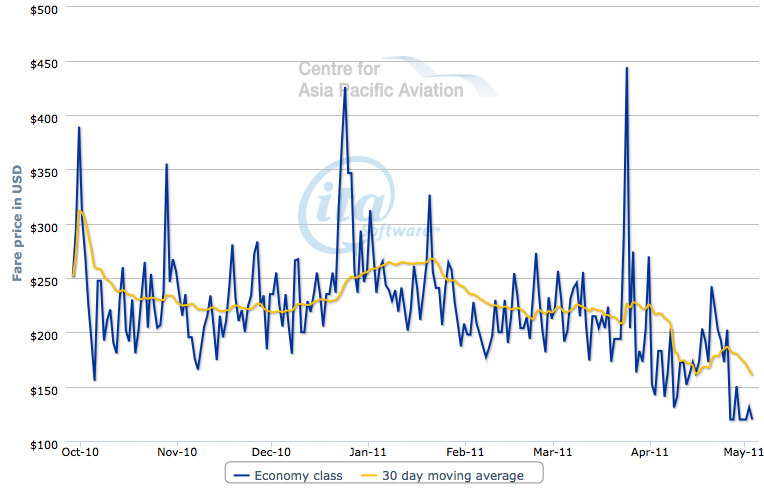 The near-term outlook for Business fares on the Sydney-Melbourne route is also weaker, albeit after a steady rise in recent months.
Return business fares from Sydney to Melbourne Tullamarine: Oct-2010 to May-2011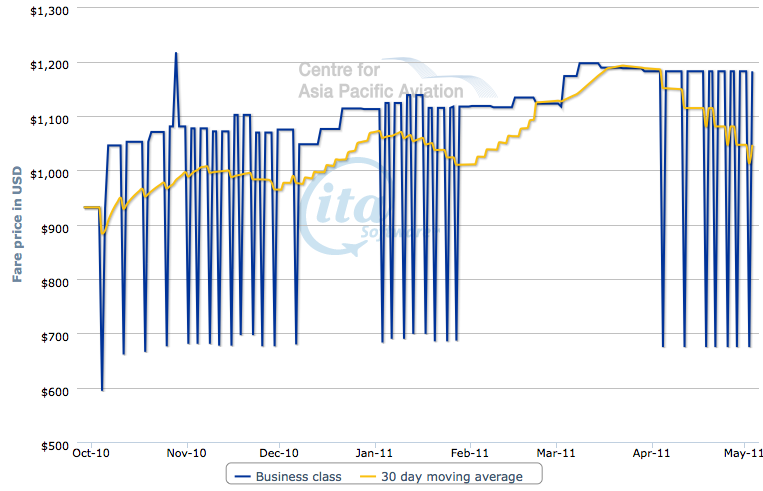 International troubles
Economy fares on the crucial Sydney-Auckland sector (which accounts for 1.7% of Qantas' total network in terms of seats per week) have also trended lower lately, although there is a pick-up around Easter.
Qantas' Top 5 international routes*
City Pair
Seats
% of
network

12,888

1.7%

Singapore-London

12,410

1.6%

12,068

1.6%

Sydney-Los Angeles

12,068

1.6%

9,380

1.2%
Return economy fares from Sydney to Auckland: Oct-2010 to May-2011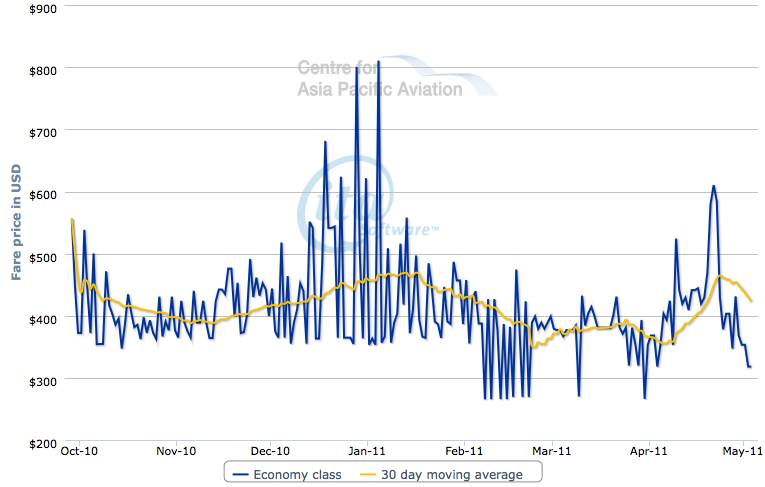 Counting the cost
Qantas detailed the expected effects on Group earnings for the second half of FY2011 of a growing list of events:
A380 Rolls-Royce engine incident and fleet grounding: AUD25 million in second half of FY11 in addition to AUD55 million in the first half of FY11;
Queensland floods: AUD60 million;
Cyclones (Yasi and Carlos): AUD20 million;
Christchurch earthquake: AUD15 million;
Japan earthquake and tsunami: AUD45 million.
Mr Joyce said it was too early to estimate the likely impact of these significant events on the Qantas Group's result for FY2012. The bumpy ride for shareholders continues.
Qantas share price: past 6 months