Qantas shares surge as BA merger talks end
Qantas shares soared 7% in early morning trade today after the airline informed the market after the close of trading yesterday that its merger talks with British Airways had ended without agreement. British Airways, whose shares slumped 4.3% in early trade, recovered to close up 0.3% yesterday.
Qantas' shares surged 7.5% yesterday, while shares in Malaysia Airlines, which recently disclosed it is in discussions with Qantas for a commercial agreement, soared 9.4% yesterday.
Asia Pacific selected airlines daily share price movements (% change): 18-Dec-08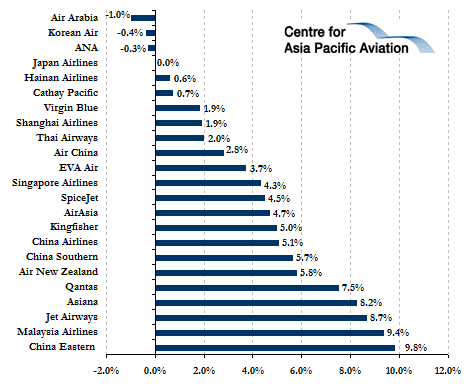 A Qantas tie-up with Malaysia could be quite a valuable arrangement. MAS is probably the only carrier in Asia Qantas could deal with, given competition concerns. A Malaysian deal could also fit well with Jetstar's long-haul aspirations. Qantas remains open to airline mergers, but is reportedly not in any active talks.
European selected airlines daily share price movements (% change): 18-Dec-08