Qantas presses ahead with post-Emirates European & Asian restructure as competitors show no leniency
Analysis
Qantas has commenced selling of its restructured European and Asian network, adjusted following its landmark partnership deal with Emirates. But with Qantas and Emirates withdrawing their application to Australian authorities for interim approval to commence planning, Qantas has made this extensive restructure on its own and without Emirates coordination. Officially Qantas will keep this schedule irrespective of the outcome of its partnership application with Emirates, but the changes are deeply tied to assuming the partnership will be authorised, without which Qantas will need to make further adjustments.
The withdrawal of request for interim authorisation follows officially lodged criticism from competitors that interim authorisation was too ambitious a request, with Qantas' claims for authorisation either unnecessary or anti-competitive. One of the largest partnerships in history will have to prove its weight.
London services see minor time changes as transfer shifted from to Dubai
Qantas on 04-Oct-2012 began issuing schedules for the re-routing of its Australia-London Heathrow services from transferring in Singapore to Dubai, in anticipation of receiving approval of its Sep-2012 agreement to form an extensive partnership with Emirates. The changes will be implemented on 31-Mar-2013, the date Emirates and Qantas plan for their partnership to take effect if approved.
See related articles:
The schedules for the Dubai transfer services see minor changes in flight times, with Qantas largely anchoring its services around London Heathrow slots, difficult to manoeuvre around. Qantas in late Mar-2012 dropped two of its four London Heathrow services (one via Bangkok and the other via Hong Kong), with the remaining two routing via Singapore.
Qantas' Sydney-London service will be reduced by 0h30m in the westward direction by transferring in Dubai instead of Singapore, giving a total flight time of 23h30m, while Melbourne-London will see a reduction of 15mins for a total flight time of 23h15m (Mar-2013 schedules compared to Apr-2013). The eastward flights see greater time savings to Melbourne (1h10m) than Sydney (40m) according to preliminary schedules disclosed by Qantas that await final loading in the GDS.
Changes to Qantas' London Heathrow services: Mar-2013 to Apr-2013
Qantas on 4-Oct-2012 said passengers could stopover in Dubai but itineraries originating or terminating in Dubai are not possible until regulatory approval is secured (Qantas on 04-Oct-2012 applied for permission, expected to be granted no earlier than 12-Oct-2012). Ahead of Australia's competition regulator, the Australian Competition & Consumer Commission, judging the Emirates-Qantas application, Qantas says it will add Emirates, and its services around the Middle East, as an interline carrier. Qantas passengers cannot earn Qantas frequent flyer points on Emirates interline tickets until, or if, ACCC approval of the Emirates-Qantas partnership is authorised, Qantas said.
Assuming Emirates and Qantas receive authorisation for their partnership, they will jointly offer seven daily A380 services between Dubai and London Heathrow, two from Qantas and five from Emirates. The carriers intend to codeshare on services, subject to regulatory approval, which will give Emirates code on Qantas' precious early morning services into London Heathrow, arriving at 05:40 and 06:35 whereas Emirates' earliest service arrives at 07:00. Some re-jigging on Emirates network may be in order to facilitate better connections with the new early morning services it can code on. If and when schedule coordination is granted, the two may also look to space out their services: based on schedules for Apr-2013, they will have inbound flights to London within 25 minutes of each other, and inbound flights to Dubai within 15 minutes of each other.
Emirates will be at an advantage to its two Middle East network competitors, Etihad and Qatar, with not only larger capacity to Heathrow but earlier access; Etihad and Qatar do not arrive into Heathrow until around 07:00. Further afield, Emirates and Qantas could consider the future of Qantas' two Heathrow slots it leased to British Airways after dropping its Hong Kong-London and Bangkok-London services in Mar-2012 (one pair has an arriving Heathrow time of around 06:30 and the other around 13:30, according to historical data from OAG).
Combined Emirates and Qantas services between Dubai and London Heathrow: 08-Apr-2013 to 14-Apr-2013 as of 05-Oct-2012
Qantas to undergo significant structural change in Singapore
The transfer of A380 Melbourne-Singapore-London services to a Dubai stopover would leave a gap in Qantas' Singapore network, a market important to maintain for local traffic as well as connecting opportunities. But Qantas from 31-Mar-2013 will introduce dedicated capacity that terminates in Singapore (as opposed to continuing to London). Qantas will deploy a daily 747-400 between Melbourne and Singapore, maintaining the sole mainline service between the two cities.
Sydney currently sees double daily direct Singapore service: an A380 that continues to London Heathrow and a 747-400 that continues to Frankfurt. The A380 daily frequency between Sydney and Singapore will be replaced with 4x weekly A330 service, complementing existing 3x weekly Sydney-Adelaide-Singapore service. The Sydney-Singapore flights will also be retimed to support more Asia connections. Currently both the London-bound and Frankfurt-bound Sydney-originating flights land in Singapore within 30mins of each other in the late evening, making same day connections within Southeast Asia impossible.
The 747-400 Frankfurt service will operate until 26-Oct-2013, after which point Qantas will have to again re-adjust its Sydney-Singapore services. It could maintain the 747-400 service but terminate it in Singapore instead of continuing to Frankfurt or consider other options such as also downgauging the flight to an A330.
Qantas will maintain Singapore frequency from Adelaide, Brisbane and Perth. In addition to the thrice weekly Adelaide-Singapore A330 service Qantas currently serves Brisbane-Singapore with one daily 747-400 flight and Perth with two daily A330 flights. The Adelaide and Brisbane flights now arrive too late for connections within Southeast Asia (although Qantas has not yet announced adjustments to these flights, they could be re-timed later to support more connections). One of the two Perth flights now arrives early enough for connections to most Southeast Asian destinations while the second Perth flight arrives in the same late evening bank with both current Sydney flights and the Adelaide, Melbourne and Brisbane flights, facilitating connections with flights to Europe.
The net effect will be an approximately 7% decrease in Qantas seats between Australia and Singapore. But because about half of existing Australia-Singapore traffic transfers to Europe, Qantas claims it is increasing by about 40% the number of seats terminating in Asia. This will give Qantas an opportunity to compete more effectively against Asian carriers, including Singapore Airlines, in the fast-growing Australia-Asia market. Qantas is now limited in its ability to compete in this important market because unlike its Asian competitors its Australia-Singapore flights are not timed to facilitate same day Australia-Asia connections and because it has to allocate a significant portion of its Australia-Singapore seats to connections to Europe.
Of Qantas' approximately 2,250 daily one-way seats between Australia and Singapore, Air France estimates it takes 100 Qantas passengers onto its flights while data from Australia's Bureau of Infrastructure, Transport and Regional Economics indicates approximately 1,000 passengers continue on to Qantas' three European services (this excludes passengers taking flights from Darwin, Perth and Melbourne on low-cost subsidiary Jetstar). From 31-Mar-2013, Qantas intends to drop its Singapore-London Heathrow services (Frankfurt will remain until Oct-2013) and the Air France codeshare will end, significantly reducing intercontinental connecting opportunities in Singapore. (Qantas will continue to codeshare on Finnair's Singapore-Helsinki service but Australia-Finland is a very small market.)
If the Emirates-Qantas partnership is approved, Qantas will also start codesharing on Emirates' Melbourne-Singapore and Brisbane-Singapore services, increasing frequency as well as giving access to first class seats. Emirates currently has daily flights with 777-300ERs on Melbourne-Singapore and Brisbane-Singapore, both of which continue to Dubai. This will essentially give Emirates and Qantas two daily frequencies on both routes although a portion of the capacity on the Emirates flights does not get off in Singapore. The Emirates Brisbane-Singapore flight arrives in Singapore early in the morning, which is ideal for connections throughout Asia but the Emirates Melbourne-Singapore flight arrives in Singapore late at night.
Qantas must undertake a significant structural change in how it sells and markets its Singapore services. Intra-Asia connecting opportunities will be available on Singapore-based Jetstar Asia, however it remains to be seen how willing the market will be to maintain loyalty to Qantas for Asian services if it means passengers must transfer from full service Qantas to low-cost Jetstar at a time Qantas competitor Virgin Australia has a partnership with Singapore Airlines, enabling full service carrier (on either SIA mainline or its regional subsidiary SilkAir) flights from Australia to around Asia. Singapore Airlines also has far greater frequency between Australia and Singapore.
Emirates/Qantas/Jetstar and SIA/SilkAir weekly return frequency on Australia-Singapore services: Apr-2013
Qantas since 2011 has talked seriously about adjusting its Asian network to enable better same-day connections to Asia. As CAPA previously wrote of the Emirates-Qantas partnership:
Qantas' network into Asia's bluechip cities of Singapore and Hong Kong have been structured around schedules that facilitate connections to overnight flights continuing to Europe. The downside is a weak proposition for passengers travelling only between Australia and Asia. Qantas will address this following the discontinuation of European flights from Singapore. In many ways it picks up where Qantas left off when in Feb-2012 it ended near-term plans for a new full service carrier to be based in Asia, and likely Singapore. That carrier would have enabled better connections.

"Up until now our flying has been predicated on the best connecting times to Europe. So instead of convenient day time services, we have late night arrivals into Singapore. This means that business customers can't make same day connections into the many Asian cities which are developing fast," Mr Joyce said in Oct-2011.
See related article: Qantas and Emirates to codeshare in first alliance shakeup of the season; next: Qatar into oneworld
So far Melbourne and Sydney services to Singapore have been moved up to arrive earlier in Singapore. Its network to Singapore from elsewhere in Australia has seen no notable change as of 08-Oct-2012 but flights from Adelaide and Brisbane could be adjusted later (one of the two Perth frequencies already arrives earlier in the day so there is no need for an adjustment).
Changes to Qantas' Singapore services: Apr-2013
While the Sydney flight has been moved up by over six hours, allowing for connections to throughout Asia, the Melbourne flight has been only moved up by two hours. As a result there will still be relatively limited connections for Melbourne passengers.
But unlike in the Sydney market, Jetstar operates its own flight from Melbourne to Singapore that arrives in Singapore earlier. It seems Qantas is keen to focus on offering Jetstar-to-Jetstar connections in the Melbourne-Asia market while focusing more on Qantas-to-Jetstar connections in the Sydney-Asia market. It will be interesting to see if Qantas is able to compete in the Sydney-Asia market against Scoot-to-Tiger connections. SIA long-haul low-cost subsidiary Scoot and and SIA short-haul low-cost affiliate Tiger announced a partnership on 1-Oct-2012.
See related article: SIA's Scoot needs feed from Tiger and smaller aircraft to achieve profitable growth
Qantas will need more partners in Singapore, unless a very surprising market attitude occurs in the form of full service passengers being willing to take low-cost Jetstar Asia from Singapore to other Asian destinations. Qantas' options are limited, and its oneworld alliance will provide little help. oneworld members in Asia are limited to Cathay Pacific and Japan Airlines, as well as members elect Malaysia Airlines and SriLankan Airlines. Those carriers offer a limited number of destinations from Singapore, and in some instances (such as with Cathay) would be hesitant to work with Qantas given competitive overlap or because connecting through Singapore (such as for Japanese points) is too circuitous (JAL and Qantas fly direct from Australia to Japan).
Qantas now has a successful partnership with Jet Airways for passengers travelling between India and Australia, but this market will soon change. Air India intends to launch direct services to Australia, which will be the only non-stop service between India and Australia. Jet Airways' possible membership of Star Alliance presents another complication as alliance pressure may see it switch connecting partners to a Star-based carrier in Asia, but then again the viable options are Thai Airways and Singapore Airlines, which have significant stakes in the Australia-India market and may be unwilling to work with Jet Airways.
Qantas in 2011 was working on establishing a new Asian premium carrier, based most likely in Singapore, with an initial fleet of eight Airbus A320s and a network that included major cities in India. But early this year Qantas put the project, known as RedQ, on hold when regulatory approval in Singapore became too difficult to secure. Any resumption of this plan would not be in the short term. When Qantas inevitably re-visits the project, Hong Kong and Singapore are expected to be considered with Hong Kong now being the favoured base given the cold reception Qantas initially received from Singapore authorities.
See related articles:
Singapore would be smart to now recognise that it could ultimately lose Qantas Group transit traffic to Hong Kong, where Jetstar plans to launch a new short-haul affiliate next year. With the Qantas-Emirates tie-up, Singapore Changi has already lost out in that it will no longer be a kangaroo route hub for Qantas (SIA and British Airways, at least for now, continue to carry Australia-Europe passengers via Changi). But Changi will be able to further build its status as an Australia-Asia hub as Qantas dedicates a significantly higher number of its Australia-Singapore seats to the broader Australia-Asia market.
For Changi, the loss of the Qantas Australia-Europe hub is relatively small and the potential gain of a Qantas Group Australia-Asia hub is relatively large. But ultimately Singapore may need to re-think its stance on a possible new regional full service carrier from Qantas if it is to fully exploit its potential as a Australia-Asia hub. With a full service regional carrier based in Singapore, Qantas would able to maintain and grow its Singapore operation as it would have a connecting product for both budget and premium passengers.
Qantas' flights from Singapore to London and Frankfurt only account for roughly 1% of Changi's total capacity and 85% of passengers on these flights now fly through Singapore. With Qantas only selling 15% of its Singapore-Europe seats in the local Singapore-Europe market, the loss of these flights for Changi can be offset. But Changi will only realise this gain if Qantas is ultimately successful at using Singapore as a transit hub for Australia-Asia traffic and if Singapore gives Qantas the support it needs to keep the carrier from moving part of its operation to Hong Kong.
The Qantas Group is important to Singapore and Changi as its two brands now account for about 11% of total capacity in the Singapore market. This makes Qantas the second largest player after SIA, which as a group accounts for almost 50% of total capacity in Singapore (includes wholly owned subsidiaries SilkAir and Scoot and partially owned affiliate Tiger). Changi will want to make sure that Qantas maintains its position in the Singapore market.
Singapore capacity share (% of seats) by brand: Aug-2012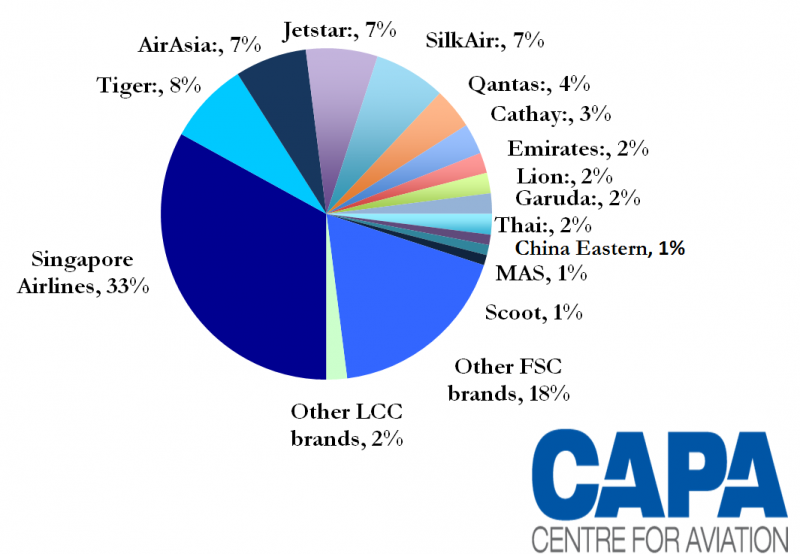 Jetstar has already been successful at building transit traffic in Singapore. As of the end of 2011 transit traffic accounted for 14% of Jetstar's total traffic at Changi compared to 5% in 2009. Jetstar to Jetstar connections have accounted for most of these gains (in such markets as Indonesia and Malaysia to China via Singapore). Jetstar Asia is confident its transit traffic in Singapore will grow further, boosted by new Qantas to Jetstar connections, as Qantas retimes its Australia flights to connect with more Jetstar Asia services. But it remains to be seen how many Qantas full-service passengers will be willing to book Qantas-Jetstar connections.
Qantas' dilemma in Singapore may be quiet, but it will be a market to watch for the next year.
Singapore services re-timed as first class dropped
The withdrawal of A380 services from Singapore, and replacement services only in three class business/premium economy/economy configuration will see Qantas end first class service to Singapore. (Qantas' only first class service within Asia will be on 4x weekly A380 Sydney-Hong Kong services.) Another change will be the notable increase in premium economy's share of Qantas' Australia-Singapore market.
The share of economy and business classes seats in the Singapore market will also increase (although the total number of seats in each class will decrease as total seat capacity is being reduced by about 7%). This is consistent with Qantas' strategy of reducing exposure to demand-lagging first class (which will largely be limited to Europe and North America) while increasing premium economy, which offers some of the highest margins in the industry. Qantas' premium economy product will be an important differentiator as Singapore Airlines does not offer it, although low-cost long-haul subsidiary Scoot does offer a premium economy type product. ScootBiz is positioned in some respects as a substitute to premium economy although it is inferior to Qantas' premium economy position (and likewise for Cathay Pacific), which consists of a more inclusive product with frequent flyer points.
This trend of reducing exposure to first class while increasing premium economy would have partially occurred without Qantas' restructure following its partnership with Emirates. A re-configuration programme underway on its A380 fleet would have seen economy and premium economy cabins account for a greater share of overall seats while first class' share decreased (on the graph below this is marked as "A380 re-config" and based on Oct-2012 schedules if operated with re-configured A380s).
Qantas' class of service share between Australia and Singapore: Oct-2012, Apr-2013 and Oct-2012 if re-configured A380s were operating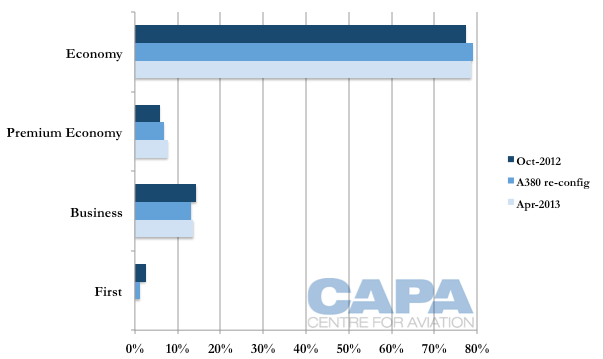 More improvements are needed in Qantas' Asian schedule – and a local partner
This first tranche of schedule changes has focused on Qantas' Singapore operations and has not changed flights to Hong Kong, which Qantas flagged in Sep-2012 as wanting to adjust as well to also provide better same-day connections. (In Hong Kong too Qantas will struggle to find full service connectivity. LCC connectivity will be possible with the 2013 launch of Jetstar Hong Kong.)
Hong Kong schedules saw some change after Mar-2012 when Qantas ended Hong Kong-London service. Qantas' Hong Kong network provides connections to British Airways' Hong Kong-London services, but connection times can be long. Qantas on 04-Oct-2012 said that following the dissolution of its joint services agreement with British Airways, it would continue to codeshare on British Airways' Bangkok-London and Singapore-London services. There was no mention of partnering with BA in Hong Kong.
Qantas tells CAPA changes to Hong Kong schedules will be made in due course. A particular focus of Qantas will be to have a more robust schedule; Qantas currently has an A330 sitting on the ground at Hong Kong for 21 hours each day.
The larger strategic challenge for Qantas is its need for an Asian partner. There is no single carrier that is available to open up large swathes of Asia for Qantas the way Singapore Airlines did for Virgin Australia. oneworld's Cathay is clearly out, and member elect MAS in early 2012 stopped brimming with potential the way it was in late 2011, and the Emirates-Qantas partnership further pushes MAS away.
Relying on Asian-based Jetstar subsidiaries in Japan, Singapore and soon Hong Kong will test the Asia-Pacific corporate market's willingness to trade down from a full service carrier to LCC. With product bundling – such as including luggage and drinks on Jetstar flights that are part of Qantas mainline itineraries – some of the LCC experience can be erased, but it will still be a test. The closest Asia has come is with Thai Smile, although the new Thai Airways unit is primarily for leisure and low-yielding routes. Asia-Pacific has not seen the likes of European (let alone North American) degradation.
See related articles:
Individual partners in strategic locations would make sense for Qantas: Jet Airways is already a partner and an expanded relationship between Qantas and China Eastern would be logical. This thinking could be enough to hold Qantas over until it re-visits its Asian-based full service carrier ambitions, at which point though alliances and partnerships may change enough to open new doors.
Bowing to pressure, Emirates and Qantas withdraw interim authorisation request
In making this restructure, which Qantas calls its most significant ever, Qantas is firmly betting that regulators will approve its proposed partnership with Emirates despite intense opposition from competitors that saw Emirates and Qantas withdraw a request to have interim authorisation. The interim authorisation would have allowed Emirates and Qantas to undertake significant groundwork but not, as they noted in their application, "jointly market or sell fares or collectively alter capacity, frequency or number of routes supplied without final authorisation". They stipulated that "any such decisions would continue to be made independently by Qantas and Emirates until final authorisation has been granted". Qantas affirmed that position in announcing its network restructure, saying the changes were being made not only without coordinating with Emirates but "irrespective of whether its partnership with Emirates is approved".
To be clear, there are no legal issues, but if the partnership is rejected Qantas will need to re-evaluate its network. Limited codesharing with Emirates could still make a Gulf hub more sustainable than reverting back to Singapore, but Qantas, as it flagged in its application, would likely cut one of its two remaining London services as well as flights around Asia.
Withdrawing the application for limited authorisation perhaps saves Emirates and Qantas from being rejected over claims competitors said were either anti-competitive or held little weight. Amongst opposing submissions, including from competitors Air New Zealand and Singapore Airlines, the most thorough came from Virgin Australia (which partners with ANZ and SIA). Virgin contested Emirates and Qantas' motivating reasons to receive interim authorisation: Emirates and Qantas wanted to jointly negotiate for slots at IATA's Nov-2012 conference. Without authorisation, Emirates and Qantas argued, implementing the partnership would be postponed and financial hardship endured.
Virgin dismissed the possibility for Emirates and Qantas to jointly negotiate at the slots conference, pointing out two carriers cannot jointly apply and hold slots (although sharing is permissible); some slots cannot be held on a conditional basis, such as Emirates and Qantas saying they would take the slot only if regulators approved their partnership; and holding slots that carriers do not intend to use is prohibited and can sometimes be met with fines. Further, if Emirates and Qantas do not intend to use slots obtained at the Nov-2012 conference for the northern summer 2013 season, they would have to return the slots by 15-Jan-2013, which is before Australian regulators are due to make a final decision in Mar-2013.
Virgin also noted the proposed preparatory work would not require making agreements that would breach law, and so no interim authorisation would be necessary. Malaysia Airlines (in a late submission) expressed concern interim authorisation ran the risk of letting Emirates and Qantas share commercially sensitive information that would be difficult to completely forget if final authorisation was not granted, but Virgin did not consider this a concern, saying appropriate ring-fencing could limit information distribution. Virgin highlighted how Emirates and Qantas in their application flagged network changes: Qantas would withdraw from Frankfurt, Emirates would expand in Australia and the two would look to grow trans-Tasman capacity. "A lack of authorisation has not hampered the applicants' ability to engage in this planning," Virgin wrote.
What is unclear is if Emirates and Qantas were mis-guided in what actions would require interim authorisation – the application follows other Qantas applications over the past year that competitors did not consider robust, and in one instance Qantas had to submit a correction for – or if the claims for limited authorisation were placeholders for other benefits that could be less equivocally argued for.
In withdrawing their application, the ACCC noted "that Qantas and Emirates believe that they are able to undertake a significant amount of preparatory work without the need for interim authorisation''.
Virgin also took issue with the larger notion of when limited authorisation could be granted, saying "interim authorisation is typically not granted by the ACCC in cases where there is a material level of competitive overlap or where complex issues arise". The overlap between Emirates and Qantas is high, as is each carrier's local dominance and the combined strength – competitors might argue monopoly – they would hold (over 50% between Australia and the UK, Virgin reckons).
Emirates and Qantas must show benefits as competitors will contest dominating position
The opposition to limited authorisation was merely a warm-up for final authorisation. The Australian government has thrown its weight behind the application, but competitors (but not Etihad, Virgin's Middle East partner) will more intensely debate the proposal. Virgin is poised to take the lead. It notes a number of concerns, including if combining Emirates and Qantas' power would make it more difficult for a competitor to challenge Qantas, especially in the domestic market and the corporate/government sector, which is the heart and soul of Qantas – domestic operations generated an AUD600 million (USD615 million) pre-tax profit – and also the focus for Virgin Australia. Virgin's new strategy has been to boost its share of the corporate and government market, which it has been able to carry out in part with global partners like Etihad. Virgin will face a setback to its advantage – a Middle East partner with efficient routings – if Emirates and Qantas partner.
See related articles:
But Virgin also notes issues relevant for all carriers and not just those that would deeply affect Virgin. Emirates and Qantas are requesting global coverage, including in the United States, for their partnership but are vague as to what that amounts to. Yet Qantas also says it does not need to comply with stringent US regulations as there will be no cooperation in that market with Emirates.
See related article: With further details, Emirates-Qantas partnership will have global reach; Qantas adjusts partners
Virgin also takes issue with lesser benefits Emirates and Qantas spruik, such as the partnership, if approved, allowing Emirates to expand in the Balkans or the Visit Australia initiative between Emirates and Tourism Australia would, as Emirates and Qantas argue, lead to lower fares in the market. These are minute points, and as expected applicants want to toot as many benefits – no matter how small or large – as possible. Virgin's opposition may only lead to the parties dropping smaller claims or having to produce evidence that would be hard to contest, but nevertheless not let its competitor off easy – as would be expected, too.
A surprising submission came from Malaysia Airlines, which is being sponsored into the oneworld alliance by none other than Qantas. The two had considered an extensive partnership, including a new joint venture premium carrier for the regional market within Asia, but plans fell through in early 2012, amongst other reasons due to internal challenges at MAS.
See related article: Qantas may say Malaysia Airlines negotiations are over, but many more chapters still to be written
MAS' application was dated five days after the deadline for commenting on limited authorisation. If the delay was not a mistake, MAS could have intentionally waited for a number of submissions before commenting, allowing it to give its voice without – because it was late – weight. "Record seems to suggest that the applications have attracted one of the largest numbers of oppositions in the aviation sector," MAS noted before saying it would "humbly urge" limited authorisation being rejected.
With opposition ranging from cut-throat competitors to carriers who partially partner with Qantas, it is clear one of the most profound partnerships ever proposed will have to earn its way into existence.