Qantas goes short haul as yields continue to slump
Analysis
Qantas Group's transition from long haul premium to short haul low cost was graphically illustrated in the company's September traffic results.
But, while there will be those who see this as a negative trend, a more positive spin is that this is instead a vindication of what is a clearly remarkably effective two brand strategy. For what Qantas is going through is very similar to most other premium carriers in the region, as yield slumps and the back of the aircraft is the only place where crowds gather.
By having the luxury of being able to capitalise on the low end, short haul market with Jetstar's lower cost product, Qantas Group is able to continue to generate cash, without the risk of undermining the more up market Qantas brand.
Qantas international in steep decline – pax and yields
That is the positive side of this result. But the unpleasant reality beneath this is that the Qantas premium product continues in heavy decline. In Sept-2009, 23.7% fewer international passengers were carried, while RPKs were down 9.6%; the difference between the fall in pax RPKs implies a large transfer from long to short haul.
And, at the same time yields on these routes are, as Qantas itself notes, "impacted by the significant decline in corporate volumes and price discounting in all cabins driven by intense competition on key routes."
Qantas international operations have been reduced, on an available seat-km basis, by 13.3% - not as great as some competitors like Singapore Airlines – and, by outstripping the RPK reduction, this has allowed an increase in load factor. But this side of the business remains significantly unprofitable and is being propped up by Jetstar's income (along with a frequent flyer programme which is generating gold with a Midas-like touch).
International yields were down by again-savage amounts – 24.2% year on year. When this fall is accompanied by double digit reductions in capacity, there should be some upwards push on yields, but this was evidently not the case in September.
This is a serious concern for the Group. The question: how long to prop up a seriously ill full service product while waiting for the economy to recover?
Qantas Group RPK growth: Jun-2008 to Sep-2008
Jetstar international passenger numbers doubled
Whereas Qantas international pax numbers fell by a quarter, Jetstar's more than doubled (104.7%). Qantas carried 487,000 passengers in the month, compared to Jetstar's 328,000.
But, with the different route profiles, Qantas RPKs exceeded Jetstar's by a factor of more than four. Perhaps surprisingly though, Qantas managed a load factor of 86.0%, against Jetstar's 79.8% - a result of Jetstar's aggressive expansion, as Qantas pulls in its horns.
Domestic passenger numbers stabilise
Domestically however, both Qantas and Jetstar have maintained close to static levels of capacity and passenger numbers (Qantas ASKs down 3.2%, but +1.0% pax; Jetstar ASKs down 0.8% and pax +2.7%). Regional operation, Qantaslink also remained steady in passenger number terms, despite a small reduction in seat kilometers flown.
Qantas Group passenger growth: Jun-2008 to Sep-2009
Load factors now stabilising as capacity is reduced
Perhaps the only comfort is that capacity reductions are pulling load factors into a more stable direction.
Qantas Group passenger load factor growth: Jun-2008 to Sep-2009
When will the yield decline end?
But, until capacity reductions deliver higher yields, the picture remains ugly. The following graph illustrates the way yields have declined on domestic and international services over the past year. This flattening of the decline trend should be modestly positive news, but as it is accompanied internationally by significant capacity reductions – which as noted above, should squeeze yields higher – the news is not so good.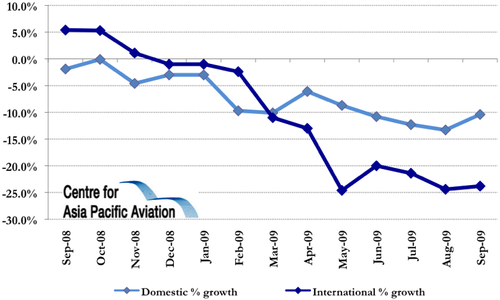 As the Qantas report discloses, "Whilst there are improvements in trading conditions in some markets, the nature of booking patterns on most international routes, means that pricing and inventory actions tend to have longer lead times compared to domestic and other short haul routes."
Domestic routes and Jetstar, aided by the Midas FFP, are giving the old brand a leg up, as conditions remain tough. There seems to be little room for comfort otherwise, apart from a few faint "improvements in trading conditions in some markets".