Qantas-Emirates partnership changes shape as a restructured Qantas reasserts itself
Analysis
The Qantas Group defied gravity by successfully restructuring, reducing its cost base and making it much more competitive. Qantas perhaps even surprised itself, and is digesting the new opportunities made available through efficiency and cost gains. This extends to the most significant development in Qantas' recent partnership history: the one with Emirates. It was the ability to combine with Emirates on west-facing services that enabled Qantas to rationalise its international operations.
Qantas' next development – nonstop flying to London and the development of a western Australian hub in Perth – now opens up a new range of options for the future.
Qantas' Mar-2018 launch of nonstop Perth-London flights will occur outside its JV with Emirates. Qantas is also evaluating next generation aircraft to fly nonstop from Sydney to London, which could also be outside the Emirates JV.
Qantas will also replace Emirates' capacity between Sydney and Auckland, as Emirates withdraws from the route following introduction of its nonstop Auckland-Dubai service. It is always important to keep options open as the world changes.
Qantas' Perth-London nonstop flight is important, but not included in Emirates JV
In Mar-2018 Qantas launches a nonstop flight from Australia to London Heathrow – the largest European destination from Australia. The Perth-London service will replace Qantas' existing Melbourne-Dubai-London service. Qantas' other London service, Sydney-Dubai-London, will remain.
Melbourne and Sydney are Qantas' two largest cities for travel to London, but Perth has the largest proportion of English born residents, according to the 2017 census (almost one in 10 of its two million residents was born in England). The Perth-London flight gives a nonstop option to Perth residents and those elsewhere in Australia will have an easier transfer process, since they will be in the same small terminal and not the large Dubai complex. Qantas hopes the more intimate space will allow it to control the experience better and push its brand and service concept, which command a premium.
The majority of residents elsewhere in Australia will still have to make a connection, a one stop to London. Instead of at Dubai, some will choose to do so in Perth - on a service not included in the Qantas-Emirates JV.
For Emirates, the upside is that Qantas will reduce overall capacity from Australia to London.
Qantas' 787-9 is better configured to respond to today's market demand than are its older A380s
Qantas' two London services are both operated by the A380, whereas the Perth-London nonstop will be flown by the 787-9. Besides the Dreamliner being a more efficient aircraft, its smaller size provides significant benefits. Airbus has promoted the A380's low unit costs, but this is relevant only if the aircraft can be filled. Qantas, like most A380 operators, struggles to fill the A380 sustainably year-round. Off-peak timing makes it difficult for Emirates to help sales, with an overall impact on their partnership.
With 51% fewer seats than the A380, the 787-9 allows Qantas to focus on higher yielding passengers. Over a decade has passed since Qantas planned the original configuration for the A380. Qantas has slightly changed its layout since then, with the addition of a small economy cabin on the upper deck at the expense of business seats. But for a clean sheet configuration, in the decade between the 787 and A380 there have been significant market changes and different trends in consumer and corporate buying.
For most airlines first class has dried up as a revenue product, while business class for corporate passengers is less common than previously, but economy passengers are "buying up" to premium economy (and leisure passengers are increasingly considering business class).
Despite this, Qantas will increase the proportion of premium seating in the 787. The long flight and the need to secure a premium price makes this a logical reconfiguration. With the overall reduced seat count against the A380, the 787-9 carries a smaller decrease in business class seats (34%) and premium economy (20%) than the decrease in economy (55%) and first class (14 seats on the A380 versus none on the 787).
Qantas A380 and 787-9 configurations
| | | | | | | | | | |
| --- | --- | --- | --- | --- | --- | --- | --- | --- | --- |
| Aircraft | First | Business | Premium Economy | Economy | Total | First/Business Share | Business Only Share | Premium Economy Share | Economy Share |
| A380 | 14 | 64 | 35 | 371 | 484 | 16% | 13% | 7% | 77% |
| 787-9 | 0 | 42 | 28 | 166 | 236 | 18% | 18% | 12% | 70% |
| Difference | - | -34% | -20% | -55% | -51% | - | - | - | - |
Sydney-London nonstop would address the prime Australia-Europe market
Qantas is now studying aircraft for a post-2020 time frame. Qantas has more 747s to replace and might consider early A380 replacement options. Over the past two decades Qantas has been sidelined by intermediate, sixth freedom, airlines – mostly in the Australia-Europe market, although Australia-North America is more competitive. Wherever a stop is necessary, intermediate hub carriers will always have an advantage. Flying nonstop adds a weapon to the Qantas armoury.
Assuming the success of the Perth nonstop, CEO Alan Joyce says Qantas will plan to add 787-9 service to Paris and Germany (probably Frankfurt), further entrenching the Perth western hub.
For the Australian east coast, finally the aircraft technology is arriving to allow a broader fight back against geography: variants of Boeing's 777X and Airbus' A350 family open the possibility of even longer flying than Perth-London. Sydney-London nonstop and Sydney-New York nonstop become viable. Sydney-London is a far larger end to end market than Perth-London.
Sydney-London nonstop would again presumably not be included in the Emirates JV. If Qantas maintains only two London flights and sends both nonstop, it will have no direct flying contribution to its JV with Emirates. But that seems unlikely, as Qantas would probably find it valuable to retain the option to fly via Dubai to other onward westwards connections.
Importantly though, the new options emerge. The smaller Virgin Australia originally flew to Abu Dhabi as part of its JV with Etihad, but Virgin is exiting Abu Dhabi, leaving only codeshares.
In the early days of the Qantas-Emirates partnership Qantas flagged the possibility of flying onwards from Dubai to cities in Europe other than London. (Qantas withdrew from Frankfurt in 2012, and had earlier withdrawn from other cities).
It is possible Qantas and Emirates could consider a wider JV that includes Qantas' nonstop London flights, but it is unclear what trade-offs Emirates could offer in return. In this respect, Qantas' newly gained advantage becomes apparent.
Emirates gives Qantas an important virtual market
However, it is important to remember that in many ways, the Emirates partnership provided redemption for Qantas internationally. The partnership gives Qantas one-stop access to over 30 European cities. By doing a deal with Emirates, Qantas made its largest foreign competitor its partner and restored its international viability; the alternative was to withdraw from markets west of Singapore, an almost unthinkable course of action.
In Qantas' previous JSA with British Airways there were only one-stop options to London and Frankfurt, and Frankfurt had only one frequency. The Emirates partnership gives passengers multiple options across the day - and without backtracking in London. Emirates is also a lower cost airline, giving cost-effective travel options.
Qantas-Emirates alliance passengers: 2013, 2016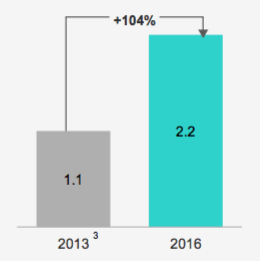 The network is good for customers looking to use Qantas as their anchor airline and/or loyalty programme. With substantial codeshares and interlines with Emirates, Qantas also generates significant partner revenue.
Qantas says that in 2016 it had in excess of AUD1 billion of partnership billings revenue with Emirates, with partnership billings defined as "Qantas sales on Emirates operations and billings for Emirates airline sales on Qantas operations". (There is no comparison of what British Airways had contributed.)
Qantas two-way billings growth: 2013-2016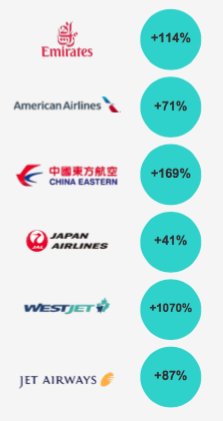 Qantas helped boost Emirates' yields, and Emirates will not want Qatar to make inroads
There is significant revenue to Qantas associated with the Emirates partnership. But that revenue and other benefits are not necessarily at risk as Qantas operates more on its own without the Emirates JV.
If Emirates were to consider ending the Qantas partnership, that would likely produce a less satisfactory outcome than continuing with the status quo of the JV losing lustre, particularly with Qantas flying in competition to the JV. There are direct and indirect benefits to Emirates for maintaining the JV/partnership.
Prior to the Qantas partnership Emirates was unable to command a yield premium, largely because it was not present in an Australian frequent flyer programme, of which the Qantas programme is the largest. In announcing the deal with Qantas, Emirates President Tim Clark quipped that the deal was driven by passengers' "love affair" with a frequent flyer point.
Being able to earn and burn Qantas points on Emirates and receiving other Qantas benefits when flying Emirates (such as lounge access) generated higher yields without any changes to Emirates' flying schedule or hard product. Emirates also benefits from a wider distribution network across all of Australia, even if populations are largely concentrated in cities that Emirates serves.
Emirates would probably be content to let the partnership dilute from its peak because the alternative is less attractive. If Qantas and Emirates ended their partnership Qantas would likely go shopping for a new partner, and oneworld member Qatar Airways would be eager to do a deal. An expanding Qatar offers a more significant threat to Emirates than Etihad, whose growth is plateauing. Qatar and Qantas have a basic commercial agreement since they are both members of oneworld (the two already exchange frequent flyer points). Qatar Airways does however codeshare with its other oneworld partner, British Airways, on some routes, yet has no codeshare on Qantas.
The mere prospect of Qantas partnering with Qatar is probably enough to ensure that Emirates' willingness to accept a slightly smaller role in the Australia-Europe market.
In another example of Qantas' successful restructuring, allowing it to re-assert itself, Qantas is replacing Emirates capacity between Sydney and Auckland. From Jul-2017 Emirates is withdrawing its daily A380 Sydney-Auckland-Sydney flights and Qantas will upgauge two services from 737-800 to A330. (One of the two services operates daily and the other operates six days a week.)
Altogether the change results in a reduction of approximately 300 one-way seats a day. Emirates' A380 has more premium seats than Qantas' A330, and the premium seats on the Emirates A380 trans-Tasman services do not sell as well. So the effective reduction of capacity is actually smaller.
Qantas achieves significant benefits from the changes: its two prime services between Sydney and Auckland are not only upgauged but will receive the introduction of widebody service. Air New Zealand is able to use widebodies on many flights between Auckland and Australia – the aircraft would otherwise remain in Auckland in between long haul flights. Air New Zealand has strongly promoted the passenger benefit of a widebody experience and also of being able to carry significant cargo.
Air NZ has long taken issue with fifth freedom capacity between Australia and New Zealand. Air NZ opined that Emirates' withdrawal of A380 flights between Sydney and Auckland was evidence of overcapacity. Yet Emirates will retain other trans-Tasman services, including services on the A380. Emirates' 2016 launch of Dubai-Auckland nonstop services did much to reduce the need for trans-Tasman feed.
Yet ultimately, the main power shift dis towards Qantas being stronger in another market as well. Qantas has been growing in North America and has recently been growing in Asia, with plans for more services and upgauging of some flights to A380 service.
Outlook: Qantas starts to restore its market power on European routes
Not since sixth freedom operations began in earnest in the early 1980s has Qantas been able to hint at having control of its own destiny in the Europe end-to end market.
Rarely is an airline partnership truly equal between the parties in its balance of benefits. Yet increasingly it is Qantas driving the Emirates partnership. For Emirates this is not ideal but there are still very cogent reasons for the partnership and it would prefer a weaker partnership to none – or, worse, the prospect of Qantas working with one of Emirates' competitors.
Qantas' successful restructuring and the arrival of new equipment is producing new opportunities.
But in the future today's Qantas will also have to compete with a restructured Cathay Pacific and Singapore Airlines, as well as increasingly intrusive Chinese airlines.
Market sentiment for nonstop European flights is strong, but this can change quickly with a downturn in the Australian dollar, or a surge in fuel prices - or any other of the myriad issues that afflict an airline's equilibrium.
Best all round to keep the successful partnership going.