Premium demand strengthens in Jul-2011 but short-term outlook "gloomy": IATA
Analysis
International airlines saw demand strengthen in Jul-2011 despite "gloomy" leading economic indicators, IATA said on 19-Sep-2011, ahead of its industry earnings outlook release. IATA said forward-looking indicators for business travel looked "gloomy," and suggested that a "significant slowdown" could be witnessed in 4Q2011. The airline industry lost the equivalent of two years of growth during the last financial crisis, based on historical trends, and while leisure traffic has returned, the level of more profitable premium business remains below the pre-recession peak.
Premium demand strengthens in Jul-2011 but remains 6% behind pre-recession peak
International air travel improved across all seat classes during Jul-2011, according to IATA. Passengers travelling on premium (business and first class) seats internationally increased by 7.5% year-on-year, following growth of 6.4% in Jun-2011. Economy travel increased 5.5% year-on-year in Jul-2011, following growth of 4.8% in Jun-2011, according to IATA.
Compared to the end of 2011, there has been 5% expansion in the premium travel market and a near 7% expansion in the economy segment, IATA said, adding: "After a period of weakness at the end of the first quarter and the start of the second, both markets have rebounded to regain the trend-lines evident in the second half of last year. These trends are close to the average of the past twenty years".
However, despite the strengthening in Jul-2011, IATA noted premium travel is still 6% below its pre-recession peak. Economy travel is meanwhile 6% above its previous high point. "As of July, there was no sign yet of the deepening economic gloom discouraging air travel," IATA added.
IATA international air passengers by seat class (seasonally adjusted): Jan-2004 to Jul-2011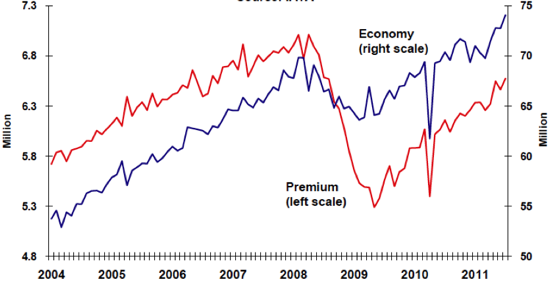 International trade and business confidence declines; likely to impact premium travel
IATA has expressed caution about the outlook, noting that coincident and forward-looking indicators for business travel, such as trade growth (which has slumped to zero) and consumer confidence (which following a peak earlier this year has steadily declined, to the point that growth is expected to stop), are looking gloomy. "Confidence has now fallen to levels consistent with the expansion in premium travel stalling during the fourth quarter of this year," IATA said, adding that it expects to see a "significant slowdown" in the fourth quarter.
Premium passengers and world trade growth: Jan-2006 to Jul-2011
Premium Travel and Business Confidence: Jan-2006 to Jul-2011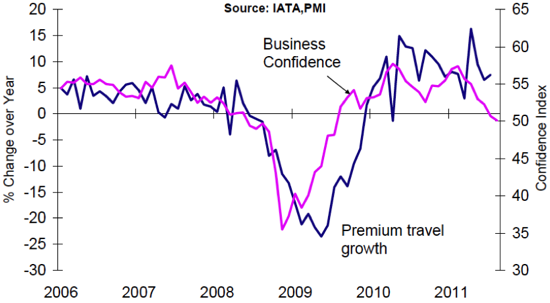 In addition to premium volumes weakening, IATA also noted a decline in premium revenues in Jul-2011, with premium revenues expanding at an annual pace in the low teens, as previously noted by IATA.
Premium ticket volume and revenue growth: Jul-2007 to Jul-2011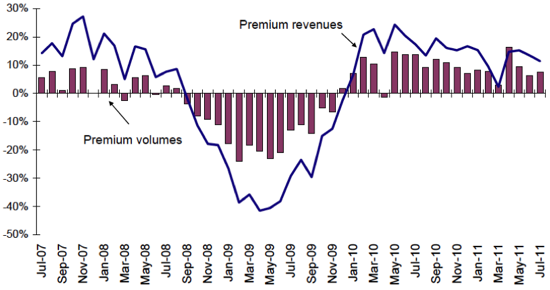 Regional difference continue to remain
As usual, the regional picture continues to remain mixed. The markets linked to Asia were showing signs of revival during Jul-2011, but for the most part of 2011 they have been the weakest route areas for international air travel. The Pacific markets, meanwhile, have been weak with barely any growth this year. Much of the weakness in the Asian travel markets can be traced back to the impact of the 11-Mar-2011 Japan earthquake and tsunami. "There has been some rebound in the economy and air travel but pre-crisis levels have not yet been recovered. As reconstruction progresses and as supply chains in the electronics and autos industries get fully restored some further rebound of air travel, as well as freight, in these route areas can be expected," IATA said.
Despite the current economic turmoil in some parts of the region, European air travel markets (premium and economy) have been the strongest route area so far in 2011. The within Europe economy segments has been the strongest so far, with 12.8% growth in the seven months to Jul-2011.
However, those markets linked to the troubled European economies showed weakness. During 2Q2011, consumer confidence in European has fallen to its weakest point since mid-2009 and business confidence has fallen significantly. "Much of the strength of air travel in the region appears to be due to business travel, but given the weakness of home markets it looks unlikely that this can be sustained," IATA said.
Atlantic markets have also shown good growth so far this year, after an extended period of weakness. North Atlantic premium travel has expanded by more than 10% so far in 2011, despite the lack of further growth in international trade. The mid Atlantic market had also been growing at a "reasonable pace", propelled mostly by the strength of the South American economies.
The South American markets have remained strong as the economies in this region continue to show good growth and trade links within the region and with Asia develop new business. In the seven months to Jul-2011, within South America has been the second strongest market (premium and economy). Another strong market has been the Europe to Far East segment.
International premium traffic growth by route: Jul-2011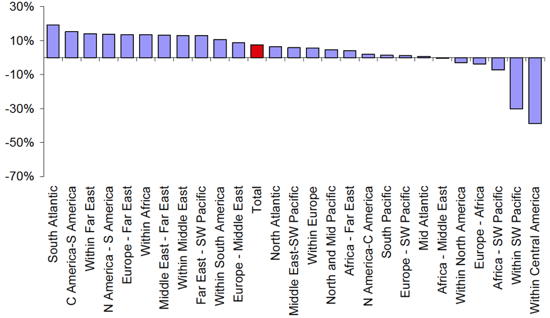 Economic conditions impacting world's airlines

Deteriorating consumer confidence and weaker global economic growth prospects are again having an impact on the world's airlines. Concurrently, high jet fuel prices continue to pressure the sector, while the moderation in travel volumes and falling freight demand are also of concern. However, the long-term outlook remains robust, with both Boeing and Airbus boosting production levels amid a bullish long-term view of sales. While the deteriorating economic environment is a concern, Airbus this week stated it is not anticipating a double-dip recession in the US or Europe in the short to medium term, but may provide more financing for aircraft amid concerns about financing prospects by the European banks.
APPENDIX: IATA premium traffic growth by route