Pittsburgh International Airport works to reduce costs to attract airlines post-consolidation
Analysis
Pittsburgh International Airport was one the first major hubs to face the reality of tough economic times as US Airways in the middle of the last decade opted to pull down a significant amount of service at its one time hub. Further cuts occurred after US Airways merged with America West that resulted in Pittsburgh essentially becoming a spoke for hubs of the US major airlines.

The result was Pittsburgh being left with a fairly new terminal designed for connecting passengers that exceeded demand for its new status as an origin and destination airport.

But like other airports, Pittsburgh has learned the art of reinvention, and has kept passenger throughput relatively stable during the last few years with new service from low cost airlines and some capacity additions by legacy airlines. Now the airport has embarked on a more unconventional strategy to slash debt and offer airlines a competitive cost base.
Pittsburgh Airport uses the proceeds from natural gas deal to lower fees
The service decline at Pittsburgh is well-documented – at its height it handled 20 million passengers annually when the airport was a hub for US Airways. But during the early 2000s US Airways claimed it was losing USD40 million annually in Pittsburgh, and attempted to negotiate lower landing fees. The discussions proved unsuccessful and by the mid-2000s US Airways had drastically reduced service from the airport. Overall, Pittsburgh's daily departures fell from roughly 600 to presently approximately 150.

Pittsburgh was also left with a solid amount of debt after construction of a new terminal built for US Airways' specifications was completed in 1992. At the beginning of 2014 the Allegheny Institute for Public Policy noted that the most recent comprehensive financial report for the airport from 2012 showed that the airport still owed roughly USD375 million in bonds associated with the construction. It is estimated that Pittsburgh has roughly USD62 million in annual debt service related to the terminal's construction.

During 2014 Pittsburgh Airport's operator the Allegheny Airport Authority struck a deal with Consol Energy for natural gas development and drilling on the airport's property began in Aug-2015. Consol agreed to pay the airport authority USD46.3 million in advanced payments and an estimated USD450 million in royalties over the next 20 years, according to local news outlet The Pittsburgh Tribune-Review.

The paper reported that the airport is scheduled to spend USD24 million during the next five years to lower fees, which were estimated as USD12.90 per passenger in 2015 compared with USD14.66 in 2013. However, as the paper highlighted, the average for US airports is USD8.34 and roughly USD7.60 for airports similar in size to Pittsburgh.
Southwest Airlines rises to prominence in Pittsburgh, but it also serves as spoke for major airlines
Despite higher than average fees per passenger charged to airlines, Pittsburgh passenger counts have been relatively stable for the last few years. Since 2009 its annual passenger throughput has settled to around roughly 8 million annually, and in 2013 passenger traffic declined just 2.% compared with 7.8% in 2009.
Pittsburgh International Airport annual passenger numbers: 2009 to 2013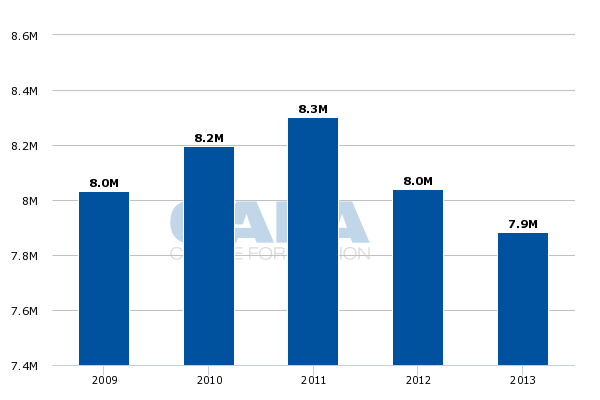 Pittsburgh International airport passenger growth: 2009 to 2013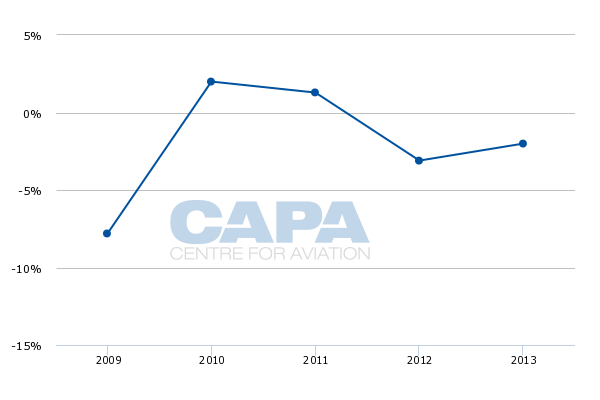 Pittsburgh has enjoyed a boost from Southwest Airlines in its post hub existence, and the airline presently represents a 26.5% seat share at the airport, slightly below US Airways' 27.1% share.
Pittsburgh International Airport capacity by airline (% of seats): 5-Jan-2015 to 11-Jan-2014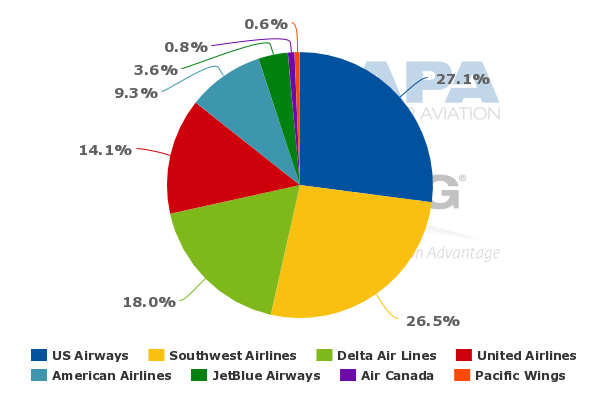 Southwest serves Atlanta, Baltimore/Washington, Denver, Chicago Midway, Fort Lauderdale, Houston Hobby, Las Vegas, Nashville, Orlando, Phoenix and Tampa from Pittsburgh.

US Airways offers service from Pittsburgh to Boston, Charlotte, Hartford, Los Angeles, New York LaGuardia, Phoenix, Raleigh-Durham, Washington National and St Louis.

Other large global airlines offer service to their hubs from Pittsburgh. American serves Chicago O'Hare, Dallas/Fort Worth, Miami and New York JFK. United operates flights to Chicago O' Hare, Denver, Houston Intercontinetnal and New York Newark. Delta offers service to Atlanta, Cincinnati, Detroit, New York LaGuardia and Orlando.
A snapshot of Pittsburgh's top markets by seats shows how Pittsburgh has transformed from a hub in its own right to a spoke for other hubs. All of its top ten destinations measured by seats are hubs or focus cities for airlines.
Pittsburgh International Airport top ten domestic routes by seats: 5-Jan-2015 to 11-Jan-2015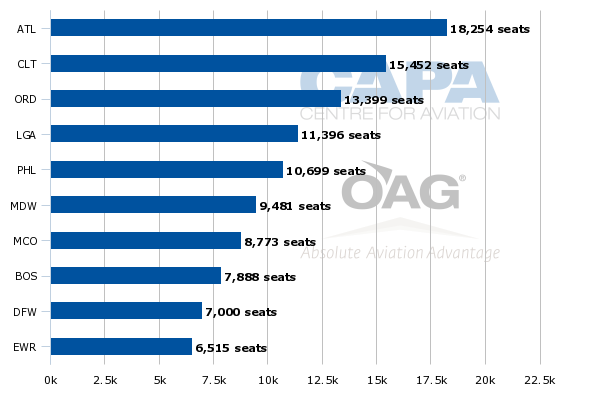 Delta also plans to resume its seasonal trans-Atlantic service from Pittsburgh to Paris in May-2015 with five weekly flights, and expand its flights to daily during the high season from Jun-2015 to Sep-2015. The airline has been operating the seasonal service for several years, and so far it remains Pittsburgh's only long-haul destination in the post-hub era.
Delta launched the flights with subsidies in 2009, but has retained the service after the initial support from the airport ceased in 2011. It is a positive sign for Pittsburgh that perhaps seasonal trans-Atlantic service could prove viable, but it has not secured any additional flights since Delta's debut to Paris.

Pittsburgh also garners some seasonal service to the Caribbean, evidenced by Delta's plans to weekly seasonal service from Pittsburgh to Cancun in Jun-2015.
Allegiant adds Pittsburgh as part of its mid sized hub strategy
Despite Pittsburgh's higher than average cost per passenger, Southwest has become an airport mainstay and low fare airline JetBlue has added flights to Boston and Fort Lauderdale during the last few years.

Pittsburgh recently landed ultra low cost (ULCC) airline Allegiant Air as a new operator. The airline in Feb-2015 plans to launch four weekly flights to St Petersburg, four weekly services to Punta Gorda and twice weekly flights to Jacksonville.

Allegiant's service to Pittsburgh reflects a subtle shift in its strategy. During the last couple of years it has added more service from medium sized airports, concluding that in general since those larger markets have higher passenger footprints, it can charge higher fares with less than daily service and stimulate traffic.
Allegiant has cited about 40 medium sized airports fitting that profile. It is not clear if the airline is receiving any incentives to launch flights from Pittsburgh (although it is highly likely), but Allegiant has no doubt concluded it can stimulate traffic on its new leisure routes.

See related report: Allegiant Air works to exploit opportunities created by consolidation in medium sized markets
Pittsburgh Airport still needs to flesh out its transcontinental and long-haul footprint
The obvious holes in Pittsburgh's current service footprint are more long-haul destinations and additional flights to the US West Coast. It is a tough challenge since many similar sized US airports with arguably lower costs are working toward the same goals. In early 2015 a new executive is taking the helm at the Allegheny Airport Authority and has unsurprisingly promised that attracting new service is a top priority.
Similar to other hubs including Cincinnati, Cleveland and Memphis, Pittsburgh will is unlikely ever to reach the passenger levels it enjoyed at its peak, but there do seem to be opportunities from low cost airlines looking to fill voids created by US consolidation and as fares on the majors continue to escalate – provided the airport can get its costs to competitive levels.
Competitive costs will be a key driver for Pittsburgh in the long term
Pittsburgh Airport seems to be settling into a more stable state with a plan to pay down debt funded in part by the leasing of land for natural gas drilling on airport property. It is a unique approach to shoring up its balance sheet, but the energy sector could prove to be a more reliable partner than some of its recent ones.

One of Pittsburgh's largest challenge is getting costs on an equal footing with its competitor airports to attract service that will remain intact for the long term. Pittsburgh's current service footprint is viable, but new opportunities could arise with the proper cost structure for an airport who is adjusting to the new commercial realities spurred by US consolidation.