Peru's market grows rapidly as TACA builds domestic share and LAN continues international push
Analysis
Air traffic in the Peruvian domestic and international markets continues to grow steadily as overall traffic growth in Latin America remains strong despite weakening economies in Europe. Through the first five months of 2012 Peru recorded 14% growth year-over-year in domestic passengers carried as TACA Peru continued to build up its market share after making a two-phased expansion into the domestic space starting in 2010.
Peru's international market also has been growing rapidly, expanding by 15% through the first five months of 2012. Peru's largest carrier and TACA Peru's main rival, Lan Peru, has been expanding its international operation and is now planning another push from its Lima hub to leverage the combined network of new parent LATAM to capitalise on connecting passengers from North America, which should further bolster Peru's international market.
Lan Peru still commands a market share lead in the Peruvian domestic market place, but its share has fallen during the last couple of years during TACA Peru's efforts to broaden its domestic reach. Data from the Peruvian DGAC spanning Jan-May-2012 show Lan Peru's share of domestic passengers carried remained roughly flat year-over-year at 62%.
TACA Peru, meanwhile, saw its share grow 8ppts to 13%, and moved up the rankings into the second spot. Local carriers Peruvian Airlines and Star Peru recorded a diminished presence as Star's share fell from 15% to 12% year-over-year while Peruvian's share decreased from 16% to 11%.
Peru domestic passenger market share (% of passengers carried) by carrier: Jan-May-2012 vs Jan-May-2011
| | |
| --- | --- |
| Jan-May-2012 | Jan-May-2011 |
TACA Peru missed a previously stated target of gaining a 15% share of the domestic market by year-end 2011, as DGAC data show the carrier had a 7% share at year-end 2011. But the airline grew its presence in the domestic market place by 4ppts compared to 2010, when it ended the year with just a 3% share of the domestic market. Lan Peru's domestic share fell considerably year-over-year from 2010 to 2011, falling 6ppts to 64%.
See article: More growth for Peru as TACA expands domestically
The bulk of TACA Peru's domestic flights originate from Lima, but earlier this year the carrier introduced flights from Cuzco to Arequipa and Puerto Maldonado, joining the carrier's existing flights from Lima to Cuzco. TACA Peru is competing with Lan Peru and Star Peru on Cuzco-Puerto Maldonado, but faces no competition on flights from Cuzco to Arequipa, located in the Andes mountains.
TACA Peru's domestic operation only consisted of flights from Lima to Cuzco until early 2010. The airline has since made a push in the domestic market, initially adding flights in 2010 from Lima to three large cities - Arequipa, Chiclayo and Trujillo - as well as introducing service to the smaller markets of Piura, Juliaca and Tarapato. During 2011 TACA Peru increased frequencies in several of these domestic markets. TACA Peru's domestic push was supported by the introduction of the Embraer 190 into its fleet, which previously only consisted of Airbus A320 family aircraft.
The domestic expansion by TACA has resulted in three carriers serving most main domestic routes. Lan Peru, TACA Peru and BAe 146 operator Star Peru now offer flights from Lima to Tarapato as well as Lima-Juliaca. TACA Peru, Lan Peru and Peruvian Airlines all serve Lima-Arequipa. All four of the major domestic Peruvian carriers operate Lima-Cuzco, the only domestic route TACA Peru operated prior to 2010 but has expanded with additional frequencies.
DGAC data shows that for the moment the domestic market appears absorbing the capacity ushered in by TACA Peru. During 2011, 6.2 million passengers travelled domestically in Peru, a nearly 13% increase from the 5.5 million customers transported during 2010. In 2010 there was even faster growth of about 28%.
Peru's domestic passenger growth (in millions): 2007 to 2011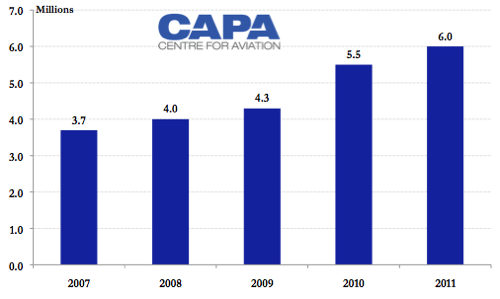 The DGAC also reported double-digit year-over-year passenger increases during May-2011 in some of Peru's busiest airports. Cuzco recorded a 16% increase in passenger levels, while Iquitos enjoyed a 11% rise. Piura's passenger levels increased 10% year-over-year during May-2012 while Arequipa enjoyed a nearly 10% rise. Lima recorded a 14% increase in passenger numbers.
International growth blossoms during first five months of 2012
Carriers operating international flights to and from Peru also enjoyed robust growth from Jan-May-2012 as passenger levels grew 15% year-over-year to nearly 2.7 million. During 2011 airlines transported six million passengers to and from Peru, up about 20% from the five million passengers recorded during 2011.
Combined Lan Peru and its sister carrier, Lan Airlines, held a 47% share of the Peruvian international market during Jan-May-2012, up 2ppts from the 45% share they captured during the same period of 2011. Lan Airlines is based in Chile but also operates several non-Chile routes from the group's Lima hub. These figures exclude Lan Argentina and Brazil's TAM, which merged with the LAN group earlier this year to form the new LATAM Airlines Group. Lan Argentina and TAM each account for just under 2% of Peru's international market, giving the LATAM Airlines Group a total share of over 50%
The Avianca-TACA group currently only has about a 14% share of Peru's international market. This includes a 9% share from TACA Peru, a 3% share from Colombian sister carrier Avianca and about a 2% share from El Slavador-based TACA and TACA Cost Rica (LACSA).
Peru international passenger market share (% of passengers carried) by carrier: Jan-May-2012 vs Jan-May-2011
| | |
| --- | --- |
| Jan-May-2012 | Jan-May-2011 |
LAN group's regional international destinations from Lima to Latin America include Buenos Aires, Caracas, Easter Island, Guayaquil, Havana, Iguassu Falls, La Paz, Sao Paulo, Santiago and Mexico City. From Lima to North America the group serves Los Angeles, Miami, New York JFK and San Francisco. The LAN group also offers long-haul flights from Lima to Madrid, joining Air Europa and Iberia in serving the market.
With LAN's merger with TAM complete, the management of LATAM Airlines Group believes Lima is a strategic hub within the combined network. Recently LATAM executives hinted at a push from Lima as the company aims to leverage demand in its north-south long-haul markets to North America through a capacity push during the next few months that will carry over into 2013.
See related articles:
Intensifying competition between LATAM and Avianca-TACA in Lima
LATAM also sees an opportunity to build up and transition more passengers from LAN's network throughout Argentina, Chile and Peru to TAM's Rio de Janeiro hub to strengthen TAM's long-haul operations. Evidence of that strategy has manifested through three new weekly flights planned by TAM from Rio to Lima beginning on 31-Oct-2012. TAM currently only serves Lima from its larger Sao Paulo hub with one daily flight using A320s.
TACA Peru currently enjoys a monopoly on the Lima-Rio pairing, which it serves with one daily A320 flight. The intensified competition between Lan Peru and TACA Peru on Lima-Rio is likely to be an indication of increasing overlap between the larger networks of LATAM and Avianca-TACA, which completed thier merger in 2010.
See related article: Key decisions loom for Avianca-TACA in 2012 as integration effort nears completion
Once TAM launches its Rio-Lima offering, LAN and TACA will compete on a total of nine routes from Lima to regional international destinations – Buenos Aires, Caracas, Guayaquil, Havana, La Paz, Sao Paulo, Santiago, and Mexico City. Schedules in Innovata show a third brand also now serves three of those markets – Buenos Aires (LAN, TACA and Aerolineas Argentinas), Santiago (LAN, TACA and Sky) and Mexico City (Aeromexico, LAN and TACA).
During Jan-May-2012 TACA Peru recorded a 9% share of Peru's international market in terms of passengers carried, a 1ppt drop from the 10% share the carrier held during the year prior. The carrier also held a 10% share of the Peruvian international passenger market for full-year 2011. But the carrier is poised to increase its share through the last four months of 2012 as it launched new services from Lima to Medellin and Cali, Colombia in late Aug-2012, leveraging Avianca's comprehensive Colombian network.
TACA Peru already offers flights from Lima to Avianca's hub in Bogota. Shortly before launching additional routes from Lima to Colombia, TACA Peru in Jun-2012 opted to drop three weekly flights from Lima to Brasilia, leaving the route unserved.
Given the new route launches to Colombia during the last few weeks it appears Avianca-TACA is using Lima in similar manner to LATAM, to bolster connections to strong points in the combined network. The encounters between Latin America's two largest airline groups will only multiply as those combined entities continue to fine-tune their combined network. Lan Colombia, which LAN acquired in late 2010 and has since restructured, is also starting to expand in the international market.
The Avianca-TACA group has also been considering making Lima its second Airbus A330 widebody base after Bogota, which could further intensify competition in the Peruvian market where LAN is the only local brand operating widebodies. Avianca-TACA has internally allocated one of its A330s scheduled for delivery in 2013 to Lima for potential long-haul flights to Madrid. But it is unclear if those plans will materialise given Europe's weak economic state, and Spain's economy in particular. LATAM management, however, stated during the company's 2Q2012 results discussion that its business in European markets remains solid, though yields were stronger in its long-haul North American markets.
Over the long-term LATAM might see more benefit from leveraging TAM's Sao Paulo and Rio hubs for long-haul growth to Europe rather than adding more trans-Atlantic flights from Lima, which would create an opportunity for Avianca-TACA to eventually build a long-haul hub at Lima to join Bogota, where the company currently deploys A330s on flights to Barcelona and Madrid. But in the short term Avianca-TACA could opt for caution and wait until the general economic situation in Europe begins an upward trajectory before adding long-haul flights to the continent from another South American base.
While both LATAM and Avianca-TACA have proven to be a positive influence on Peru's domestic and international passenger growth, their competition in the country is indicative of broader implications of the mergers each company has completed during the last two years. With the two groups now becoming fierce competitors in Colombia, Ecuador and Peru, their face-off will only intensify as each group attempts to execute and deliver their promised merger synergies to shareholders.