Palma de Mallorca Airport: new Eurowings base in price-sensitive market; capacity is accelerating
Analysis
The announcement by Eurowings that it plans to establish a base with two aircraft at Palma de Mallorca Airport next spring focuses attention on Spain's number three airport by passenger numbers. One of Europe's most important airports for LCC capacity, Palma is also very dependent on the summer schedule. The low point of the winter schedule has 78% fewer seats than the peak summer week.
Traffic at the airport held up relatively well during the second phase of Spain's 'double-dip' recession in 2011 to 2013, but its passenger growth has lagged that of the country as a whole since then. The mix of airlines has been in some flux, with Palma's leading airline airberlin gradually losing share to LCCs and the seat-only sales of charter airlines. Ryanair, number two at the airport, has returned to capacity growth there in 2016 after two years of cuts.
Eurowings' new base at Palma in May-2017 will follow the establishment of bases at the airport by easyJet and Norwegian in 2016. It is certainly a market that seems to attract the interest of Europe's leisure-focused airlines, but strong capacity growth at Palma (and elsewhere in Spain) increases the downward pressure on yields in a price-sensitive market.
Palma de Mallorca is Spain's number three airport, but growth is lagging
Palma de Mallorca Airport (referred to hereinafter by its IATA code "PMI") is Spain's third largest airport after Madrid and Barcelona. In 2015 PMI handled 23.7 million passengers – an increase of 2.6% compared with 2014.
Among Spain's top 10 airports by passenger numbers, PMI experienced growth that was the second lowest in 2015 (passenger numbers at Tenerife-Sur fell by 0.6%) and was considerably slower than Madrid's 12.0%. PMI's 2015 passenger growth was also slower than the 5.9% increase achieved by its parent company AENA (which operates 48 airports in Spain).
In 1H2016 PMI's passenger growth accelerated to 11.2%, but AENA still outpaced it with 11.7%. PMI grew faster than Madrid (+8.6%), but slower than Barcelona (+12.7%) in 1H2016.
Spain: top 10 airports by passenger numbers: 2015
| Rank | Airport | Passenger numbers | Growth vs 2014 |
| --- | --- | --- | --- |
| 1 | | 46,828,279 | 12.0% |
| 2 | | 39,711,276 | 5.6% |
| 3 | | 23,745,131 | 2.6% |
| 4 | | 14,404,170 | 4.8% |
| 5 | | 10,627,182 | 3.0% |
| 6 | Alicante-Elche | 10,574,484 | 5.1% |
| 7 | | 9,117,637 | -0.6% |
| 8 | | 6,477,283 | 4.3% |
| 9 | | 6,124,321 | 4.1% |
| 10 | Valencia Manises | 5,051,871 | 10.0% |
Spain's number two and Europe's number five for LCC seats (but only in the summer)
PMI's ranking for LCC capacity is higher than its overall traffic ranking. Based on schedules data from OAG for the week of 19-Sep-2016, it is the number two Spanish airport for LCC seats, behind Barcelona, with 12% of the country's LCC seats for the week.
PMI is also the fifth largest airport in Europe for LCC seat capacity in the week of 19-Sep-2016 (behind Barcelona, Gatwick, Stansted and Istanbul Sabiha Gökçen). It is the second largest in Western Europe excluding the UK (behind Barcelona).
However PMI's schedule is highly seasonal, as discussed in more detail later. Its ranking for LCC seats in Spain will fall to seven in the winter low, when its share of Spain's LCC traffic seats will drop to just 5% (based on OAG schedules data for the week of 16-Jan-2017). Its ranking for LCC seats in Europe as a whole is only number 40 in the winter low week.
Among the top 10 LCC airports Spain, only Ibiza has a greater variation in LCC seat numbers from summer to the winter low. Tenerife-Sur and Gran Canaria Las Palmas will actually benefit from an increase in LCC seat numbers in Jan-2017 relative to Sep-2016, due to their status as winter sun destinations.
Spain: top 10 airports by LCC seats
Sep-2016*

Jan-2017**

Rank

Airport

Total seats

Share of LCC seats in Spain

Total seats

Share of LCC seats in Spain

Rank

1

776,465

25.8%

557,515

29.7%

1

2

373,158

12.4%

100,237

5.3%

7

3

305,688

10.2%

166,963

8.9%

3

4

262,183

8.7%

149,759

8.0%

4

5

250,421

8.3%

217,928

11.6%

2

6

171,358

5.7%

22,996

1.2%

14

7

112,109

3.7%

125,670

6.7%

5

8

91,010

3.0%

69,335

3.7%

8

9

89,844

3.0%

58,431

3.1%

10

10

88,892

3.0%

105,379

5.6%

6

Top 10 total

2,521,128

83.9%

1,574,213

83.8%
Passenger growth in 1H2016 followed four years of stagnation
As noted above, PMI achieved double-digit passenger growth in 1H2016 (up by 11.2%), but this followed four years of virtual stagnation. Passenger numbers reached 22.7 million as far back as 2011, but were virtually unchanged at 23.1 million in 2014. Modest growth returned in 2015, with an increase of 2.6%.
PMI's volatile passenger growth figures of recent years partly reflect Spain's double-dip recession. The country's GDP growth was negative in 2009 and only recovered to zero in 2010, before turning negative again in each of 2011 to 2013. PMI's passenger numbers fell in 2009 and 2010, but were resilient during the 2011 to 2013 second phase of the Spanish recession.
Palma de Mallorca Airport annual passenger numbers (million) and annual growth (%): 2008 to 2016*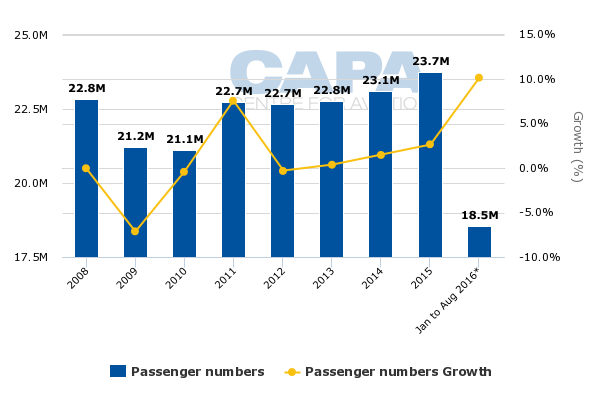 The leading airline by seats at PMI for the week of 19-Sep-2016 is airberlin, with 19% of the total, followed by Ryanair with 13%. The top five airlines also include easyJet (7% of seats), Air Europa and Vueling (6% each).
They are closely followed by Vueling (6%) and Thomas Cook (5%). Adding Eurowings and Germanwings together gives the Lufthansa group LCC a 5% share of seats.
However, airline market share data vary significantly by season, reflecting the strong dependence of PMI on the summer schedule.
Palma de Mallorca Airport share of seats by airline: 19-Sep-2016 to 25-Sep-2016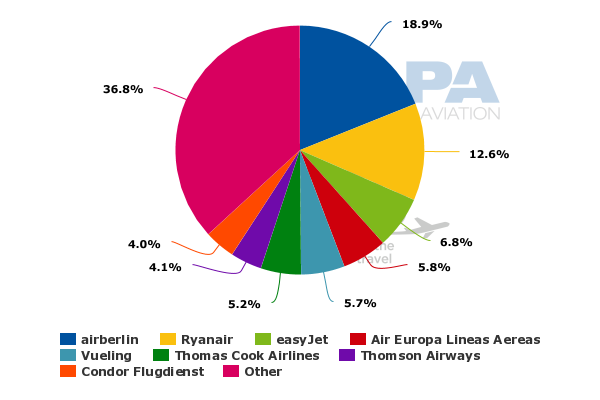 On a full-year basis, data from OAG Schedules Analyser show the same two airlines (airberlin and Ryanair) in the top two positions by share of seats, but Air Europa moves into third place as a result of a more even distribution of its capacity through the year (see table below).
Conversely, easyJet moves down into fifth place, as it is more summer-dependent. Iberia has the least seasonal variation and this means that its full-year share of seats is higher than for the summer season depicted in the previous chart for Sep-2016. Eurowings/Germanwings is in seventh place
Palma de Mallorca Airport share of seats by airline: 2016
| Airline | Share of seats |
| --- | --- |
| | 18.5% |
| | 14.0% |
| | 8.3% |
| | 7.7% |
| Easyjet | 6.8% |
| | 4.9% |
| | 4.6% |
| | 3.3% |
| | 3.2% |
| | 2.9% |
| All others | 25.8% |
airberlin in decline for many years; LCCs and leisure airlines are growing
Looking back over the past 10 years, the airline seat capacity landscape at PMI has changed considerably. Total seat numbers at the airport have grown by 39% from 2006 to 2016, according to OAG Schedules Analyser.
However the airport's leading airline, airberlin, has cut its capacity by 12% over the period, while number two Ryanair was not even present at PMI in 2006. Number three airline Air Europa has 11% fewer seats at the airport in 2016 compared with 2006, but fourth ranked Vueling has grown its capacity there 14 times over the 10 years and fifth placed easyJet has grown by 72%.
See related reports:
Spain's flag carrier Iberia has cut seat numbers by 37% over the past decade, while Lufthansa's LCC subsidiary Eurowings (combined with Germanwings) has grown 11-fold.
The German leisure airline Condor has reduced its seat numbers by 46% since 2006. The top 10 airlines by annual seat numbers in 2016 also include Thomson Airways and TUIfly, neither of which were present in 2006.
The former Barcelona-based airline Spanair was number five at PMI in 2006, but went bankrupt in 2012. Its demise helped to prompt a temporary rebound in the declining position of airberlin, and also gave an additional boost to the rise of Ryanair at PMI.
Since 2012 the total annual seat count at PMI has grown by 25%, or 5.9 million seats. A large proportion of these additional seats has come from airlines outside the top 10, which have grown their capacity at the airport by 3.9 million seats since 2012. In 2016 alone airlines outside the top 10 have placed an additional 2.6 million seats at the airport compared with 2015. Significant contributors have been airlines in the Thomas Cook Group and Norwegian.
Within the top 10 airlines, airberlin has shrunk by 1.7 million seats since 2012, while Air Europa, Vueling and Eurowings/Germanwings have each added approximately 1 million seats. Ryanair's seat numbers have been stable since 2012, although this masks a cut from 2012 to 2015, followed by 14% growth in 2016. Ryanair is the biggest contributor to seat growth among the top 10 airlines at the airport this year.
Palma de Mallorca Airport: leading airlines by seats, 2006 to 2016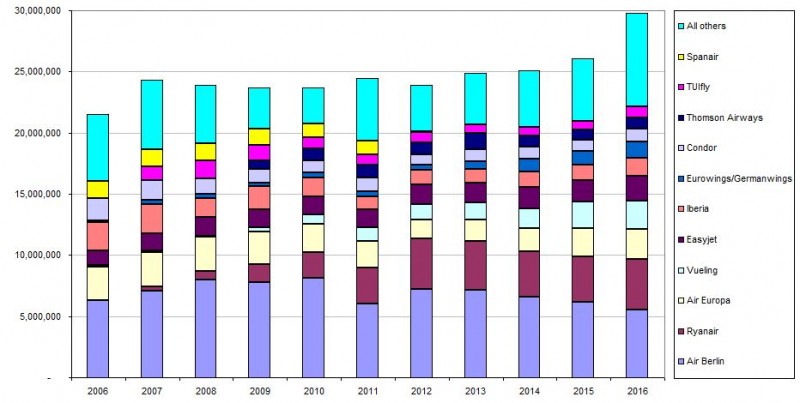 Capacity growth in 2016 accelerated to 14%
Total seat numbers at PMI will be up by 14% year-on-year in 2016, according to OAG Schedules Analyser. By contrast, with the continued contraction of airberlin the LCCs and leisure airlines are growing rapidly. EasyJet opened a new summer-only base this year and Norwegian also opened a base at Palma – its seventh in Spain.
PMI, as has been the case for Spain more widely, has experienced strong capacity growth in 2016 as a result of the switching of leisure capacity from trouble spots in the Middle East and North Africa. This has led to an oversupply situation, which has increased the downward yield pressure felt by airlines in Spain.
See related report: Spain aviation and LCCs: 2016 traffic above pre-crisis levels, but capacity surplus unsustainable
Summer season has driven capacity growth in recent years
The growth in seat capacity at PMI in recent years has been entirely driven by summer capacity growth. The lowest capacity week of the year typically comes in mid-January. From 2012 to 2014 seat numbers in this winter low week actually fell by about 10,000 seats, or 15%. By 2016 this week had undergone a modest recovery, gaining approximately 6,000 seats, but this was still 5% lower than its 2012 level.
By contrast, the summer peak week in early August increased its seat numbers by 138,000 seats, or 42%, between 2012 and 2016. The biggest share of these additional seats came from LCCs, who deployed 60,000 more seats in the peak of 2016 compared with 2012.
Almost the same number of new seats - 53,000 - came from the seat-only sales of leisure airlines that are part of holiday companies, and were not selling scheduled seats in 2012. The rest of the new capacity - 25,000 seats - was from full service airlines.
Palma de Mallorca Airport: airlines by one-way weekly seats to Europe 19-Sep-2011 to 6-Mar-2017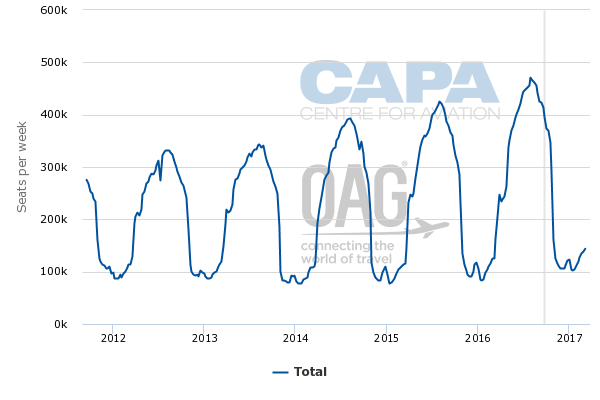 Winter seat growth is accelerating, but winter low is 78% below summer high
OAG data into the early part of 2017 indicate that the winter low week will experience a resurgence of growth with seat numbers up by 20,000, or 25%, versus the 2016 low (this does nothing to calm fears that Spain continues to suffer from overcapacity).
Nevertheless, the winter low of Jan-2017 will still be 78% lower in seat numbers than the summer high of Aug-2016 at PMI. This compares with a high-to-low variation of 25% for markets within Western Europe as a whole, and highlights the highly seasonal nature of PMI's capacity.
Seasonality driven by fluctuations in international capacity
The seasonal capacity variation is mainly driven by international routes between PMI and the rest of (Western) Europe.
According to data from OAG, domestic seat capacity will fall by only 16% from the Aug-2016 peak to the Jan-2017 low, reflecting the year-round need to maintain air links between the island of Mallorca and the mainland. At the same time international capacity between PMI and Europe will drop by 92%.
In the summer high international seats to Europe accounted for 82% of capacity at PMI, but only 32% in the forthcoming winter low.
Palma de Mallorca Airport (two way) seats by region: week of 1-Aug-2016 and week of 16-Jan-2017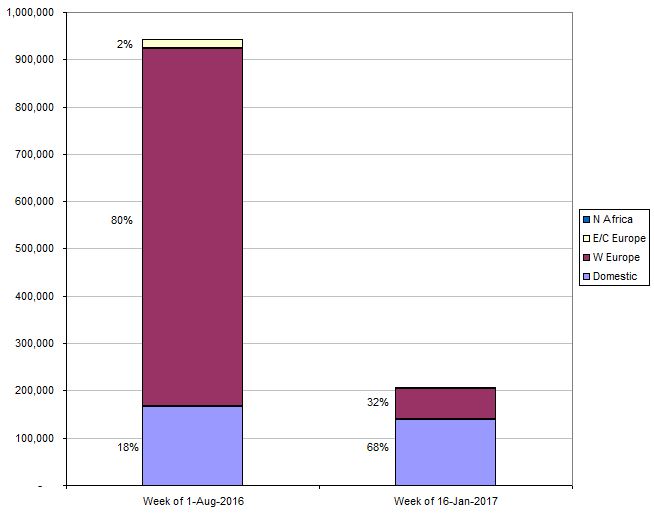 All business models very seasonal at PMI, but charter airlines almost disappear in winter low week
There are some variations in the seasonal capacity shift, according to airline business model. The 78% drop in total seat capacity from the summer high to the winter low is exactly matched by LCCs, while full service airline capacity drops only a little less dramatically - by 73%. LCCs accounted for 48% of seats and FSCs for 40% at PMI in the summer peak.
Ignoring a tiny share of less than 1% held by regional/commuter airlines, the balance of 11% was held by the seat-only sales of leisure airlines that are part of tour operator groups selling package holidays.
These are labelled as 'charter' in the chart below (the capacity represented is scheduled capacity, but the airlines are generally referred to as charter airlines as most of their seats are sold as part of the vertically integrated holiday sales of their parent groups). Their capacity almost completely disappears in the winter low period, dropping by 98% from the summer high.
Palma de Mallorca Airport (one way) seats by airline business model: week of 1-Aug-2016 and week of 16-Jan-2017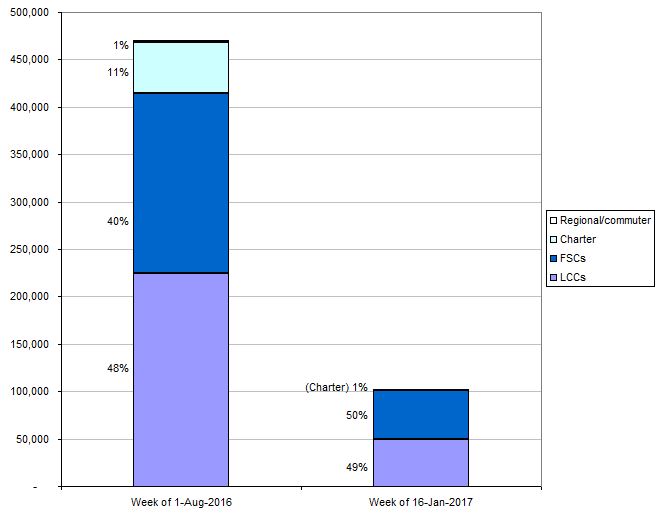 Eurowings announced in Sep-2016 that it will establish a base at PMI in May-2017, with two A320 aircraft based there. This will be the first base for the Lufthansa Group's low cost brand outside the group's home countries (but not its first base outside Germany, since it established one in Vienna in summer 2016).
Germany is the biggest market by seats for international routes to/from PMI and this probably formed part of Eurowings' rationale in choosing the airport as a new base. In addition, the leading airline at PMI is a German airline, but its decline over a long period suggests that there could be an opportunity for another to take its place.
Eurowings follows a low cost airline-type of business model, but does not yet have truly LCC-type unit costs. Indeed, CAPA analysis suggests that Eurowings' cost per available seat kilometre is higher than that of the struggling airberlin (even after taking account of different average trip lengths).
See related report: Eurowings develops innovative partnership approach, but CASK reduction may not go far enough
PMI remains appealing to airlines, but is a price-sensitive market
Eurowings' plans, following new bases established by easyJet and Norwegian, demonstrate that Palma de Mallorca remains an appealing market. Growth at the airport has been driven by these and other LCCs, most notably ultra-LCC Ryanair, and by the influx of leisure (charter) airlines.
Nevertheless, PMI is a fiercely competitive market for airlines. Demand is highly seasonal, very leisure-focused and price-sensitive, particularly in the current capacity glut scenario.
There are likely to be further fluctuations in airline market share as operators fight for traffic to fill the capacity. The lowest cost airlines are best placed, but the only certain winner in this scenario is the airport itself.