Norwegian Air seeks trans-Atlantic flights from 'low fee' US airports: some viable options
Analysis
The Oslo-based LCC Norwegian Air Shuttle ASA, operating as 'Norwegian', has already established a reputation as one of the most prolific long haul budget carriers, with a portfolio of flights to the Middle East, Asia Pacific and North America from Scandinavia and to North America from London Gatwick, under the Norwegian Long Haul brand.
A subsidiary, Norwegian Air International is also established with an AOC at Dublin Airport in Ireland but approval for US flights has not yet been granted by the US Department for Transportation in the form of a foreign carrier permit. So far flights are taking place between primary airports in Europe such as Oslo, Stockholm, Copenhagen and London Gatwick, and primary airports in the US, such as New York JFK, Los Angeles, Orlando and Boston, which joins the network in 2016, the possible exception being Fort Lauderdale, which handles much low cost travel (65% of seat capacity just now).
But Norwegian is hoping to start thinner routes and to sell one way tickets to Europe for USD69 as soon as 2017. It has European airports such as Bergen and Edinburgh in its sights having already announced a service between Cork in Ireland and Boston. It can really only do so by flying from US airports that have low fees. So, which ones might be in the frame, if the demand is there?
Norwegian's already formidable Scandinavian presence will expand long haul
From its bases in Scandinavia Norwegian already has a formidable presence. While SAS is the biggest operator on all eight of its Scandinavia – US routes, Norwegian is #2 in the market, has 13 routes in all, is sole operator on 10 of them and has four more planned.
In addition to its existing routes, Norwegian will launch Las Vegas flights from Copenhagen and Stockholm in the coming winter season and Boston services from Copenhagen and Oslo in May-2016 (as well as launching London-Boston). Norwegian CEO Bjørn Kjos is reportedly considering services to Baltimore/Washington, which is only served from Europe by British Airways, Condor and WOW Air.
It has also been reported to be considering services from the Danish cities of Aalborg and Billund to New York (but probably not to JFK), using B737 MAX 8 aircraft, from 2017. (For further information on Norwegian's long haul impact in Scandinavia.
Ssee the related report: https://centreforaviation.com/analysis/reports/sas--norwegian-air-set-to-take-market-share-in-scandinavia-us-market-as-united-and-delta-pull-out-245651.
Norwegian has competitors across the Atlantic. Iceland's WOW Air recently offered one-way fares between Boston and Paris for USD99 while Lufthansa's low-cost subsidiary Eurowings is also starting cheap long-haul flights. However Norwegian has an advantage over both through its use of the more fuel efficient B787 and it placed an order for 19 more B787-9s in Oct-2015, for delivery between 2017 and 2020.
Its CEO, Bjorn Kjos, believes the carrier could fly between 40 and 50 B787-8 aircraft on markets it is already serving and has already identified. Ryanair seems more likely to offer feeder flights to long haul services rather than operate them itself and is reported to be in negotiations with Norwegian about doing just that.
Norwegian's trans-Atlantic expansion appears to be continuing in spite of the continuing delay in receiving approval from the US Department of Transportation for a foreign carrier permit for its Irish-registered subsidiary Norwegian Air International (NAI). However, with its initial ramp up phase now over, the growth currently scheduled is relatively modest and all of the four new routes planned are only once weekly services.
The gaining of a foreign carrier permit for NAI would give it greater flexibility in the deployment of the same aircraft and crew on all parts of its long haul network (US, Far East and anywhere else that it might seek to enter). Without such approval for NAI, Norwegian's long haul operations flights to the US and to Asia must effectively be kept separate.
Ironically, Norwegian could actually grow more in the US if the authorities there do not approve NAI.
While the intention to increase the B787 fleet is predicated on using those aircraft to add new destinations in other parts of the world, Bjorn Kos has said that Norwegian will use all of its B787 fleet to fly to US destinations if it does not receive approval for NAI.
USD300 average return fare envisaged for US-Europe routes

Norwegian envisages average prices on the new routes being closer to USD300 return, compared with many of the existing fares which are currently running at more than USD500 because of the higher fees levied by busier airports. The aircraft used could be the B737-800s that are already deployed on routes of this type, or B787s or some of the 100 B737 Maxjets that are on order and which are ideal for thin transatlantic routes albeit with fewer seats. Whatever aircraft are used, Norwegian has confirmed that its primary focus going forward will be long haul, with short haul "more of an add-on."
'Low cost' airports are a rare breed in North America; the concept having scarcely taken off as it has done in Europe or Asia for a variety of reasons that are explored in other CAPA reports. Several airports have positioned themselves expressly to seek out budget airlines though and some have the advantage of being quite close to large metropolitan areas. Moreover, some have actual and /or historic experience of catering to US domestic low cost demand, with airlines such as the ULCCs Spirit and Allegiant as well as with Canadian and Mexican budget airlines, and which must give them an advantage, all things being equal.
Potential US gateways for Norwegian
In light of this it is interesting to speculatae where Norwegian might consider switching to, from its existing US gateways, assuming the airports concerned do actually seek intercontinental services.
In and around New York there are a number of smaller airports that would welcome the opportunity to handle international traffic and recognise it is most likely to come from the budget segment. They must weigh the opportunity against the cost of implementing border control measures (immigration), and, in contrast, of competing against airports that are better suited to offering immigration pre-clearance to passengers.
See the related article: https://centreforaviation.com/analysis/reports/us-immigration-pre-clearance-is-extended-in-europe-north-asia-and-caribbean-but-at-what-cost-229961.
(British Airways will slightly reduce frequencies to airports including New York, Boston and Philadelphia in summer 2016. While the reductions are not sufficient to offer a substantial opportunity to alternative low cost carriers they might be viewed by those airlines as an indication that this is the time to be crunching numbers in order to be crunching numbers in order to investigate particular routes more closely).
One of the contenders must be Stewart International, 100 km (62 miles) north of downtown Manhattan. This airport is back under municipal control, through the Port Authority of New York and New Jersey (PANYNJ) – although it is operated on the Port Authority's behalf by the private sector company AFCO - having been the first airport to be privatised under the 1996 Airport Privatisation Programme.
PANYNJ has pumped considerable sums into the airport, a little matter of USD500 million in a ten-year capital improvement plan to expand it. It has regional significance, supporting USD750 million in annual economic activity and over 5500 jobs. But passenger figures continue to fall. In the first eight months of 2015 it was significantly lower than the same period in 2014. The airport served 191,109 passengers between 01-Jan-2015 and 31-Aug-2015, representing a 38% fall from the 309,357 previously. There were only 315,000 passengers in all in 2014, including non-revenue ones. This is in contrast to the three main New York airports, which are growing overall so far this year, albeit in low single digit percentage amounts.
The airlines currently operating at Stewart are Allegiant; American; Delta; JetBlue and US Airways. There are code shares that also bring in Air France, KLM and Virgin Atlantic as indirect operators.
Stewart International Airport capacity (seats per week) all carriers, 12 to 18-Oct-2015
Norwegian/1.png" alt="" width="500" height="334" />
Stewart International has the physical capability to handle long haul; one of its runways in 3600 m x 46 m. But it is perceived as being too far from New York and there is no rail connection despite there being plans for one. Various efforts are being made to revitalise it including its positioning as a New York Free Trade Zone for start-up businesses which, it is claimed, makes it the least expensive place in the US to site a new business.
The intention is to encourage freight as much as passenger airlines. UPS and FedEx already have a base there.
Locator map for New York and Newark compared to Stewart Airport (close to 'Beacon' on the map) and White Plains (See Westchester Airport, below)
Norwegian/2.png" alt="" width="500" height="335" />
Then there is the proposal to rename the airport, possibly to New York International Airport at Stewart Field. A recent study pointed to the lack of identity outside the immediate region. Hand in hand with this would be the rebranding of the airport as 'the low-cost back door to New York.'
In 2012, a proposed European low cost start-up, Fly A, identified Stewart as its preferred gateway to New York but it failed to attract the necessary funds to commence operations.
Another airport in the PANYNJ stable that could come into contention is Atlantic City in New Jersey, which is a major base for Spirit Airlines, which has 100% of the capacity apart from some regular charters.
Atlantic City also has a runway over 3000 m, but its distance from New York (almost 130 miles) and lack of surface connectivity tend to rule it out although at a pinch it could be considered an alternative to both Newark Liberty airport and Philadelphia Airport.
Locator map for New York, Philadelphia and Atlantic City
Norwegian/3.png" alt="" width="500" height="302" />
Other airports close to New York and in the wider east coast area include New York's Westchester county airport and Connecticut's Hartford Bradley international airport.
Westchester County Airport serves the city of White Plains, New York, and the surrounding Westchester County. The airport also serves part of the New York metropolitan area, due to being 53km north of Manhattan, which is considerably closer than both Stewart and Atlantic City. The majority of the airport's traffic is derived from regional subsidiaries of the US majors.
The airport had 1.5 million passengers (arriving and departing) in the rolling year Jul-2014 to Jun-2015.
Westchester Airport capacity (seats per week) all carriers, 12 to 18-Oct-2015
Norwegian/4.png" alt="" width="477" height="318" />
Westchester has runways of 1.35 km and 1.99 km but it is hampered by proximity to residential neighbourhoods, which has incurred the need for voluntary curfews.
Connecticut's Hartford Bradley International Airport is larger and better established than those mentioned so far and is designated as a primary commercial service airport.
It handled over 5.8 million passengers in 2014 and grew at an average rate of 1.7% in the first five months of 2015. It is the second-largest airport in New England after Boston and counts Southwest and Delta as major operators.
Bradley International Airport capacity (seats per week) all carriers, 12 to 18-Oct-2015
Norwegian/5.png" alt="" width="477" height="319" />
Hartford Bradley International Airport annual passenger numbers
Norwegian/6-2.png" alt="" width="441" height="294" />
Recently, the Connecticut Airport Authority stated that negotiations with a number of carriers regarding trans-Atlantic services to the airport were "showing promise."
Norwegian was making the running but as this report is published Aer Lingus announced a major expansion to its trans-Atlantic operations for 2016, adding three new routes as part of the strategy to expand its Dublin Airport base into a major European trans-Atlantic gateway. Aer Lingus' new services include a daily one to Hartford from Sep-2016.
The airport has four runways, the longest of which is 3000m x 60m. It is situated between the state capital, Hartford, and one of the many Springfields that are spread out across the US, in an area littered with English place names (as 'New England' suggests). Perhaps more important is its location almost exactly mid-way between New York and Boston (see map).
The Amtrak rail line serves two nearby rail stations and service on a commuter line that connects the main areas of population is being extended considerably. The number of trains serving the 'airport' station each day will increase from 12 to 70 by 2020 and the intention is that a shuttle bus should meet each one. Beyond that discussions have taken place on a fixed rail link to the airport.
Locator map for New York, Philadelphia and Atlantic City
Norwegian/7-3.png" alt="" width="594" height="329" />
Around five years ago and before the collapse of the lease arrangement for Chicago Midway Airport, Bradley Airport was one of some 15 across the US to seek out actively potential investors but eventually enthusiasm was lost by most of them, including Bradley.
Upstate New York airports have the advantage of proximity to populated Canadian regions
Further north, in upstate New York, there are three airports that also have a viable offer to long haul LCCs. They each lie close to the Canadian border and to a degree they vie with airports on the other side of that border for the same traffic. The advantage that the US airports have is that in most cases charges to airlines tend to be lower on account of onerous land taxes in the Canadian provinces.
Locator map for Buffalo and Niagara Falls area and proximity to Southern Ontario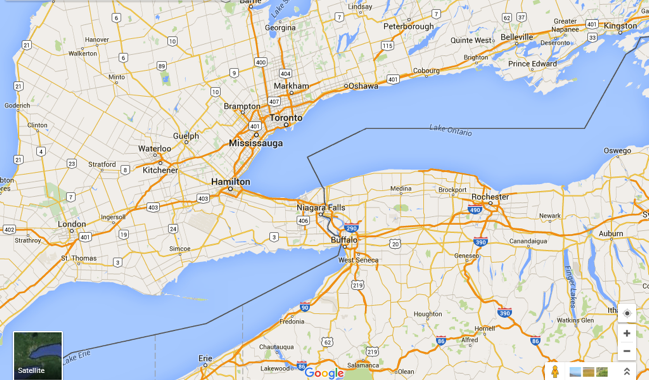 The first is Buffalo-Niagara International Airport, serving the metropolitan area of the same name. Buffalo is the second most highly populated city in New York State after New York itself, and the metropolitan area is the 45th most populous in the US with a little over 1.1 million inhabitants. The major advantage though is the close proximity to the Canadian border and the very heavily populated Southern Ontario region, the airport being 180 km (110 miles) from Toronto. The airport has a section of its website directed specifically towards Canadian travellers.
The airport is owned and operated by Niagara Frontier Transportation Authority. There are two runways, one of which is 3000 m in length.
The airport has a balanced traffic mix of legacy and low cost carriers, with the majority of capacity (almost 50%) going to the LCCs Southwest and JetBlue. It will not have gone unnoticed that Icelandair, the original transatlantic discounter (though it is more of a legacy carrier now), has just announced a bilateral code share partnership with JetBlue via its US hubs at New York and Boston, having had a successful interline partnership since 2011. Icelandair previously had an interline deal with Southwest in the 1990s. This sends out a clear message that aspiring European transatlantic long haul LCCs can expect to find potential partners at both existing and emerging US hubs.
Buffalo Niagara International Airport capacity (seats per week) all carriers, 26-Oct-2015 to 01-Nov-2015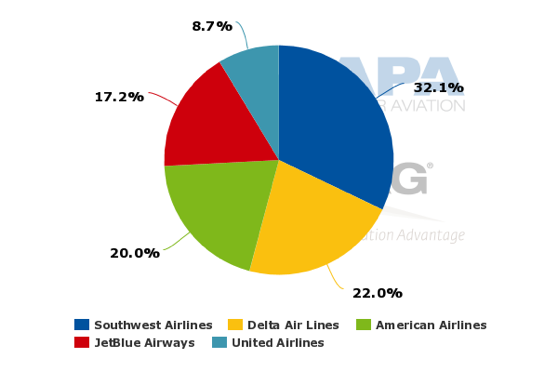 Passenger traffic has been steady during three years until 2014, when there was a 7.5% reduction for the year owing to a combination of factors, primarily mergers and consolidation in the US aviation industry; notably the US Airways/United Airlines merger and Southwest's acquisition of Airtran, which adversely affected the number of daily flights between Buffalo and Atlanta. Shifts in the exchange rate that are making ticket prices ex US airports a little less attractive for Canadians than they have been also played a part. This may be a temporary anomaly an there are still 100 non-stop flights per day.
Consequently, for the first time in almost a decade, the airport handled less than five million passengers for the year.
Buffalo Niagara International Airport annual passenger numbers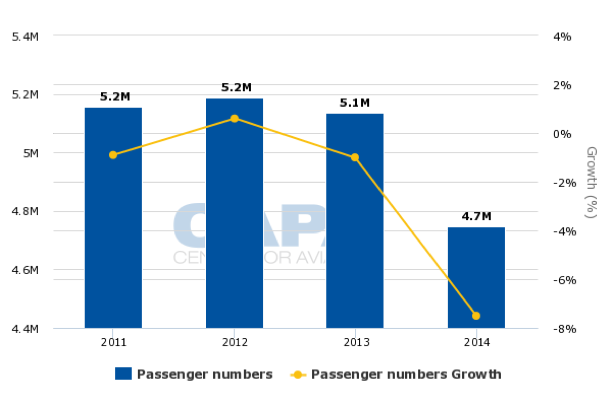 That is not the case though at the other airport operated by Niagara Frontier Transportation Authority, the Niagara Falls International Airport (NFIA), which is situated just four miles east of the City of Niagara Falls, home to the world famous waterfalls.
During 2014 traffic at NFIA, which is serviced mainly by the ULCCs Allegiant and Spirit with routes to Florida, grew, inspired partly by the provision of a new terminal building and the prospect of a new runway for which land is being acquired. Passenger numbers are comparatively low compared with the Buffalo Airport however, with just 207,600 during 2014 although this is a record figure and the upward trend has continued in 2015 with double digit increases recorded.
The airport has three runways, the longest of which is almost 3000 m.
Niagara Falls International Airport capacity (seats per week) all carriers, 26-Oct-2015 to 01-Nov-2015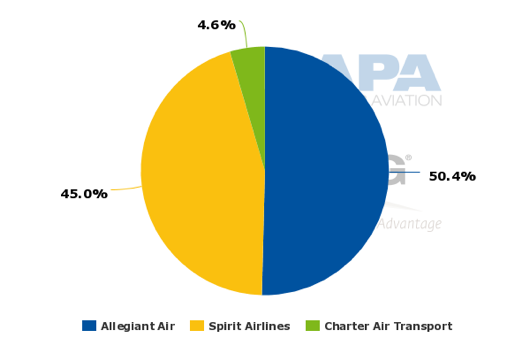 Of these two airports Buffalo appears to make the most advantageous offer to long haul LCCs. Neither of them accommodates international services momentarily. The Niagara Airport scores for its proximity to the Falls but a long haul route cannot be built on a single site tourist offer alone. It would also offer the potential for interlining with the ULCCs there but ULCCs are typically inclined not to do that and the route structure is quite limited at this time.
It is understood that tentative negotiations may have taken place already with actual and potential long haul LCCs.
Looking at the Transportation Authority's financial position vis-à-vis growth, ratings agency Fitch recently affirmed its (approximately) USD77.2 million of airport revenue refunding bonds at BBB+ with a rating outlook of stable. The rating reflects Buffalo Niagara International Airport's historically stable enplanement base with dependency on Canadian cross-border air travellers, low debt burden and manageable near-term capital investment needs. The airport's financial metrics are favourable to other airports in the rating category. However, Fitch reports the airport has the ability and ongoing history of making subsidy transfers out of the airport system to support other authority transportation operations and that this obligation limits the airport's ability to build liquidity and the growing deficits of the airport can drain the Airport Development Fund.
The third of these airports is Plattsburgh, situated in the top, north eastern corner of New York State and in this case just 60 miles from Montreal in Quebec, rather than Ontario.
Locator map for Plattsburgh and its proximity to Montreal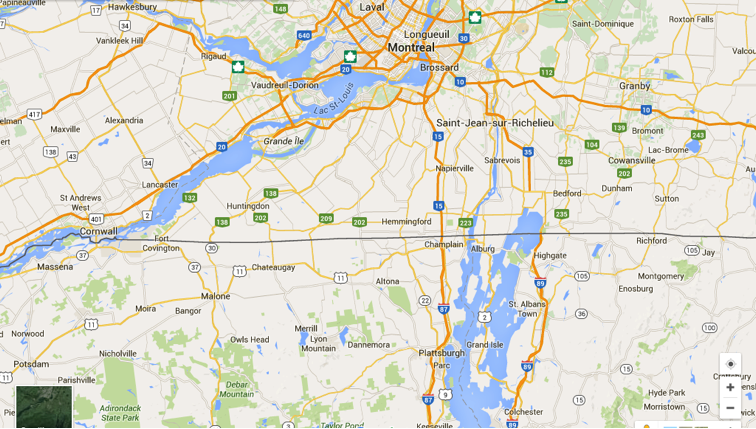 Plattsburgh International Airport benefits from having been converted from an airport base and consequently having many facilities already established there, including a 3600m x 60 m runway. It is also part way through a USD55 million expansion project that will triple its size, with an international customs facility to be completed in 2017. The airport is in local County ownership.
The airport management stated earlier this year that it is working towards attracting international services though its focus appears to be on Cuba, owing to the continuing demand for Caribbean travel from Canadians, who account for over 80% of passengers and almost all of them from Quebec. It is aggressive in its marketing and refers to itself as 'Montreal's US Airport.' The southern suburbs of that city are closer to Plattsburgh than they are to Montreal's own Trudeau Airport.
Plattsburgh has suffered a similar fall in traffic in both 2014 and 2015 to date and for similar reasons to those at Buffalo Airport.
Traffic distribution might be compared with that at Niagara Falls in that the two ULCCs Spirit and Allegiant are present here as well, with a combined 78% of seats. They are supplemented by Peninsula Airways, aka PenAir, an Alaskan-based carrier that flies to its east coast hub at Boston. Otherwise all the routes are to and from Florida, again as in the case of the Niagara Falls airport.
Plattsburgh International Airport capacity (seats per week) all carriers, 26-Oct-2015 to 01-Nov-2015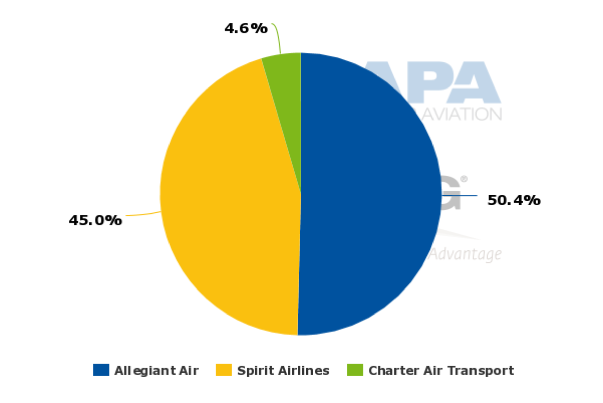 Before leaving the northeast a brief mention must be made of the struggling MacArthur Airport (formerly Islip) on Long Island, where attempts are being made to introduce domestic and international services. USD1.5 million has been set aside to expand a future US Customs facility and for route marketing. The Customs Facility would cost USD10 million or more to build and requires Department of Homeland Security approval.
MacArthur Airport
Norwegian/8.png" alt="" width="459" height="345" />
The airport is located in Suffolk County, in north Long Island, New York and is the third largest commercial airport on Long Island, behind New York JFK and LaGuardia, both of which are in Queens County, New York City.
The airport primarily serves the Nassau and Suffolk counties on Long Island and three major airlines make up the complement: Southwest (the largest by far), US Airways and American.
MacArthur Airport capacity (seats per week) all carriers, 12 to 18-Oct-2015
Norwegian/9.png" alt="" width="441" height="295" />
The airport has been losing money in recent years and really needs a runway extension (from 2135m x 46m, the largest of four) to have any chance of attracting intercontinental service. But construction money is not available, partly because of the recent completion of USD12 million worth of renovations and the FAA has not yet approved the extension.
Prior to the hiatus the airport was understood to have been negotiating with WOW Air for a service from Iceland and those negotiations resumed in Jul-2015.
Rockford files for mid-west recognition
In the mid-west another region with potential for long haul LCCs is the heavily populated Greater Chicago area, embracing northern Illinois, southern Wisconsin and western Indiana. One of the airports with the greatest potential here is Rockford, northwest of Chicago. It is known as Chicago Rockford Airport.
Locator map for Rockford and its proximity to Chicago and Milwaukee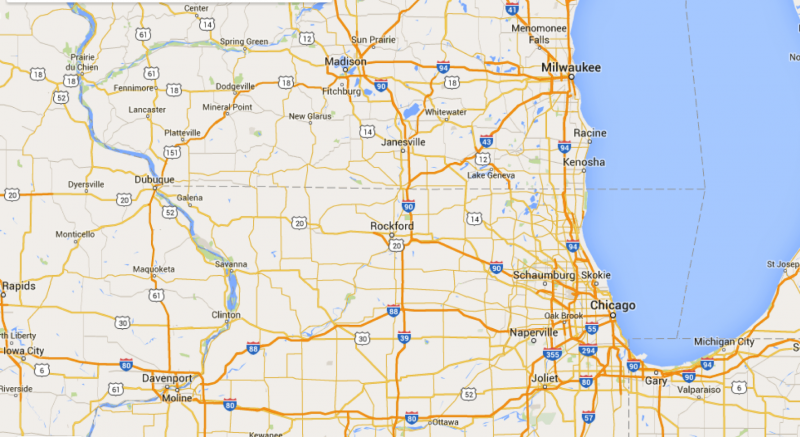 Rockford was Illinois' second largest city although its population has fallen as a result of industrial relocation, but it remains a comparatively wealthy blue collar area. Once a centre for the aerospace industry some of those jobs are beginning to return as the economy improves.
The city is located 70 miles northwest of Chicago, at the junction of the west-east I-90, which runs from Chicago via Minneapolis and eventually on to Seattle on the northeast coast, and the north-south I-39, which is the logistics corridor for the region. There is a railhead for freight about 10 miles away but no passenger rail station at the airport. There is a regular bus service to downtown Chicago.
It is also situated in the area in which Chicago is growing, i.e. northwards and westwards towards Milwaukee, and its catchment area extends into both Wisconsin and Iowa. It has one of the largest Scandinavian populations in the Americas, which is why it might be attractive to carriers such as Norwegian (or WOW), together with a high population from the Baltic countries and Poland.
There are two runways, the longest of which is over 3000 m. It is the primary diversion airport for the main Chicago and Milwaukee fields.
Traffic grew steadily in the period 2010-2013 though growth did tail off from 15.7% down to 3.5%, and then to 2.88% in 2014 (not on chart). Data is not yet available for 2015.
Chicago Rockford Airport annual passenger numbers 2010-2013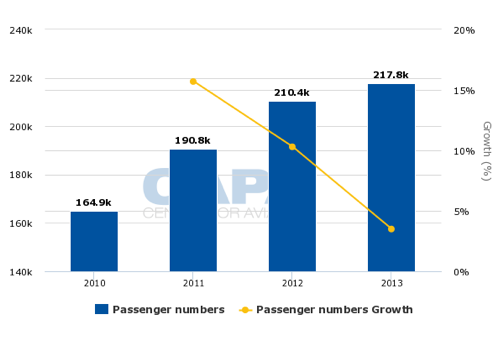 There are domestic scheduled flights, mainly to sunbelt States and international charters to the Caribbean during the summer. The two main airlines operating year-round are Allegiant and Elite Airways (Branson AirExpress).
Rockford Airport was once the headquarters of charter operator Ryan International Airlines, which ceased all operations in 2013.
There are no legacy carriers though it is understood that discussions have taken place with a carrier for routes via Florida into Latin America.
Around USD40 million in being invested in MRO hangars, one of which will be operated by the AAR Corporation.
There is extensive freight activity. The airport is the second largest hub in North America for UPS, handling 100,000 packages per hour.
US immigration facilities are already in place and the airport is prepared to invest heavily – perhaps up to as much as USD1 billion over time - if international long haul services are acquired. Fuel farms and catering facilities to the size, scope and standard that would be required are also said to be in place.
Negotiations that have taken place to date indicate that the airport management believes it could act not only within a point-to-point framework but also as the end (O&D) point of what would be a hub operation at the European end of long haul LCC flights, owing to the population mix in the area that was described earlier. It is also investigating the best way of organising and promoting self-hubbing activities at Rockford Airport itself, with existing and future domestic carriers.
The prevailing theory is that Rockford is the best suited of the airports in the vicinity of Chicago to adapt to the demands of long haul LCCs, and has the most appropriate population base to do so. It also presumes that the proposed South Suburban Airport at Peotone (which would serve an entirely different market), will not be built. Moreover, that airport might focus on cargo even if it is constructed.
Unlike Chicago Midway Airport and General Mitchell Airport at Milwaukee no proposal has been made to privatise Chicago Rockford Airport to date. The airport is publicly owned and operated under the control of seven commissioners representing local municipalities.
Southern California's non-LAWA airports could offer a niche opportunity for Norwegian

Moving away from the northeast and mid-west, the two states likely to be of the greatest appeal to airlines like Norwegian are California and Florida, on account of their guaranteed leisure traffic. Norwegian already operates into Los Angeles International (LAX).
There are alternative airports around the city region, but only one of them is used by foreign airlines.
They include Burbank Bob Hope Airport in the north, Long Beach Airport in the south, and John Wayne Airport at Santa Ana in Orange County, about 35 miles southeast of the LA central business district (CBD). None of these is in the ownership of Los Angeles World Airports (LAWA) but there are issues apart from the provision of immigration services such as runway length, physical constraints and location.
Locator map for Los Angeles region airports
Norwegian/10-2.png" alt="" width="500" height="296" />
The airport most appropriate to an approach by a European carrier would probably be John Wayne Orange County Airport as it is recognised as serving the tourist attractions of Orange County, which include Disneyland, except that its longest runway is only 1738 m and difficult to extend because of major highways at each end.
The airport most open to an audacious pitch would probably be Ontario International Airport, about 35 miles due west of the CBD, on Highway #10 to San Bernardino. The local municipalities there, led by the City of Ontario, fought a five-year battle to gain control of the airport from LAWA, which they accused of paying it insufficient attention, thereby bringing about a diminution of traffic.
Between 2007 and 2014 the number of daily departures for example fell from 128 to 59.
Moreover, one of the big three ratings agencies, Fitch, reaffirmed the airport's rating outlook as negative. An 'A-' rating on USD59.6 million of fixed-rate revenues bonds outstanding reflects the airport's limited traffic activity with exposure to competition from larger airports serving the greater Los Angeles region. The negative outlook was assigned after numerous consecutive years of volume decline. However, Fitch recognises that passenger volume levels may have started to stabilise.
But the acquisition came at a cost.
Ontario will pay USD190 million over the next 10 years, while taking on USD60 million in airport debt. The deal will take about a year to finalise, mainly because of the FAA review that is needed before the airport's operating certificate can be transferred.
Ontario officials believe that under the control of their new five-member airport authority, they can cut costs to make the airport more competitive in attracting airline service. It already has an image of an airport served primarily by LCCs and is dominated by Southwest.
Ontario Airport capacity (seats per week) all carriers, 12 to 18-Oct-2015
Norwegian/11-3.png" alt="" width="477" height="318" />
That will send out a signal to international carriers – Ontario already hosts two Mexican airlines, both LCCs - but it is not clear just how far costs can continue to be cut and other airports in the area already have much lower costs than LAWA was making airlines pay at Ontario but are experiencing the same traffic losses.
Political constraints are likely to constrain LAX's growth, which is good news for the region's other four airports. And Ontario has two long runways, one of them over 3700 m. But the airport is positioned as serving primarily the 'Inland Empire,' the four million population collective suburbs centred around San Bernardino, not the centre of Los Angles, Hollywood, Anaheim or other tourist areas.
An extension of the Gold Line of the LA Metro (urban rail) system to the airport would help – an extension is under way now but falls short of the airport - but local political squabbling seems to have put paid to the airport line and station, at least for now.
See the previous report https://centreforaviation.com/analysis/reports/los-angeles-airport-receives-a-major-facelift-with-cutting-edge-in-terminal-technology-154039
For now, at least Ontario has some advantages over LAX as far as charges go:
Landing Charges for Ontario International Airport, Los Angeles International Airport (USD) for 2014
Norwegian/new_generated_chart-144607461188.png" alt="" width="500" height="308" />
Northern California: Oakland International Airport has the edge; San Jose Mineta International Airport is an outside chance
In the northern part of California LCCs are already taking advantage of the facilities offered by Oakland Airport as an alternative to San Francisco. It is a focus city for both Southwest and the ULCC Allegiant Air and Norwegian already operates there, to and from Stockholm and Oslo (the latter seasonal). There are no known plans for a Gatwick-Oakland service by Norwegian at this stage. Previously the now defunct Oasis Hong Kong Airlines, which was liquidated in Apr-2008, had Oakland in its sights as a US west coast gateway.
The Bay Area generally looks to be the most promising in the entire US for passenger growth. San Francisco Airport (SFO) recently released a report prepared by the City Services Auditor comparing the airport to 12 others including Chicago O'Hare International Airport, Dallas-Fort Worth International Airport, New York John F Kennedy International Airport and Los Angeles International Airport.
It found that SFO experienced the highest rate of passenger enplanement growth, at 33%, from 2007 to 2014.
During the same period, five peer airports experienced a loss in enplanements. The conclusion reached was that SFO (and by inference the Bay Area) is a highly competitive market for both fares and service.
Oakland Airport capacity (seats per week) all carriers, 12 to 18-Oct-2015
Norwegian/13.png" alt="" width="486" height="325" />
The third airport serving the San Francisco Bay area is San José Mineta International Airport, in the heart of Silicon Valley. It is served by network, low cost and some regional airlines with LCCs predominating (55%). International capacity is split between two regions with North Asia playing a big part (47.7%) as might be expected from an airport serving a large slice of the US' CIT industries segment.
So two demand factors converge here – low cost and long haul, though in the case of Norwegian Europe is not a particularly strong area for the airport. There are no flights at all to Europe presently. British Airways will commence a service to London Heathrow airport in May-2016.
This is how the two main Bay Area airports compare on charges:
Landing Charges for San Francisco International Airport, Oakland International Airport (USD) for 2014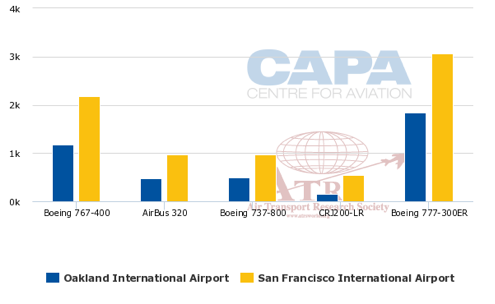 In Florida, the low cost alternative to Orlando International Airport has for many years been Sanford, to the north of Orlando, which is now operated by the Houston-based Airports Worldwide. The airport is positioned on the wrong side of Orlando for many of the area's theme parks and other leisure attractions, and this has probably contributed to the loss of some European scheduled and charter services.
Those that remain (exclusively charters) include Thomson Airways (from eight UK airports), TUI Airlines Netherlands (previously Arkefly) from Amsterdam and Jetairfly from Amsterdam and Brussels. All are seasonal. Otherwise the airport is dominated by Allegiant except for a small capacity contribution from Branson Air Express, which serves the small budget airport of the same name in Missouri.
Locator map for Orlando and Sanford airports
Norwegian/15.png" alt="" width="500" height="269" />
Sanford Airport capacity (seats per week) all carriers, 12 to 18-Oct-2015
Norwegian/16.png" alt="" width="450" height="301" />
Punta Gorda Airport puts down its marker as a genuine Ultra Low Cost Airport
There is another airport in Florida which stands out as a good example of the low cost genre, namely Punta Gorda Airport, in Charlotte County. The airport sits between Tampa, Bradenton and Sarasota to the north, and Fort Myers to the south in the western part of Florida.
There is tourist and VFR demand for the region though it is mainly indigenous and cannot be compared to that of Orlando, Miami and Fort Lauderdale.
Locator map for Punta Gorda airport in relation to Tampa and Fort Myers areas
Norwegian/17.png" alt="" width="500" height="325" />
The airport has grown very rapidly, from 182,000 passengers in 2010 to 682,000 in 2014 (+375%) and the projection for 2015 is 835,000. The airport offers an airline a 'zero cost per enplanement' model. Revenue from rental cars, parking and concessions more than covers expenses according to the management. A terminal expansion specifically designed for low cost carriers was recently opened.
Punta Gorda Airport annual passenger numbers
Norwegian/18.png" alt="" width="500" height="334" />
Transition from a successful short-mid haul domestic airport to one that satisfies the needs of foreign long haul airlines would be problematic even if it is something the management actually desired. Physically, the existing facilities are possibly acceptable. The longest runway is 2014 m x 46 m. Phase 2 of the terminal extension, to be completed in 2016, could possibly handle international services.
But realistically there is unlikely to be demand from European carriers such as Norwegian in the short-term. It is useful to look at examples like Punta Gorda though because it is representative of a revolution that has taken place amongst smaller backwoods airports during the last decade as they adapted to the demands of US LCCs, and specifically of the ULCCs, which are Spirit, Allegiant and, in its latest incarnation, Frontier.
If the operational paradigm should change significantly to the degree that new long range aircraft types permit the operation of ultra thin international routes these airports can be expected to be in the vanguard of the drive to accommodate them.
This CAPA report from 2014 comments on the influence of new aircraft types on transatlantic routes: https://centreforaviation.com/analysis/reports/787-and-a350-airline-operators-will-open-up-new-europe-us-routes---despite-some-inertial-resistance-187229
Airports that have traditionally attracted ULCCs
To find other examples, there is no need to look further than the airports that have sought out services from the airlines mentioned above and also from the first mover in this field, Skybus. It is probably the best historical airline example because it replicated the business model of Ryanair quite closely, even attempting to undercut Southwest's CASM by 28% (except that it went bust, a fate unlikely to befall the Irish airline with its massive cash pile).
Skybus Airlines Inc. was a privately held airline based in Columbus, Ohio and which operated as a ULCC in the manner of Ryanair (with direct input from at least one ex-Ryanair C level staffer). It aimed to be the least expensive airline in the United States. The business model was reliant on flying routes where other airlines did not have direct flights, as Ryanair originally did in Europe, thus keeping competition to a minimum, and on flying into secondary airports, rather than heavily trafficked ones.
It mimicked Ryanair by selling advertising space on the interior and exterior of its aircraft, as well as selling merchandise on board. It functioned between May-2004 and Apr-2009, when it ceased operations citing the lagging post 'credit-crunch' economy and rising fuel costs as causes.
On its last day of operation, Skybus provided service to 17 destinations throughout the continental US. From its bases at Columbus (Port Columbus International Airport) and/or Greensboro High Point (Piedmont Triad International Airport) Skybus had operated to:
Flights also took place between these cities but on a lesser scale than from/to the focus cities and other cities had previously been served, including San Diego in California and Bellingham in Washington State.
Skybus' demise was not the end of its modus operandi as many facets were taken up by Spirit Airlines. As of Apr-2015 Spirit's top 11 airports as ranked by number of departures were:
Allegiant Air is notable for its policy of flying from US airports close to the Canadian border and advertising those services extensively in Canada. Typically many of its passengers are Canadians bent on saving money and boarding Allegiant flights at airports that include:
Niagara Falls, New York State

Syracuse, New York State

Plattsburgh, New York State

Grand Forks, North Dakota
Allegiant is notably strong in Florida where it has eight cities connected to the colder north including Punta Gorda, Sanford and Fort Lauderdale. In the south and west it flies to Oakland, also Phoenix/Mesa, an alternative to the main Phoenix Sky Harbor airport, and in Texas to Austin, where a decommissioned low cost terminal that was built privately to satisfy the demands of the Mexican carrier VivaAerobus may be brought back into service.
Indeed Allegiant serves many secondary level airports which in theory could be brought into use to satisfy demand from the likes of Norwegian. There are three around Chicago alone, at Rockford (as mentioned earlier in the text), Appleton/Green Bay Wisconsin, and South Bend, Indiana. That isn't to mention Gary-Chicago airport in Indiana, which isn't served by Allegiant but which, now under private management, is being positioned, like Rockford, as an alternative gateway to Chicago.
Finally, Frontier Airlines, which serves more foreign destinations, has 55 cities in all in its roster. Frontier is still slightly more inclined to use primary airports but some of the secondary ones that are becoming common now also turn up, including Fort Lauderdale, Southwest Florida International at Fort Myers (not Punta Gorda), Greensboro Piedmont Triad, Austin and Milwaukee General Mitchell airports.
What to make of this conflicting information? It is clear that these LCCs/ULCCs operate at primary level airports as well as secondary ones, including Allegiant. At the time Skybus was inaugurated in 2004, Ryanair was not operating at primary airports in Europe but by 2009 when Skybus folded it was, and most of its expansion now is at primaries. The moral is that there is only so much scope for growth at secondary and tertiary level airports. And the consequence is that there is even less scope for long haul airlines to succeed and then grow at them.
The opportunities for the likes of Norwegian then are limited if it is looking beyond the airports it uses already or is about to do so.
The likely profiles of Norwegian target airports
These are:
Where there is the least concentration of formal hubbing and greatest concentration of informal hubbing activity generally (potentially to adopt and even promote the self connection that has become so popular in Europe and Asia Pacific);
In or around the Greater Chicago area, assuming the proposed Peotone/South Suburban Airport is not built (Rockford, Chicago-Gary, Milwaukee General Mitchell, Green Bay, South Bend etc);
Close to the New York and Boston metropolitan areas;
Along the Canadian border where there is a high Canadian population to target (New York State airports such as Niagara Falls, Buffalo, and Plattsburgh, also Bellingham);
Where there are Scandinavian/Nordic exclaves, predominately in the north (Minneapolis, Grand Forks), on both sides of the US/Canadian border;
In southern California (Santa Ana, Ontario);
In Florida, at an alternative airport to Orlando;
In the Midwest area at an airport such as Kansas City.
Opportunities in the east and west of Canada
Finally, mention should be made of Canada. While US airports and airlines may be making incursions into Canadian territory there are a small number of secondary level airports that have the capability to challenge primary ones though they have not yet done so. Southern Ontario is a good example. It is one of the most populated areas in the whole of North America and the population is set to grow further.
Airline passenger traffic there is expected to more than double by the 2040s, exceeding the combined capacity of all the airports in the region to handle it, according to a White Paper prepared for the Greater Toronto Airports Authority (GTAA). More than 42 million passengers travelled through airports from Windsor (in the west, near Detroit, Michigan) to Kingston (at the eastern end of Lake Ontario), last year – 38.6 million through Pearson International in Toronto –and by 2043, traffic will rise to about 90 million.
LCCs are popular in Canada, led by WestJet and Air Canada Rouge - both of which are flying long haul routes and WestJet has just announced a big transatlantic expansion in 2016. WestJet has close to 50% of all capacity at the John C Munro Hamilton International Airport in Southern Ontario, the closest airport to Toronto Pearson. The airport, managed by Vantage Airports Group, has been developing cargo and courier traffic as an alternative to finding a second LCC. Scheduled and charter long haul services have been attempted in the past, such as that by Globespan from Liverpool Airport in the UK.
But point-to-point traffic between UK regional centres and North America is often weak and the successful routes are usually to hubs. The story would possibly be different in the case of a service from, for example, London Gatwick if the slots were available. Hamilton is well suited to the short haul LCC model at least and has a 3048 m x 61 m runway.
Locator map for Toronto Pearson and Hamilton airports
Norwegian/19.png" alt="" width="500" height="307" />
There are other airports in the Toronto area too, such as Waterloo Airport (which hosts American Airlines, Sunwing Airlines and Westjet) to the west and Oshawa (currently General Aviation and executive jets only) to the east. In Europe they would be considered fair game to host short haul LCCs but long haul ones might be a stretch too far. In both cases the runway is less than 1300m. There are longstanding plans to build a new CAD2 billion international airport at Pickering, between Toronto and Oshawa. The latest assessment is that that the airport will be needed within the 2027-2037 timeframe.
Toronto's White Paper proposes that a system of regional co-ordination among airports needs to be established so that they function as an integrated group rather than a collection of individual facilities. If transatlantic low cost long haul becomes a fixture that would mean one of these airports being designated to handle it and in the absence of the Pickering airport in the foreseeable future that would mean Hamilton.
Expansion of Pearson is also in the offing (Terminal 1, the main hub for Air Canada) but that airport is more likely to remain the mid-long haul network airport as its growth rate in that segment is high. Comparisons are being made momentarily with how the New York airport network has developed with JFK taking the role of international hub, LaGuardia handling short- and medium-term flights, Newark the key centre for low-cost carriers while Teterboro, New Jersey is the business and executive airport.
The appeal is of each airport taking on a particular role – an air travel division of labour – so that the overall air travel capacity is optimised to best meet the range of demands.
Montreal Pierre Elliot Trudeau International Airport still has potential
Elsewhere in Canada opportunities for low cost long haul supporting airports are not so evident. Montreal's Pierre Elliot Trudeau International Airport continues to underperform despite a 5.2% passenger increase to 14.8 million in 2014 and how to fill the existing facility is of greater concern than directing aspiring long haul LCCs to alternative ones.
Cities such as Halifax, Calgary, Edmonton and Winnipeg have large populations but not a large hinterland catchment area and in most cases not the same degree of expatriate population on which LCC leisure flights are based as at Toronto and Montreal.
It is probably the area around Vancouver in British Columbia that offers the best prospects in the west. The Abbotsford International Airport for example, the second largest airport in the Lower Mainland, after Vancouver International, is in close proximity to downtown Vancouver and the US border via Highway #1. The airport currently receives scheduled domestic services and seasonal international services operated by WestJet. Abbotsford could be considered an alternative to Bellingham Airport in the US' Washington State, which has been used, and still is used, by LCCs as an alternative to Vancouver (and also to Seattle although that city is much more distant). Abbotsford and Bellingham are only 30 km apart.
But from the viewpoint of a long haul operator with exhausted passengers on board following a long journey the Canadian airport would be a preferable option, avoiding the need to cross a border.
Locator map for Vancouver and Abbotsford airports
Norwegian/20.png" alt="" width="500" height="254" />

The Winnipeg based NewLeaf Travel Company, in association with Flair Airlines, intends to commence operating budget air services before the end of 2015 at a small number of airports including Hamilton and Abbotsford, subject to securing adequate capital.
While these would be short and mid-haul services operated by a virtual airline the intention demonstrates the appeal of these airports to LCC operators.
So in addition to the list of opportunities above in the US should be added:
A wide range of airports is available as new entrant airlines explore new options
Long haul LCCs such as Norwegian will increasingly look to trans-Atlantic opportunities as aircraft more appropriate to fly thinner routes become available and possibly in co-operation with other LCCs on each side of the Atlantic providing feed traffic as they begin to reach the limits of their growth potential on their own trunk routes;
Norwegian has specifically identified opportunities to fly to and from cheaper secondary level airports in the US as an alternative to the primary airports it now uses. Negotiations are already under way with some airport authorities and other airlines are interested. Norwegian has already announced it will operate at a secondary airport in Ireland (Cork) to a primary one (Boston). It is yet to be seen if flights between two secondary level airports will be considered;
There are numerous opportunities thus available to operators of secondary level airports in the US, some of which already have considerable experience of handling domestic LCCs (and in some cases only one domestic LCC). Whether or not they can 'step up to the plate' where intercontinental services are concerned will depend on factors such as infrastructure, immigration facilities, marketing capabilities, route co-ordination capabilities (e.g. self-connection) and, fundamentally, if they want to;
The opportunities are likely to be concentrated in or around areas of high catchment area populations on the east and west coasts and in the Midwest rather than in isolated and more thinly populated states, however much those airports might desire these flights;
Another recent report deals with under-served markets between Canada and Ireland: Canada to Ireland: underserved markets can offer rapid growth for both LCCs & legacy airlines.